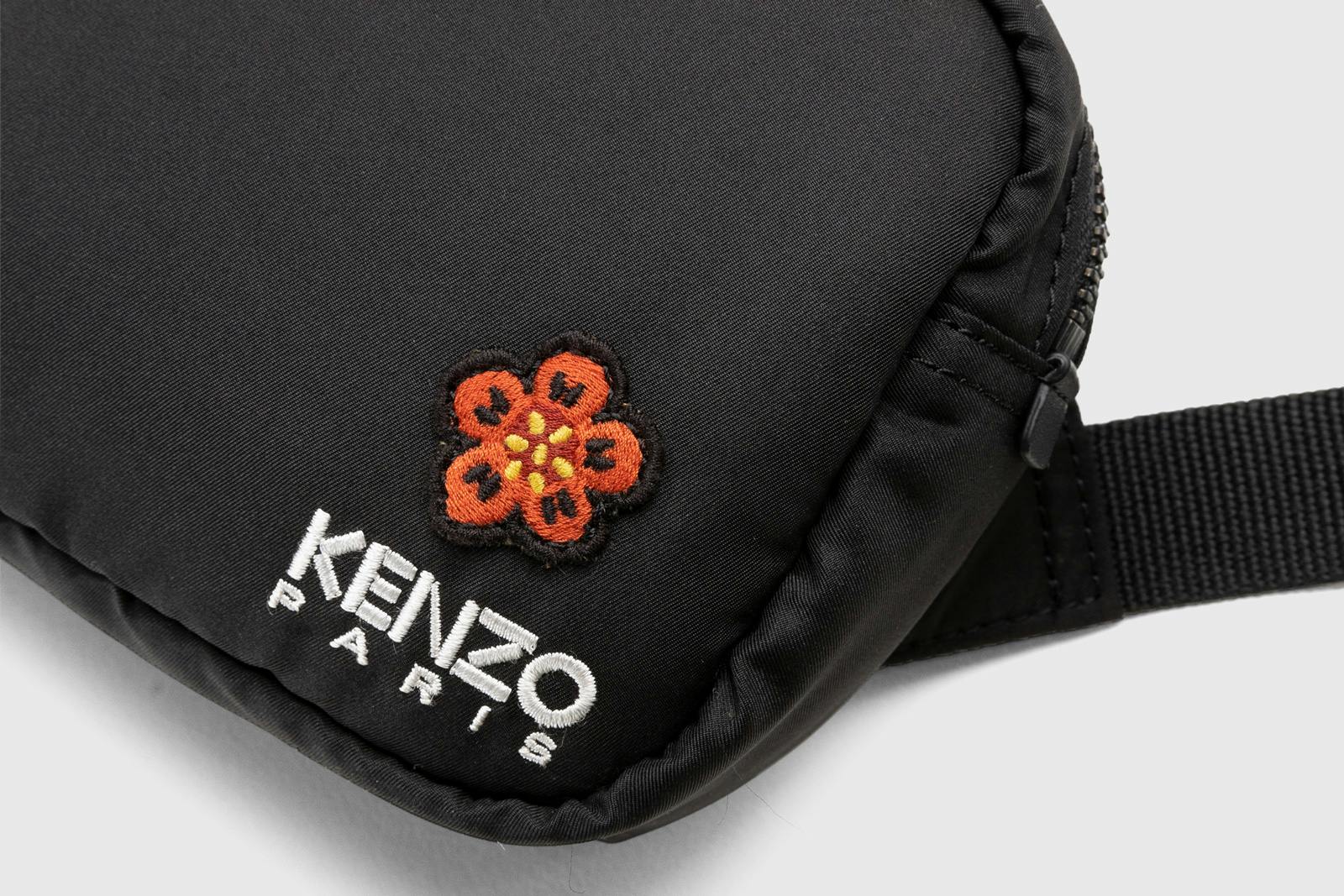 The idea of the IT bag is both a blessing and a curse. Worshipping one accessory for a season means better appreciating the craftsmanship and design of the world's biggest fashion houses. But IT bags don't stay IT for very long. Just as soon as they're thrown into the spotlight and tucked under arms are they pulled from shoulders and replaced by something fresher.
But the years of the one-bag-wonder are gone, and we're not too sad about it. Over recent seasons, the bag game has been blown wide open. Messengers, shoppers, crossbody, and even "cassette" bags, are all on display. All at the same time. And for everyone. Menswear has finally started to accept bags, of all kinds, with outstretched arms that can be worn any time or any season.
Scroll on for a brief guide to the best bags around right now.
Kenzo Crest Crossbody Bag
If you're not one to wear things with large logos, Kenzo's Crest Crossbody Bag is a tasteful take on the everyday accessory. You can easily stash your cards and other belongings in it no problem.
Rick Owens Grained Tote Bag
The Grained Tote Bag has all the makings of a bag that stays in your collection for years to come. The calf leather and detachable shoulder straps makes this bag essential for all occasions from work to leisure.
Carhartt WIP Large Bayfield Tote
It's time to retire your free museum tote and level up with Carhartt's Bayfield Tote made from the same 12 oz organic cotton Dearborn Canvas it uses for its most durable products. The faded finish adds a touch to this everyday staple.
Dries van Noten Printed Tote Bag
If you're tired of your usual go-to bag and want to treat yourself to something nice this spacious Dries Van Noten tote should be highly considered. Few brands have mastered fabric prints as well as Dries, and you'll be able to use it year round for any task.
Gramicci Utility Ripstop Tote Bag
This offering from Gramicci is a true do-it-all tote in the sense its built to last. Like the name implies, ripstop fabric actually stops rips from spreading once they begin due to fibre-weaving technique.
A-COLD-WALL* Insulate Messenger Bag
Messenger bags are often the most hardworking items in collection so it makes sense to invest in a stylish one that you can wear any season. This all black bag from UK based A-COLD-WALL* is padded and made from a durable nylon that can withstand daily wear and tear.
Marni Soft Trunk Shoulder Bag
Like all of Marni's products, you can expect luxury and quality details like the gold-tone hardware throughout this calfskin bag. The burnished red edges add a bit of contrast to this fall-ready accessory.
Gramicci Climbing Chalk Bag
Whether you're into climbing or just need a sturdy bag to hold your goodies as you run around town, Gramicci's Climbing Chalk Bag is a solid choice. It's waterproof and made from Recycle Dynatec Robic material that's known for its being tough against the elements.
Master-Piece Messenger Bag
You can expect the best from Master-Piece as most of its products are made in Japan, a place known for its detail to craftsmanship. This durable messenger comes draped in an array of neutral tones that work any time of the year.
1017 Alyx 9SM Brie Bag
1017 ALYX 9SM is an expert in luxury style with a streetwear edge. This pink Brie Bag is sure to add nice touch to your 'fits as the colder months roll around.
Diesel Trap/D Tote
Aside from paneled canvas being a great water-resistant material, it also has a nice finish that mimics patent leather. If you're looking for a sleek bag to hold you down this season, Diesel's got you covered.
Stefan Cooke Bowling Bag Tote
Bowling fashion is in fact a real thing as shirts and shoes have been redesigned by plenty of brands, each offering its own take on the unique athletic wear. Sure you can sport this bag at your local bowling alley, but it'll do just fine carrying your daily essentials too.
Want to keep browsing? Head to the Highsnobiety Shop for more products that we love. Highsnobiety has affiliate marketing partnerships, which means we may receive a commission from your purchase.