2019 has been another excellent year for men's fashion as menswear continues to challenge womenswear for its adventurousness and excitement. Kim Jones and Virgil Abloh's first collections at Dior and Louis Vuitton, respectively, have brought in a new era for luxury houses while producing instant grails.
Elsewhere, stalwarts like Prada and Margiela are duking it out with younger brands like 99%Is and Suicoke to make some of the most covetable pieces out. And, of course, there's been a bevy of great sneakers as Nike continues to enlist some of the most innovative designers around the world.
We put together the best items to drop so far this year. Check them out below, with links to make these grails yours.
Cactus Plant Flea Market x Nike VaporMax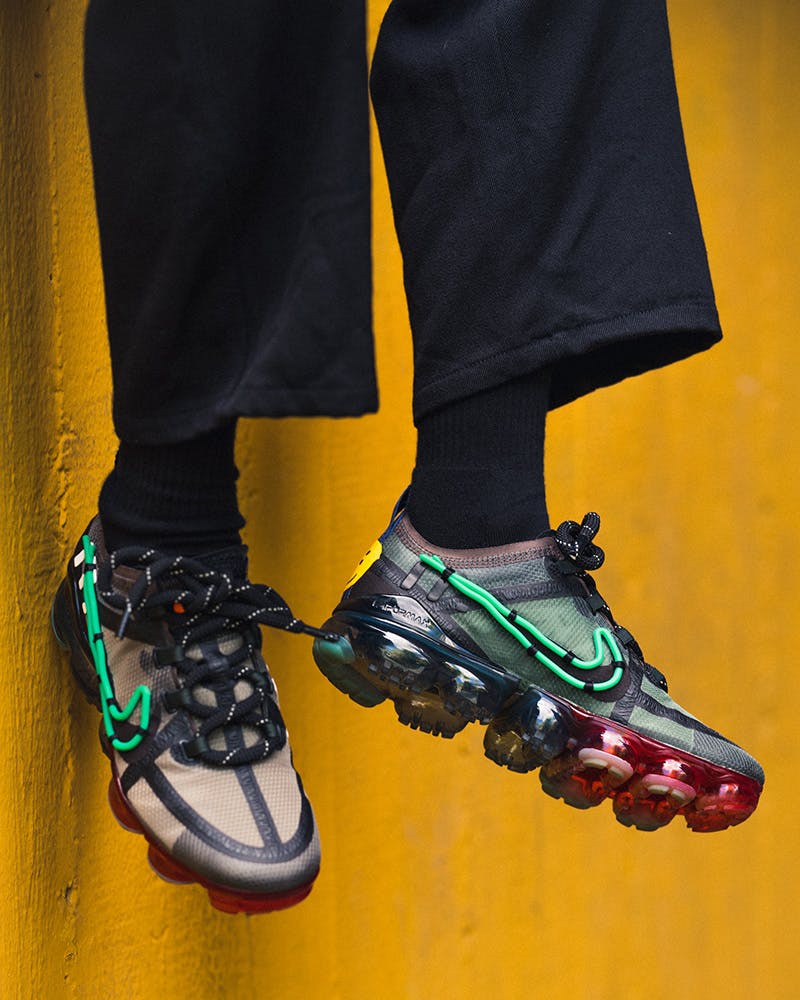 Cactus Plant Flea Market's first Nike collaboration made for one of the most fun releases in years. Cynthia Lu, once Pharrell's assistant, brought her eccentric sensibilities to the tech-focused silhouette, puffing up the Swoosh, wrapping "Just Do It" around the back of the shoe in bubbly letters, and hitting it with the brand's signature smiley face.
To up the playfulness, the bouncy sole was rendered in a green and red gradient inspired by the sun at dusk and dawn. One of the "it" sneakers of 2019, these were only topped by the friends & family version with a light-up Swoosh.
sacai x Nike LDWaffle
Sacai made every detail twice as nice when combining Nike's LDV & Waffle Daybreak into one stunning shoe: double Swoosh, double tongue, and double laces, along with a cliffhanger of a midsole. As if they couldn't pop any louder, the multi-colored colorways are plucked straight from the '70s, creating a shoe that's both of the past and of the future. The Balenciaga Triple S' run is over — fashion has a new favorite chunky sneaker.

(Available at 2 Merchants)
(Available at 2 Merchants)
Dries Van Noten Verner Panton Prints
Dries Van Noten won SS19 thanks to an absolute banger of a collaboration in conjunction with famed Danish designer Verner Panton's estate. Panton's known best for his furniture, especially the Panton chair, but he also conceived a series of psychedelic, wavy prints in sublime color gradients. Panton's family allowed Dries to dig through his archives and reapply his patterns to a variety of garments that have largely sold out.
The result was a hit, with Dries taking the torch from Prada's bowling shirt in 2018. Beyoncé, Diplo, Swae Lee, Kevin Jonas, and New York Jets safety/fashion king Jamal Adams were among the many to adopt the ebullient look, perfect for the carefree spring and summer months. Even if these go away for the winter, they'll be a certified grail for years to come.
Dior Oblique Saddle Bag
Kim Jones has brought Dior into the future since his debut runway show, and perhaps no item showcases his new direction better than the return of the saddle bag.
John Galliano debuted the bag in 1999, and it became a status symbol for women, with Carrie Bradshaw's character famously carrying one in Sex in the City. Maria Grazia Chiuri brought it back for women in 2018, but Jones turned it into a unisex item perfect for the era of peak man bags. By rendering it in the redesigned Oblique pattern with a Matthew Williams-designed buckle, it became as much of a streetwear piece as a luxury item, showcasing Jones' grasp of both of worlds.

(Available at 2 Merchants)
(Available at 2 Merchants)
Margiela Tabi Boot
While a post-sneaker world might never fully materialize, it's apparent men are more and more willing to get daring with their footwear. And it doesn't get more daring than the split-toed Tabi boot.
The design originates from 15th century Japan, but Martin Margiela took it global with his first show in 1988. Despite being one of the most iconic designs to come from Margiela, the brand didn't start offering them for men until 2017. This is the year they've finally taken off, with dudes like A$AP Rocky, Steve Lacy, BTS' Jin and Cody Fern not being afraid of the anatomical toe and a high heel.
As Oslo-based fashion journalist Madeleine Holth told us, "The Tabi has in many ways become the Air Force 1 of high-fashion — it never goes out of style and works with everything."



(Available at 3 Merchants)
(Available at 3 Merchants)
Prada Track Pants
After essentially inventing athleisure, Prada finally swooped back in to capitalize on the trend last year. The greatest byproduct of that resurgence may just be their track pants, which have overtaken Needles as the best of the best. Of all the offerings, the most ubiquitous, and deservedly so, are the tailored track pants in neon hues. Because the colors draw enough attention, there's no need for a conspicuous logo. Hence the logo-adorned velcro fastening serving as a subtle flex. Should you still demand a more visible logo, consider the pre-fall tapered track pants in bright red.


(Available at 2 Merchants)
(Available at 2 Merchants)
99%Is Gobchang Pants
If you want to buy a pair of these twisted-up pants right now, without hitting the resale market, you'll have to wait until January for delivery. That's how backed up 99%Is is, due to the overwhelming demand for these $1,200 Korean pants turning heads in SoHo and piling up likes on Instagram.
With an overwhelming proliferation of elastic cable ties, it dares you to try to pull it off. Naturally, the likes of Travis Scott, Billie Eilish, Bloody Osiris took the challenge and ran with it, and now the 'fit pic-ers of Instagram have followed. The pivot to handsome in menswear may be on the horizon, but right now the Gobchang pants are firmly of the moment.
(Available at 2 Merchants)
(Available at 2 Merchants)
Suicokes
Simply put, there's not a hotter or better sandal out right now. High-profile collaborations with Tyler, the Creator, BAPE, John Elliot, and Stussy helped put them on the map, but Suicoke's bulky, securely fastened sandals stand tall on their own as the fashion crowd has adopted the style usually claimed by dads and tourists.
Consider this an elevation of the trend, with the Moto-Cab and KAW-VS models providing a distinctive silhouette and supreme comfort. Suicoke also has an edge over its competitors thanks to its Vibram sole developed in partnership with the Italian experts. Get down with the great sandal revolution.
Louis Vuitton Iridescent Keepall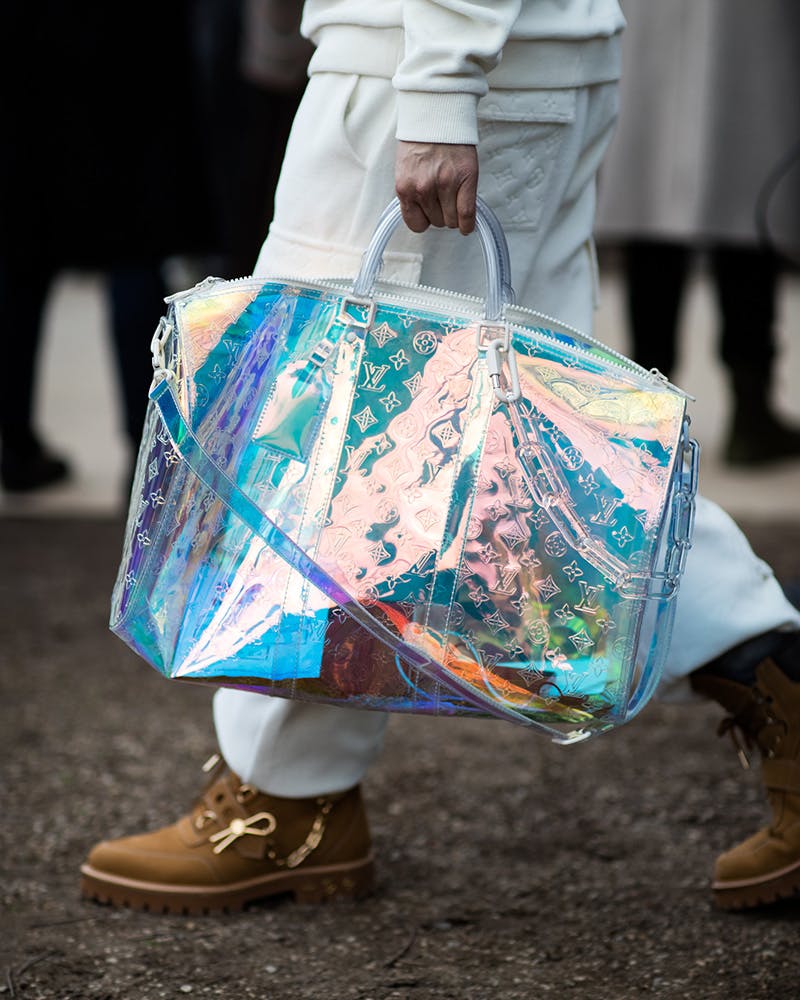 Virgil Abloh hasn't treated Louis Vuitton's iconic monogram as sacred. Since taking over as its men's artistic director, he's taken the motif and had a ball with it. No piece from his debut collection stood out as much as the iridescent keep all, which swapped leather for embossed PVC and added a clear chain made of resin. It's borderline tacky, toeing the line just perfectly for a piece that you just can't look away from. Much like the streetwear it's inspired by, the bag sold out quickly and the resale market has tacked on another grand to the original $3,850 price tag.
Travis Scott x Air Jordan 1 "Cactus Jack"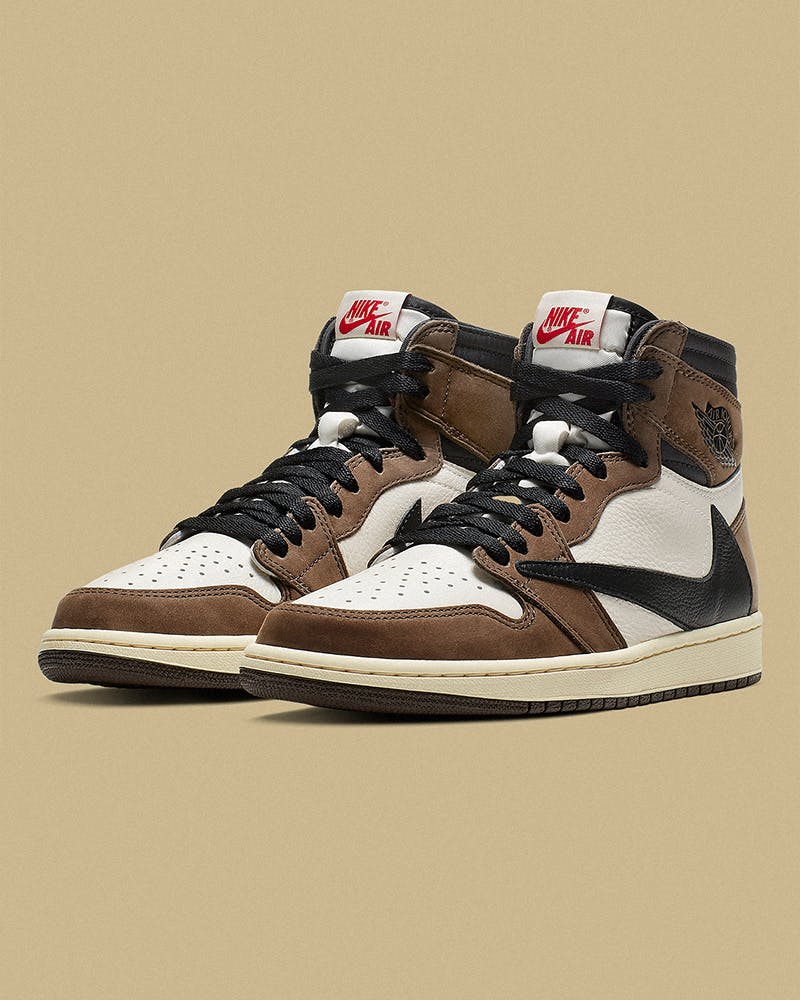 Travis Scott delivered his best collaboration with Nike yet, flipping the script Swoosh on the most iconic sneaker of all time. The brown, white, and black colorway makes it a versatile option that goes with most other 'fits, and the additional pink laces provide the perfect extra pop. But the most subtle flex of all was Travis' addition of a stash pocket, a nod to all his fellow stoners out there. Any AJ1 is sure to sell out, but the Cactus Jacks made for one of the most difficult and covetable cops of the year.



Air Jordan 1 "Cactus Jack"
(Available at 3 Merchants)
(Available at 3 Merchants)