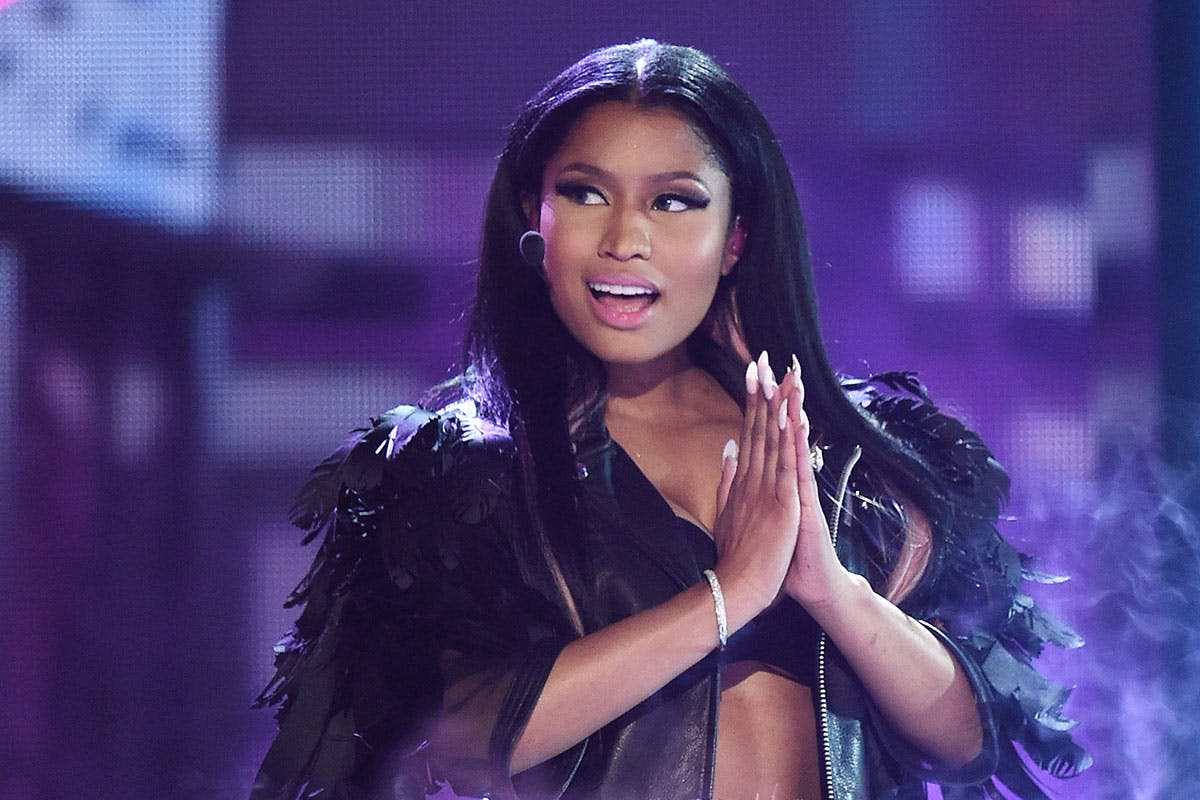 Fierce female rappers have been a continual presence in the story of hip-hop (and are arguably responsible for its existence, but that's a story for a different time); the likes of Salt-N-Pepa, Lil Kim, and Missy Elliott have provided a much-needed dose of womanhood to the otherwise male-dominated genre, casually reinventing it many times over along the way.
Even so, the arrival of Nicki Minaj onto the scene circa 2009 and her subsequent rise to rap's uppermost echelons felt nothing short of revolutionary. She had talent, sure, great heaps of it, but it was Nicki's maniacal energy – capable of hosting three distinct personalities in a single verse – that hit the public conscious like a thunderbolt. She was loud, proud, and vibrantly colorful in an era that was gasping for any semblance of character in our rappers other than 'it's lit.'
More than anyone else before her, Nicki Minaj's career has been one that constantly straddles, if not blurs entirely, the line between rap and pop. It may seem par for the course now that hip-hop has officially become the dominant musical genre in America, but her skillful tooling of both radio-ready hooks and go-for-broke trap house spitting painted her as an incomparable and wholly original talent.
As we gear up for the release of her long-awaited fourth studio album Queen, now seems as good a time as any to take stock of the very best Nicki Minaj songs. For clarity's sake, this list is compiled only from songs where she serves as the lead artist – if we made room for her scene-stealing guest verses, we would never finish a workable ranking.
So without further ado, get into our list of the 25 Best Nicki Minaj Songs.
25. "Va Va Voom"
The latter half of Nicki's sophomore album, Pink Friday... Roman Reloaded, is a blur of EDM-lite, the sonic equivalent of mixing crushed M&Ms into a batch of amphetamines and snorting it with Skrillex at a beach party. Hardly any of it is good, which is all the more mystifying that "Va Va Voom," one of the more tolerable of these manic outings, was relegated to a bonus track on the deluxe edition of the record. Not one to play games, the track finds Nicki split between infatuation over a new boy and bragging about stealing him away from his wife, as one does.
Best Bars: "Cause it look like he modeling clothes in Dublin/ So I think he that getting that green, a goblin."
24. "I Am Your Leader" ft. Cam'ron & Rick Ross
Revisiting Nicki's discography, one is reminded that the first half of Pink Friday... Roman Reloaded is close to perfection; the saccharine EDM-baiting of its latter half distracts from the non-stop banger parade of choice rap cuts that make this record one for the ages. Case in point is this cut – in which Nicki reminds us that, not only is she our leader, but we can process that knowledge by sucking a big dick. Both Ross and 'Ron turn in un-showy but solid verses, letting the spotlight settle on Minaj's commands to engage in oral sex over a bass-heavy beat.
Best Bars: "After that the queen will still reign here/ I'm Santa Claus to these hoes without a reindeer."
23. "Pills N Potions"
One of Nicki's affecting romance ballads (more on those later), "Pills N Potions" carries the distinction of being the darkest of the bunch. The veiled metaphor for a relationship as overdose is memorable, to say the least, but little else matters when confronted with that wallop of a chorus. The string instrumentation and piano that buoy the beat ground what would otherwise be heedless hokiness on Nicki's part, making for a finished product that is, surprisingly, fairly touching.
Best Bars: "Self-righteous and entitled but they swearin' on the Bible/ That they love you, when really they no different from all your rivals."
22. "Whip It"
One of the few skull-numbing dance numbers on Roman Reloaded worth your time, "Whip It" is every bit as frenetic as its title suggests. The chorus borrows heavily from the Rihanna-school of 'na na na's,' ensuring it will stick in your brain whether you want it to or not, but it takes more than a few spins before it outstays its welcome. Zany melody aside, this track is perhaps most notable for Nicki referring to her own vagina as 'pie,' a delicacy that should then be ridden in style.
Best Bars: "But I don't wanna brag I Louis Vuitton bagged him/ Hopped out the jag proceeded to shag-shagged him."
21. "Champion" ft. Nas, Drake & Jeezy
There is no better signifier of the torch passing from one rap great to another than this union of Nicki and Nas, two of the borough of Queens' finest hip-hop legends. The additional verses from Drake and Jeezy are simply spoiling us. While predominantly a stunt from all parties, Nicki cuts unexpectedly deep in her verse detailing the death of her cousin in a gang killing. All parties deliver a true sampling of old school hip-hop, bolstered by a triumphant beat that more than lives up to its titular claim.
Best Bars: "50 Cent Italian, icy flow/ This is that Run-and-Get-a-Dollar-for-The-Ice-Cream-Cone."
20. "Pound the Alarm"
"Pound the Alarm" is an incredible artifact; few other songs spring to mind that somehow encapsulate every single radio trend from 2012 and pack it all down to a four-minute spree of utter chaos. There are at least six pop hooks here that get strung one right after the other, as if Nicki was so determined to make a hit that she eschewed the concept of song structure entirely, opting instead to slam sonic speedballs in succession. If you don't feel exhausted after listening to this, you must be on a literal speedball.
Best Bars: "Ok bottle, sip, bottle, guzzle/ I'm a bad bitch, no muzzle, hey?"
19. "Sex in the Lounge" ft. Lil Wayne & Bobby V.
The intercourse may be taking place in the lounge, but this R&B-inflected slow jam is like sliding into a warm bubble bath. It is so affecting that one hardly notices Nicki is barely in this song, dropping in for a sultry opening verse that gives way to the angelic cooing of Bobby V. and a Lil Wayne appearance punctuated by detailing (bragging?) that he doesn't use condoms, instead choosing to finish... elsewhere. Thanks for that visceral image, Weezy. Regardless, this is a jam guaranteed to slip the pants right off of whoever you bring home should it be playing aloud.
Best Bars: "He addicted to hustle, I'm addicted to fame/ Though he packin' that muscle, I'm addicted to brain."
18. "Right Thru Me"
Facts: there has never been a more endearing delivery of the phrase "how do you do that shit?" than this number right here. One of Nicki's earliest hits, "Right Thru Me" was definitive proof that she could turn out a cutesy love song with as much ease as a filthy rap in double time flow. This era of her career was met with merciless skepticism from those doubting her chops as a pop star, but who would be clueless enough to deny this is anything but pure confectionary goodness? How could they do that shit?!
Best Bars: "You could turn a free throw to a goal/ N*gga got the peephole to my soul."
17. "Roman Reloaded" ft. Lil Wayne
You best believe that Nicki and Weezy spending a track luxuriating in their badassery would require not one, not even two, but three bangs to quantify their shit. Over thunder clap percussion and a trap hi-hat that circles overhead like a great vulture, the bastions of Young Money sit back and spit pure fire, churning out some of the best bars on the album without so much as breaking a sweat. This is what the top of the game sounds like.
Best Bars: "Yes, I really do mean that it's Barbie, bitch/ Ask Mattel, they auctioned my Barbie, bitch."
16. "Come on a Cone"
An elite group of Nicki Minaj's songs transcend any genre and border on the nonsensical, hewing far closer to experimental noise than hip-hop per se. "Come on a Cone" is a shining, gloriously bizarre example of this sect of her work. Take the chorus alone, which finds her adopting a different vocal delivery for each utterance of "come on a cone." Not to mention the Mariah Carey-esque outro of "oooh dick in your face" and one of the most gut-punchingly funny couplets in her catalog (see below) offered only to confirm her clout in the high fashion world.
Best Bars: "When I'm sitting with Anna, I'm really sitting with Anna/ Ain't a metaphor punchline, I'm really sitting with Anna."
15. "Roman's Revenge" ft. Eminem
By the time her debut Pink Friday finally arrived, Nicki had proven twice over that she could roll with the big dogs – as she so memorably put in her queen-making verse on Kanye West's "Monster," "50K for a verse no album out." But even if she was rubbing shoulders with Ye and Jay, it's another thing entirely to link up with Eminem. She crushes it of course, but even now, their pairing feels undeniably strange (see also: the media circus at the notion they could be dating). It is, in a word, obtuse; two strikingly strong personalities that, while not at odds with each other, are too oblong to fit together. This quality is played as a strength, and hammered home with a jarring, disjointed beat. That they can sell the line "Raah, raah like a dungeon dragon" without a whiff of irony speaks volumes to the bare-knuckled intensity they conjure together.
Best Bars: "I'm a bad bitch, I'm a cunt/ And I'll kick that ho; punt/ Forced trauma; blunt/ You play the back, bitch, I'm in the front."
14. "Truffle Butter" ft. Drake & Lil Wayne
Belonging to the great tradition of saving her strongest tracks as bonus loosies, "Truffle Butter" is among the best songs Nicki crafted in support of her ultimately uneven The Pinkprint. Which, given its premise of the OG Young Money trio celebrating their luxury and glamor over a preternaturally chill Nineteen85 beat, shouldn't surprise anyone that this is one of the gems from those sessions. The jury is still out on whether this trio is singing about the Urban Dictionary definition of the term 'truffle butter,' but looking at their lyrical track record, would that really be such a leap of the imagination?
Best Bars: "Pretty women, wassup? Is you here right now?/ You a stand-up or is you in your chair right now?"
13. "Chun-Li"
Nicki has been making some awfully big claims about her upcoming fourth album Queen, citing that it will be an instant "classic" and her "best body of work" to date. Of the slew of singles she's released so far, the only one that is remotely worthy of such a description is "Chun-Li." As a laughably drunken saxophone bleats along to a steadily-churning bass line, Nicki unleashes some ferociously-timed bars. Sure, you and your friends are singing along when this comes up on the pregame playlist, but there is no chance you are hitting each word of the track's mile-a-minute chorus, packing in references to the X-Men, Prince's Purple Rain, and (of course) the song's namesake without pausing for breath.
Best Bars: "I went and copped the chopsticks, put it in my bun just to pop shit/ I'm always in the top shit, box seats, bitch, fuck the gossip."
12. "No Frauds" ft. Drake & Lil Wayne
Remy, girl, what were you thinking? Coming for Nicki Minaj seems like one of the most unpleasant ways to die imaginable, yet Remy Ma went and did it anyway when she dropped "Shether," a seven-minute diss track aimed squarely at the Queen. Minaj let loose a trio of singles in response, the best of which is the slinky, haunting kiss-off "No Frauds." Surely Remy also did not count on Minaj's Young Money war chest to back her up, which not only resulted in Nicki brutally taking her down a few notches but in having Nicki share a laugh with Drake about how brutal her takedown is on the track itself. It's essentially high school drama in single form, but it is given substance with its utterly eerie production, one that comes off as a submerged inversion of the cha-cha beat that Drizzy championed at the time. Moral of the story? Don't ever come for Nicki.
Best Bars: "Sheneneh, you a fraud committin' perjury/ I got before and after pictures of your surgery."
11. "Check It Out" ft. will.i.am
Some would think after adopting 'Barbie' as a moniker for both yourself and your legion of fans, that building a track sampling Aqua's '90s cult hit "Barbie Girl" would be too obvious. But they are wrong; if anything, it's a blessing that our Barbie-in-Chief would be proactive enough to repurpose any threats to her ultimate Barbie-dom on her first album. And to make matters all the more sweeter, this bop is a piece of pure pop heaven. The sample is deployed brilliantly, Nicki flat out tells the haters to go and kill themselves, and will.i.am is present for what will ultimately be his last moment of being relevant, ever. On "Check It Out," the stars truly aligned.
Best Bars: "And I don't sympathize, cause you a simple bitch/ I just pop up on these hoes on some pimple shit/ And put the iron to your face, you old wrinkled bitch!"
10. "Starships"
"Starships" is difficult to weigh as a single song, as any play through highlights that it is a great Frankenstein's monster of a track. There are the strands of at least four different works of music haphazardly stitched together; jangly guitar pop, skull-rattling Eurodance, and "Twinkle Twinkle Little Star" are among its sonic touch points. In spite of its disjointed nature, "Starships" remains a captivating listen. It is pop that has been mechanically engineered to produce an adrenaline rush, crashing with wild abandon into your brain's pleasure center the way a toddler vigorously attempts to slam a square peg into a round hole. You can attempt to deny this song's power all you like, but resistance is futile.
Best Bars: "Is it two, three? Leave a good tip/ I'mma blow off my money and don't give two shits."
9. "Your Love"
Just as Nicki began to accrue serious hype as a tough as nails MC, "Your Love" arrived and completely flipped the script. Here was an objectively adorable love song that strikes a sublime balance between pop and rap, offering both bars and boy-talk over a feather-light, Annie Lennox-sampling beat. Unbelievably, Minaj had no intention whatsoever of releasing this track, initially recording a demo in 2008 and begrudgingly including it on Pink Friday after it leaked online in 2010. Bless whoever is responsible for such a leak, the world is a far sweeter place with "Your Love" in it.
Best Bars: "Shawty, I'mma only tell you this once, you the illest/ And for your loving I'mma die hard like Bruce Willis."
8. "Moment 4 Life" ft. Drake
There is a sense of poignancy that courses through each, er, moment of "Moment 4 Life" that runs far deeper than any made-for-radio single has a right to. The rags-to-riches story has been told in every way there is to tell it, particularly in hip-hop, and while Nicki's spin on this tale occupies her verse, it is wisely not the crux of the song. "Moment 4 Life" is an exercise in humility; it finds Nicki reflecting on her circumstances and taking a pause for gratitude, a world away from the braggadocious diva so colorfully realized in her work thus far. And yeah, it's touching, so touching that you overlook the fact this might be one of the worst Drake guest verses in his career.
Best Bars: "Ain't being cocky, we just vindicated/ Best believe that when we're done/ This moment will be syndicated."
7. "Massive Attack" ft. Sean Garrett
Nicki's debut single, an anticipated release following her appearance on Kanye West's My Beautiful Dark Twisted Fantasy, was met with utter indifference when it finally arrived, so much indifference that plans to roll it out as the lead single from Pink Friday were swiftly scrapped. Time has been much kinder to "Massive Attack," positioning as it everything one could possibly want out of Nicki's first single. Even at this stage, her eclectic cultural references, proclivity for adopting different voices, and magnetic charisma are on immediate display. The world in 2010 may not have been ready for a female rapper spitting about rocket launchers and the Phantom of the Opera in the same breath, but it's Nicki's world now, we're all just living in it.
Best Bars: "So call me Simba, little mama, cause Mufasa couldn't stop a bitch/ I fly in on that chopper, just to buy Balenciaga."
6. "Stupid Hoe"
Many had trouble conceiving of "Stupid Hoe" as anything but an elaborate joke when it arrived as the lead single from Nicki's sophomore album. Calling it a radical break from everything she had made thus far would be an understatement; "Stupid Hoe" defies any traditional definition of either pop or hip-hop, hewing much closer to noise rock in its intentions than a rap song. The production is a combative combo of grating electro and high-octane club beats, presaging the sort of intentionally-abrasive, deconstructed pop that PC Music would soon make its name on not long after. But most importantly, this is a showcase for Nicki letting her most manic impulses go totally beserk, exemplified in the astonishing 12-second run of holding the word "would" while the beat pounds in double time beneath her. "Stupid Hoe," however much derision it continues to collect, is the bravest, boldest experiment to date from one of pop's foremost provocateurs.
Best Bars: "I'm Angelina, you Jennifer/ Come on bitch you see where Brad at?"
5. "Feeling Myself" ft. Beyoncé
The Queen of Rap and the Queen of Life Itself coming together for the first time was obviously going to be big, but just how downright good "Feeling Myself" turned out to be remains extremely satisfying. True to its title, both Nicki and Bey exude a genuine sense of fun, as if they too had been waiting for this collaboration for years. It also doesn't hurt that Nicki lowkey turns in some of the best bars she's laid to tape, cramming more puns per minute than the ear can keep up with. In the pantheon of odes to female masturbation, this track stands proudly towards the top.
Best Bars: "Feelin' myself, back off/ 'Cause I'm feelin' myself, jack off/ He be thinking about me when he whacks off/ Wax on? Wax off."
4. "Anaconda"
Much like her previous world-conquering single "Starships," one can only feel bewildered listening to "Anaconda" when assessing the chaotic hodgepodge of its construction, somehow fitting two separate hooks, two separate bridges and an outro that accounts for over a quarter of the song's runtime. And then there's the meta-commentary on sampling, one of the foundational elements of hip-hop, that is here pushed to the absolute limits of its definition – so liberally lifting Sir Mix-a-Lot's "Baby Got Back" that it borders on Nicki simply freestyling over the unedited original. Some may find this too intense a dissection for a song about how much amazing sex Nicki has thanks to her enormous posterior, but it highlights that, against all the odds, "Anaconda" is one of this decade's landmark pieces of pop culture.
Best Bars: "Thi-this dude named Michael used to ride motorcycles/ Di-dick bigger than a tower, I ain't talking about Eiffel's."
3. "Did It On 'Em"
In terms of sheer hardness, of ultimate badassery, "Did It On 'Em" is unquestionably the terrifying apex of these qualities in Minaj's work. It is the moment where she first blessed us with the knowledge that we're all merely her sons (except for the haters, y'all are her motherfucking stepsons), and it gives rise to such instantly iconic lines as "If I had a dick, I would pull it out and piss on 'em." It is arguably her strongest performance to date on a strictly rap-based merit; turning in three verses with an embarrassment of lyrical riches without any features, and all of it delivered with the sneer of someone who will take pleasure in shitting on you. The debate over Nicki being our generation's best MC begins right here.
Best Bars: "More talent in my mu'fuckin' left thumb/ She ain't a Nicki fan then the bitch deaf, dumb."
2. "Super Bass"
How "Super Bass" rocketed to the cultural stratosphere remains something of a mystery. Tossed on as a bonus track on Pink Friday, it would eventually go on to be a Top 5 hit on the Billboard Hot 100, ranking as one of the best-selling singles in her career. Of course, the easy answer to this mystery is that it's simply a perfect song. In the ceaseless catalog of songs about falling head over heels for someone, "Super Bass" miraculously conjures what that feeling actually sounds like, plinking along light as air while abruptly changing directions on a whim, constantly fleeting and second-guessing and full of false starts and stops. And those in need of a reminder of Nicki's versatility should play through the song and count how many different accents she whips out with aplomb.
Best Bars: "Yes I did, yes I did, somebody please tell him who the eff I is/ I am Nicki Minaj, I mack them dudes up, back coupes up, and chuck the deuce up."
1. "Beez in the Trap" ft. 2 Chainz
Through sheer force of will, Nicki Minaj gets away with a lot. She has crafted songs that defy not just classification but reason itself, and they still go on to be massive hits. She thrives in scenarios that let her imagination run rampant, toying with production and beats that the ear is not acclimated to and a lexicon that combines far left-of-center references with an (occasionally) self-invented vocabulary.
"Beez in the Trap" is the personification of this skill. It is Nicki's attempt to create a trap song about trap, and yet it is realized as an avant-garde exploration of trap music as a concept. It features some of the sharpest bars of her career, and yet it also focuses on a small handful of words that are repeated to the point of parody. Meanwhile, her second verse is just a laundry list of geographical points in the continental U.S. But there is not a moment of this song that doesn't completely sell; which we can only attribute to the fact that she is a colossal badass. She doesn't just disapprove of her haters - she is taking a literal shit on their entire lives. This track embodies every bit of the Nicki Minaj ethos, and it has yet to be bettered in her illustrious career as the rap game's matriarch.
Best Bars: The entire song.
For more like this, be sure to check out these 10 rap love songs.