In New York City, you pick bars based on moods. There's the spot you go to when your fit's on point and you want to flex on its stylish denizens. There's the after-hours joint with a low-key ambience that pours a little heavier as last call nears. And of course, there's the friendly neighborhood watering hole—the kind of cozy, reliable bar that feels (and maybe smells) like the leather couch your family back home spent decades breaking in perfectly.
My favorite bars range from all sorts of environments. One of them is a secret Japanese speakeasy hidden behind a secret door on a second-floor restaurant, another is a SoHo institution that's been around for almost 200 years. New York City's bar scene is as eclectic as the people who frequent them—but one thing they have in common is they all serve variations of my go-to beverage: tequila.
Village Yokocho is a great spot for casual Japanese food, but it also houses one of NYC's best-kept secret bars. Angel's Share gets its name from the tiny amount of alcohol that dissipates in whiskey barrels, and they serve up some of the most creative cocktails in town. The bar area takes the name a bit literally—you'll sip drinks while cute Renaissance-style cherubs stare down at you—but the drinks range from picker-uppers like the Monk's Dream, mixing rum with coffee beans, cinnamon, coconut water, and a hint of banana, to ideal nightcaps like the Smile, which infuses apricot brandy with a kiss of lime, tonic, and gin.
Gabriel Stulman made his name as a West Village restaurateur (who happened to be college roommates with Virgil Abloh), so it's no surprise that he knows a thing or to about what makes for a cool, casual restaurant. Joseph Leonard specializes in standard American fare done right, sometimes adding a European flair. The hashbrowns are a must, and go well with cheekily-named cocktails like the "Round Trip to Montreal," which mixes rye, montenegro, maple, and cucumber.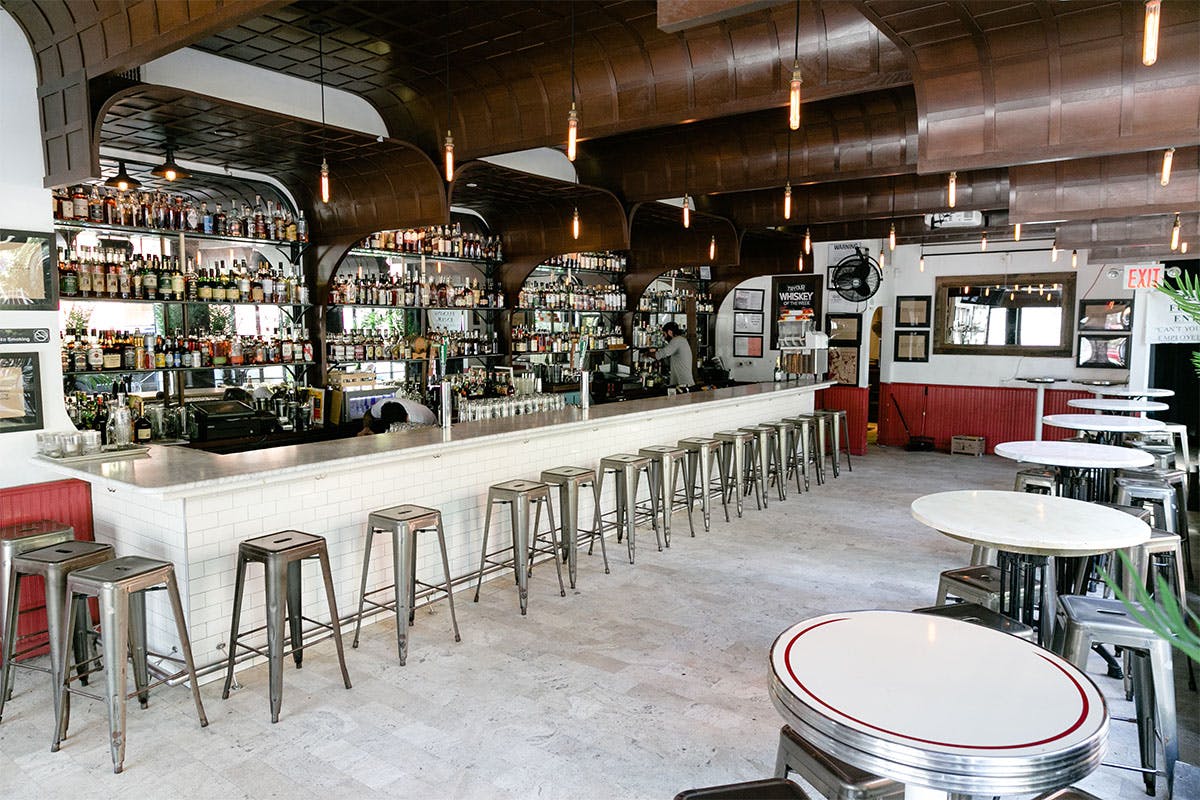 The name of this bar is often shortened to "Rochelle's," and it comes from a woman that creative directors Brett David and Stephen Yorsz dated long, long ago—at separate times, of course. That humorous spirit seeps into the overall vibe of the bar, somewhere between reliable dive and upscale lounge. It's not fussy, but you might be able to eat a tater tot if it accidentally landed on the bar (five second rule!). In addition to pub grub like guacamole, burgers, and hummus, there's plenty of beer on tap and cocktails with funny names, like The Mustache Tickler, made of tequila, lime, and sriracha-infused honey.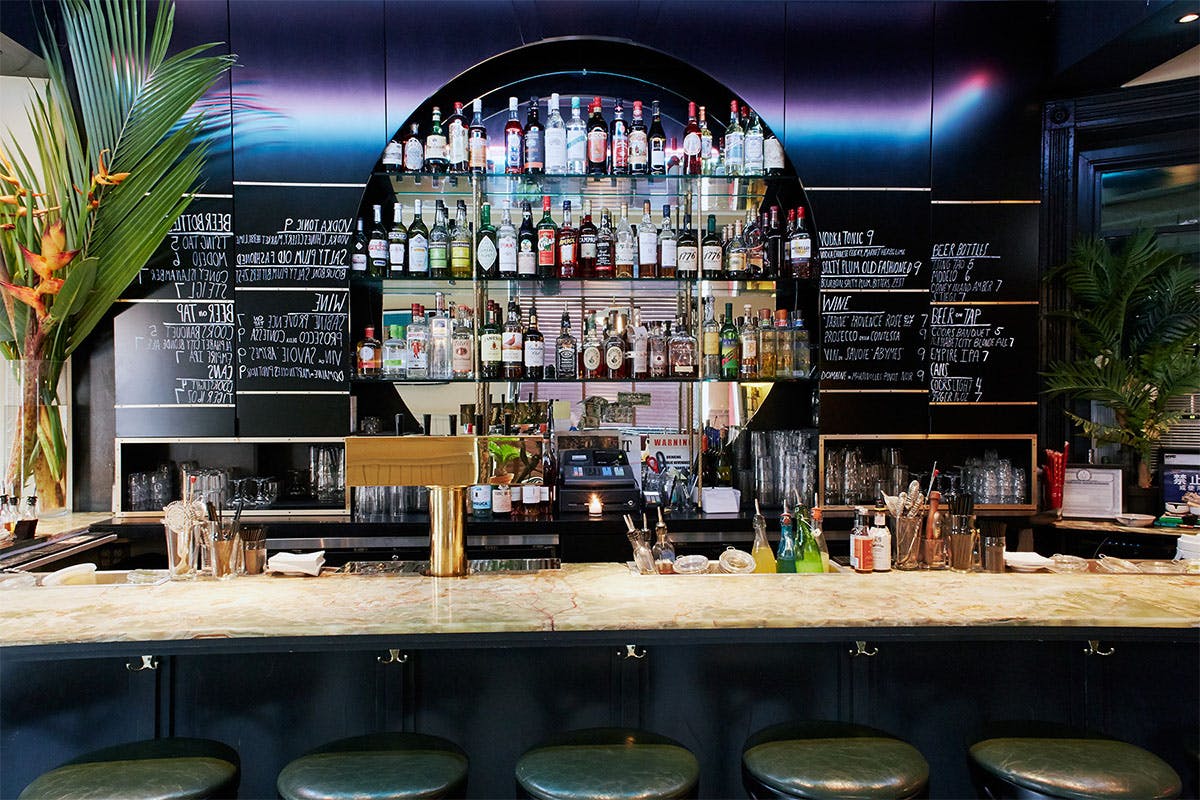 Located in the Two Bridges neighborhood, Mr. Fong's is a far cry from your typical Lower East Side fare and the too-cool-for-school Chinatown spots. It's become a go-to for low key cool guys and models off-duty alike, and is the kind of spot frequented by that cross section of dudes who actually skate for a living and dudes who look like they might skate for a living. It gets pretty live on dance nights, thanks to its ample amount of beers, wines, and straightforward cocktails, but it's absolutely top-notch for people-watching.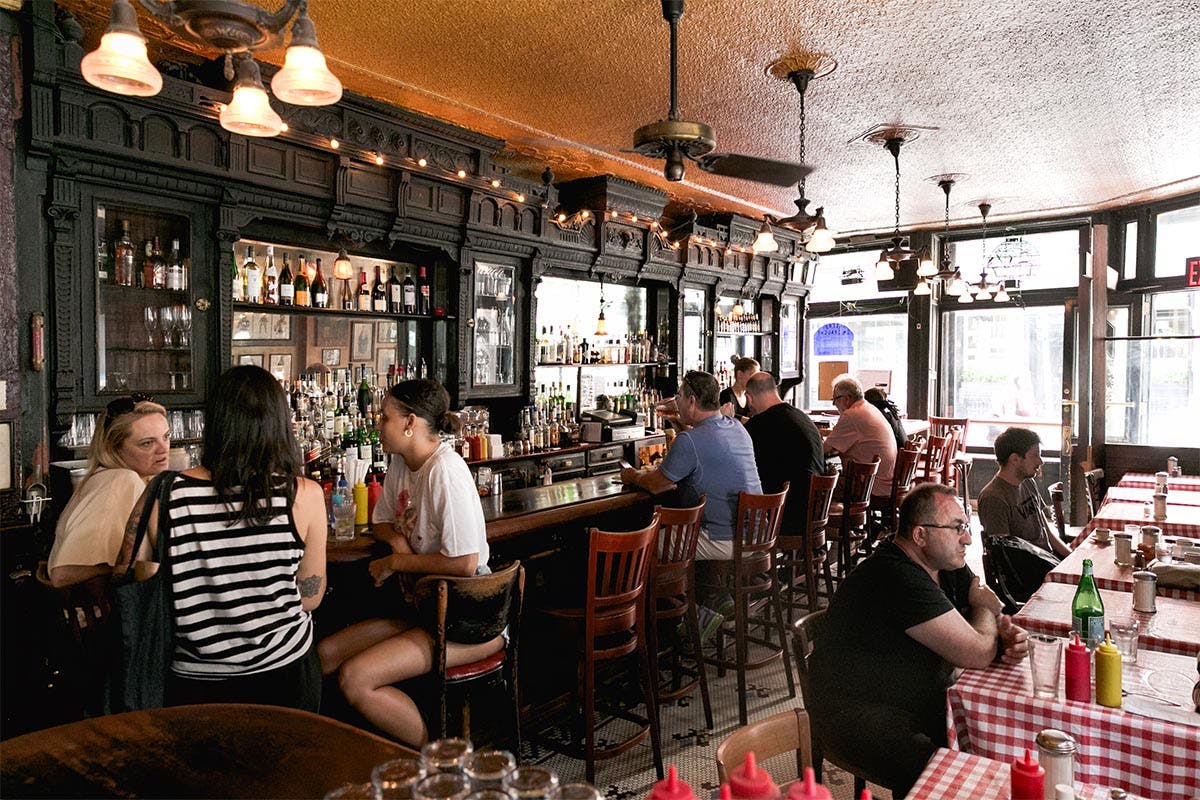 Fanelli is an oldie but a goodie. It's been around since 1847 and holds the title of New York City's second oldest food-and-drink establishment. That said, it's aged pretty well, becoming a go-to of SoHo's well-heeled fashion editors and lifelong residents alike. You can't go wrong with a draft beer and a simple Old Fashioned, and if you're looking for a bite, their Monte Cristo sandwich or open-faced Tuna Melt fit the bill both literally and figuratively. In the city of $30 cocktails, Fanelli still provides great value.
Describing itself as Bushwick's "local living room," the front of Lot 45 houses a cozy dining area with a food-truck themed bar. The thick steak frites are the perfect thing to fill you up after several plates of Bluepoint oysters—or you could always go for the fish tacos. After hours, you can dance off those calories in the back, which boasts a massive soundsystem and ample room to wild out—it's why it's a go-to venue for Highsnobiety parties.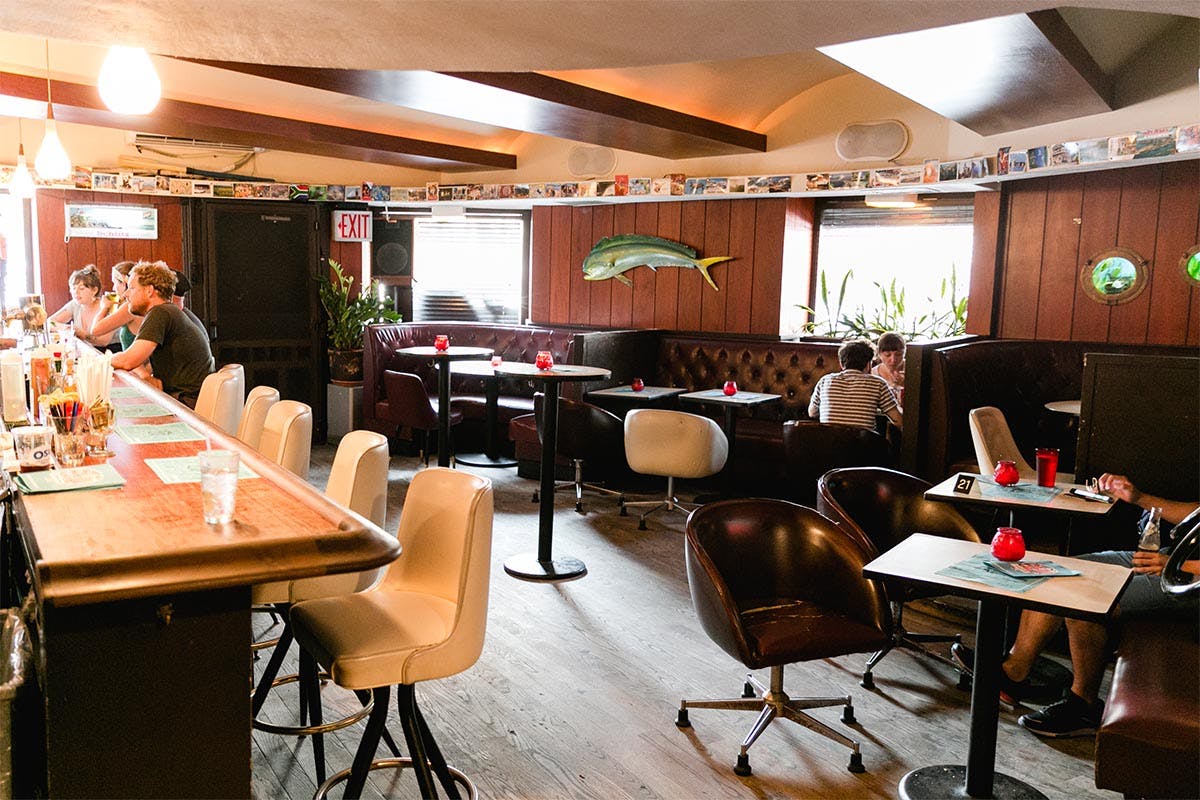 Williamsburg, Brooklyn has seen more facelifts than an aging Hollywood celebrity clinging to relevancy, but The Commodore has weathered through it all by staying exactly the same. It's still got some of the best fried chicken dishes in the neighborhood, and its spicy grilled cheese is the epitome of comfort food with a twist. If you're feeling especially festive, go for one of the frozen margaritas. Then you can try your luck at any of the free-to-play arcade games placed around the bar.
Three words: Bone. Marrow. Burger. It's something that Minetta Tavern has become known for, and it remains one of the best bar burgers in the city—it probably deserves the top spot. The old New York vibe permeates through the walls and decor—it really feels like "tavern" is a much more appropriate descriptor than "bar"—plus the servers and bartenders don't treat you like a customer, they treat you like a patron. That is to say—they call you "sir."