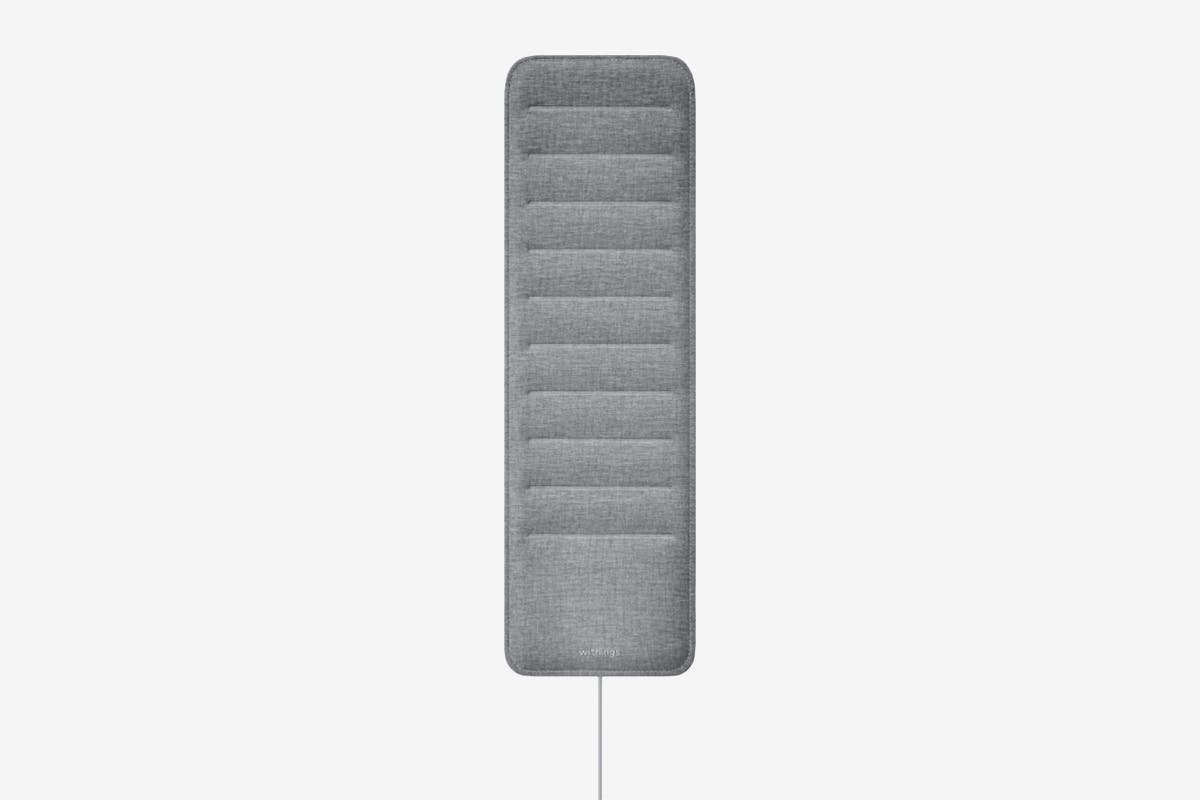 If it feels like part of growing up – of knowing you're an adult (or at the least, going through the machinations of your first Saturn Return) – is a lack of quality sleep, then lucky for you that we live in a time of connected health software and gadgetry. Sleep tech continues to proliferate and become more effective if only to make us less grumpy and more "productive" — that ol' Millennial earworm.
Short of having a pro-ASMR whisperer breath gentle verbal melatonin into your ear, there are numerous pieces of tech (and their accompanying smartphone apps) that will make you feel like you're living in a James Turrell installation.
OK, maybe not that beatific, but they will help you sleep not only more but better since, if you can't find a quality place to rest your head and neck, your mental and physical health will be out of whack. Sleep – more than a stirring finale to Game of Thrones – is the key to happiness.
So rest easy, here are 5 pieces of sleep tech that you didn't know you needed.
With sleep tech on the rise (restlessness is an essential human solve), hot from the gadget geeks at Nokia is a pad you place beneath your pillow after another day wondering whether you got much rest at all. (Undersleeping has been observed as an indicator of hypertension and being overweight.) But, in all seriousnesses, the straightforward name and design of the Nokia Sleep beats any sleep tracking app by using a proprietary one of its own. The WiFi-enabled device records your sleep cycles, heart rate, respiration rhythms, and even how much you're snoring, thanks to a sensitive pressure ballistocardiography sensor that measures movement and presence.
It's an app-based sleep tracker that boasts no extra features gratuitous or not. At $100, the Nokia Sleep will gather right from under you (they recommend placing the device under your mattress at chest-level). What more could you ask for? Besides, you'll be counting sheep anyway.
MUJI is by no means an everything store (better leave that to Don Quijote). But what it does offer are practical products to improve your overall livelihood. Take their Ultrasonic Aroma Diffuser. A better night's sleep by way of aromatherapy — where the scent and properties of a diffused essential oil relieve stress and relax the body — putting you in a much-needed state of being ready for some tranquil shut-eye. Put another way, sometimes it's not the destination but the journey of how you get to snoozeville.
This device (politely) screams MUJI in its minimal design and deliberate productivity. Better than your average diffuser, this one uses ultrasonic waves to disperse a fragrant essential oil mist around the room and includes 2 adjustable LED light levels and 4 different timer settings. Think of it as an additional courtesy that you get to enjoy sweet (not too sweet, though) fragrances and a miniature light show of sorts from the $70 device as you begin your long day's journey into nighttime slumber.
Here's where we hope some brainiacs devised a way to get us the beauty sleep we deserve. Tempurpedic in feel, duly intelligent for an inanimate object, and priced like a streetwear hoodie, the Zeeq from REM-Fit is one of those lauded Kickstarter projects come to life. Also, it's a comfortable place to lay your noggin. Its Tencel outer layer, made of recycled wood pulp, means the product is not only environmentally-minded but keeps cool and dry along with being a bit on the firmer side in terms of tensility.
Need to nod off to some tunes or just want to surround yourself with whatever you're currently binge watching? In the middle of the Zeeq are eight high-quality wireless speakers controlled through an accompanying app. Along which the pillow is compatible with a number of other smart home devices including Amazon Alexa.
But dig a bit deeper and you'll see what sets the Zeeq apart: it can broadcast sounds, yes, but more impressive is its ability to take noise in. We're talking about snoring here and how the $100 pillow does it is with a decibel-tuned microphone that monitors sound intensity, which, if too loud, triggers adjustable vibration motors that will (gently) encourage you to change your position and reduce snoring.
Sure, smart sleep masks seem like bespoke devices meant to conjure up memories of a handful of trending memes from 2018, but at least one startup burnished a bonafide product out of all that meme-ageddon. Among them, Dreamlight proselytizes more than Joan of Arc on the pyre. Audacity can be contagious and among the startup's boasts for its $299 Dreamlight Pro sleep mask: it provides recommended adjustments to your sleep habits based on your 23andMe profile, the product lessens the effects of jet lag, and that its infrared light scan feature will help with under eye circles.
The heavily-padded Dreamlight is intentionally oversized: the contoured design wraps around your noggin and spreads out its applied pressure evenly across your face to block out as much light as possible. Its optical heart rate monitor, gyroscopes, accelerometers, those infrared sensors mentioned above, as well as four side-panel speakers, are connected to an accompanying app. The product can be manually operated but it's through the app that you can program and track sleep patterns and settings along with queuing up ambient sounds to lull you into a dream state and, it should be said, where you can sync your 23andMe genetic profile for snooze optimization.
With no alarm setting, light is the Dreamlight's mechanism for rousing users out of their sleep (as well as how it induces sleepiness by triggering melatonin production). LED panels inside the mask project both infrared and natural-light mimicking glows — the later of which is a research-proven way to improve sleep cycles. Maybe you'll dream of Birdbox or horse blinders, but, with this high-tech headgear on, that's just a humorous byproduct of how restful your slumber is.
Truly, there are few things we can all agree on, but one which gets close to universal consensus is that bed frames are an (almost) necessary evil. Nectar aims to soften this assessment. The bed-in-a-box brand offers consumers the feeling of their favorite recliner and… a hospital bed? Their proposition is that 180 degrees aren't always the ideal angle for your nightly repose. And while they do offer a comfortable (and smart!) mattress, where innovations lies – in their estimation – is just below the surface: That is, bed frames. A smart frame's got to be easy enough to assemble, right? So they all say.
But, otherwise, the adjustability resides in being able to control the angle of the bed. Other ways they pamper you include the TV button on the accompanying remote. which puts you in the optimal recline setting for watching the tube; zero gravity, which raises your legs high up; USB outlets for easy-charging; and, most laudable, a built-in three-zone massage function. Plus the remote comes with a flashlight feature so, if and when you do get out of bed you can find your way back to your mattress. At $1,298, the split king model lets you do that just: split. Use the remote to personalize your settings so you and partner can configure their half of the mattress to your preferred settings.
More Sleep-Enhancing Suggestions
To stay up to date with more Selects content from Highsnobiety, follow @Highsnobdrops on Twitter.
Our designated Selects section features products that we love and want to share with you. Highsnobiety has affiliate marketing partnerships, which means we may receive a commission from your purchase.