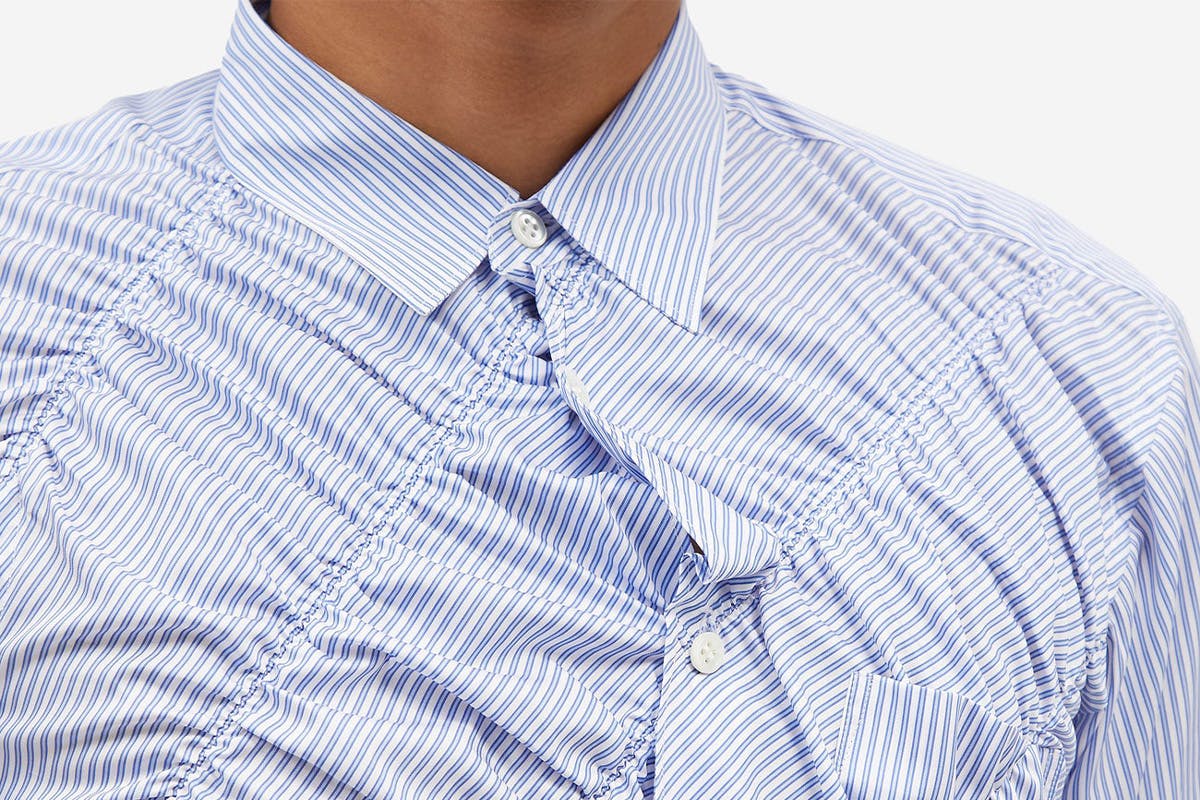 The likelihood is that after two years of canceled meet-ups and uncertain plans, you're a little rusty at dressing for anything that doesn't involve sweatpants or your favorite jeans. It's nothing to be ashamed of, we are too. But, like a phoenix from the fire, the continued suppression of big events has done nothing but inspire a desire for the finer things in us. Whether we have the events or not, we're wearing smart shirts and there's nothing anybody can do about it.
From relaxed fits by Our Legacy to unorthodox, striking iterations from Le17Septembre, our selection of the best smart shirts from MATCHESFASHION proves that there's a shirt for every occasion this season. In turn, it also proves that there's no reason to not bag a handful of them and start your very own shirt rotation.
Plus, as odd as it may seem right now, the world will — one day — go back to normal, we think. And when it does, you won't regret copping that fire BODE Crochet piece.
Shop the best smart shirts for the holiday season below.
Le17Septembre
Inspired by industrial workwear, Le17Septembre's Layered Shirt brings a highly sophisticated, tailored edge to the rugged style. Details like the grandad collar and slightly dropped shoulders ensure that the shirt remains easy to style.
S.S. Daley
S.S. Daley's elegant collections lift inspiration from a history of British aristocracy. Patterns aplenty and dramatic cuts combine for a style steeped in tradition but, at the same time, completely irreverent.
Our Legacy
Cut from soft bouclé, this short-sleeve shirt from Our Legacy carries the brand's typically understated edge. Texture is the name of the game here, transforming a simple white shirt into something eye-catching that will anchor your fits.
COMME des GARÇONS Shirt
In the hands of CdG, even the classic striped shirt gets a complete facelift. Given contrasting diagonal ruffles across the front, the uniformity of the striped backdrop is fragmented into something like an optical illusion. The gathers disrupt any hint of over-formality, resulting in a refreshing take on dressing up.
BODE
Made in the style of a 19th-century lace valance, this BODE shirt features an open chain-loop crochet to allow for some interesting layered ensembles.
Charles Jeffrey Loverboy
Young British designer Charles Jeffrey Loverboy cites nightlife and punk as two central inspirations for his work. That really comes across in this vandalized, drop-shouldered take on a white poplin shirt.
Wales Bonner
Grace Wales Bonner masterfully molds the traditional white-collar shirt into something much more interesting here. The crisp blue torso remains, but slightly oversized cuffs and an enlarged collar offer Wales Bonner's signature '70s feel.
Commas
Silk-blend poplin sets the sleek tone for this striped shirt by Commas. An open Cuban collar and chest pocket compound the material for a more casual look at shirting.
Jacquemus
Looking smart doesn't mean looking boring. Jacquemus offers up a vivid pink cotton-blend build and floral detailing to inject this shirt with signature sunny optimism.
Want to keep browsing? Head to the Highsnobiety Shop for more products that we love. Highsnobiety has affiliate marketing partnerships, which means we may receive a commission from your purchase.