From short sleeves to long; granddad to camp-collar, shirts stand the test of time as a signature stand-out piece in every man's wardrobe. And, though there's no debating that a pale blue or white Oxford button-down is a classic, as we think ahead to warmer times it's the bolder graphics and new season trends that will get you those neck-breaking head turns.
Last month, we tapped some of the fashion industry's most trustworthy buyers for their takes on the best of SS19 shirting. Now, we deep dive into some of the trends that you'll be peeping at the bar, on the beach, and all through the fashion weeks down the line this year, with options from our favorite designers and affordable retailers alike.
From low-key and timeless vertical stripes, elevated by modern cuts and design flourishes, to the '60s and '70s-inspired prints being championed by brands such as Dries Van Noten this season, our selections below have all your 2019 shirting needs ironed and pressed.
Vertical Stripes
Vertical stripes are nothing new. You'll likely have heard before that the pattern is slimming and can make you appear taller, but that's not what makes these particular choices from us stand out. Mostly done out in pastel blues and white, this new wave of striped shirts transcend smart and casual, and get their boldness from an elevated sense of luxury thanks to intricate cuts and detailing.
Take Jil Sander's striped offering, for example, which not only pairs a slightly longer cut with a band collar, but also a cotton strap at the side and a step hem. Maison Margiela puts a unique twist on the classic camp collar shirt with mismatched panels, on the other hand, while a more recent drop by Brain Dead adds signature graphics to the mix on its woven, seersucker paneled shirt.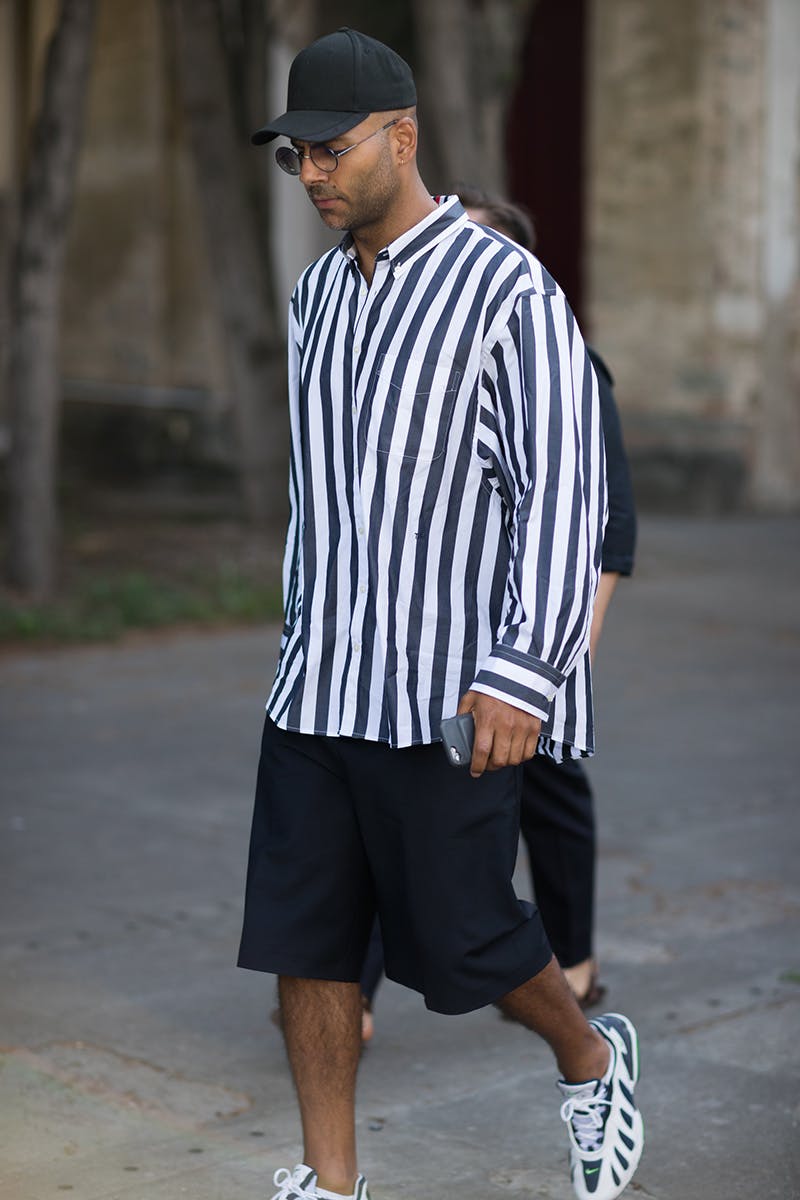 Photo Print
Perhaps most recognizably done by Raf Simons in recent seasons, the photo-print shirt makes an instant statement, and is incidentally the perfect piece to get you snapped by those street style photographers lingering outside fashion week shows. For SS19, Simons' highlights include a white shirt adorned with a photo of a punk fan in '70s Stockholm, coming in his signature oversized silhouette, along with another punk-infused yellow option that uses a different picture from the same 1977 The Clash concert.
If a single photo isn't quite garish enough for your style sensibilities, though, Wacko Maria pays homage to another musical icon, Bob Marley, with multiple pictures of him used all over a long-sleeved pink Hawaiian shirt, while more affordable, Calvin Klein-esque vista offerings come from high street retailer Bershka.
Crazy Graphics
When it comes to really getting noticed, it's those crazy, futuristic, multicolored graphics that'll do the job best. Best done on short-sleeve shirts as the stand-out piece of your summer wardrobe, it seems that some brands have never heard the word "subtlety", and we're here for it.
Eye-catching options for the beach include the bold and brash graphics of MSGM – which uses the Japanese anime sereies "Attacker You!" as its design motif – an insanely extra yellow, black, and grey dolphin print shirt by Perks and Mini, and a particularly stand-out graphic by London-based streetwear brand Crooked Tongues, an amazing find for only $56.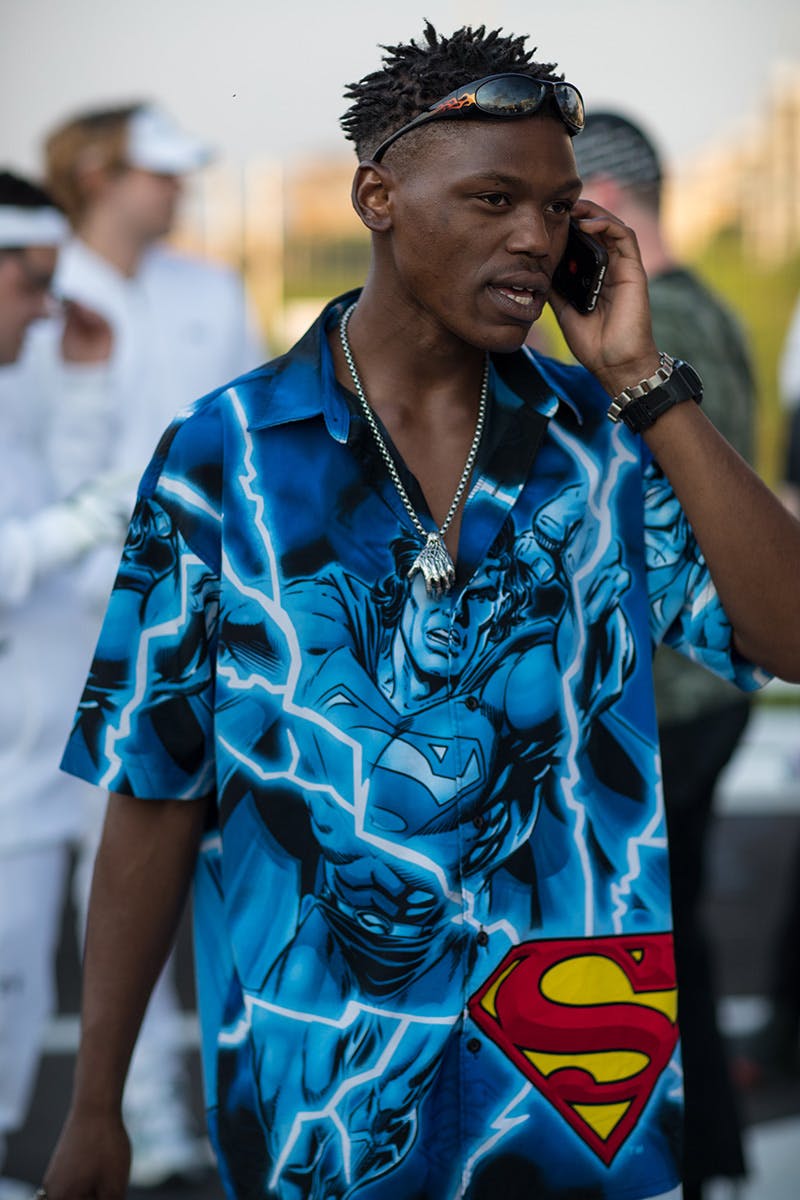 Bandana
You'll surely have seen the bandana trend move from the heads of pirates to the 'fits of your style icons in recent times. The bandana pattern is everywhere right now, from the insane Loewe set that A$AP Rocky was recently snapped in at Paris Fashion Week to much more affordable buy-ins to the trend from ZARA.
In the middle of this bandana-print spectrum, however, are the true grails, including an elevated white shirt by SOPHNET with bandana panels at the sleeves, a dope paisley-patterned option by Sacai, and a red, long-sleeved shirt by RHUDE, all best worn one size up.
Retro
If you're looking for elevated, thrift shop vibes without the musky smell that can't be shaken, brands have taken inspiration from the '60s, '70s, '80s, and '90s for designs reminiscent of particularly pattern-heavy times.
Jacquemus' multicolored "la Chemise Simon" shirt features a vintage floral pattern and comes in a boxy fit that's ready for mega-chic beach 'fits, Dries Van Noten's SS19 line is overflowing with '70s inspired geometric designs in bold colors, and even OFF-WHITE is giving off retro vibes with its camp-collar shirt featuring a multicolor lake graphic printed throughout.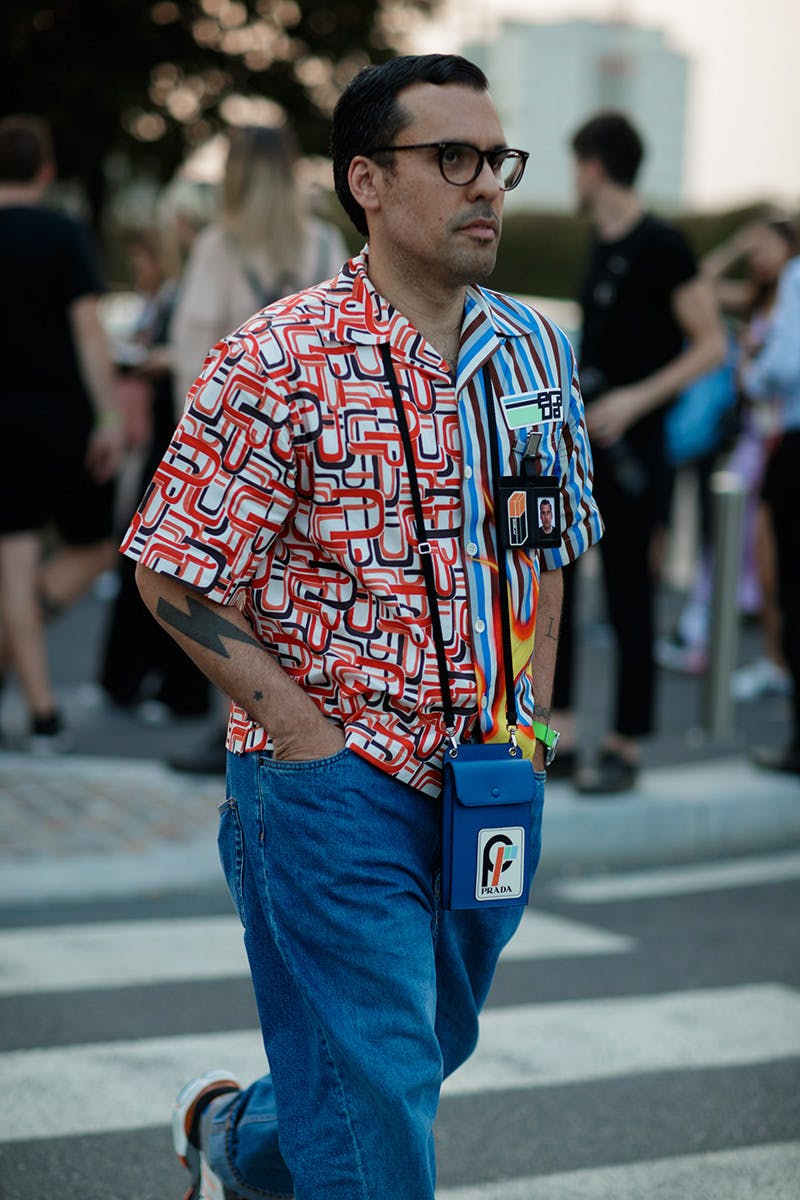 Other
Some labels see emerging trends and go in a completely new direction, which is no bad thing in our books. The whole point of a statement shirt is that it's a stand-out piece that speaks to your style, and our picks below offer just that.
From Acne Studios' spin on the classic white Oxford – which features a contrasting multi-fabric sleeve that fits half a dozen patterns onto its left arm – to the absolute shirting grail that is Needles' 7-cut flannel shirt and the wild construction of Keenkee's green and pink asymmetrical masterpiece – these shirts don't play by the rules, and look all the better for it.
To stay up to date with more Shopping content from Highsnobiety, follow @Highsnobietyshopping on Instagram and @Highsnobdrops on Twitter.
Our designated shopping section features products that we love and want to share with you. Highsnobiety has affiliate marketing partnerships, which means we may receive a commission from your purchase.