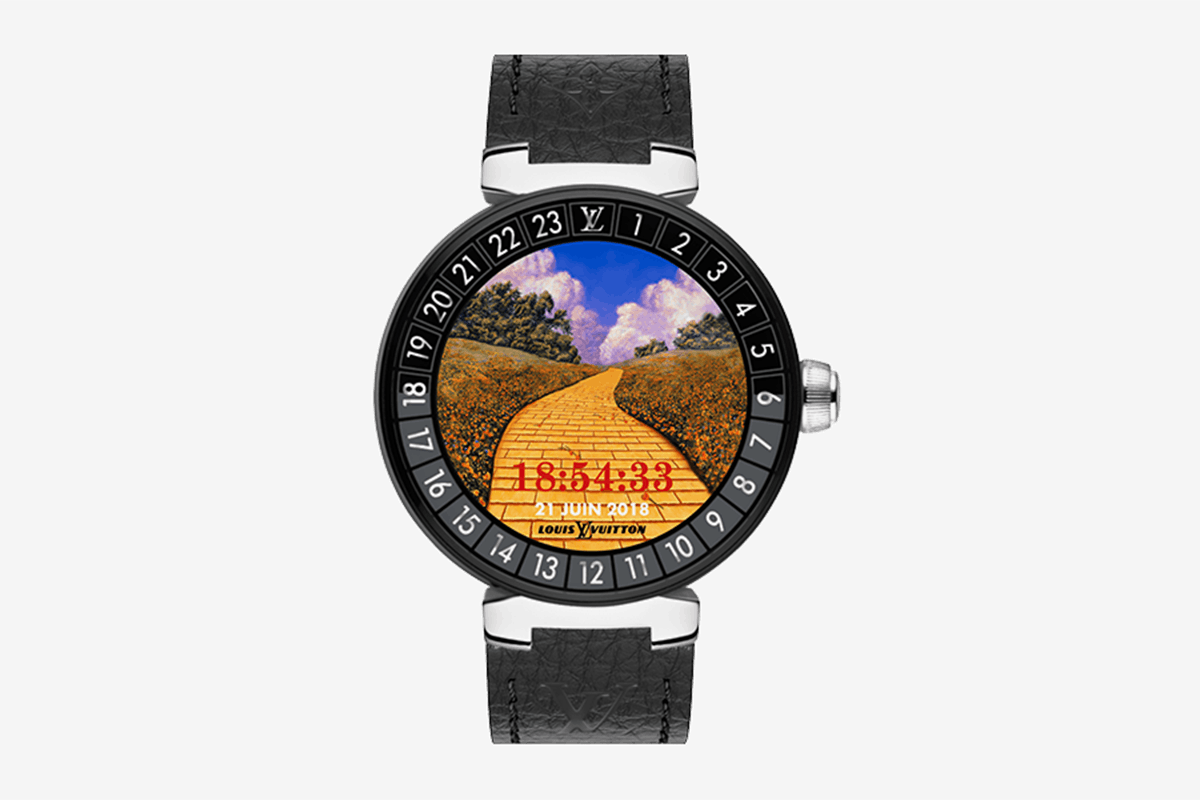 A bit hyperbolic, sure, but smartphones went from a luxury to a massively accessible necessity quickly and without much of the usual grace period of flaunting afforded to elites and early adopters.
So, when everyone's got one, how do we make our catchall everyday accouterment — our most visible vestige of tech — stand out from the pack? Luxury brand chieftains, for their part, have placed their bets on accessories. In fact, accessories make up 20 percent of the luxury retail market and tech accessories, in particular, are finding larger and larger purchase in this space come every fashion week.
Accessories are the, well, accessible gateway to luxury — one that we can wear and wield daily. With the ubiquity of the iPhone and meme-quick rise of AirPods, luxury tech accessories are, comparatively speaking, legion. Scores of brands have slapped their imprimatur on a de rigueur-looking phone case, but the best of luxury lies in its ability to awe. Here's a look at the 7 best accessories among the current offerings.
Louis Vuitton Tambour Horizon Connected Watch
Starting at $2550, the Tambour Horizon is a smartwatch that, following the rainbow motif of Virgil Abloh's runway show for the French label, now includes a Wizard of Oz digital watch face. Naturally, you can pair it with its matching sweater, but there's a lot more beneath the Yellow Brick Road as well. It's adorned with the brand's iconic logos and motifs, powered by Wear OS by Google and the snapdragon Wear 3100 platform; similarly, users can enhance their lives vis a vis the "My Travel" itinerary function, the "LV City Guide" app, as well the "Pollution" function that monitors air quality.
Louis Vuitton Horizon Monogram Earphones
With hardware built by premium headphone crafters at Master & Dynamic and optimized to pair with the Tambour Horizon Connected Watch, these wireless, Bluetooth-enabled earbuds bring the iconic monogram to the audio space. Including a sleek leather charging case (with 10-hour battery life to boot), for a stack ($995 to be exact), you can snag these in one of four colorways — black, white, red monogram, and yellow and blue LV stripes.
Berluti Smart Charger Kit
Like fellow LVMH brandmate Dior (whose future-perfect dual smartphone and AirPod cases aren't yet available, unfortunately), Berluti has taken their rich history of producing luxury goods to the tech accessory game and their $780 smart charger kit is a modern jet setter's dream.
Teaming up with the premium accessories purveyor Native Union, the Parisian fashion house has applied Venezia leather and patina to a dual USB-A port travel charger that boasts Smart-IC tech to guarantee that your devices are charging at their maximum speed and changeable two- and three-pin adaptors. Along for the ride as well are two USB cable and dock adaptors in matching Venezia leather casings — all of which will streamline your travel needs in style.
Berluti iPhone Case

Scritto Leather iPhone Xs Case
(Available at 3 Merchants)
(Available at 3 Merchants)
But what are all of these Berulti travel accessories without a phone case to match? Get the complete Berulti set for an unparalleled flex. Among their offerings are Venezia leather cases for the iPhone 7, 8, Xs, and Xs Max models which all boast "Scritto" calligraphy and four handy card slots. Ranging between $430 - $520, these Native Union collabs are a bit more understated when compared to the forthcoming $1,650 alligator skin iPhone Xs case.
Prefer a slightly different hue to your Berluti? If you purchase the accessories at Berluti stores, you will also have the opportunity to personalize them in a patina of your choice.
Beats by Sacai Headphones
If you're looking to avoid possible memification of your fit, then the "sonic jewelry" of fellow Apple product Beats by Sacai will still give luxury vibes. Taking inspiration from jewelry with customizable beads that can be attached to the neckband makes these headphones not only stylish but more truly personal.
The Japanese label offers three colorways to this collab: "Burned Red," "Deep White," and "True Black." Additionally, the headphones offer RemoteTalk functionality, magnetic construction, and a Flex-form cable, allowing the user to easily store the device in its accompanying sacai-branded case. At $150 (although much more on the resale market) and with an 8-hour battery life with Fast Fuel charging, these headphones will drown out haters without draining your bank account.
Hermès Apple Watch Series 4
A hyper luxe rendition of the Apple Series 4 smartwatch, the Hermès set includes two models: The "single tour" comes in a classic one-strap design while the "double tour" comes in four colorways and, because of its hybrid timepiece-bracelet design, wraps around the wearer's wrist twice. All of which will feature a color-changing watch face that reflects the strap's color. For something a little less ostentatious, also available is a "single tour rally" model with its classic auto racing designs and Barenia leather details.
Starting at $1,249, the Apple Watch Hermès Series 4 includes a dual core 64-bit S4 chip, a digital crown with haptic feedback, a 50 percent louder speaker than previous models, along with health features like fall detection and an electric heart sensor.
Versace Medusa Tribute iPhone X Case
Time to round out this French-heavy showcase with a bit of Italian flair. At $875, this will cost about as much (if you're lucky) as a roundtrip to Italy, but the high-density plastic materials wrapped in rigid buffed black calfskin fabric, Medusa iconography and gold-button hardware embossed with the fashion house's logo that extends down the three-foot long wristlet strap will let you whip out Game of Thrones vibes every time you use your iPhone X— which is to say, quite a bit.
The piece is rounded out with branding marks that read "Versace/Made in Italy," and, contrary to the sleek offerings usually given to tech accessories, the sturdy and hardcore look of this case is evocative of gaudy and bold sentiments of richness from decades past.
Our designated shopping section features products that we love and want to share with you. Highsnobiety has affiliate marketing partnerships, which means we may receive a commission from your purchase.