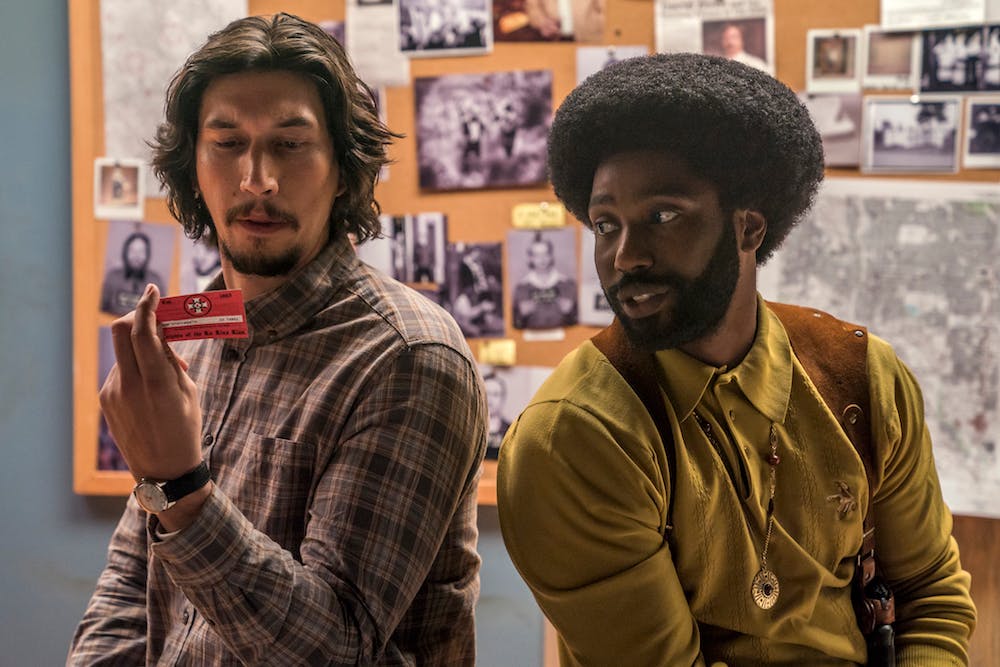 Adam Driver and John David Washington star in Spike Lee's BlacKkKlansman, recounting the true story of Ron Stallworth, the first African-American police officer in Colorado Springs, Colorado. Following the film's CinemaCon debut, here we get our initial glimpse at the anticipated picture, courtesy of Entertainment Weekly.
Washington portrays Stallworth, who is on a mission to infiltrate the KKK and furthermore, to take over its local chapter. Driver in turn plays fellow officer Flip Zimmerman, who poses as Stallworth's "white self" in order to meet KKK members, including the Grand Wizard, David Duke, played by Topher Grace.
"[Ron] still has his Klu Klux Klan membership card to this day," Washington told Entertainment Weekly when speaking on the real Stallworth. "He passed the card around for us to see and feel and it kind of just brought truth to everything he said, a validation."
The 33-year-old actor went on to add about Stallworth, "He's an amazing person. He's always about the job. It was never emotional for him. He never thought of it in that way of 'taking down the man.' He was [inspired] by the idea of no violent crimes or terrorist acts in Colorado Springs during his investigation, and he successfully accomplished that."
For more on BlacKkKlansman, including the most outrageous part of the true story and racial fractures in America, follow on over to Entertainment Weekly. The movie is due in theaters August 10.
In other film-related news, critics are saying 'Avengers: Infinity War' is worth the 10-year wait.