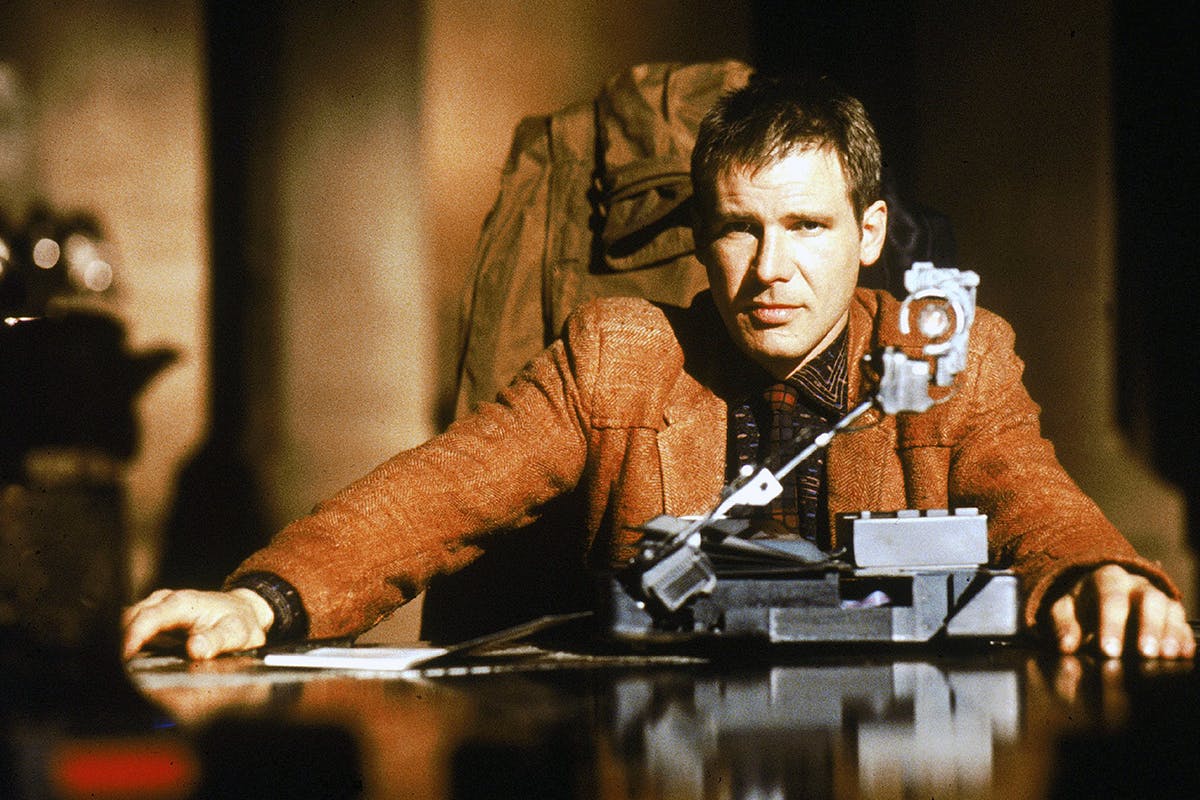 It's time to jump back into the futuristic dystopian world of replicants and the Tyrell corporation. After 35 years since the original Blade Runner, the second chapter Blade Runner 2049 starring Ryan Gosling and Harrison Ford is finally hitting theaters this weekend. As many fans will be looking to see how the new installment stacks up to the original, we'll be catching the many stylish get ups the characters will be draped in.
The original is lauded as one of the most accomplished works of science fiction of all time. Not only did the film serve as visual eye candy for viewers, especially Ridley Scott's 2007 "Final Cut" version, but it also created major influence on modern day fashion. Brands like Alexander McQueen and Jeremy Scott have all borrowed inspiration from the films fictional 2019 tech noir silhouettes. Raf Simons recently used the films iconic Chinatown scene as the theme to the brand's S/S '18 fashion show.
As 2049 will without a doubt be on many fashion designers mood boards after this weekend,  lets take a look back at the best style moments from Scott's original sci-fi masterpiece piece below.
Rachael's Fur Coat
From the spiral design pattern, to the vintage suiting woollens in shades of grey, designers Michael Kaplan and Charles Knode turned Rachael into a futuristic diva, but with a 1940's film noir chic that we see in the rest of her iconic outfits. Also, shout out the guy on the right with the all white 'fit and aviator hat. That look deserved more screen time.
Rick Deckard's Blade Runner Outfit
Is this Blade Runner or a Dries Van Noten F/W '14 ad? From the large military-esque overcoat to the navy hue and red pattern shirt and tie combo, Rick Deckard is clearly a fan of the Belgian fashion brand, or at least costume designers Kaplan and Knode are.
Dr. Eldon Tyrell's Frames
The genius behind the Tyrell corporation, looks one half sinister cooperate leader and one half mastermind in what looks to be a future MYKITA x Maison Margiela eye glasses collab. Hate him or love him, Tyrell pulls off these rimless trifocals effortlessly.
Prius's Nude Get Up
Prius gave us 2019 Yeezy Season 9 zine vibes as she put the beat down on Rick Deckard. Kanye, take notes.
Gaff's Suit
The mysterious Eduardo Gaff is very cryptic with his words, but is always on point with his look in Blade Runner. His street style is unmatched, and tailoring flawless. If there is anyone who deserves a custom Thom Browne suit, it's Gaff.
Zhoar's Transparent Coat
Move over Princess Leia, Zhor's metal bikini might have yours beat. Throw on the transparent rain coat, and you'll be the most stylish person at any pool party.
Roy Batty's Minimal Style
Roy Batty, leader of the Nexus 6-replicants, was a very complex character to say the least, but his fashion style was very minimal. From all-black leather overcoats the could easily be apart of OFF-WHITE's S/S '18 "Art Dad" collection, to simple heather grey tops, if you're going to rebel against society, do it with style.
Rachael's Power Suit
Replicant or not, Rachael's wardrobe was always on point, especially her popular power suits with the large shoulder pads. Blade Runner's take on the sharp-angled suit style has even inspired many brands like Opening Ceremony and Gareth Pugh to create their own iteration of the look. Hopefully we'll seem more of these in 2049 sequel.
Before you hit the theaters this weekend, watch the prequel short film of Blade Runner 2049.