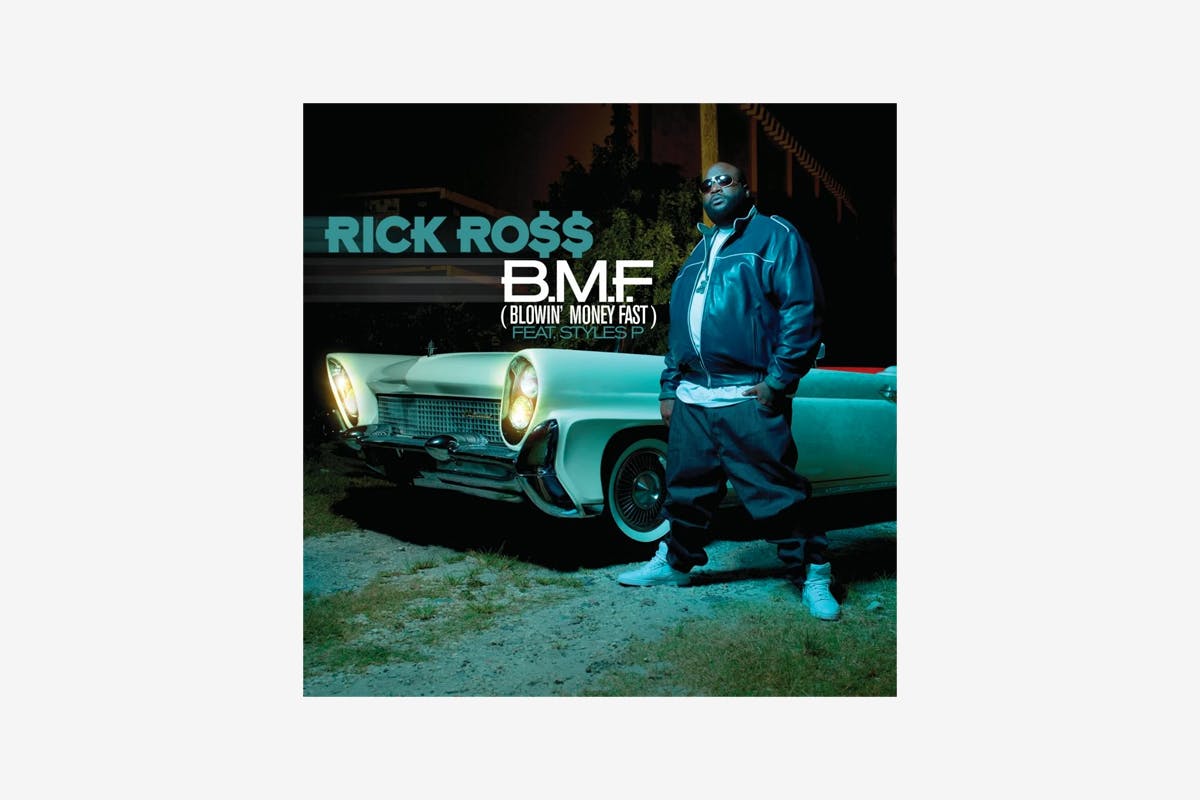 Big Meech is a reoccurring name in some of the most popular rap songs. We take a look at how he and BMF Entertainment impacted the music industry.
"I know Big Meech, the real Big Meech," raps Young Jeezy on the 2006 remix of Rick Ross's single "Hustlin.'" Ross, whose affinity for modeling himself after notorious criminals is well known, went on to personally name drop the Detroit-born kingpin in his 2010 hit "B.M.F." (Blowing Money Fast). "I think I'm Big Meech, look at my timepiece / It's an Audemar, hundred racks at least," Ross spits, among other vainglorious one-liners.
The subject of these blowhard lyrics, Demetrius "Big Meech" Flenory, was two years into a 30-year bid at the time of the song's release. His incarceration seemed a further intoxicant to deferential rappers eager to claim fellowship with him. It was clear, even then, that Flenory had already ascended from man to legend in their eyes.
So how did a Motor City native who co-established a cocaine trafficking and money laundering ring worth around $270 million (that we know of) become the benchmark to which chart-topping rappers still aspire?
The story begins in Detroit, where Flenory and his younger brother Terry "Southwest T" Flenory graduated from small-scale crack-cocaine peddling to establishing a legitimate shipping and distribution organization sometime in the early '90s. At its peak, the sibling's cross-country empire would span from Los Angeles, where Southwest T handled incoming shipments from drag cartels in Mexico; to Detroit, and Atlanta, where Meech oversaw distribution. It's also important to note that even though the duo was steadily building their narcotics imperium, and in Meech's case infamy, through the '90s, it wasn't until around 2000 they began calling themselves "BMF" or "Black Mafia Family." Not long after, Meech decided the world of hip-hop would be his, too.
Perhaps entering the music industry was an attempt to legitimize the shadier aspects of BMF, perhaps Flenory genuinely saw himself as an A&R of sorts. Either way, BMF Entertainment was incorporated in Atlanta in 2004. Meech was listed as CEO and high-ranking BMF member Chad "J-Bo" Brown was made COO. Even before launching the organization's entertainment arm Meech was far from an unfamiliar face on the scene. He and his brother were known to mix with popular rappers including Jay-Z and Fabolous -- both of whom would later make appearances in BMF Entertainment affiliated projects. Over the course of its existence, BMF Entertainment would help launch the career of Young Jeezy, and support numerous rising and established artists. They would also throw some of the most lavish parties the hip-hop world had ever seen.
On paper, and according to Barima "Bleu DaVinci" McKnight, the only artist BMF Entertainment ever officially signed, the company actually operated lawfully. At his 2008 conspiracy to distribute sentencing, DaVinci even stated that it wasn't until much later in his relationship with Meech that he discovered and became involved with BMF's true income source. Despite the fact that illegal money was funding his legal business venture, Meech showed no inclination toward toning down his exorbitant showboating. This endless, almost reckless pattern of spending and insanely flashy lifestyle, which continued well past the time Meech became aware that the FBI was investigating him, have all contributed to the legend that is BMF. Meech was so confident in himself and his people -- all of whom observed an ironclad code of silence where "Dude" (as they called him) was concerned -- that BMF even posted billboards around Atlanta. In a move ripped straight from a scene in Scarface, the billboards proclaimed, "The World is BMF's" -- Bleu DaVinci would also use this slogan as the title of his debut mixtape.
With tens of thousands of dollars worth of cocaine sales pouring in every day, Meech could afford to maintain his expensive habits, and fund those of his friends, too. Case in point: Bleu DaVinci's first major music video "We Still Here" was allegedly bankrolled by BMF Entertainment to the tune of $500,000. The project is opulent even by today's standards. There are battalions of luxury cars racing down Atlanta's busiest streets, plenty of half-naked women and club scenes, and lots of cash; it's a real rapper's delight. Meech didn't hesitate to call in the big shots, either. The extravagant affair was masterminded by well-known hip-hop video Director Benny Boom, and featured both E-40 and Fabolous.
Perhaps the most ironic aspect of the video is the personal appearance by Big Meech...as Big Meech. In a short skit we see Meech, J-Bo, and the rest of the crew sitting like lords around a huge table with piles of money spread before them. Also in the room is a wide-eyed music executive. His presence  faux enrages Meech who promptly calls DaVinci to tell him that he doesn't appreciate the lack of separation between DaVinci's hip-hop endeavors and BMF's other businesses. The fictional exchange, while covered by the thin veil of artistic expression, was a foolhardy move considering the video was shot in 2004, well after the FBI actively started investigating BMF. At the time, Meech was also a person of interest due to his 2003 arrest in connection with the shooting murder of Anthony "Wolf" Jones, a former bodyguard of P-Diddy. Meech was never indicted, but the shooting, among other violent assaults, would prove to be part of his undoing.
Aside from providing a cover for BMF's more unscrupulous activities, having a music branch also afforded Meech -- and his by then massive crew -- license to do even more of what they loved: Flexing, and flexing harder than your favorite rapper could ever imagine.
So prodigious were Meech's spending habits (in strip clubs in particular) that many claim BMF were the true originators of "making it rain." Leaving a green carpet's worth of money was a phenomenon virtually guaranteed at any event Meech attended. According to Editor Mara Shaloup, author of BMF: The Rise and Fall of Big Meech and the Black Mafia Family, Meech's entourage, which sometimes exceeded 50 or more people, were always treated to their own bottle of Cristal or Perrier-Jouët during these outings. The hysteria that triggered BMF's club entrances often started before they even stepped foot in a building. A stream of Bentley, Lexus, Porsche, Ferrari, Bugatti and other luxury vehicles usually marked their arrival, and soon after beautiful women would flock.
Essentially, Meech's real life was the fodder of hip-hop videos. He was a successful example of the fast money lifestyle in the flesh, and his name was respected beyond studios and stages. Unlike many of his rapping contemporaries, there was no questioning Meech's "street credentials." It makes sense he would be the inspiration behind the exaggerated tales and lyrical grandstanding of many rappers, who while perhaps not intimately aware of what it takes to head a criminal organization, know that such stories sell albums. Additionally, where a rapper's earning potential, though large, might be constrained by contracts, taxes, and other banalities of legal money, Meech was not. He could spend as much as he could sell, and as his feverish spending indicated, he sold a lot cocaine.
Director Benny Boom even tells a story about Meech outshining Jay-Z at the video shoot for Young Jeezy's single "Soul Survivor." Jeezy, who BMF Entertainment supported in his early career, went on to ink a deal with Def Jam Entertainment where Jay-Z was president at the time. The video shoot drew everyone who was anyone in New York, and they all came wearing their flashiest jewels and driving their most expensive cars. Boom claims that Jay-Z arrived in a newly-on-the-market Maybach. Not long after, Meech, who had driven from Atlanta to be part of the festivities, arrived with two new Maybachs. He promptly pulled them up next to Jay-Z, effectively ending the pissing contest. Boom claims there was no beef between the two, surmising Meech may have done it simply because he could.
Such flamboyant statements were common for Meech, whose celebrity-studded 36th birthday party at club Compound in Atlanta racked up $100,000 for exotic animals alone. According to Shaloup, even as things came to an end for BMF, Meech's spending never slowed. One of the last big moments for the family (as Meech called them), was the 2005 release party for Young Jeezy's debut album Let's Get It: Thug Motivation 101. There Shaloup says Meech and his crew showered club-goers with money, bought bottle upon bottle of champagne, and shared the stage with Jeezy. Three months later all but a few of BMF's higher-ups were arrested.
Yet today, even as Meech sits behind bars, some of hip-hop's biggest names are still eager to earn his stamp of approval. Such notoriety is par for course considering Meech's history. Nevertheless, it points to an interesting hierarchy: one in which fans idolize their favorite rappers while their favorite rappers idolize the real life version of the image they portray. That is not to say that every artist who details tales of "street life" is spinning a fantasy. However, the reality is there usually comes a point where such artists must choose between having a legitimate career or continuing to engage in activities of questionable legality. If not, they run the risk of being viewed as a liability to labels and other parties interested in working with them, and to be considered a hindrance is to ultimately limit income potential, or even longterm chances of mainstream success.
So instead, artists like Rick Ross (who is probably the best example of this) consistently draw from the stories of larger-than-life personalities like Big Meech. Perhaps they gravitate towards these figures partly for legitimacy, but it also seems that the allure of their dangerous lifestyles provides a thrill, and the type of titillating narrative people seem to want to hear. Ross has even detailed meeting Meech twice, and also talked about the impact his empire had on his home city of Miami. In 2012, when T.I. was facing accusations of snitching in addition to legal woes he turned to Meech, who penned a letter from prison in the rapper's defense.
T.I. has also mentioned Meech on the 2008 track "You Ain't Missin' Nothin,'" stating, "I talked to my n*gga Big Meech / Had to tell him the streets miss him just as much as he miss the streets...I tell him just know ain't nobody ever did it as big / It'll never be the same in this city again." Despite having never personally met him, everyone's favorite Toronto native has also alluded to Meech. In "10 Bands" Drake raps, "Take a flick, I look like Meechy, look like Bleu DaVinci."
These constant comparisons confirm one thing -- Big Meech and BMF established a new standard of opulence and hedonism in hip-hop. And when it comes to keeping up with the Joneses, even your favorite rappers acknowledge they're just a pale imitation.