Burberry presented its enormous SS18 collection in London over the weekend. Set in a cavernous chamber with pendulum-like lights swinging overhead and a multi-colored laser display, it was a key runway show for London Fashion Week this season.
Why? The show, replete with egregious amounts of the house's iconic check pattern, the "nova check," marked the end of Christopher Bailey's time at Burberry. Bailey had held various positions at Burberry for 17 years, including CEO, chief creative officer and creative director.
Burberry was founded as the quaintly named "Burberry's of London" by Thomas Burberry in 1856. Back then, it was mostly known for its rainproof trench coats (living in London will inevitably produce such garments), but the house's trademark check soon became synonymous with the brand, and by extension, British luxury.
However, Burberry's past isn't all rainy days and fancy trench coats. The brand's most potent signature — the aforementioned nova check — has a problematic backstory that touches on British classism, the aesthetic hijacking of the working class, Gosha Rubchinskiy and one unfortunate TV actress' cocaine-riddled septum, or lack thereof.
But first, we need to talk about classism in the UK is complex. Prescient author George Orwell once said "England is the most class-ridden country under the sun. It is a land of snobbery and privilege." In other words, social class in Britain is a systemic issue that can't, and shouldn't, be investigated without time and sensitivity. But it's fair to say that in the early '00s, there was a nationwide moral panic about "chavs."
"Chav" was a pejorative term for the working-class often used by British tabloids in conjunction with anti-social behaviour, poverty, branded sportswear and, much to the brand's dismay, Burberry's nova check. For an in-depth read on the "chav" phenomenon and British classism, read Owen Jones's book, Chavs: The Demonization of The Working Class, which happens to have on the cover, you guessed it, a nova check Burberry cap.
Burberry's prestige went on a rollercoaster ride in the late '90s and early '00s. Ollie Evans, the cultural historian behind vintage webstore Too Hot LTD, recalls the brand's initial buzz and eventual crash at the turn of the millennium.
"I used to work in Zee & Co on Roman Road in Bow East London 2000-2001," he told us. "We used to sell a lot of nova check shirts and baseball caps. The caps were priced around £50, which allowed a lot of people access to Burberry that perhaps couldn't afford it before." Entry-level designer accessories are great for an initial boom, but Burberry caps became an example of how strong branding, while desirable, can soon become complicated for brands when they lose control over who's wearing it.
"Really quickly the caps were everywhere, which lead to them being bootlegged and faked, and they spread even further," Evans describes. "The sheer proliferation of the fakes really devalued it. Prior to the baseball cap epidemic the Burberry check was really quite fashionable with creatives and those with their fingers on the pulse in London."
Burberry received further unsanctioned PR when British soap opera actress Daniella Westbrook was photographed wearing head-to-toe nova check, including her infant child and stroller too. For context, Westbrook was less associated with her acting and more with her widely-publicized cocaine addiction. In the year 2000, she was infamously papped with her literal septum missing, fully eroded after a decade of cocaine abuse. This didn't exactly scream "luxury fashion," and Burberry was having a crisis.
Christopher Bailey, who joined Burberry in 2001, had the mammoth task of undoing this association and clawing the brand back to the top of luxury pyramid. Burberry scaled back the check print to just 5% of its product (it used to be 20%) and items like check caps were discontinued altogether. Burberry managed to eventually distance itself from the chav associations, but the house was had to tackle another problem: poor financial performance. A decline in spending amongst Chinese shoppers caused the brand's sales to plummet, and in 2015, Bailey was forced by shareholders to take a 75% pay cut, from £7.5m to £1.9m.
Fast forward over a decade from the Daniella Westbrook photo, and things had changed considerably in the UK and the style landscape at large. Working class aesthetics, and in particular sportswear, are now the norm. Everyone listens to grime, people are styling out track pants and nobody is really calling each other a chav anymore.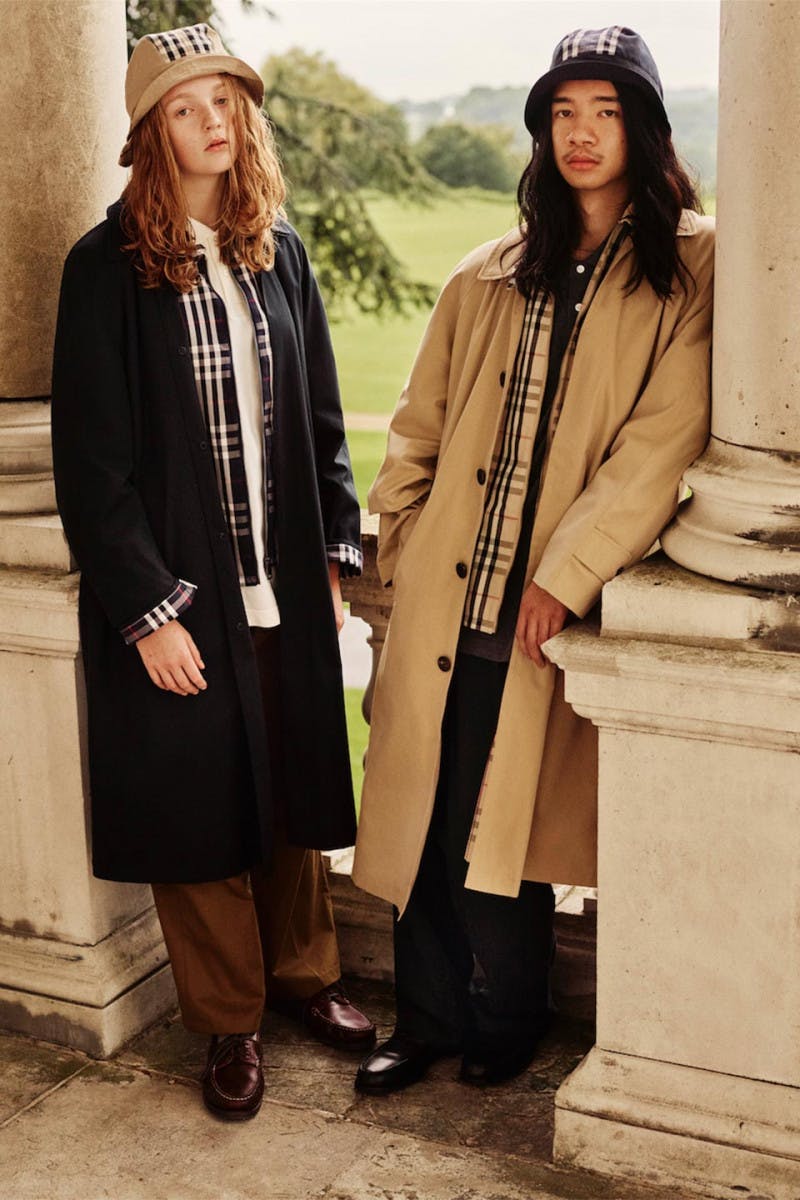 Enter Gosha Rubchinskiy, the Russian designer responsible for one of the most hyped streetwear labels in recent years. The core of his aesthetic borrows heavily from the uniform of the gopnik (i.e. Russia's answer to the chav). Echoing a streetwear/high fashion crossover precedent set by Louis Vuitton and Supreme, Burberry collaborated with Gosha for SS18, on an anglo-russian collection that brought the dormant nova check back in full force. The pattern was seen on bucket hats, shorts, and short-sleeve shirts, and while the nova check's return may have been a surprise for some, Burberry pieces have long been popular with the clued-up London youths populating streetwear communities like Wavey Garms.
The nova check's revival aligned with a wider movement in the fashion industry. Luxury houses have been going back to their roots, bringing their iconic logos and patterns back from the archive — case in point being Fendi's FW18 men's show in Milan. In the case of Burberry, though, this revival felt hypocritical to some.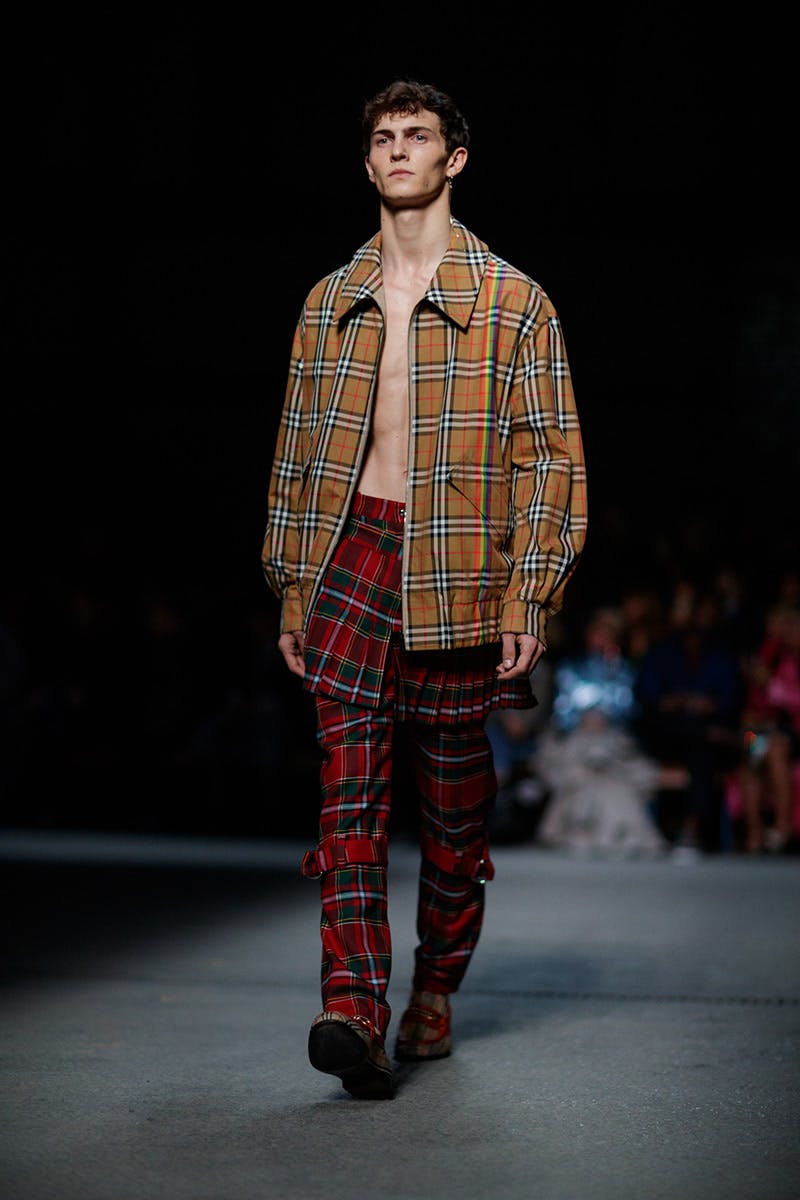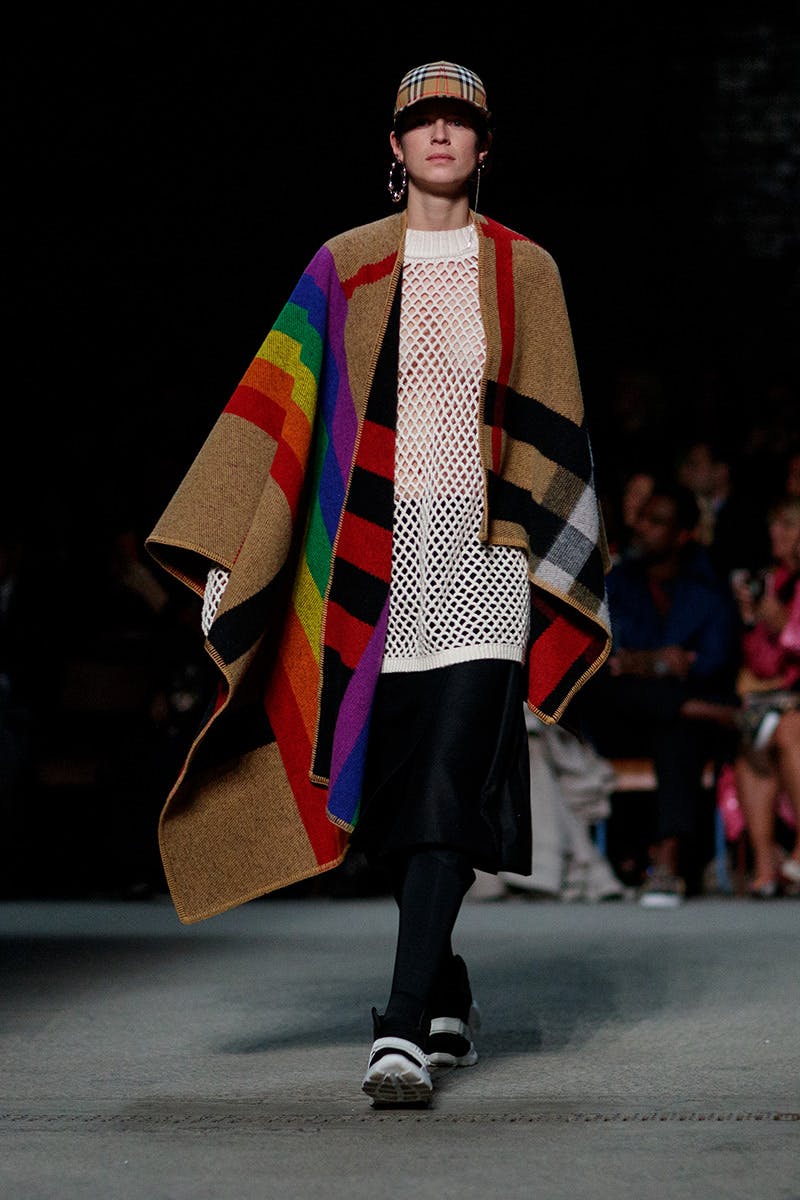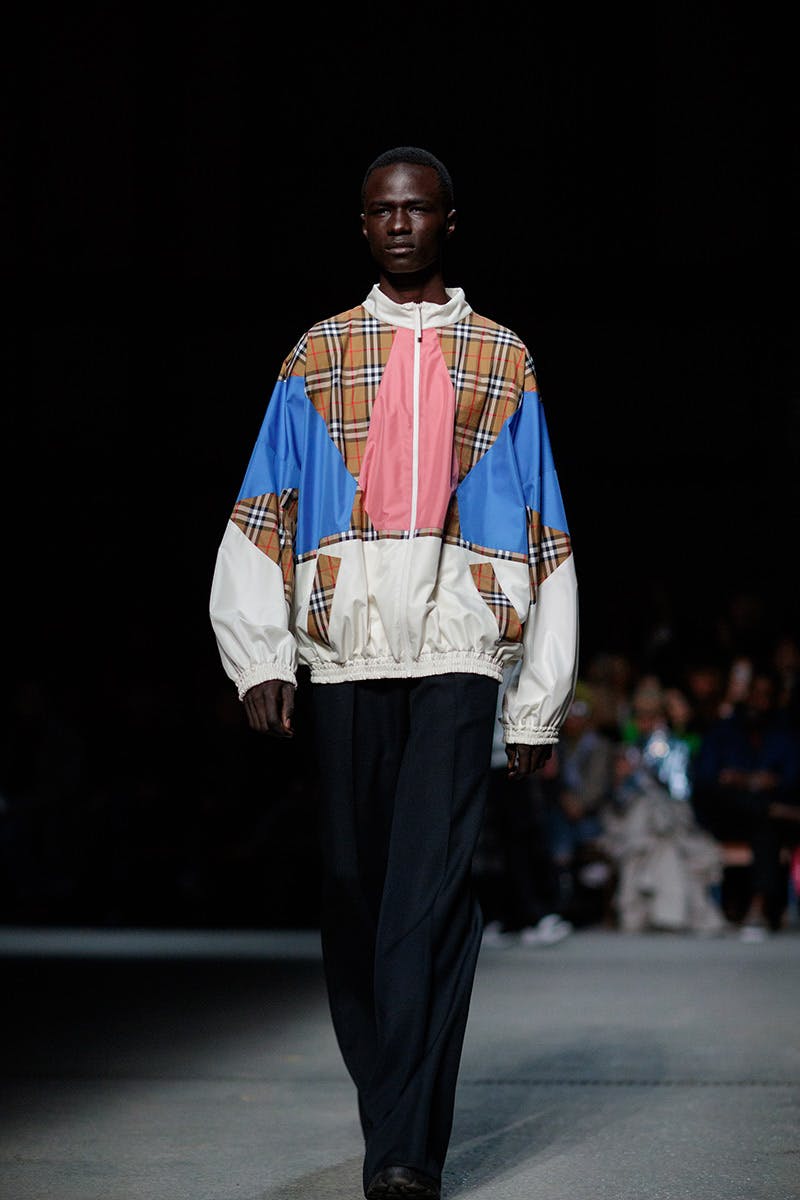 In 2018, with social issues at the forefront of the news cycle, a lot of brands are having to reconcile with their elitist past. Louis Vuitton's lawsuit against Supreme is now common knowledge, and Gucci has paid tribute to Dapper Dan, who decades ago would have been scorned as a counterfeiter. That's possibly why Bailey bowed out at Burberry by re-contextualizing the nova check again, this time as a tribute to LGBTQ+ community. The print was rendered in the colors of the rainbow flag for Bailey's final show, and with queer supermodel Cara Delevingne (who hadn't been seen on a runway since 2016), walking in a triumphant rainbow cape.
There was also a rainbow check featured on bomber jackets, and some heavy-duty outerwear as flexed by Skepta outside the show. Burberry also announced via Instagram that it had made donations to three LGBTQ+ charities, and it's worth remembering that Christopher Bailey was the first openly gay member of London's FTSE 100 index (a list of 100 companies on the London Stock Exchange with the highest market capitalization).
Who knows how the nova check will be interpreted by the Christopher Bailey's successor, but hopefully its days as a proxy for classist snobbery will be laid to rest and its future can serve to highlight the strength and diversity of one of Britain's most iconic brands.