For people both inside and outside of the world of fashion, the pairing of Louis Vuitton's prestige with Supreme's devil-may-care attitude wasn't all that surprising given the state of the industry where one hand washes the other and each entity cleans up based off the hype of the collaboration.
"[Luxury brands] understand that they need to matter in our world," said Highsnobiety founder, David Fischer. "And they even need to produce specific product for our world. That's how you get [Brooklyn artist] Gucci Ghost meeting Gucci, Coach doing something with a Hong Kong graphic designer, and [Louis Vuitton men's director] Kim Jones doing stuff with Nike. These things have really come together over the last decade."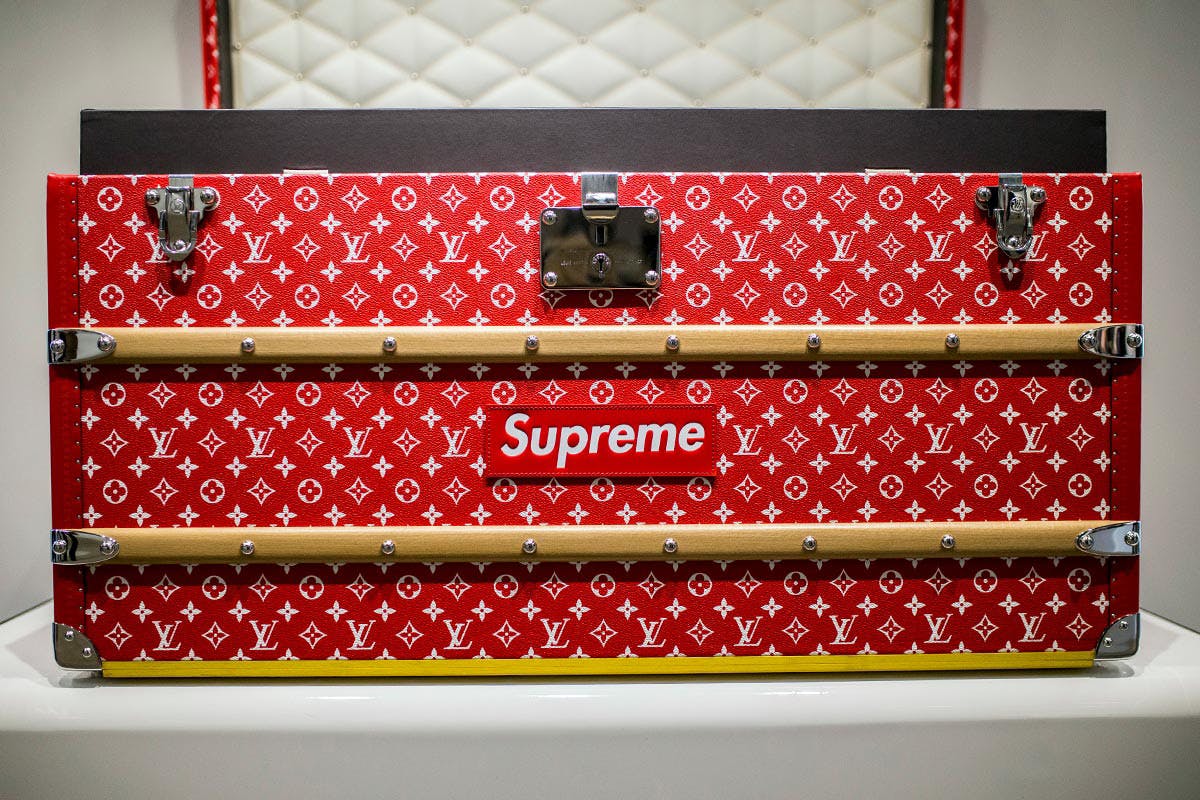 In a 2017 context, many believe that Louis Vuitton and Supreme are on equal footing and that their successful collaboration is further proof that the lines between luxury and streetwear have all but vanished.
"I do think it's disappearing, and I think luxury or 'fashion' is looking towards sportswear," said Louis Vuitton's Artistic Director of Men's Collections, Kim Jones, when discussing his 2016 NikeLab collab.
Jones' sentiments should not come as much of a shock. One of his first real jobs in the industry involved the importing of Supreme merchandise across the Atlantic at a time when Supreme eschewed any e-commerce ventures in favor of in-person, brick-and-mortar exchanges.
"I started working for a company that imported things like Supreme to the U.K. a long time before anyone else did," he said. "I was more into that sort of streetwear and Japanese clothing before I got into real fashion. But that's how it all started."
If today's Louis Vuitton and Supreme relationship represents a symbiotic existence - with rumors that they actually acquired the New York brand - that is perhaps the greatest shift in dynamics in the last 20 years given the fact that only 17 years prior, the luxury house lawyered up and slapped the six-year-old New York skate brand with a cease & desist.
Legendary Harlem tailor, Dapper Dan, will probably best be remembered as one of the first people to create knockoffs to great effect during his two decades of running his 24-hour storefront on 125th Street in New York City where he churned out "knockup" Gucci, Fendi and Louis Vuitton pieces for stars of the era like Mike Tyson, KRS-One, LL Cool J and Big Daddy Kane.
"It seems possible that, in the nineteen-eighties, Dapper Dan was the most influential haberdasher in the city," The New Yorker noted.
When asked about the power of luxury logos at the time, Dapper Dan indicated, "Each had their period, but Louis [Vuitton] stayed with it. Louis never wavered; it always had that impact."
Although luxury brands were always on the lookout for counterfeit items, they had little reason to believe that anyone was doing it on such a grand level as Dapper Dan.
"Harlem got a mind of its own," he once said.
A chance encounter at the store between Mike Tyson and Mitch (Blood) Green - a heavyweight who had lasted 10 rounds against Tyson two years earlier and was hungry for a rematch - resulted in a bloody altercation that shined an unwanted light on Dapper Dan's illegal business.
According to The New Yorker, "Not long afterward, this curiosity spread to lawyers at the Manhattan firm of Pavia & Harcourt. They came across a picture of Tyson wearing an odd Fendi jacket—odd because the firm represented Fendi, and yet no one there had ever seen a jacket like that. Tyson's shopping habits had become notorious, so it didn't take long to figure out where the jacket came from. One of the lawyers assigned to Fendi was Sonia Sotomayor, the current Supreme Court Justice."
Due in large part to the Tyson fiasco and the subsequent legal entanglement, Dapper Dan's shop was out of business by 1992.
Although Louis Vuitton was never named as a defendant in the proceedings against Dapper Dan, there was clearly a precedent established by his dealings; people desperately wanted to wear luxury items, people were willing to produce them, and the brands being knocked off were ready to fight.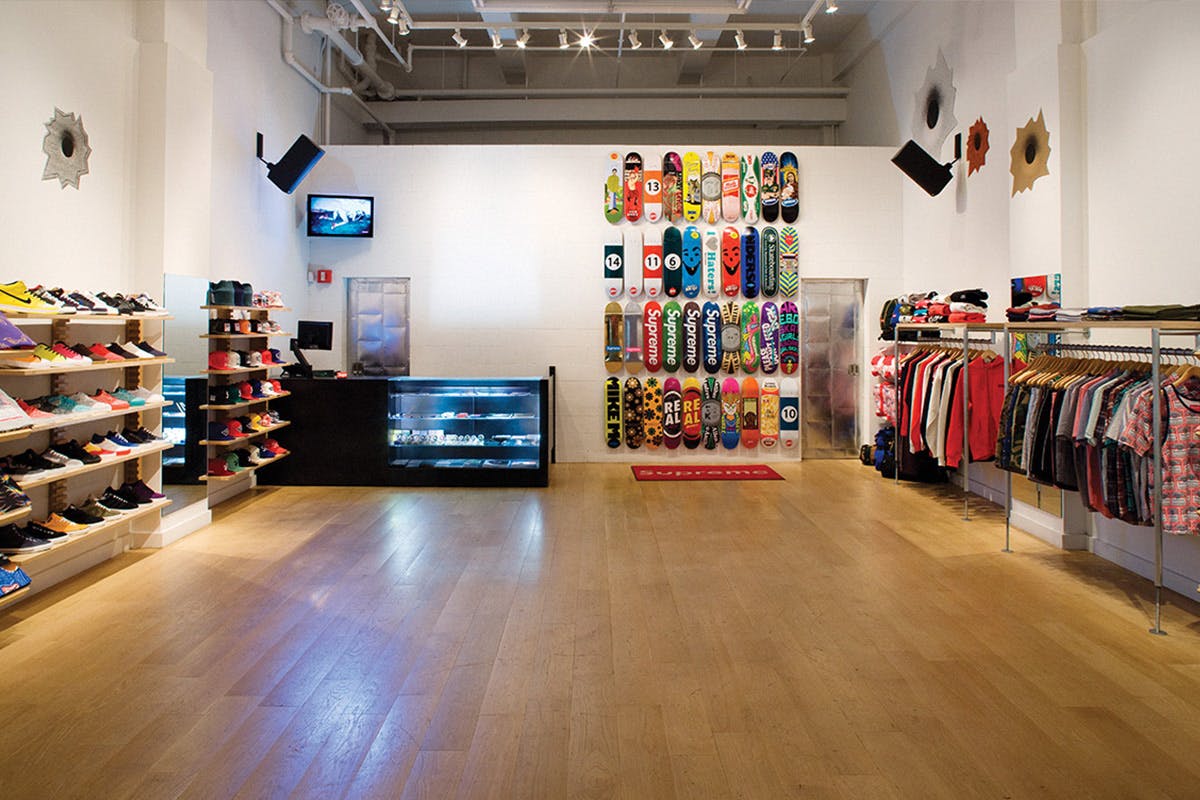 Although Dapper Dan's antics began to curtail following his shop's closure, James Jebbia's Supreme would come to be the next great "disruptor" in the New York fashion scene.
Supreme's Lafayette Street home was a spiritual ancestor of Dapper Dan's haberdashery; word spread through word of mouth and there was a certain amount of lawlessness associated with the former's storefront given its strong ties to the skate community where following the rules was an afterthought.
Vashti Kola recalled her earliest visits in the '90s, stating it was "a place where authenticity [was] of extreme importance."
The brand's earliest years were marked by a number of important firsts: 1994's "Travis Bickle" tee was the brand's first pop culture swipe, 1996 marked their first collaboration, and 1998 marked another popular culture reappropriation in the form of their Keith Harring tee which borrowed from the late artist's Dog abstraction on plywood.
During this same period, Marc Jacobs was named Creative Director at Louis Vuitton. His appointment seemed rather unlikely after he was fired from his post at Perry Ellis.
One of Jacobs's first major coup's was breathing new life into Louis Vuitton's monogram pattern - gifting the house's staid hatboxes and Vernis collection to super models, Naomi Campbell and Kate Moss.
Although the print was steeped in tradition and Louis Vuitton lore, it represented an old-world and snooty attitude. But whereas Dapper Dan introduced luxury to the streets, Jacobs aimed to bring Louis Vuitton into the lives of young people.
Louis Vuitton noted of the duality of their partnership with Jacobs, stating, "Two innovators, both rooted in their respective centuries, advanced an entire industry. Two creators, each in his own language, appropriated cultural codes and trends in order to shape the history of contemporary fashion."
In 2000, Supreme introduced a series of skate decks, beanies, and T-shirts emblazoned with Louis Vuitton's monogram print which had suddenly taken on a greater meaning in popular culture - especially amongst young people.
Whereas brands these days often skirt legal trouble by using a "Fair Use" defense or by adding parody elements, it seemed more likely that Supreme liked the idea and simply ran with it.
Two weeks after the skate decks were shipped, Louis Vuitton hit Supreme with a cease and desist letter which one could argue marked their first steps toward an eventual sanctioned collaboration that would be unveiled on the runway at Le Palais Royale in Paris 17 years later.
The French house was reportedly so taken aback by Supreme's flagrant usage of their monogram print that they demanded that the products be burnt to avoid any further circulation.
Supreme's website denotes the turmoil with a badge of courage - noting the decks were "recalled after two weeks due to lawsuit."
Attorney, Jeff Gluck, who has made a name for himself in the streetwear/art community by representing artists in lawsuits against brands and companies - most notably defending graffiti artist, RIME, against Jeremy Scott and Dash Snow's estate against McDonald's - weighed in on the almost two decades-old lawsuit.
"Contrary to most reports, I don't believe LV actually sued Supreme," Gluck told us. "I believe they delivered a formal cease & desist demand which is typically a precursor to a lawsuit, prompting Supreme to recall these items in order to avoid litigation. In 2000, Supreme was still growing. You could still regularly go to the NYC store on release day without seeing any line outside. As a relatively young independent skate brand at that time, receiving a cease & desist demand from the monolithic LVMH organization was probably very intimidating and likely Supreme wanted to avoid litigation. Fighting back would probably have resulted in a lawsuit."
Gluck also believes that Supreme ultimately made the right decision.
"Supreme did not appear to be interested in actually selling 'counterfeit' LV merchandise or looking to confuse consumers into believing they were actually buying an LV skateboard," he said. "Nevertheless, blatantly using another brand's logo this way, without permission, would seem to create a strong likelihood of consumer confusion as to the source of the product which is a core 'test' in determining trademark infringement. Fair use, including parody, is a defense to copyright infringement. LV does have a registered copyright for their monogram design. In the famous Supreme Court case Campbell v. Acuff-Rose Music, Inc., the Court determined there must be some 'use of some elements of a prior author's composition to create a new one that, at least in part, comments on that author's works.' This ruling indicated that an acceptable parody must be transformative in nature, essentially creating a new design while parodying the original design. Other factors the courts consider when deciding fair use include the purpose of the use (whether it was commercial, educational, non-profit), the amount of the work that was actually copied, and the impact it may have on the marketplace. In this instance, it appeared that Supreme did not include any elements of parody or transformation of the original LV design."
One could make the argument that without the Supreme lawsuit - and subsequent interest from young people who never considered mixing uptown fashion with downtown sensibilities - we would have never got additional youthful abstractions of the monogram print by the likes of Stephen Sprouse, Takashi Murakami and Yayoi Kusama.
As The New York Times noted of Jacobs's collaboration history following the Supreme lawsuit, "The results revitalized Louis Vuitton. They made it relevant at a time when the global cohort of luxury goods consumers was skewing more inexorably toward the young."
In fact, Louis Vuitton's rationale for partnering with Sprouse - who splashed graffiti and roses on monogram wallets, handbags and scarves to spectacular effect - seems to closely resemble what Supreme was trying to achieve with their skate decks.
"It's about taking something that's very iconic and revered and defacing it and creating something new, somewhat rebellious, and kind of punk," Jacobs explained, adding, "[Sprouse] had this desire to take what he saw in the streets and elevate it."
Louis Vuitton earned a reported $300 million USD based off Jacobs's line of thinking at the time.
Emma Hope Allwood, Fashion Features Editor at Dazed, said of the current Louis Vuitton and Supreme collaboration, "I think the pieces which incorporate the monogram with the Supreme logo are the strongest – they remind me of the kind of bootlegs you might find in a dodgy Asian marketplace or on Ava Nirui's Instagram feed. It's another take on the official fake (like those wildly popular Gucci cruise T-shirts); a trend which calls into question ideas of authenticity and originality, both of which are concepts that are central to Supreme and Vuitton as brands."
Perhaps lost amongst the shuffle of Supreme-clad accessories and exorbitantly priced trunks, was the monogrammed skate deck.
Whereas the 2000 iteration was presented in chocolate brown - a color synonymous with the luxury house - this year's version also shows up in Supreme's fire engine red color way.
"This is what it is all about," said HUF's Keith Hufnagel. "They bootlegged LV and now LV is working with them. Classic skate/streetwear style!"