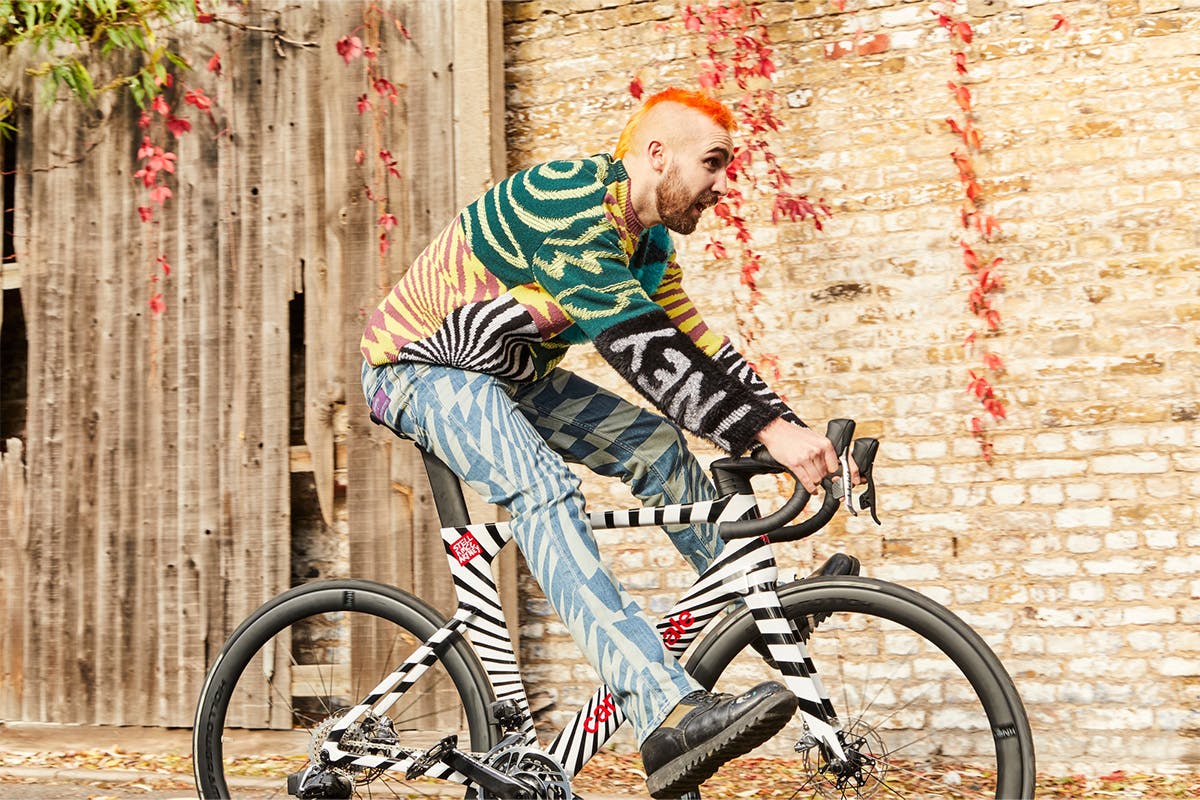 We can't promise that they'll make you go faster, but the Stella McCartney's Stella Shared 3 x Cannondale bicycles will get your two-wheel-style game on point.
If you'd asked me two years ago what a fashion bike was, I'd probably have given you a blank stare and assumed you'd misspoken. Bikes, to me, only ever went as far as Raleigh, Apollo, BMXs, and Halfords. Oh, how naive I once was.
The crossover between fashion and cycling has grown exceptionally in the past couple of years, especially within the luxury sector. I'm no expert, but I imagine the increase in people ditching cars in favor of cycles, especially in inner cities, has led luxury brands and bespoke designers to take two-wheelers as their canvas.
MCM recently stepped into the e-bike game with URWAHN, VanMoof became Frank Ocean's go-to wheels, and Louis Vuitton and Maison Tamboite put together bikes worth more than a muscle car.
Whether it's a pushbike or an e-bike, cycles have become the hottest method of transport – just ask Virgil Abloh, who whips about on a custom Palace x Cannondale.
Cannondale is once again the cycling expert of choice as Stella McCartney joins a growing alumnus of designers that want to ensure bicycles and dull are never in the same sentence.
The Stella Shared 3 x Cannondale capsule collection features a series of limited-edited bicycles that feature hand-painted prints, with two designs created by each of the collection's three featured artists.
Each artist represents one of three cities – Ed Curtis in London, Myfawnwy (Maisie Broome) in New York City, and Tom Tosseyn in Antwerp.
Stella McCartney discussed the collaboration, saying: "As a lifelong cyclist and someone who rides their bicycle every day to work, I could not be more excited for my new shared journey with Cannondale. The bikes we have created with our Shared 3 artist collaborators embody our common values and vision – blending beauty and desirability with a sense of responsibility to the next generation."
As is standard with any luxury cycle, these exist in extremely limited quantities. Only 18 hand-crafted bikes were made, including the SystemSix – the world's fasted bike.
You can discover the Stella Shared 3 x Cannondale bikes at Stella McCartney's London, New York City, Hangzhou, and Tokyo flagship stores from November 3 to November 17.