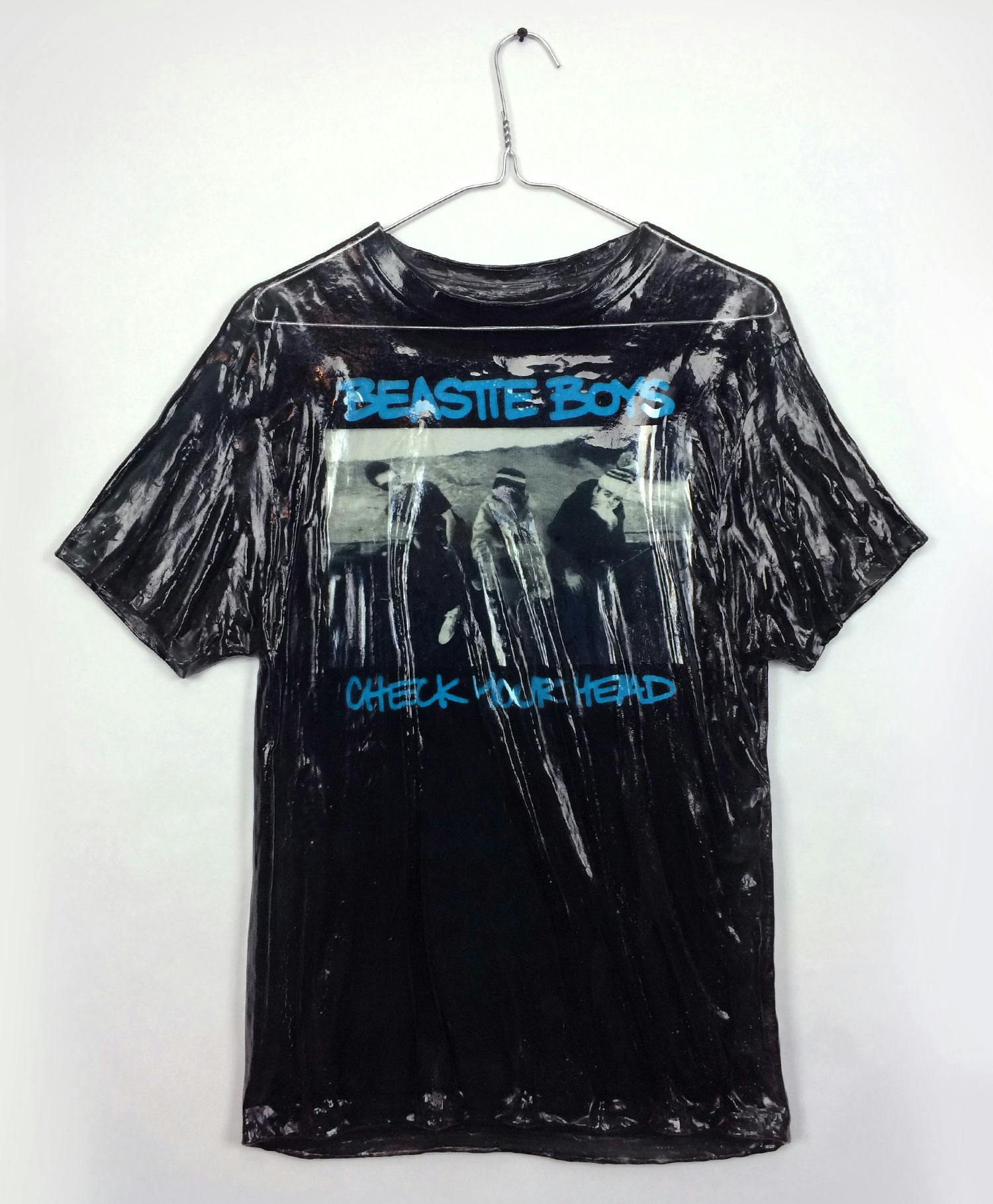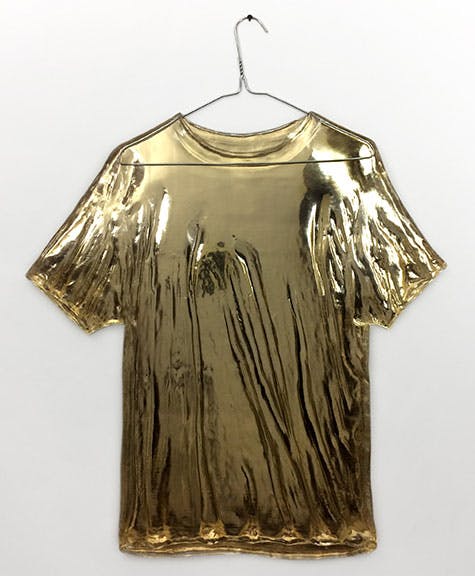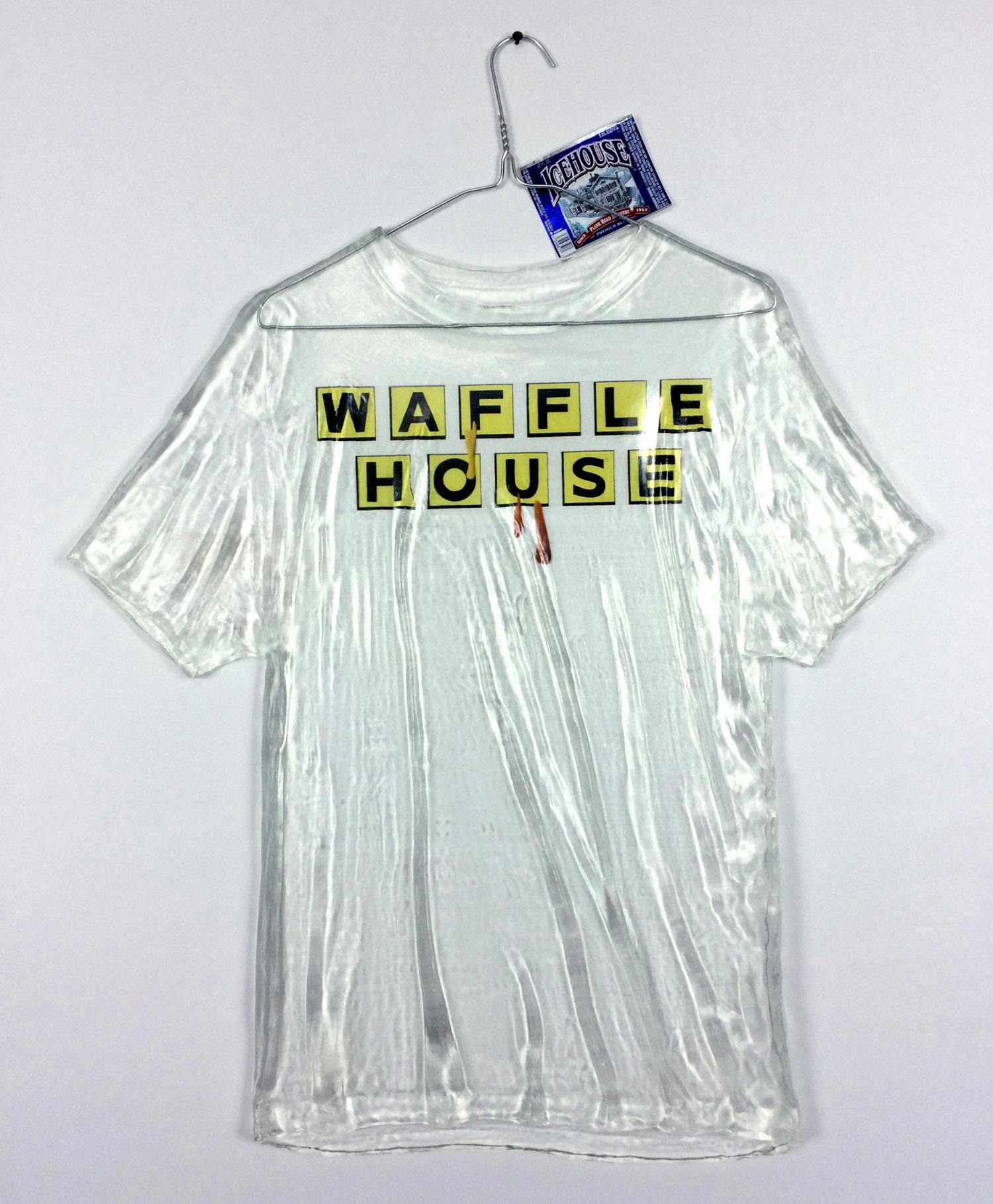 #GramGen is a series profiling the most radical characters in youth culture, who continue to shape trend behavior and spark controversy through their avant fashion sense and candid social media personalities.
Chris Bakay is capturing the life of ordinary objects through translucent sculptures. These sculptures, from T-shirts to sneakers, are clear reminders of the influence of everyday items. The Houston-based artist created his first translucent piece a while back, but it wasn't until years later that he heard an image of this original piece was swirling the web. The image of his original clear hanging T-shirt was being used as inspiration at major fashion blogs and houses. Since then, Bakay dove back into what would become his signature medium, using it to construct common objects in the least common way possible.
Bakay's art combats the predictable. In his own words, he's creating items that shouldn't exist. He takes something as usable and as fluid as a vintage T-shirt and turns it into an unwearable, still piece of art.  By creating items that every person can recognize and connect to an experience or a memory, Bakay's work is a source of nostalgia. These simple objects, from a vintage Air Jordan T-shirt to a Krispy Kreme donut, evoke different memories for each person who sees them.
Producing these hanging sculptures is no small feat, the artist explains. With depicting objects that are so real and so tangible, there was an initial pressure to create only flawless replicas, making sure a hanging T-shirt is captured in its exact motion. Nowadays Bakay says that when creating objects that can be so personal for different people, there's no need for physical perfection. " Overall, I don't like perfect pieces. People aren't perfect. The memories I'm chasing aren't perfect."
We caught up with Chris to chat about the connection between art and nostalgia and his most difficult pieces to create.
Where are you based?
Currently, I'm in Houston, Texas. I met a girl and ended up here. Originally, I'm from Atlanta.
How long have you been creating these infamous translucent pieces?
On and off for quite a while. I made one years ago, put it online and then moved on to other projects. My sister lives in London and has a friend that was working at Alexander McQueen. She had seen my clear shirt online and recognized our surnames as being the same. When my sister confirmed that yes, it was her brother that made the piece, her friend said the image had shown up on fashion inspiration blogs, moodboards, at various fashion houses, etc. My sister told me to go back and explore it, and I'm glad I did. She's very wise.
What materials are they made from, and how did you get started using such a unique medium for you work?
They're mainly cast epoxy or urethane resin, which is essentially a clear hard plastic. After doing a lot of research I found Smooth-On, a company that makes these kinds of things possible. I told them my vision and they hooked me up. After a lot of ups and downs, I'm making what I am today.
What inspired you to start creating this non-wearable art?
I wanted to create something that was in my head, something that didn't exist in the world previously. I have the curse of originality which is good and bad.
How do you decide which items to recreate?
I like to make things that shouldn't exist. When it comes to casting and mold-making it's easy to work with rigid objects. They're predictable. You can bolt them down, make a mold and cast them. But to cast something that won't stay still like fabric or food, it takes making that into a sculpture first and then starting the molding process.
What piece are you most proud of and why?
The piece I'm most proud of is the first clear shirt I made. It was achieved through sheer will and obsession. I have much more experience with these materials now than when I started. When I look back at how little I knew and how well it came out, I'm shocked. When I get obsessed with a project I have to finish it or it will really affect me.
Why do you think art and nostalgia go hand-in-hand?
I feel the best art triggers emotion or raises questions in a meaningful way. Nostalgia can be a shortcut to tap into dormant memories and emotions while bringing them to the forefront. When it happens from simply encountering an object, that's pretty powerful stuff.
You've recreated a range of different items from sneakers to a Supreme tee — what's the most difficult type of piece to create, and why?
Definitely the shoes or anything where you can't hide the flaws. I know they're going to be there, but it's all about engineering it so they're less noticeable. Things that you can pick up and see from every angle make it really difficult to hide subtle imperfections. It's a balance though.
Overall, I don't like perfect pieces. People aren't perfect. The memories I'm chasing aren't perfect. I love the tiny flaws, like patterns of micro-bubbles that develop in a piece when the resin is curing.
Some of your pieces include colors, while others are entirely translucent. Does this have any meaning?
Overall, the transparent nature of the works is a metaphor for the impermanence of memory. This is more evident on some pieces and less on others. When I started the series I would research vintage T-shirts and match their color such as the blue Bones Ripper or the faded black Air Jordan. As the series progressed, I was less adherent to them being transparent or translucent. To me, the gold and silver pay homage to an object of the past, in the same way the clear or translucent does.
Has the concept of nostalgia changed since the era of social media?
Not at all. Nostalgia is an aspect of the human experience we all share. Anyone can have a flood of memories triggered by an object, taste, smell, sound, etc. Social media is just the latest way to share it.
How and where can people purchase your work?
Just DM me on Insta, @chris_bakay, or contact me through my site chrisbakayart.com
For more #GramGen, check out the Instagram that has your favorite Harry Potter character dripping in Dior.