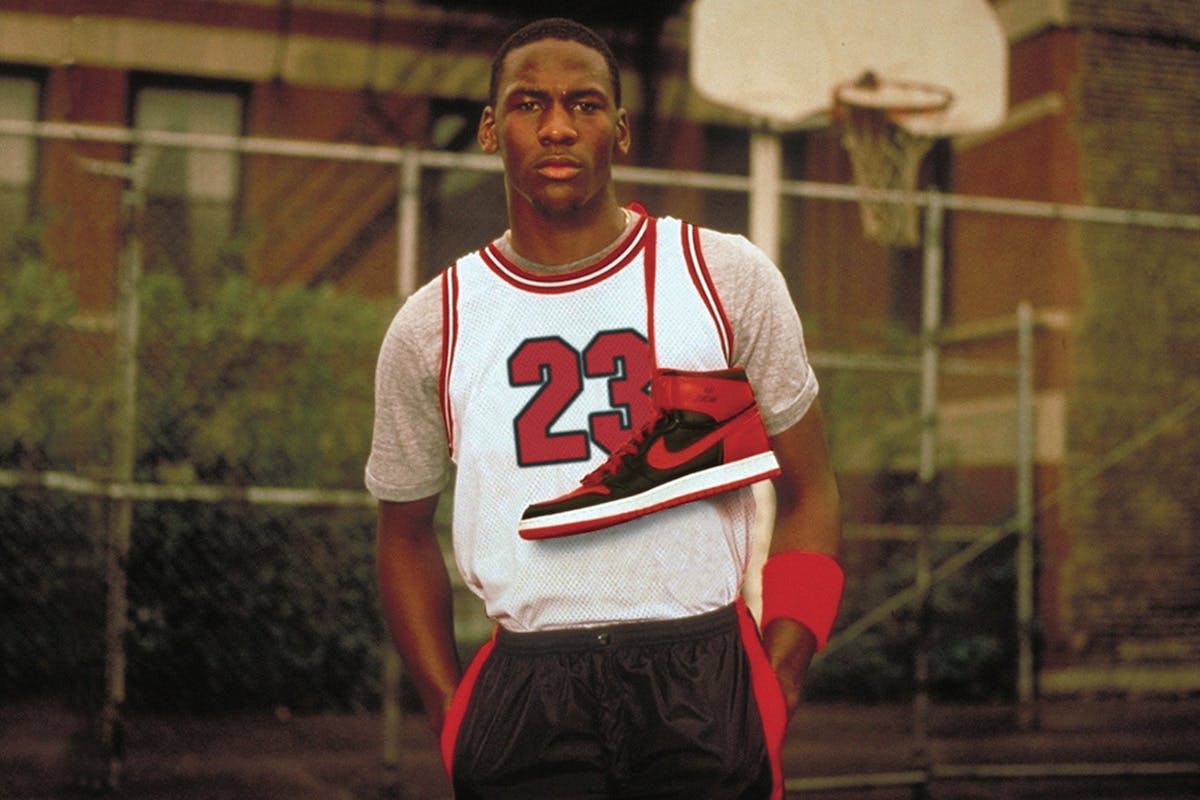 Drew Hammell, aka @nikestories, takes us through the true stories behind Nike's Jordan Brand and its catalog of seminal silhouettes, starting with the Air Jordan 1.
The story of the Nike Air Jordan 1 is complex and full of intricate details. Every passing year, the legend of the man that made the Air Jordan 1 famous becomes larger and more fantastic. As sneaker culture continues to flourish, becoming a multi-billion-dollar worldwide phenomenon, it's worth taking a look back at how a fairly simple sneaker made of red, white, and black leather influenced everything from the game of basketball to fashion and modern-day marketing.
In 1984, the Chicago Bulls selected Michael Jordan as the third overall pick in the NBA Draft. Big men Hakeem Olajuwon (Houston Rockets) and Sam Bowie (Portland Trail Blazers) were selected before Jordan, mainly because teams back then prioritized centers more than guards. The New York Times didn't even mention college player of the year Jordan until near the end of its draft report.
Although Jordan wasn't top pick, the Bulls were still confident enough in his abilities to sign him to a seven-year, $6 million deal — the third-largest rookie contract in league history at the time behind Olajuwon and Ralph Sampson.
While contract negotiations were progressing with the Bulls, Nike was working on its own deal with Jordan. There were several key people involved in the negotiations. The story is complex and much-disputed, but as told by Sonny Vaccaro, a shady marketing agent who signed up college basketball coaches to Nike, he convinced Swoosh marketing director Rob Strasser that Jordan was worth signing at any cost.
Among the others involved were Nike designer Peter Moore, who came up with the Air Jordan 1 sneaker design and "Wings" logo (he also gave us the Nike Dunk), Donald Dell, who was president of sports management firm ProServ, and Jordan's agent David Falk, who negotiated the Nike deal and worked for ProServ.
Dell was a former tennis pro, and tennis players were marketed much better than basketball stars at the time. The ProServ chief had overseen the successful marketing of tennis stars such as Stan Smith and Arthur Ashe, and his goal was to showcase Jordan in the same way.
The negotiation process was far from easy, as Falk was demanding a lot from whichever brand wanted to sign the young phenom. Jordan loved adidas and wanted to sign with the German giant, but the company was in a state of flux after founder Adi Dassler's death in 1978 and let Jordan slip through its fingers.
Converse was in the mix as well, with Jordan having worn the Boston brand's shoes throughout college due to the deal North Carolina coach Dean Smith (pictured with Jordan at a press conference above) had with the company. Converse was prepared to market Jordan alongside its other stars Magic Johnson and Larry Bird, but was offering nothing new in terms of footwear ideas.
Jordan had no interest in Nike and practically had to be dragged to the company's presentation in Beaverton, Oregon. But the Swoosh had the biggest and boldest plan to differentiate Jordan from the rest of the league's stars. Jordan had preferred adidas because its shoes were lower to the ground than Nike's. Now Nike was offering an all-new shoe tailored to his needs. It would even go on to accommodate his different-sized feet (left, size 13; right, size 13.5).
Sneaker deals in the '80s were nothing like they are today. Big-time players didn't have major signing power back then, nor did sneaker companies have the same astronomical budgets. It was Vaccaro who told Strasser and Nike to offer Jordan $500,000 a year over five years, dwarfing the next-largest sponsorship deal.
After receiving the pitch and offer from Nike, Falk went to Converse and adidas to see what they could counter with. Converse had originally offered Jordan $100,000 a year. In the biography Michael Jordan: The Life, author Roland Lazenby wrote, "Jordan even approached a Converse rep that he knew, telling the rep that his company 'just had to get close' to the Nike offer. Neither Converse nor adidas was prepared to offer anything near the treatment that Sonny Vaccaro had envisioned for MJ."
The Nike deal got signed and the shoes went into development, soon to be named Air Jordan ("Prime Time" was another option that never panned out). Along with the $2.5 million over five years, Jordan also received royalties for every Air Jordan sneaker sold (originally $65 a pair). Nike sold $70 million worth of Air Jordans in the first two months alone.
"I know everybody's eyes are on me," Jordan said in the lead-up to his rookie season. "And some of the things I do even surprise myself. They aren't always planned. They just happen."
Jordan didn't actually rock the Air Jordan 1 at the start of the 1984-85 season and his signature shoe wouldn't see its release in stores until April 1985. Instead, he wore different colorways of the Nike Air Ship, a $35 basketball sneaker similar in appearance to the Air Jordan 1.
Pushing boundaries from the get-go, Jordan wore a primarily black and red Air Ship in a preseason game against the New York Knicks on October 18, 1984. NBA commissioner David Stern didn't take kindly to the footwear breaking the league's "uniformity of uniform" rule, wherein players had to wear shoes that matched both their team's uniform and their teammates' kicks, and the league sent a letter to Strasser confirming that "the wearing of certain red and black NIKE basketball shoes" was prohibited. As the story goes, Jordan would be fined $5,000 every time he wore a non-color-code-compliant sneaker on the court, with Nike picking up the tab.
The Bulls' management was also worried about the message Jordan was sending by standing apart through his color choices. Did he think he was better than everyone else? Back then, NBA players wore primarily white sneakers with one additional color to match their team's jersey. It was a team game, and it was understood that on-court sneakers shouldn't be too flashy.
Jordan himself had reservations about his new shoes' color combination. "I can't wear that shoe — those are the devil's colors," he's reported to have said in reference to his college team's hated local rivals NC State.
"Michael, unless you can get the Chicago Bulls to change their colors to Carolina blue, those are going to be your colors," came Strasser's reply.
According to sneaker collector and former ProServ employee Kris Arnold, Nike's original plan was for two primary Air Jordan colorways: a white/black/red colorway (now known as the "Black Toe") for home games and black/red for road games (now commonly referred to as the "Bred").
Photographer Chuck Kuhn and Jordan did a two-day shoot in Chicago with both colorways, but the sneakers were yet to feature the classic Wings logo. Instead, the sneakers had a simple "AIR JORDAN" wordmark in its place. This was the shoot where Jordan would recreate a pose he'd struck in a 1984 photograph taken by Jacobus Rentmeester for LIFE magazine. The new shot, when turned into a silhouetted graphic, would go on to become the iconic Jumpman logo.
Once the Wings logo was finalized, it was stamped onto the sneakers Jordan would wear in the NBA. The Jumpman wouldn't feature on a shoe until 1988's Air Jordan 3. The Air Jordan 1 was the only Air Jordan model to feature both a Nike Swoosh and the Jordan Wings logo (until 2016's Air Jordan 31).
Arnold says that, due to of the threat of being fined, Nike adapted with an alternate colorway that met NBA regulations. This model is now referred to as the "Chicago" colorway. With all of this going on behind the scenes, Jordan took to the court in the Air Jordan 1 for the first time on November 17, 1984, against the Philadelphia 76ers. He continued to flip between the Air Ships and Air Jordan 1s for the remainder of the season.
Jordan took a chance and wore the black/red Air Jordan 1 during the All-Star Weekend's Slam Dunk Contest in February 1985. As the contest wasn't an official NBA game, Jordan got away with it. But after seeing the shoes, the NBA commissioner's office sent another letter on February 25, 1985, reminding Nike that Jordan couldn't wear the black/red colorway. Nike went on to mythologize these "banned" letters, generating hype for Air Jordan and even making an ad about the affair (yet failing to mention it was an Air Ship that had set things off).
Jordan also famously told David Letterman in 1986 that the black/red colorway was banned because "it didn't have any white in it." Jordan even responded to Letterman's quip that the shoe was banned for being ugly by replying, "Hey, I agree with you — they are ugly."
Ugly or not, the "banned" controversy gave Nike's marketing team space to push the shoes as an act of rebellion, and sales flew through the roof.
Jordan continued to wear the Air Jordan 1 in the 1985-86 season, but broke his foot three games into the campaign and missed 64 games. When Jordan returned in March of that season, Nike fitted him out with an unreleased Air Jordan 1 with ankle support straps.
In fact, the Swoosh did plenty of tinkering with the Air Jordan 1's cushioning and support, including a hybrid Air Jordan 1 with an Air Jordan 2 sole (the so-called Air Jordan 1.5 that eventually came out in 2015) and an Air Jordan 1 with a Nike Dunk sole.
At least 23 different OG Air Jordan 1 models and colorways were released, but there is no way to confirm exactly how many came out. There were low-cut Jordans, metallic-colored Jordans, baby Jordans, and even a canvas version called the AJKO (most people believe "KO" stands either for "knockout" or "knock-off").
Some models were sold exclusively overseas, some regionally in the United States. Besides the "Chicago," "Black Toe," and "Bred"/"Banned" colorways, other popular versions included the black/gray "Shadow," black/royal blue "Royal," and white/dark powder blue "UNC."
The Air Jordan 1 didn't retro until 1995, with the return of the "Chicago" and "Bred" colorways. Sneaker trends had moved on to more technical models and there wasn't yet any retro market to speak of. The re-release was a dismal failure, with shoes reportedly being put on sale for a reduced price of $20 (down from $80).
Jordan Brand waited until 2001 to try its luck again, this time releasing the shoe in a new mid-top shape. Since then, interest has exploded, with countless Air Jordan 1 colorways and variants popping up, making it one of the most popular sneakers of all time.
Numerous books chart the shoe's history, the most notable being Jay Lawrence's 500-page Kickstarter-funded The Encyclopedia of Air Jordans. High-end Japanese magazines such as Air Jordan Origin and Nike Chronicle/Nike Chronicle Deluxe have also done an excellent job of showcasing prominent releases over the years.
The "Chicago," "Black Toe," and "Bred" Air Jordan 1s remain the most significant models due to their OG status, appearances on the court, and the exposure they received through advertising, on TV, and in the media in general. They will always be regarded as grails in the sneaker community, forever synonymous not only with streetwear and style, but, of course, His Airness himself — the skinny North Carolina guard who rose from precocious NBA rookie to the GOAT.
Notable Nike Air Jordan 1 Releases
OG 1985 Air Jordan 1
Nike Air Jordan 1 Black/Red ("Bred"/"Banned")
Nike Air Jordan 1 White/Black/Red ("Black Toe")
Nike Air Jordan 1 Red/White/Black ("Chicago")
Nike Air Jordan 1 White/Black
Nike Air Jordan 1 Black/Gray ("Shadow")
Nike Air Jordan 1 Black/Royal Blue ("Royal")
Nike Air Jordan 1 White/Dark Powder Blue ("UNC")
Nike Air Jordan 1 White/Natural Gray
Nike Air Jordan 1 White/Metallic Orange
Nike Air Jordan 1 White/Metallic Dark Red
Nike Air Jordan 1 KO Black/Red
Nike Air Jordan 1 KO White/Red/Black
Nike Air Jordan 1 White/Metallic Blue Low
Nike Air Jordan 1 White/Natural Gray Low
Unreleased
Nike Air Jordan 1 Red/White/Black ("Rehab")
After fracturing a bone in his foot in the 1985-86 season, Nike and Jordan built an Air Jordan 1 with support straps on the lateral side of the shoe to lessen the threat of further injury. Read more about the Air Jordan 1 "Rehab" here.
Air Jordan 1 Retros/"Remastered Series"
The Air Jordan 1 "Remastered Series" is an ongoing attempt by Jordan Brand to elevate the quality of its retro releases and bring the OGs up to the technical standards of today's shoes. Jordan Brand tells Highsnobiety, "Remastering is the process of enhancing — through updated process and craft — the quality of an original work. In this case, we're celebrating our iconic heritage by faithfully recreating the original models that continue to inspire us."
The first shoe to be reintroduced under the "Remastered Series" was the Air Jordan 4 White/Legend Blue/Midnight Navy, which came out in January 2015.
Nike Air Jordan 1 "Chicago"
Nike Air Jordan 1 "Bred"/"Banned"
Nike Air Jordan 1 "Black Toe"
Nike Air Jordan 1 "Royal"
Nike Air Jordan 1 "UNC"
Nike Air Jordan 1 "Shattered Backboard" & "Shattered Backboard Away"/"Reverse Shattered Backboard"
Nike Air Jordan 1 "Bred Toe"
Nike Air Jordan 1 "Best Hand in the Game" Pack
Nike Air Jordan 1 "Art Basel" Pack
Air Jordan 1 Collaborations
Nike Air Jordan 1 "Doernbecher"
OFF-WHITE x Nike Air Jordan 1 "Chicago"
Vogue x Nike Air Jordan 1 "AWOK"
Nike Air Jordan 1 "Jeter"
Nike Air Jordan 1 "Lance Mountain"
Nike Air Jordan 1 "Aleali May"
fragment design x Nike Air Jordan 1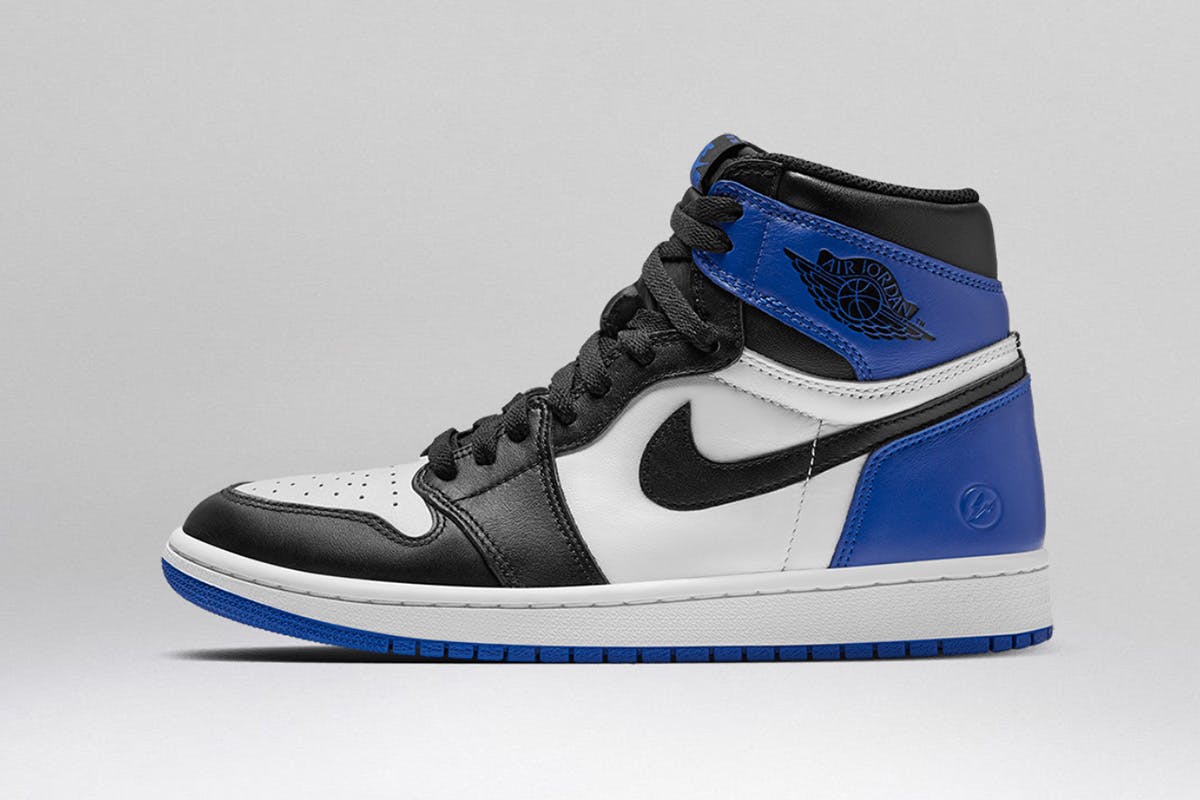 Dover Street Market x Nike Air Jordan 1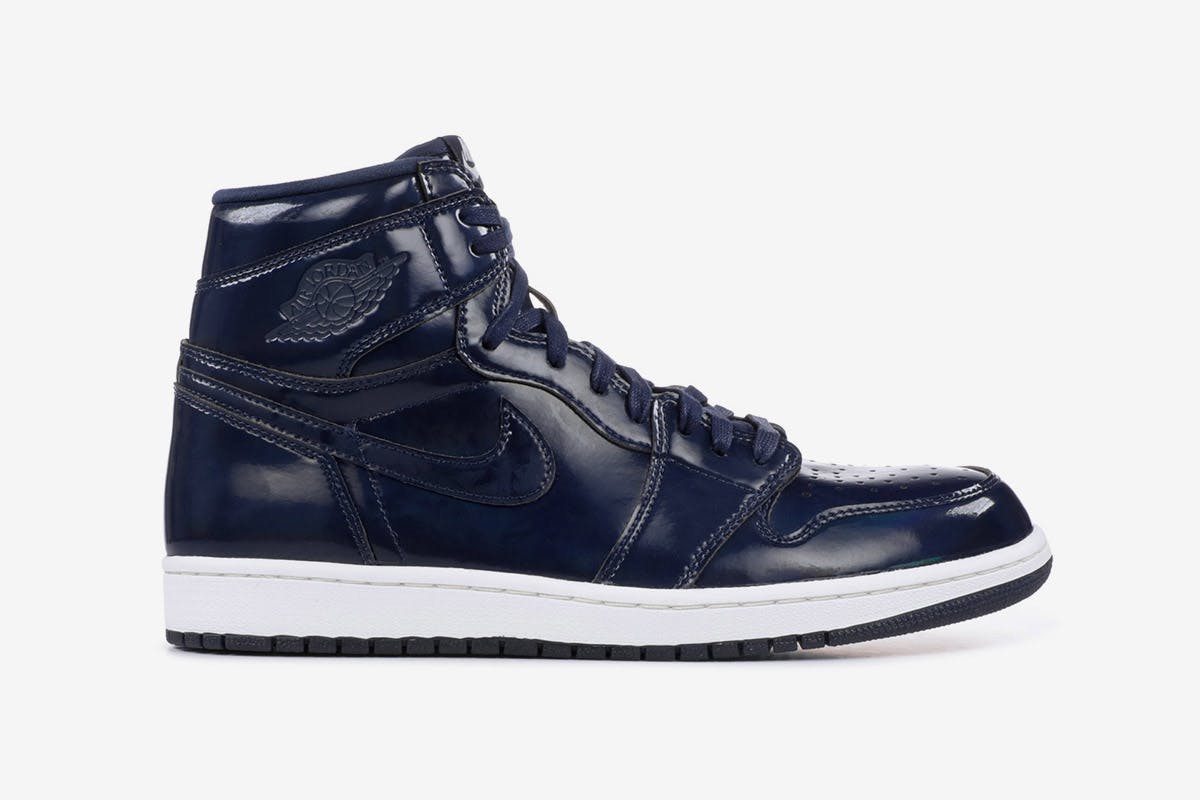 Dave White x Nike Air Jordan 1 "WINGS for the Future"
Public School x Nike Air Jordan 1 "PSNY"
Paris Saint-Germain x Nike Air Jordan 1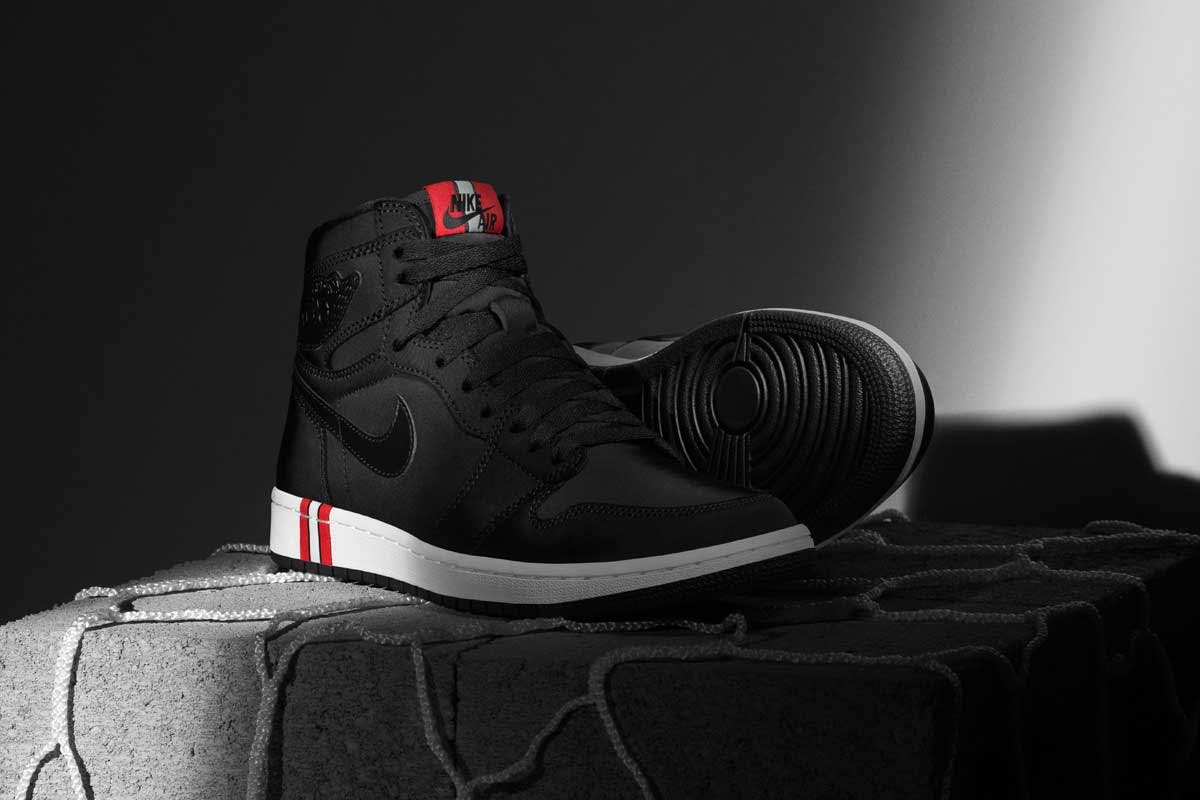 Gatorade x Nike Air Jordan 1 "Like Mike" pack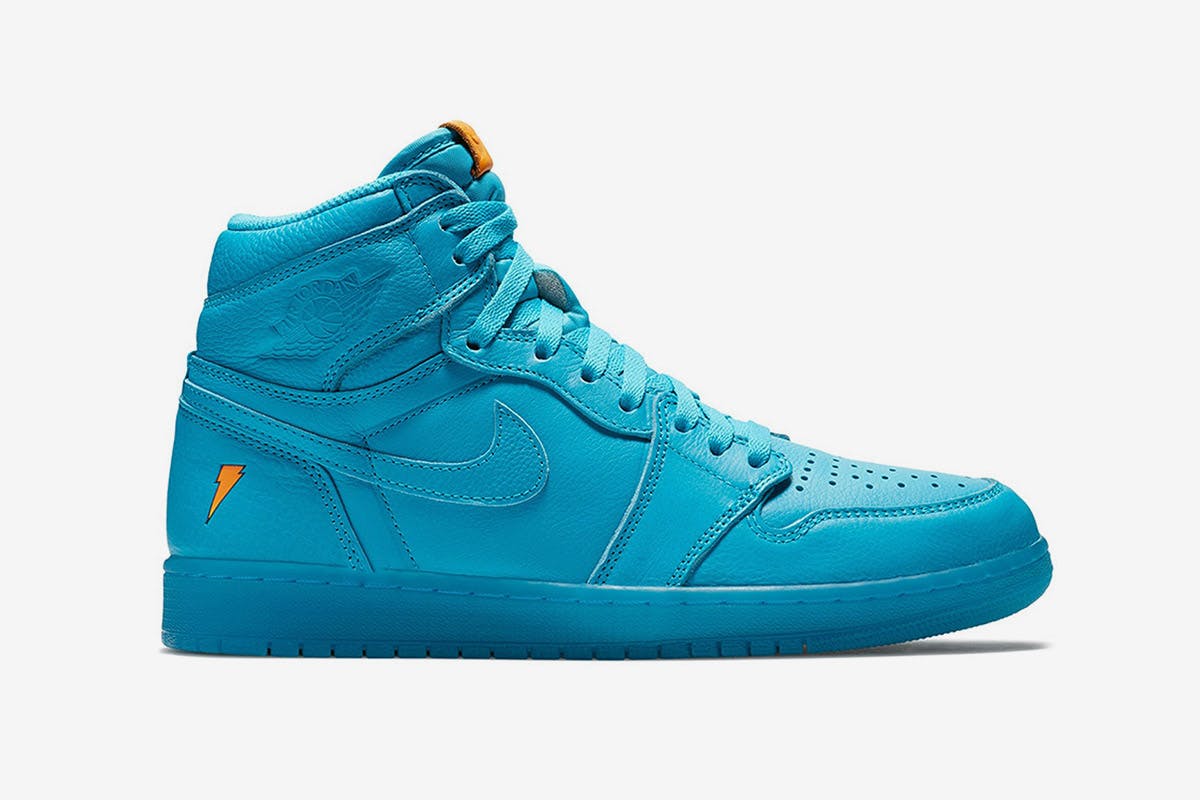 Nike Air Jordan 1 "Xbox"
Nigel Sylvester x Nike Air Jordan 1
Where to buy Nike Air Jordan 1
Nike's Air Jordan sneakers are globally available at select stockists, as well as at Nike stores and online. Key retailers for Air Jordans include the following:
Online
Europe
Solebox Sneakersnstuff END. Clothing Voo
Asia
Lane Crawford I.T mita Sneakers Sports Lab by atmos
North America
KITH BAIT UNDEFEATED A Ma Maniére Notre Concepts
Others
StockX Stadium Goods Grailed GOAT
Special thanks to @ijapino, @ scollard23 , @bigbostrong, and @channelkris for their social media contributions and expertise on the Air Jordan 1.