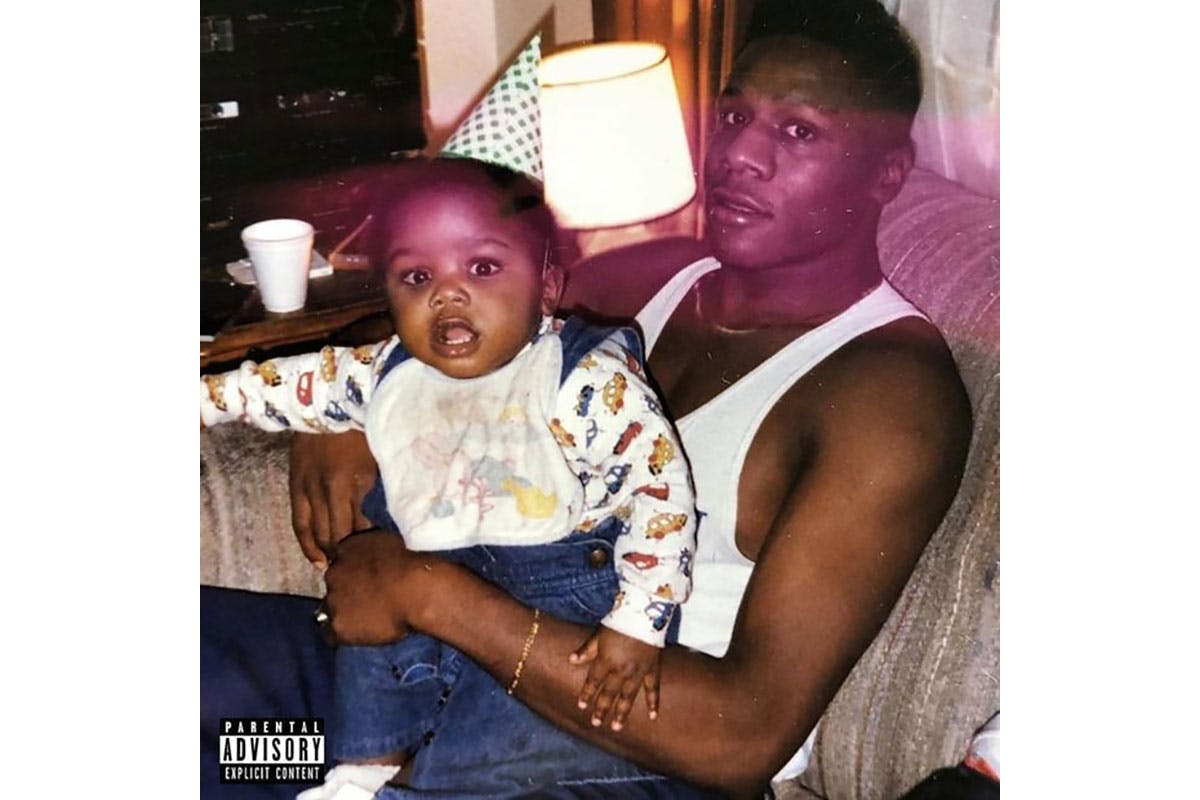 3.5/5.0
If DaBaby had come along in the pre-social media era when lengthy, heavily-strategized album rollouts were the norm, we'd probably be waiting for KIRK until the third quarter of 2020. By then, his thoughts on his rapid ascent and the unexpected passing of his father in March, the two topics that animate the Charlotte rapper's second studio LP, would have perhaps emerged as more fully-formed. But KIRK works best as a snapshot of these major life changes, and as a vehicle for DaBaby to work through them the best way he knows how: by rapping his ass off.
The album, which uses DaBaby's last name as its title, is more intimate and autobiographical than any of his previous projects. On "INTRO," he raps affectingly about learning of his father's death and the whiplash of his own rapid rise: "How the fuck I make it to the top same day I lost the nigga that had me? / How a nigga perform on BET and a year ago couldn't afford a sandwich?" He also refers to himself by his childhood nickname, Lil Jon Jon, multiple times on the record.
KIRK is more reflective than Baby on Baby, the rapper's other 2019 album, though that's not to say it's especially somber or maudlin. On "VIBEZ," atop a pummeling beat by JetsonMade, Jasper Harris, and Neeko Baby, he tries to determine how many women he can fit into an SUV. On "REALLY," he's bouncing around SethInTheKitchen's production, hilariously flexing about not knowing his own Twitter password and likening himself to Meek Mill. Since he first broke through nationally with last year's "Walker Texas Ranger," Baby's humor has helped separate him from the pack of buzzing southern MCs, and continues to elevate some of the more generic fare on KIRK, like "PROLLY HEARD" ("I pull up with a bitch that's so thick, think I'm Norbit") and "THERE HE GO" ("Now I'm somewhere in a meeting getting my ass kissed / By a white man 'cause his daughter fuck with my ad-libs").
DaBaby works fast, as evidenced by his prolific run of guest verses between Baby on Baby and KIRK, but there are moments here where he seems to be straining for new ideas. "OFF THE RIP" sees Baby sprinting out of the blocks, but ultimately lacks the dynamism and quotables of frenetic tracks like "Taking It Out" and "Deal wit It." The "BOP" instrumental, courtesy of JetsonMade and Starboy, feels like a more generic take on "Pony" and is eerily reminiscent of the flute-based beat in a viral parody video of DaBaby's music. His hook on the track attempts to mimic the star swagger of "Goin Baby," to less compelling ends. The aforementioned "PROLLY HEARD" features a nearly-identical 808 pattern to Baby's breakout hit "Suge," a likely intentional—but ultimately distracting—move.
The guests on KIRK are bigger than those who appeared on Baby on Baby, but thankfully, none of them threaten to eclipse DaBaby's star, save for a strong turn from Takeoff, who begins by rhyming "Actavis" and "activist," but ultimately redeems himself with a clever remark about Baby's injured hand. Other standout features include Baby's protégé Stunna 4 Vegas on "REALLY," and Chance the Rapper, whose flow is nimble and understated to open the second verse on "GOSPEL." Chance nearly evens the score after DaBaby stole the show on their previous collaboration, "Hot Shower."
Baby is both a distinctly modern artist—face tattoos, social media savvy—and a throwback to the bombastic A-listers of the early 2000s like Ludacris and Nelly, with his easy charm and gift for hooks. Those sorts of rapper historically struggled to follow massive hit songs with albums that were compelling front to back, but Baby at his most captivating on tracks like "INTRO" and "GOSPEL," which show he's not just an entertaining singles artist. Jaded rap fans might be concerned about early burnout for DaBaby, given the sheer amount of music he's dropped this year alone, but his second major label record shows that in the midst of turbulence, he keeps his sights set straight ahead—no looking back. In that way, he benefits greatly from being a star in an era of instant access and fluid album release templates.
In an interview with Big Boy's Neighborhood, Baby said that he was tired of performing "Suge," before walking back the statement slightly. That was a smart call, because there isn't a cut on KIRK that seems likely to hit at that level, and the Baby on Baby single figures to remain the defining song of his career for the foreseeable future. Instead, KIRK serves as a showcase of the 27-year-old MC's maturation and expanding skill set. When we look back on DaBaby's incredible 2019, we may recall Baby on Baby's tracklist first, but we'll remember KIRK as the project where we learned more about who he is, and why he's so easy to root for in the first place.
Listen to DaBaby's 'KIRK' here. For more of our album reviews, head here.