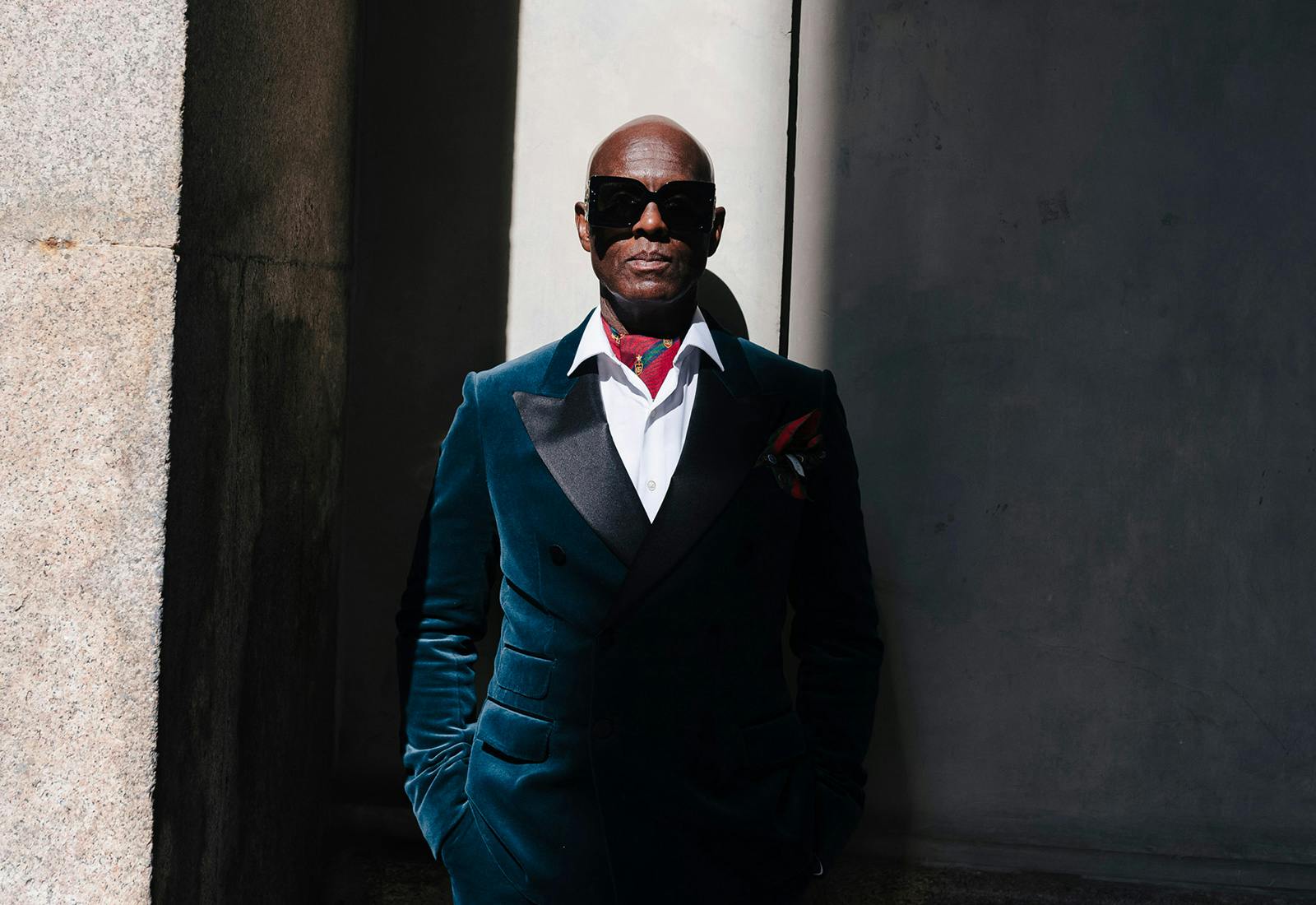 Highsnobiety / Piotr Niepsuj
Daniel "Dapper Dan" Day has seen it all.
At 75-years old, the New York couturier continues to take two morning buses followed by three blocks of walking to get to his multi-million dollar Gucci atelier in Harlem.
The workspace, opened in January 2018, pays homage to Dap's early beginnings when he operated Dapper Dan's Boutique on 125th Street in the late 1980s and early 1990s. There, he cut extravagant and logo-heavy designs from athletes, local hustlers and legends such as Mike Tyson, LL Cool J and Salt-N-Pepa. At the time, Dap attracted a predominantly black audience who were too often overlooked by luxury fashion houses as a worthy clientele.
Instead, Dap created his own ecosystem, re-defining the meaning of luxury by re-appropriating the its symbols — before getting shot, sued by Fendi, and enduring the closing of his original store. Most of all, he has refused to leave Harlem, the neighborhood he loves.
On the evening of his book launch for his memoir Dapper Dan: Made in Harlem at Gucci's Milan store, hundreds came out to buy the book and meet the man behind the myth. Before the signing, Highsnobiety caught up with Dap at his hotel. Speaking at length, we got Dap's perspective on a number of contemporary phenomena, including cultural appropriation, mumble rap and his love for The Beatles.
On A$AP Ferg
I mentored his father, and after he passed away, I'd never seen the son [A$AP Ferg] since he was very little. One day I'm going to the store across from my house, and I see these guys jump out of the car. One walks over and tells me his father had told him all about me and that he's been looking for me for two years. This was like four years ago. We've been together virtually every chance we got since then.
[Ferg] is a great guy, a great spirit, and he's part of a great legacy. So I try to impart on him all the history that his father would've told him had he been here. And he adapts to what I tell him. One day I said "I want you to put all your jewelry away and be a regular guy, we're going to take a walk through Harlem. We go through Harlem and I introduce him to all the older guys in the hood who knew his father, so that he could hear stories about him. And that's what I like to do, bridge the gap between the generations who didn't get the feedback I got from the older guys. The departure from this kind of cultural tree came about because of the crack epidemic and it broke up the lineage of families. It just separated that generational respect that takes place on the street.
On Harlem
To really understand Harlem, you have to be from somewhere else. I didn't understand the cultural power of Harlem before I started going to other cities. I think my 9th grade teacher, put it best when she said: "Who is it that knows London when only London they know." And let me tell you the difference. Growing up, my best friends were poor Greeks and Italians. In no other city did I see that. I went to Chicago, I said: "Where the Italians at?"
I believe that when you use symbolism, you increase the power of a garment.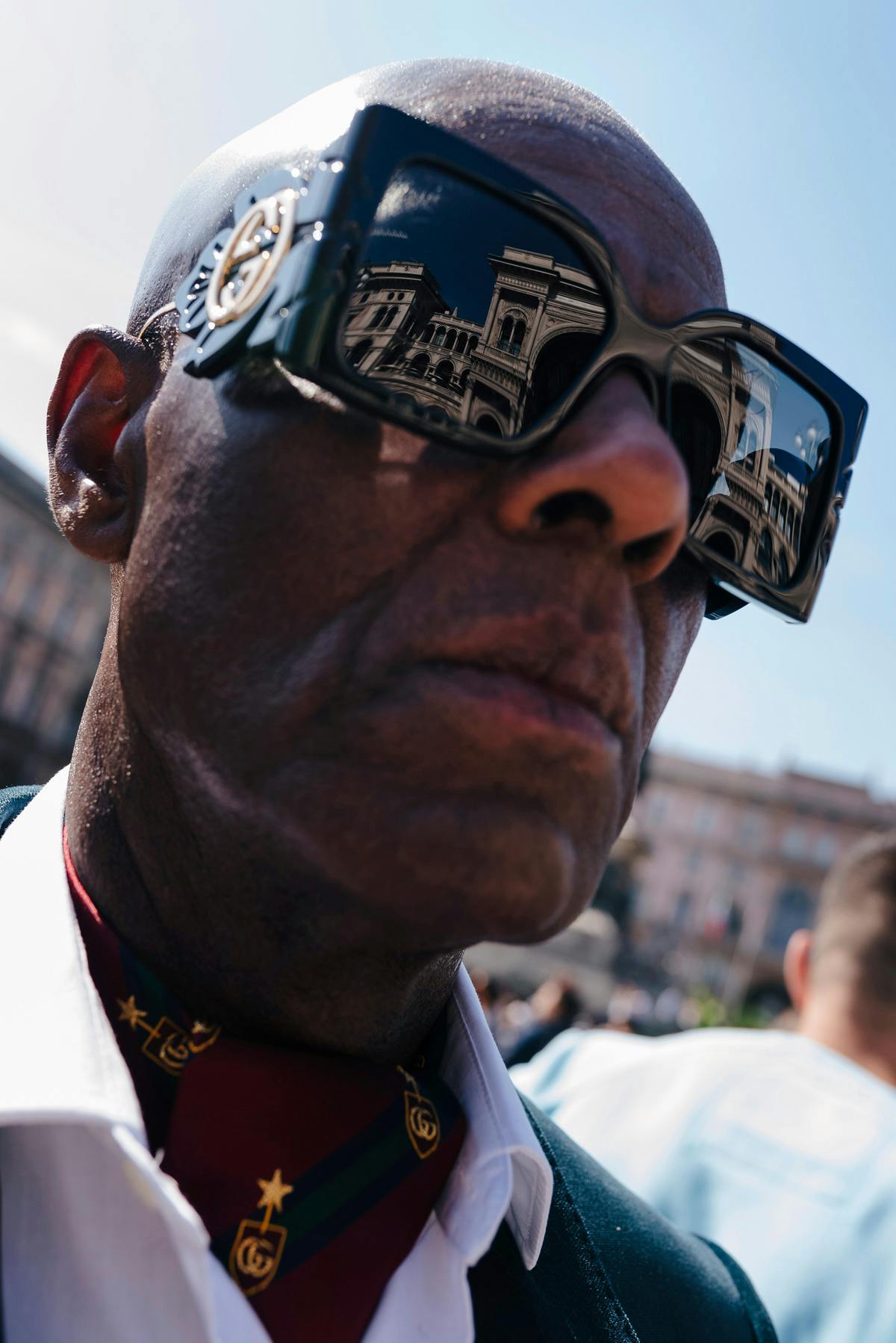 A lot of young people in Harlem today haven't ever had friends like that, the diversity is what created the culture. So it changed. The first wave came for the culture. The second wave that's coming now is coming for the real estate. IEverybody moving into Harlem now are middle and upper class. In certain ways it elevates Harlem but I think that you [should] have a balance of both.
On Symbolism
While I was teaching myself about symbolism, this guy — the godfather of black Harlem — came into my [original] store wearing a Louis Vuitton pouch with nothing but $100 bills in there. And everybody looked up to this guy and is excited about the pouch, right? But I'm into textiles and deal with the science behind what you put on. So I look at the pouch and say: "Why they all excited? That's nothing but $5 worth of vinyl."
Then I look closely and understand that it's the symbols. Diamonds and gold had the same power as the fabrications I was dealing with. So I taught myself textile printing so I could make images of those symbols to create garments and by doing so give them the same [value] as diamonds, furs and pearls. I believe that when you use symbolism, you increase the power of a garment.
On Buttons
The most significant thing of a garment isn't only its buttons, but the trimming. You can reach the heights and depths in fashion with that. Someone with sophisticated taste will look at your garment and see the fabrication, but what symbolizes the status is the button. That's what I love so much about Gucci. I also have to give credit to Versace because the Greek key symbolizes eternal life, and then you also have the Medusa head.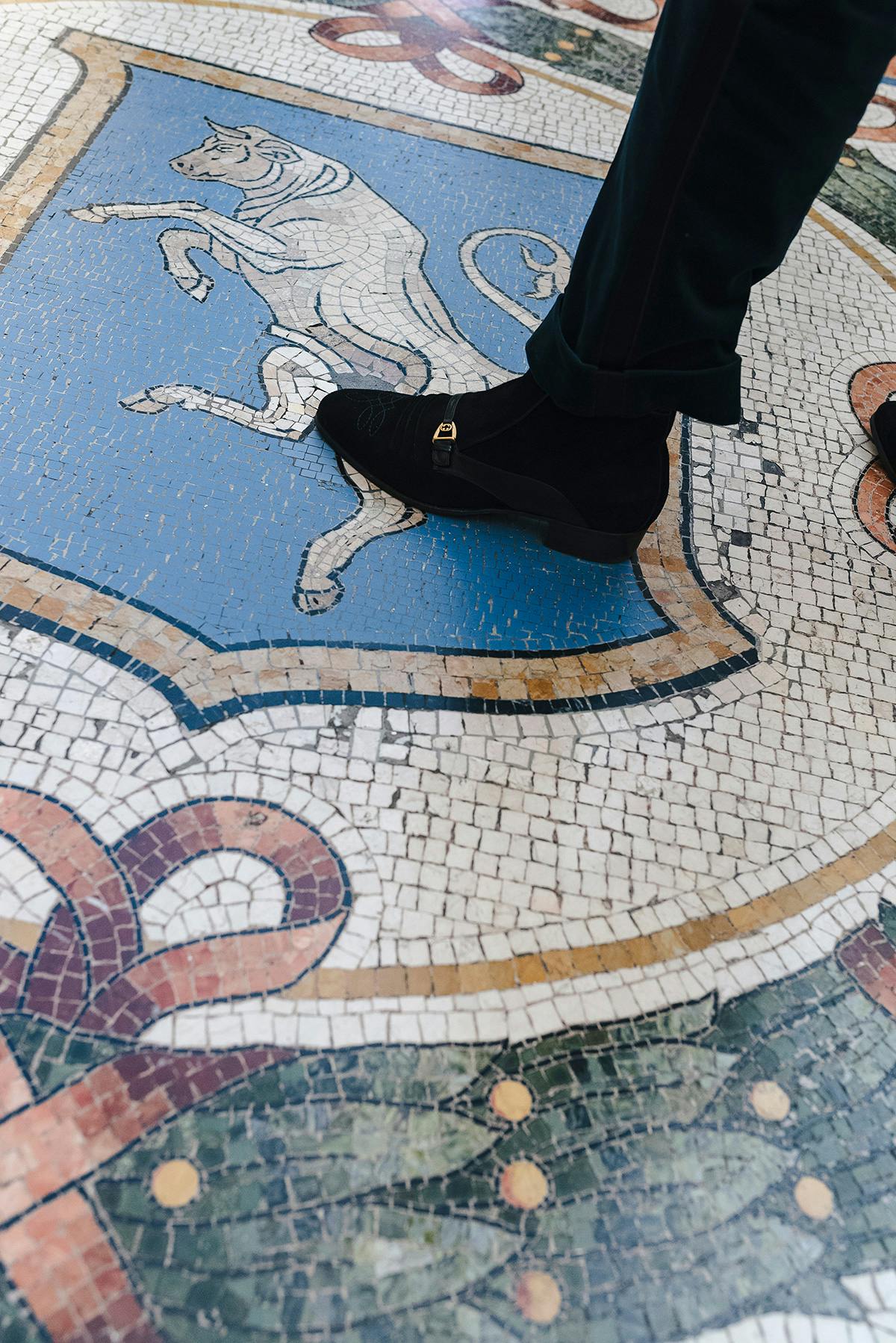 On Spirituality
It came to me when I was turning my life around. When I was 23 years old, I went into a historical bookstore called Tree of Life on 25th Street where all the new age people went to learn about metaphysics. So I go in there and get a book called Back to Eden, it's a book about natural healing. They didn't have it so I walked up to this guy that looked so spiritual as if he had a halo. He said, "No brother, but look right here," showing me a book called Man's Higher Consciousness by Hilton Hotema. That book altered my whole life. It taught me about religion as an appendage of ancient science. So from that point on I studied the symbolism associated with religion that took me back to ancient science, which dealt with man as a microcosm of the macrocosm and that the source of who we are is within us and we can connect to that.
On Ralph Lauren
One of my heroes is Ralph Lauren, but what Ralph represents is aristocracy. And when you represent aristocracy, you're not challenged like the Beatles challenged everybody. And sooner or later that's going to collapse, because the foundations on which it was built are too exclusive. The world is changing and what happened with brands like Ralph Lauren is that social media and musical platforms extracted young white people away from aristocracy. Young people who follow Ralph Lauren are like: "So what?" That's why I was able to sell young people — I didn't give them one horse, I gave them the whole carriage.
On The Beatles
The Beatles are really big to me, and I talk about them a lot because they're the height of rock and roll. Appropriation in a good sense is what the Beatles did. They took all musical platform sand challenged the social standard of European culture. And that's the message. The Beatles went into India and brought back the Maharishi. Deepak Chopra, who is the extension of that, teaches that philosophy today, but the Beatles initiated that.
And they're so important to black culture once you understand what they did. They took a medium of black culture and told the world we're one. They brought us all together in a beautiful way during the 1960s when black people were struggling with their cultural identity. We were challenging the oppressive system, you know, but the Beatles were challenging the foundation from which the oppressive system developed, which was the spiritual foundation of western civilization.
Young people who follow Ralph Lauren are like: 'So what?' That's why I was able to sell young people — I didn't give them one horse, I gave them the whole carriage.
On Today's Rap Music
I wanted to get into this last night with A$AP Rocky, I think probably even rappers today are engaged in things they don't even understand like sampling LSD and psychedelic drugs without realizing where it comes from. When you go back to the 60s, you understand that it was something you used for spiritual elevation. That's what music does, it takes you on an evolutionary path [but] somebody's going to have to evolve it because the big problem today is that nobody challenges what they believe. Until someone comes along and lays out their foundation, we can't come together in harmony.
On Fake News
My aspiration was to be a journalist back in the day. Fake news just didn't start with these guys [today]. I'll give an example. Let's go back to Genesis. Adam and Eve, something took place, they blame Eve, right? And as a result of Genesis they said the woman shall leave thy mother and thy father and cling unto thy husband and he shall rule over thee. That's fake news. In one part of Genesis you read of a talking snake, but you aren't going to take that literally because you realize that's symbolic. But the other part of it that says the women shall cling unto thy husband people do take literally. That's led to misogyny today.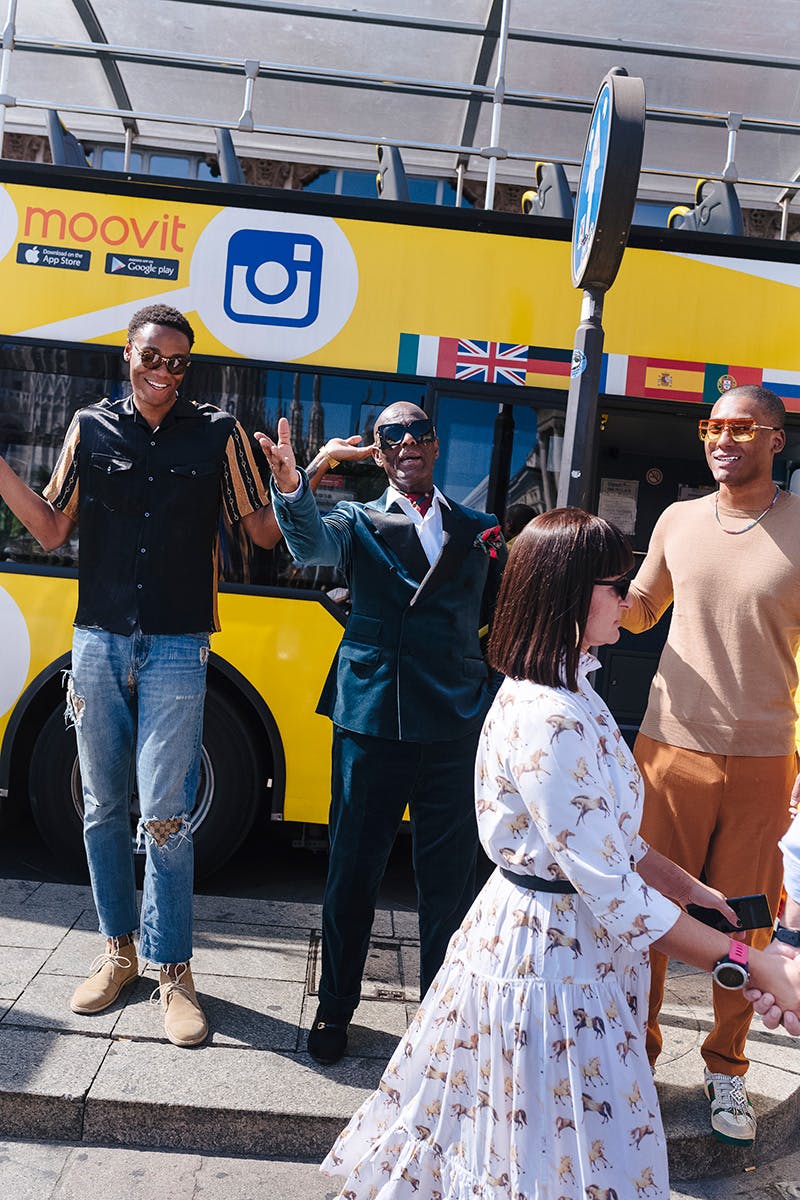 In the same way today, Trump wants to challenge every issue. He twists it and has to make a presentation and then tries to get the supreme court [on his side] so he can prove that he won, he can stack the deck. Fake news starts there. It starts with the people in power and influence.
On Pancakes
Pancakes are amazing. I always get upset about pancakes because they're easy to mess up. But the pancakes I ate last night were really, really thin and perfect. It's 4 a.m. in the morning and I can't sleep because I'm reading, and these pancakes were so perfect that I had to text [my grand kids] and tell them how amazing these pancakes with syrup were. After I ate them, I felt like I could speak Italian. But this morning I was upset because I was looking forward to the pancakes again, so I had ordered them again but they were too thick. I said the chef must have taken the day off today.
On Inclusivity
Inclusivity is that which goes beyond tokenism. Inclusivity and cultural inclusion have to create an opportunity that levels the playing field. So when you come in there's got to be room for you to expand and room for you to grow based on your ability. I don't want nobody buying anything that I made because I'm black, I want it to be because of the idea. On the other side of the fence, I don't want anyone taking my ideas without them allowing me to make something of it.
On Cultural Appropriation
The infusion of cultures has allowed us to have an appreciation for all cultures across the playing field. The biggest problem comes when you have people who don't understand symbols. Something isn't just [a button] it's much bigger than that. I don't see how [people] could miss it, they just don't think about it. Whether it's either a cross or the star of David, all these symbols have a powerful effect, so you have to understand that people take symbols very seriously.
In fashion you have to define what's real. A fake sweater is real to a certain segment of the culture.
On Suits
It goes back through the aristocracy again. Listen to this carefully, right? Nothing disarms the ruling class quicker than a suit. You see me coming in a suit and tie, you're pretty much welcoming me. If you see me coming in a hoodie, you're alarmed by me. That's the power of the suit.
On "Fake" Products
You can reverse the fake. Gucci took the fake and made it real. Let me tell you something about fake products. In fashion, you have to define what's real. A fake sweater is real to a certain segment of the culture. I was born out of that, my induction into fashion came out of what people would consider "fake fashion." It wasn't fake, but simply another artistic view relating to fashion. [My designs] became real to a lot of people. I always say I created knock-ups. It's a beautiful thing.
On Bringing Black Culture Into Luxury
It's the most important thing I'm doing right now. I'm looking at fashion as a thing that brings us all together, that's the biggest thing man. And when you look at [my work with] Alessandro Michele and [Gucci CEO] Marco Bizzari, this is amazing. Being on the fence between my community and the European [luxury] community put me in a very precarious situation. I never intended to feel good about this, but as it unfolded the more I embraced it as something that's happening. It's about saying: "Look at this culture, it's valid." And when you look at Alessandro and Marco, they spearheaded that. They made it possible for [the collaboration] to happen. Because it could've been different.