Babacar David Djité and his snowboard have been inseparable since he was three years old. Born in Zurich with the mountains in his backyard, he had skis strapped to his feet before he could barely walk and was snowboarding before he could tie his own shoes.
After finishing high school, Djité moved a few hours south to Laax, a huge resort that's home to one of Europe's most immense parks. He quickly clocked up a number of sponsors, began traveling the world, and joined the competition circuit. But, following a major accident in 2015 that resulted in several broken ribs and having his spleen and part of his pancreas removed, he, understandably, began to question his relationship with snowboarding.
Time off gave him a new perspective. He discovered that for him, snowboarding is as much about exploring the mountain as it is exploring the workings of his own mind—a realization that simultaneously brought him closer to the sport, and sign up for a degree in psychology.
His new film, Eudemonia, materialized from the collision of these two worlds. Shot during lockdown with director Fabian F. Fuchs, the film captures Djité searching for the much chased "state of flow" as he rides alone through the park and backcountry in Laax. Unlike a lot of snowboarding films, Eudemonia isn't about glorifying the extreme side of the sport. It isn't about shooting in remote locations, landing huge jumps, or riding the deepest, untouched lines. Rather than fixate on Djité's performance, the film offers a more intimate portrayal of Djité's relationship with snowboarding by capturing him in the state of flow that comes from being completely immersed in riding down the face of a mountain.
Ahead of its premiere, we caught up with Djité to talk about snowboarding, mental health, and the state of the industry.
You're a pro snowboarder but decided to start studying psychology. How come?
When I finished high school, I thought I would never study again. But after snowboarding straight for six years, I figured there must be more to life. I started to ask myself what else do I care about? I love helping people and I love the human mind—why we are so similar but also so individual—so I chose psychology. It's still such a young science and it's constantly developing.
You need moments where you can have fun and just be childish and have it not constantly be about performance.
You had a bad accident several years ago. How has that changed your relationship with snowboarding?
Definitely. Snowboarding is very performance-based and professional snowboarders need to perform on a very technical level to be "the best." But I, personally, think what is the best? Is it the best if you do a quad flip or is it the best if you go the highest? I've always had a different vision of snowboarding. I think of it as more of an art—everyone has their individual style. You work with your body in a way that's almost like dancing. After my accident, I decided to just do what I think is good for me and my snowboarding, and focus on what I want to show people. You need moments where you can have fun and just be childish and have it not constantly be about performance.
The North Face / Dominic Zimmerman
Where did the idea for the film come from?
A positive psychology course I took as part of my studies. If you look at the spectrum of psychology, 90 percent is about healing people that are suffering mentally. I'm a very positive person, and positive psychology is for anybody to just make the best out of their life. I always wanted to do something conceptual within snowboarding and these two worlds came together. With Fabian, an artist and a filmmaker who's now a really good friend of mine, we came up with the concept.
Why is it called Eudemonia?
We chose Eudemonia because it means "good spirit" in Greek. In positive psychology, it means having a successful lifestyle based on ethical principles. Whereas hedonism refers to subjective wellbeing—you just want to feel good in the moment and avoid any pain or suffering— eudemonia is psychological wellbeing that you get through behaving and feeling good over a lifetime. What can I contribute to my own life and to others' lives, so that life, in general, is better?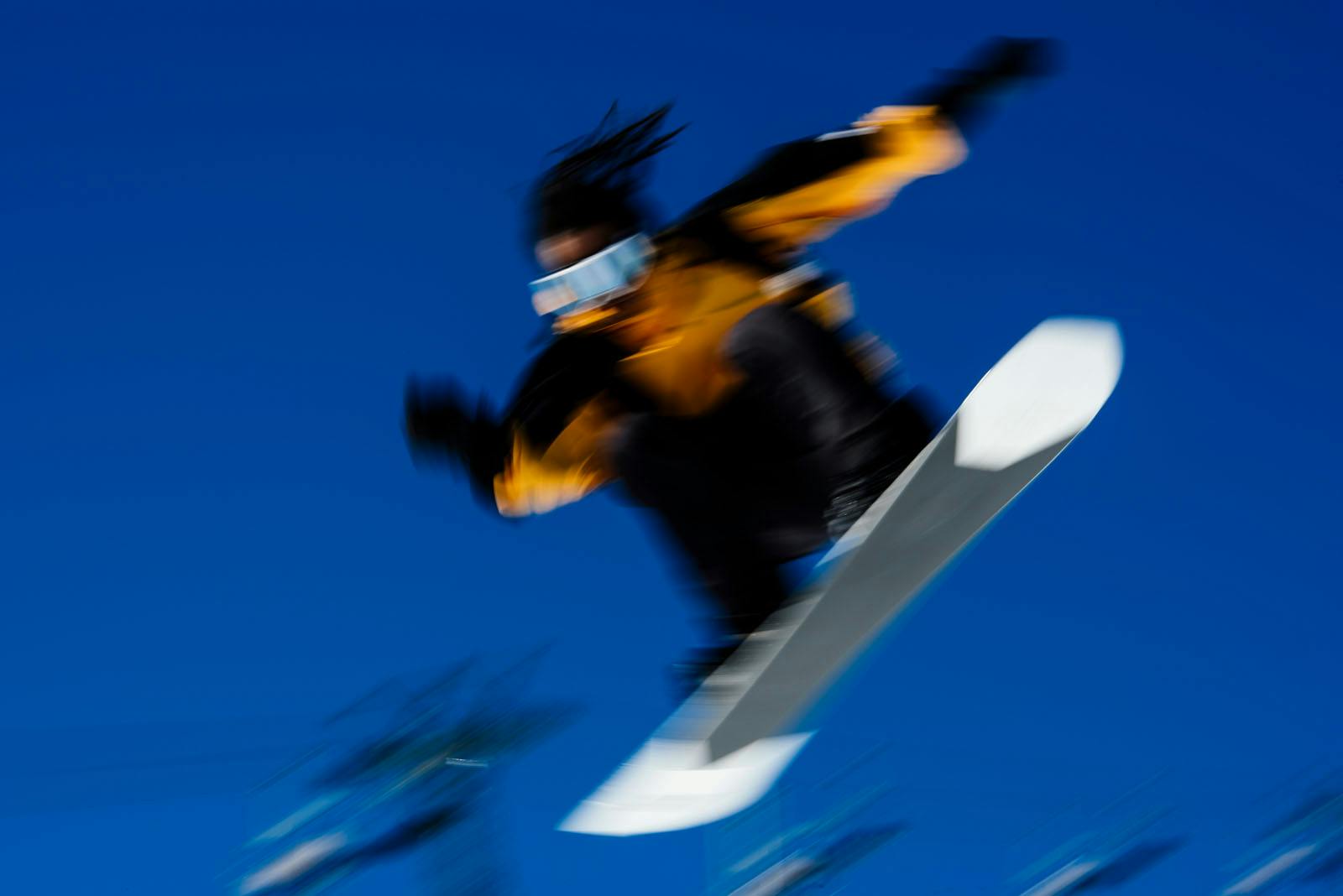 You came up with the concept during the pandemic—how did lockdown impact it?
A lot of my friends had very social, hectic lives, and were having a hard time being alone. I wanted to show that you can still do something on your own without relying on other people. Get to know yourself in different ways. With Eudemonia we wanted to show how you can do this through snowboarding and get into a state of flow where you are 100 percent in touch with yourself.
If you want to get people motivated to go snowboarding, then make snowboarding look beautiful.
I think that state of flow is something that's very hard to achieve nowadays.
Is it though? I'm not sure if it is, as long as you're passionate about something, as soon as you start doing it at some point you're so in the moment that you completely lose track of everything. And if you look at it retrospectively, most of the time you don't even have the memory of that moment. So you can't explain to somebody, you can't be like, "I felt this and this." You just remember that you felt very good at that moment.
The North Face / Dominic Zimmerman
How did it differ from shooting a typical snowboarding movie?
We didn't have a super clear vision of exactly every shot we wanted, but we had a concept, which is already different from most snowboarding movies. Usually, you just go out with a filmer, and then you perform—you do your best trick or your hardest trick. We knew we wanted to show abstract concepts of psychology, one amongst this is the state of flow. So certain sections needed to transport those emotions through an unusual way of portraying snowboarding.
Where did you shoot the film?
It was actually my first year since I can remember when I spent the entire season in Laax. We filmed the whole thing there during March and February. Most of the time it was just Elmar, Dominic the photographer, and me on the mountain, which was new to me. Fabian was based in Stuttgart and couldn't travel to Switzerland because of the pandemic, so we sent him the footage in the evening and he gave us his directional input over Facetime.
Unlike a lot of snowboarding movies, Eudemonia feels much closer to every snowboarder's experience. Was this something you set out to capture?
The concept was to inspire people to do something for themselves. If you want to get people motivated to go snowboarding, then make snowboarding look beautiful. And that's just my vision and what I'm trying to do for snowboarding. I definitely wanted to showcase a relatable side snowboarding that anybody could do—just the pure joy of riding down a mountain.
Progression isn't always through performance but through knowledge, learning, and understanding.
In general, do you think accessibility is a problem in snowboarding?
I think snowboarding has really a long way to go to make it more accessible, mainly because it is a super expensive sport. But change is coming. A lot of brands are starting to do more for their community, the North Face Explore Fund Council, which I'm a member of, is a perfect example. We try to help people who don't easily have access to the mountains through non-profit organizations.
I really want to see that change. Not just in the industry, but in society as a whole, because the more diverse it is, the better it is. You can learn from everybody and their cultures, and it's especially important to bring new ideas in order to progress. To take a very personal example, if I weren't studying psychology, I wouldn't have made this film. Progression isn't always through performance but through knowledge, learning, and understanding.
Why did you want to raise the topic of mental health?
We talk about issues more these days than we used to—including representation of POC and LGBTQ+ people. But mental health within the sport is still a big issue and not many people talk about it. It makes everyone more vulnerable. But it is a very important subject and we should definitely not keep our voices down. We need to speak up for ourselves and for those who can't.
What do you want viewers to take away from the film?
I want everybody to take away what they want from this movie. As long as it's something positive. That's the goal.
Follow Djité and The North Face on Instagram for more.