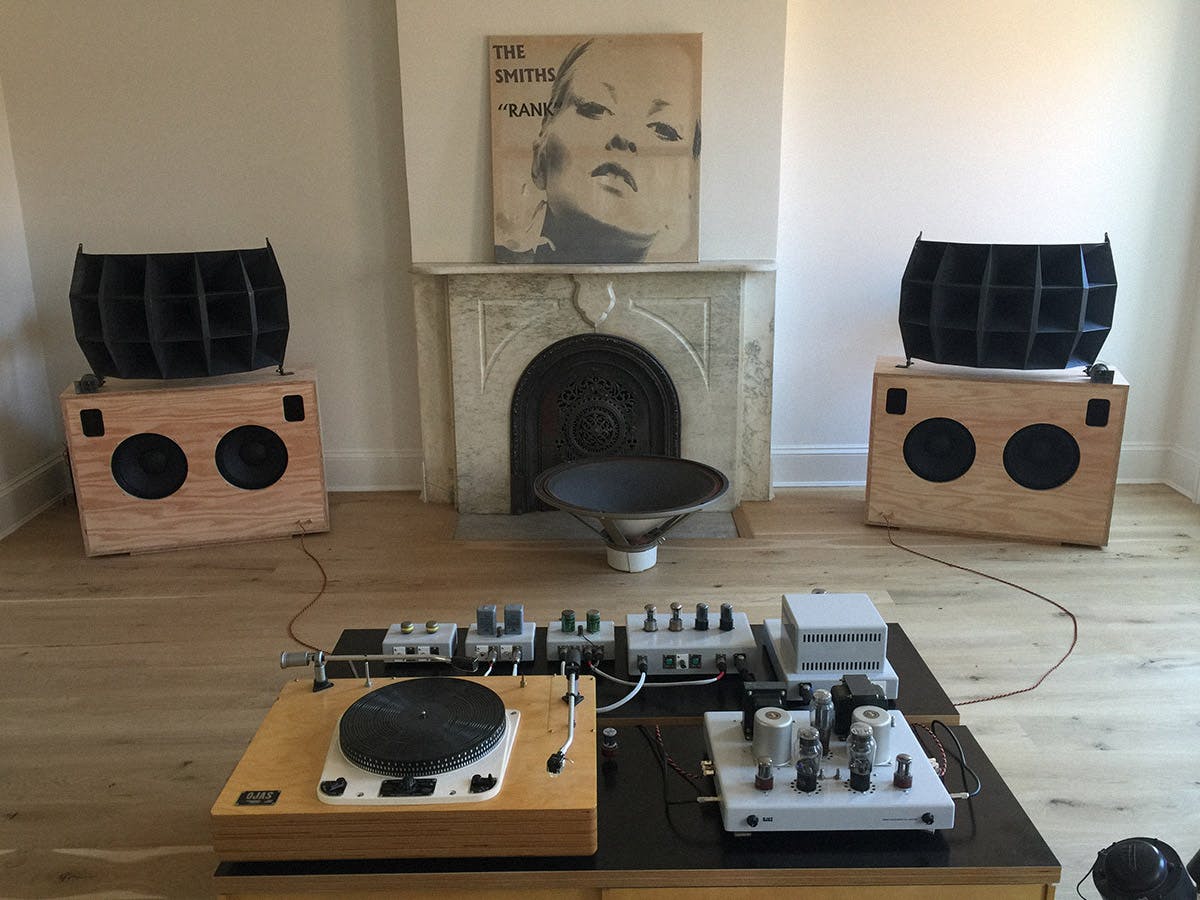 Devon Turnbull's a street culture OG who cut his teeth as a co-founder of Nom De Guerre, a prescient New York City menswear label that was decades ahead of its time and went on to influence a ton of modern brands from Noah to Awake to YEEZY. But lately, Turnbull's garnered attention for his audio-related projects.
Ojas is the name of Turnbull's brand of artisanal, handmade speakers that offer the kind of performance that hardcore audiophiles crave. In addition to designing custom sound systems for all of Supreme's stores, his work has also graced venues like Public Records and was recently proven to be museum-worthy when a set he designed for Virgil Abloh made it in his traveling "Figures of Speech" exhibit.
Now, Turnbull wants to take his pricey speakers and turn them into something that lets people flex their DIY muscle during a period he describes as "a great time for do-it-yourselfiness." With Abloh's help, Turnbull is about to launch a series of speaker kits that teach people how to build one of his high-end homegrown creations in the relative comfort of quarantine. It's one way of spreading something positive during an uncertain time, while also hoping to educate people on the craft and passion behind Ojas.
Have you always been a huge speaker guy?
I studied audio engineering in school, so my foundational education is actually in sound. But my career for 20 years was 90% aesthetic stuff. Designing clothes and designing products.
You're also a vinyl diehard. What is it about that medium that makes it so important to your relationship with sound?
I really like the analog process of step one, step two, step three, step four. The beautiful thing about vinyl is that it's like a reflection of the sound that was produced in the first place. The strings plucked created a vibration in the air that moved the diaphragm of the microphone, which was converted into a one-for-one analog electrical signal. That signal was transcribed into a record through a direct imprint of the sound waves. You put a needle in the record that picks up that exact same vibration and turns it back into an electrical signal. It's like water flowing through a pipe.
I'm wondering how much of the response of the world wanting to get back the physicality of things is important in what you're doing. Where does somebody that's trying to get into your world begin? Is there an easy way?
It took me at least ten years to have a complete system of this level of gear. My gear gets very expensive because it's handmade in New York by me and a few people that I work really closely with. It's expensive to make stuff here, and it's expensive to make things in small quantities. But there are small steps that you can take towards building a system like this.
I think the important thing is just starting with the general direction you want to go in terms of a system you can really connect with emotionally, and a budget you can afford. Then you find components and pieces and start to work towards that. You can find very inexpensive gear, and as much as possible, I try to help people do that. There are a lot of little tricks that you can do. Though admittedly, it takes a lot of research to find these things.
So it's less of a business and more like a practice?
I think it's a business a lot more like an art practice than a typical design manufacturing business — which is a really good place for me right now. I got into this because there was gear I wanted that I either couldn't afford, or I figured out that I could build it — and that would ultimately give me more satisfaction than just buying it off the shelf.
To that effect, this COVID-19 time is a great time for hobbyism and "do-it-yourself-iness." That's really how I got to where I am. I mean, to be totally honest,  I don't have a strategy or plan for what I'm doing. I 'm just basically an evolved hobbyist/creator.
I feel like there's also a bit of wanting to preserve a craft in what you're doing. There aren't really a lot of places to get super-specific audio components or pieces these days — let alone get vintage stuff serviced or refurbished.
It's a huge challenge that I face because I work a lot with guys that are the last of their kind. They have really not bequeathed their knowledge to anyone. For example: Most of my speakers are built on a design philosophy and framework that was developed by Western Electric and Altec Lansing between the 1920s and the 1990s. All of the drivers that I use on my speakers are all made in Oklahoma City by this guy, Bill Hanuschak, who was an engineer at Altec Lansing for his whole career.
Altec's been acquired many times in the last 30 years, but once Altec sold, they got out of pro audio. They just wanted to started to make plastic computer speakers and headphones. So Bill has this incredible story, he was running this plant for them. He ended up getting all of the IP, dyes, and tools used to manufacture those speakers so he could continue to service and reproduce those units. They just gave it all to him  — so he can still manufacture exact, one-for-one Altec replicas. But he openly wants to retire.
If he finally stops making this stuff, it's on me and the whole audio community, to figure out how to continue the manufacture of Altec 416 woofers and 414 woofers, which are an essential building block for all these types of systems. Countless audiophiles around the world use these drivers.
At the same time, you have this audiophile world that's blowing up, and more and more people are getting excited about older stuff and quality products in general. Now that guys like Virgil Abloh are also pushing this movement on massive platforms, what are other ways you're trying to get more people into this?
I want to make DIY more a part of my brand. I've been thinking about trying to offer a speaker building kit as inexpensively as possible. It's challenging. I can source all the components from places that are still shipping, and I could lead an online build-along sort of thing on House Party or Zoom. The better thing would be if I can flat-pack ship them to people. It would give people something to do that's more fun and physical than watching Netflix.
I've been working on bringing this small speaker to market that's like a one cubic foot box with a coaxial driver in it and I'm hoping that this speaker is the first speaker that I have that I could really market to a much wider group. It's still made here in Brooklyn. It's not going to be cheap — $5,000 for a pair of speakers is still aspirational, but it's not crazy. It could be an opportunity to turn a lot more people onto DIY audio, and before this thing is over, you could've built yourself a nice little hi-fi.
Take a look at Devon Turnbull's instructional DIY videos below. Ojas DIY kits come in two different models: a Bookshelf Speaker Kit for $1,400 and a 2-Way Speaker Kit for $2,400. Online orders are being taken through canary---yellow.com/, with more announcements coming on Turnbull's Instagram.