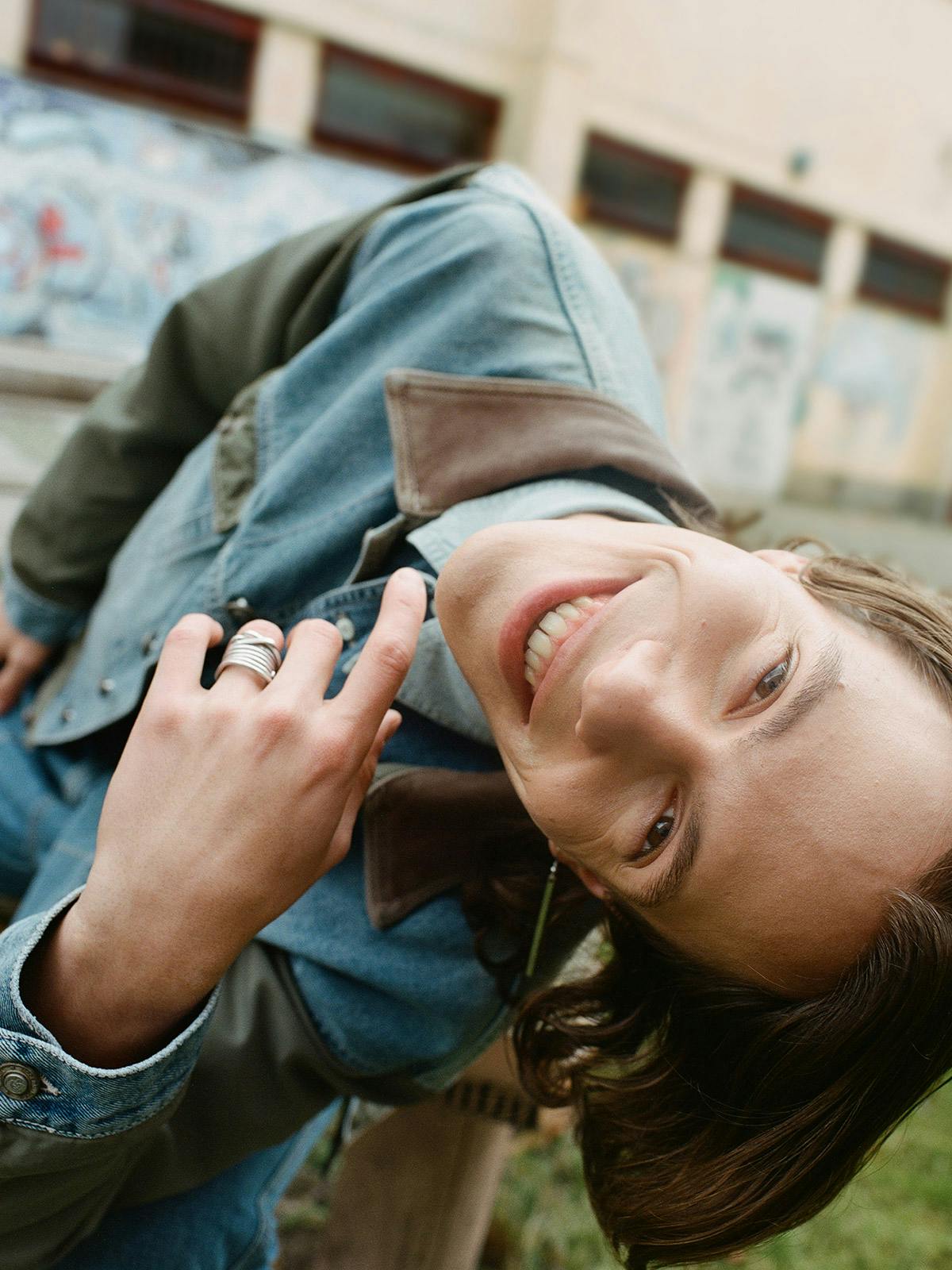 Diesel doesn't disappoint, that's something we've come to learn over time. Whether it's sleek design, high-end material, or exciting new silhouettes, Diesel has most definitely established itself as one of the most real denim brands in the world.
In the latter half of last year, Glenn Martens was named Creative Director of Diesel, and his vision for the brand quickly aligned with that of its founder, Renzo Rosso, to give birth to some of Diesel's most timeless pieces and narratives to date. "Diesel is world-famous for its irreverence, its boldness, and, simultaneously, its universality. Denim is its engine, and denim is a global fashion staple. Whether through subversion, irony, or sometimes flat-out audacity, there was always something more being said through a Diesel garment. There is a commentary about the era, and there are reflections of the moment. Look closely, and you'll find it everywhere." says Martens - and Diesel's latest collection does exactly this.
So who is the brand's latest collaborator? None other than Diesel itself. Telling stories as provocative, ground-breaking, and timeless as the pieces the brand creates, this meta-referential Diesel x Diesel upcoming collection focuses on merging the label's heritage and archive with an outlook on 2021 and catalyzing the shift into Diesel's future.
Stemming from Diesel's real '80s and '90s chronicles, the Diesel x Diesel capsule revolves around and revamps 24 of the brand's vintage garments. Elevating their status from long-standing archival staples to modern reflections of our times, these pieces tie Diesel's past and present together in a denim forward manner. Updated and brought into the 21st century via new treatments, edited silhouettes, and elevated graphics. The icons are rendered as relevant today as they were back then. The collection is a reinvention of what it means to be classic, and also a reintroduction of timeless style and product excellence. Tying in inspirations from college apparel, workwear attire, and an unmistakably North American aesthetic, the capsule collection is a cacophony of reworked overalls and pseudo-trompe-l'oeil leather chaps on jeans, to patch-worked distressed leather varsity jackets and glimpses of retro hoodies and ringer tees.
To further hone in on Diesel's approach to raise spirits in the hardest of times, we caught up with three Berlin-based creatives who took us to their favorite cultural venues around the city that have been hit hard by the pandemic. These artistic Berliners remind us why these places are so paramount to the diverse and thriving culture of the city, and how with the passing of time we'll once again fill these locations with energy and positivity.
Jerome Glock is a seasoned Berliner who has found a sense of community and home within the city's bars and booming nightlife. He took us on a trip down memory lane to Roses Bar, an established hub for queer activity situated on the popular Oranienstraße in Kreuzberg.
"As part of the LGBTQIA+ community, nightlife has always been tremendously important for me. Roses and other similar institutions always created a safe space for me and my fellow people to celebrate and simply be ourselves. Berlin is such a vibrant city but it also has its defaults when it comes to hatred and discrimination against minorities in any form. Therefore clubs and bars like Roses are important to create a safe space where we can be free ourselves." he explains. The pandemic has hit many sectors of our societies hard, but it's the arts and cultural hotspots that have so far suffered the most. "We can just all hope that the institutions, galleries, clubs, and bars are going to reopen and recover as soon as possible, but it's difficult to predict anything in a political environment with ever-changing restrictions," says Glock.
Not only have physical spaces been altered, but many aspects of our personal lives have shifted into a new and somewhat slower and more relaxed direction. Glock expresses his aesthetic in three words "leather, past-decades-inspired, experimental." However, like almost all of us over the past year, his wardrobe became a lot more casual and consisted of more sweatpants and hoodies. When it comes to Diesel wear, one of Glock's favorite pieces is the jacket he's wearing. "It gives me a lowkey lumberjack vibe - and a good pair of denim is always a great go-to. The most inspiring thing about Diesel is its diversity within each cast and the way it reworks denim to look different with each design."
With events almost entirely eradicated, some performers have been struggling to find ways to keep momentum in their creative practice. Dancer Steven Fast looked at the bright side of the situation explaining how "as a young professional dancer you don't really get the time and space to discover who you are as an artist, so the first lockdown was very much about understanding what I'm actually interested in. I'm a classically trained dancer, but dance to me is much more than just a moving body. One of my first discoveries was that there's this unbreakable bond between the mind, the body, and emotions. To deepen this connection has been such a wonderful healing journey so far." We visited Marameo Dance Studio in Mitte with Fast which he told us is one of the first places he connected with other performers and discovered the Berlin dance world. "Sharing energy with people and going wild" is what Fast misses the most, "people have the desire to move and groove which is why cultural and nightlife spaces will recover. As I said, dance is primal, it's in every one of us."
When it comes to Diesel, it's the brand's spirit and openness that inspires Fast. He explains how "Diesel's "For Successful Living" slogan by Jocke Jonason was brave, provocative, and innovative. With this shoot, in particular, I loved the duality of the looks and I really could channel my fierce queerness. During the lockdown, I started to grow my hair out which turned into an unexpected ride of me redefining my gender-identity. I remember dancing by myself and at some point looking into the mirror and seeing an extremely feminine appearance, and then all of a sudden this rush of masculinity. So I started playing with that until it didn't matter anymore what I was. I've been everything and nothing and it felt so liberating." As someone who describes himself as "energetic, sensual and queer", it seems as though Diesel ticked all the boxes for Fast when it came to embodying his personality through the revamped garments and allowing himself to play with both sides of his fluid gender-identity.
Multi-hyphenate Georgette Tripes is no stranger to the lack of creative buzz Berlin is facing at the moment. "Through this pandemic, the system made sure to take away the freedom of the artists and the lovers of art. Our culture here in Germany will be even more stiff than before" she explains. Tripes is not only a model and musician, but she is an advocate for Save The World Studio, a sustainable clothing studio she runs with her boyfriend focusing on diversity and conscious consumption. Describing her style as "natural, honest and colored", the Diesel pieces she's in are a refreshing look for her - "I love the combination of all grey denim" Tripes tells us. With cozy fits becoming more and more habitual, her Diesel look is the perfect crossover between comfort and style.
As an individual dipping her toe in every creative facet possible, Tripes chose none other than YAAM (Young African Art Market), a place very dear to her heart, known for its street art gallery, club, bar, and proximity to the River Spree. "YAAM means openness, acceptance, and enjoyment," she expresses, "by supporting them we support spaces of freedom and spaces of art, which are in turn spaces of self-expression, spaces of love and spaces of unity". With Berlin still having a long way to go when it comes to inclusivity and erasing racial discrimination, places like YAAM are crucial for POC to feel safe and at home. "A lot happened last year for all of us. I made sure I was not inhaling the made-up fear of the system and the fear of others, but pandemic or not, it is the inner work that was and still is the biggest challenge," says Tripes.
Donate to YAAM here.
Honoring interconnectedness and pushing to raise the exposure of cultural hubs like Marameo, Roses, and YAAM, is what these spaces need in order to fully flourish once again when restrictions are lifted. With brands like Diesel looking to the future and steering towards a new and more positive focus for 2021, now is a better time than ever to spotlight the places that make cities like Berlin a safe space for all.
Shop the full Diesel x Diesel collection here.