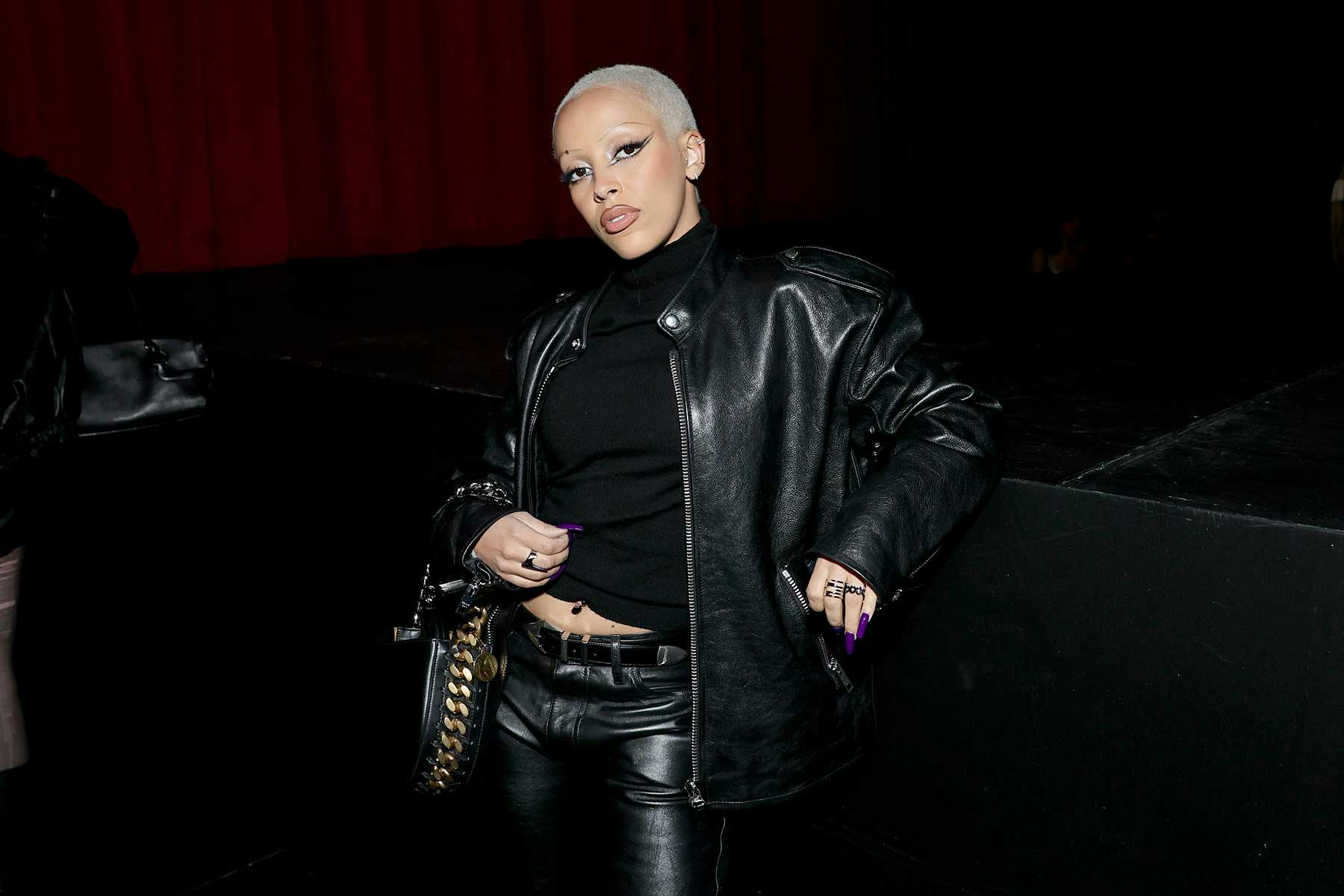 This article was published on January 24, 2023, and updated on February 9
Doja Cat is many things: YouTube queen. Underappreciated fashion icon. Pop pioneer. Twitter titan. Pick your own superlative. However, there is one thing that Doja Cat certainly is not: Satan worshipper, servant of the devil, practitioner of the dark arts.
The new strain of Satanic Panic has plagued Doja Cat for years and it flared up again on January 23 when Doja Cat attended Schiaparelli's latest couture show with tens of thousands of red crystals studded to her body.
Schiaparelli's collection was inspired by Dante's Inferno which is, obviously a deeply symbolic trek through Hell's nine circles.
Though Inferno is not even remotely celebratory of Satanic or Hellish imagery — believe it or not, Dante makes Hell sound rather unpleasant — plenty of conspiratorial folks chose to take Doja Cat's look at face value.
Red crystals? Must be pro-Satan! Or, at least that's what some tweets and TikToks are saying.
TikTok's "Doja Cat Satanic" hashtag currently has over 22 billion views, by the way.
Doja Cat has long been baselessly accused of "Satanism" for various reasons over the years.
There's the one time she was on the cover of a magazine and triggered pearl-clutchers by making a face and wearing edgy makeup. Another time, Doja Cat had the anarchy symbol painted on the rear of her head, which was inexplicably tied to Satan once again (Satanists and anarchists are distinct — there are actually lots of rules in Satanism).
Doja Cat and The Weeknd's single, "You Right," also provided plenty of fodder for conspiracy theorists desperate to pointlessly pick apart perceived meaning — tarot cards! Astrology tattoos! — and then tie those threads into a cohesive quilt of logic.
Never mind that the finished product is particularly threadbare.
And, of course, there was Doja Cat's 27th birthday on October 21, 2022, inspired by Kubrick's Eyes Wide Shut.
Any attempts to uncover hidden evil within Doja Cat's party are tenuous at best — even the perpetually suspicious folks on Reddit found the party mostly uninteresting — but TikTokers dug into the masks and masonic-decorated cake, as if the references to film details somehow also tie into real-world symbolism.
Finally, there's Doja Cat's makeup.
Besides the above anarchy symbol hairdo, Doja Cat's also really gotten people going just by shaving her head and eyebrows. Immediately, rumors of Doja Cat participating in some kind of "humiliation ritual" were born, as if she simply couldn't have decided to try a wild new look.
These kinds of rumors are hardly uncommon. Similar Satanic allegations have been levied at the Astroworld tragedy, Addison Rae's bikini, and Balenciaga's campaign scandal, for instance.
Throughout history, really, a steady stream of conspiracy theories have focused on famous people. Whether its Beyoncé's nonexistent ties to the nonexistent Illuminati or President George W. Bush's time in Skull and Bones, folks are desperate to tie powerful people to shadowy cabals that supposedly control the world to explain away certain oddities or foist blame for false transgressions.
Qanon is perhaps the most recent and relevant example of wildly untrue conspiracy theories gaining traction with a public seeking to make sense of confusing times.
That's really what's at play here: people desperate to make sense of something unusual are unwilling to accept that they may simply be unused to the situation at hand.
These people believe that Doja Cat can't be wear strange makeup or host a birthday party inspired by a conspiratorial film to provoke for the sake of provocation, there must be something darker at play instead (even though, as the kids say, it's not that deep).
As Doja herself says, it's all for fun.
The desire for explanation fuels a lot of this gossip but so too does a desire to overreact.
Indeed, it's all too easy to turn mountains into molehills for the sake of tapping into that sweet, sweet righteous indignation and a few thousand meaningless internet points.
Sadly, a lot of untruth comes out in the process and that often piles up into something bigger, like how the conspiratorial accusations of Satanism have kicked up a bonafide Satanic Panic for the current age. Even if the famous people at the center of these conspiracies aren't affected directly, there are still culture-warping side-effects. Harmless fun it ain't.