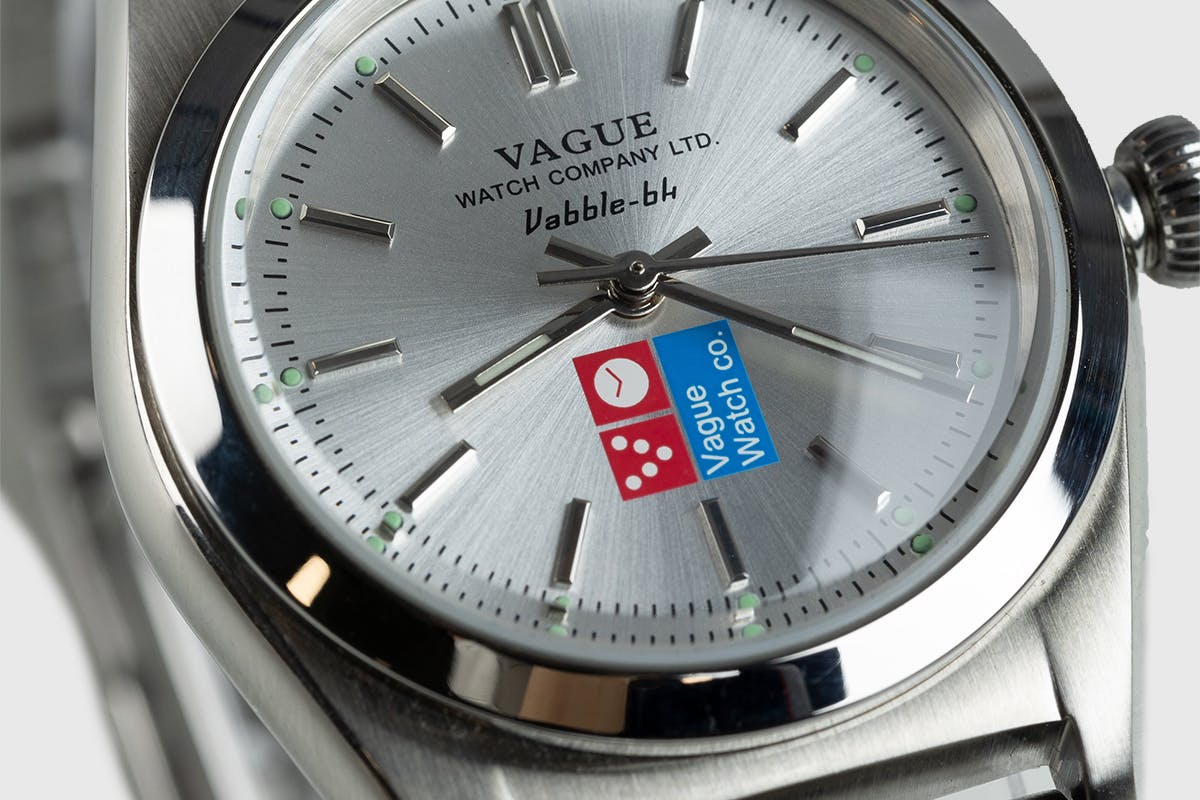 Vague Watch Co. specializes in borrowing the aesthetics of vintage hard-to-get Rolexes (or at least hard to get if you don't have thousands to drop on one). We've already written about the Japanese brand's Submariner model which combines the affordability of new watches with the technical details and design legacy of one of Rolex's most enduring styles.
But now,Vague Watch Co. has released a more under-the-radar piece to flex — the Domino's watch. Back in '77,  Domino's founder Tom Monaghan gave his highest-earning franchise owner the watch right off his wrist. In his 1986 autobiography, Pizza Tiger, Monaghan wrote, "I wore a Bulova with our Domino's logo on its face. A franchisee asked what he had to do to get that watch from me, and I told him, 'Turn in a $20,000 sales week.' He did it."
Hence, the "Rolex Challenge" was born. Every franchise owner who hit $20,000 sales, four weeks in a row, was gifted a Domino's-branded Rolex. Still ongoing, the challenge has changed slightly through the years. For one, the watch model has changed, going from that first Bulova to Seikos, to an Air King 14000., and now to an Oyster Perpetual. Even the style has changed, with the modern dials forgoing the old Domino's branding and opting for something slightly more subtle. And of course, decades on and the stakes are higher with the sales target raised to $25,000.
For its homage to the Rolex Challenge, Vague Watch Co. has created the Vabble — the brand's take on the Oyster Perpetual or Rolex's "bubbleback" model. Arriving in classic silver, the watch comes equipped with a Japanese movement and features a Domino's-style Vague Watch Co. logo on the face. Shop it above.
Want to keep browsing? Head to the Highsnobiety Shop for more products that we love.