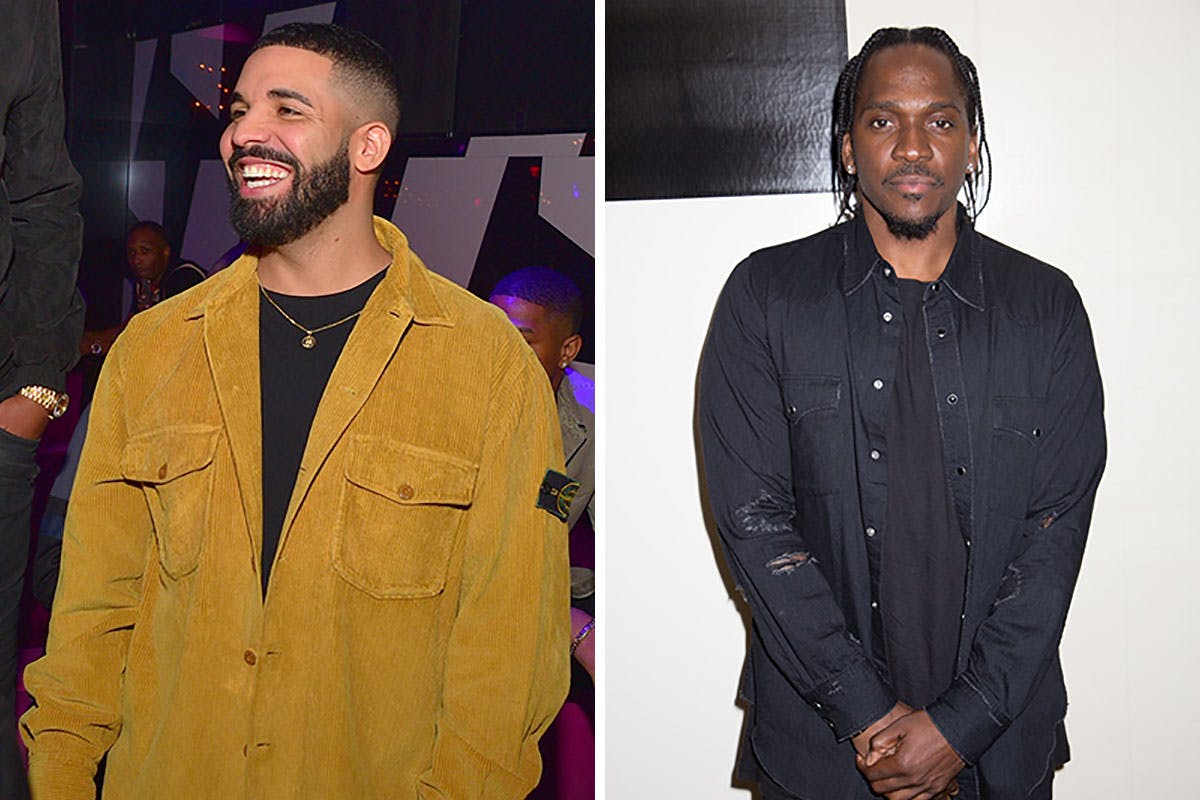 Summer 2018 is already heating up with rap releases from the likes of A$AP Rocky, Pusha-T, and Kanye West, and Drake's Scorpion soon to follow. With the drop of Pusha-T's DAYTONA came a diss track aimed specifically at Drake, "Infrared." On the song, Pusha took aim at Drake for using a ghostwriter. Less than 24 hours later, Drake unleashed "Duppy Freestyle," firing shots at both Pusha-T and Kanye West. The most recent move came in the shape of Push's blistering "The Story of Adidon."
You might be wondering how exactly this beef originated, so to satisfy your curiosity, we've compiled a complete timeline of the Drake vs. Pusha-T beef.
Chapter 1: Pusha-T vs. Cash Money Records' Birdman & Lil Wayne
After some digging, we've determined that the origin of the Drake vs. Pusha-T beef dates back 15 years to a dispute over a Birdman song called "What Happened to That Boy." Before he went solo, Pusha-T rapped alongside his brother No Malice as Clipse, working closely with production duo The Neptunes, comprising Chad Hugo and Pharrell Williams. Clipse was a featured artist on the Birdman track, with The Neptunes handling production duties. According to Hot 97's Ebro in the Morning, there was allegedly a dispute over paying Hugo and Williams for their work, and Pharrell never worked with another Cash Money Records artist again.
A few years later, another Cash Money artist, Lil Wayne, wanted to adopt the skater meets hip-hop aesthetic that Pharrell had been rocking for years, being one of the first in U.S. hip-hop to wear A Bathing Ape, introducing it to Clipse. Pharrell also had his brand Billionaire Boys Club, and according to Ebro's intel, Lil Wayne asked for some of the brand's gear back in the day, only to get refused.
After Lil Wayne donned BAPE on the cover of Vibe magazine and wore Billionaire Boys Club in his music video for "Hustler Musik" back in 2006, Clipse released a song called "Mr. Me Too," calling out those who had copied the duo's sartorial choices in the lyrics. For example: "N***a bite the style from the shoes to the watches."
Lil Wayne responded to Clipse's track and the whole BAPE controversy in a cover story with Complex that same year, saying in reference to Pharrell, "That n***a wore BAPEs and y'all thought he was weird. I wore it and y'all thought it was hot."
Chapter 2: The Drake beef begins
The back and forth continued in the years that followed, with Pusha-T and Lil Wayne dissing each other in both interviews and songs. Where does Drake come in? Well, Drake is, of course, team Lil Wayne, as both rappers are Cash Money Records labelmates and the latter kickstarting the former's career. In 2011, Pusha dropped "Don't Fuck With Me," which sampled Drake's "Dreams Money Can Buy" (in which Drake allegedly disses Pusha subliminally). At the time, both Drake and Lil Wayne were firing shots at Kanye West and JAY-Z, which Pusha appeared to address on the track with the lines, "Rappers on they sophomores / Actin' like they boss lords."
Any ambiguity around "Don't Fuck With Me" dissolved with "Exodus 23:1," released in 2012. Referencing Drake's complicated contract with Cash Money Records, Push raps, "Contract all fucked / I guess that means you all fucked up," along with, "You signed to one n***a that signed to another n***a / That's signed to three n***a, now that's bad luck."
Chapter 3: Trading shots
Over the next few years, there was continuing back and forth between the G.O.O.D. Music affiliate and the head of OVO Sound. Pusha-T fired shots at Lil Wayne on "Your Favorite Rapper" and Drake responded by threatening violence on "Tuscan Leather" from 2013's Nothing Was the Same. Pusha then dropped a video for "Suicide" on the same weekend Drake was set to headline Saturday Night Live in 2014, spitting bars like, "You caught steam off headlines and co-signs," referring to Drake's 2011 hit.
Then, in 2016, Pusha dropped "H.G.T.V." which featured his hardest bars against Drake to date: "It's too far gone when the realest ain't real / I walk amongst the clouds, so your ceilings ain't real / These n***as Call of Duty 'cause they killings ain't real / With a questionable pen so the feeling ain't real," continuing with, "The bar's been lowered / The well's run dry / They beefing over melodies, but no, not I / See, I'm so top five / If they factor in the truth / I just might blow by."
Drake responded with the single "Two Birds, One Stone" in 2016, taking aim at Pusha-T's drug dealer past with the lines, "But really it's you with all the drug dealer stories / That's gotta stop, though / You made a couple chops and now you think you Chapo / If you ask me though, you ain't lining the trunk with kilos / You bagging weed watching Pacino with all your n***a / Like, 'This what we need to be on,' but you never went live / You middle-man in this shit, boy, you was never them guys / I can tell, 'cause I look most of you dead in your eyes / And you'll be tryna sell that story for the rest of your lives."
Chapter 4: Beef reheated
With "Infrared" on Pusha-T's latest album DAYTONA, Push has reheated the beef between himself and Drizzy. On the track, he calls out Drake for using ghostwriters (a diss we've seen before and covered extensively here), with lines like, "The lyric pennin' equal the Trumps winnin' / The bigger question is how the Russians did it / It was written like Nas, but it came from Quentin." Push's line refers to Quentin Miller, who allegedly ghost-wrote Drake's verse on Meek Mill's "R.I.C.O." from 2015.
Less than 24 hours after DAYTONA dropped, on May 26, Drake dropped his "Duppy Freestyle" diss track, which fired shots at both Pusha-T and Kanye West. Lyrics include the following, in which Drake directly addresses the Quentin Miller ghostwriting controversy: "And as for Q, man, I changed his life a couple times / N***a was at Kroger working double time / Ya'll acting like he made the boy when I was trying to help the guy / Yeah, who gassed you to play with me? / Man, you made this shit easy as ABCs / Whoever supposedly making me hits, but then got no hits sound like they need me / My hooks did it, my lyrics did it, my spirit did it."
Drake even admitted he bought a Clipse-era microphone supposedly signed by Pusha-T on eBay for $200 (as you can see in the footage below), and on "Duppy Freestyle" likens its faded signature to Pusha-T's music career: "I had a microphone of yours, but then the signature faded / I think that pretty much resembles what's been happenin' lately."
Drake even goes so far as to say that Pusha-T and West owe him money, given his diss track will boost sales of Pusha's album: "I told Weezy and Baby, 'I'ma done him for you' / Tell 'Ye we got a invoice coming to you / Considering that we just sold another 20 for you."
Pusha-T responded to the line on Twitter, urging Drake to "Send the invoice for the extra 20…"
…which, of course, Drake, being the petty Scorpio that he is, did — sending an invoice for $100,000 to G.O.O.D. Music and Def Jam for "promotional assistance and career reviving." Or at least, he posted a picture of an invoice on Instagram.
Next, on May 27, Nicki Minaj decided to chime in on the beef, writing on Twitter, "N*ggaz gon run that Quentin shit in the fkn ground like Drake don't write 4 himself & OTHERS! Ya enemies will remix, reinvent & TRY 2make u RELIVE some old shit for YEARS 2 come when they have NOTHING ON U!"
Things went nuclear on May 29 when Push dropped "The Story of Adidon." The single's artwork depicts Drake in blackface, allegedly an unaltered photo from 2008 taken by David Leyes for a "Jim Crow Couture" clothing campaign for a brand called Too Black Guys. The song employs No I.D.'s beat for JAY-Z's "The Story of O.J." a video that featured minstrelsy imagery similar to the photo released with "The Story of Adidon." The artwork has since been removed from Instagram.
On the "The Story of Adidon," Pusha comes at Drake from every angle — dissing his parents, referring to his trusted producer Noah "40" Shebib's Multiple Sclerosis, his rumored deal with adidas, and, most notably, claiming that he fathered a secret son with former adult film star Sophie Brussaux.
On May 30, Drake posted an apology on Instagram. He addressed the photo Pusha used for "The Story of Adidon," clarifying that it was not for a clothing brand shoot or his music career. He contextualized the photo, saying it was from 2007 when he was trying to build an acting career and working on a project that was about "young black actors struggling to get roles, being stereotyped and type cast," adding that the photo was meant to highlight how "the struggle for black actors had not changed much."
Chapter 5: A call for a truce
Since the release of "The Story of Adidon," Drake has remained quiet. That's likely at the request of music mogul J. Prince. The CEO of Houston-based Rap-A-Lot Records (who is often considered a mentor to Drake after introducing the rapper to Cash Money Records) spoke recently about his role in preventing Drake from retaliating.
On June 2, Prince appeared on DTLR Radio to discuss the matter, stating that he had asked Drake to leave the matter be.
"I made an OG call to Drake this morning, telling him, 'I don't want you to respond to this. We're going to put this to bed,'" Prince said. "We're going to put this to bed because we can't get into the pigpen with pigs. Because pigs turn into hogs and hogs get slaughtered."
He added, "We didn't work this hard to cheat ourselves over nothing. So that's the way that is."
The day before, Prince spoke specifically about Pusha-T's track, calling it "disrespectful." He noted, "It's one thing for me and you to be in a situation and it's another thing for you to take it out on my momma or my dad. So I have a problem."
With J. Prince's intervention, many believe the beef between the two rappers has been squashed, at least for now. That said, if Drake did want to make another move, then Ja Rule (of all people) had some advice. Resurrecting his own age-old beef with 50 Cent, Ja Rule told Drake that he could always "call the feds/police and tell them you think pusha is trying to kill you…"
Ja Rule went on to state that his 2003 track "Loose Change," which threw shade at Fiddy, Eminem, and Dre, is actually the most disrespectful diss track of all time. But it wasn't long before that claim was savagely shut down by 50 Cent on Instagram.
Nothing like some well-publicized beef to deliver a dose of FOMO to those not involved, huh?
There you have it, the complete history (so far) of the beef between Pusha-T and Drake. Stay tuned to see if Drake has anything to add to the matter on Scorpion, which is due to drop later this month.
What do you think about the beef? Let us know in the comments below.
For more moments in rap history, be sure to revisit our brief history of the Joe Budden vs. Migos beef right here.