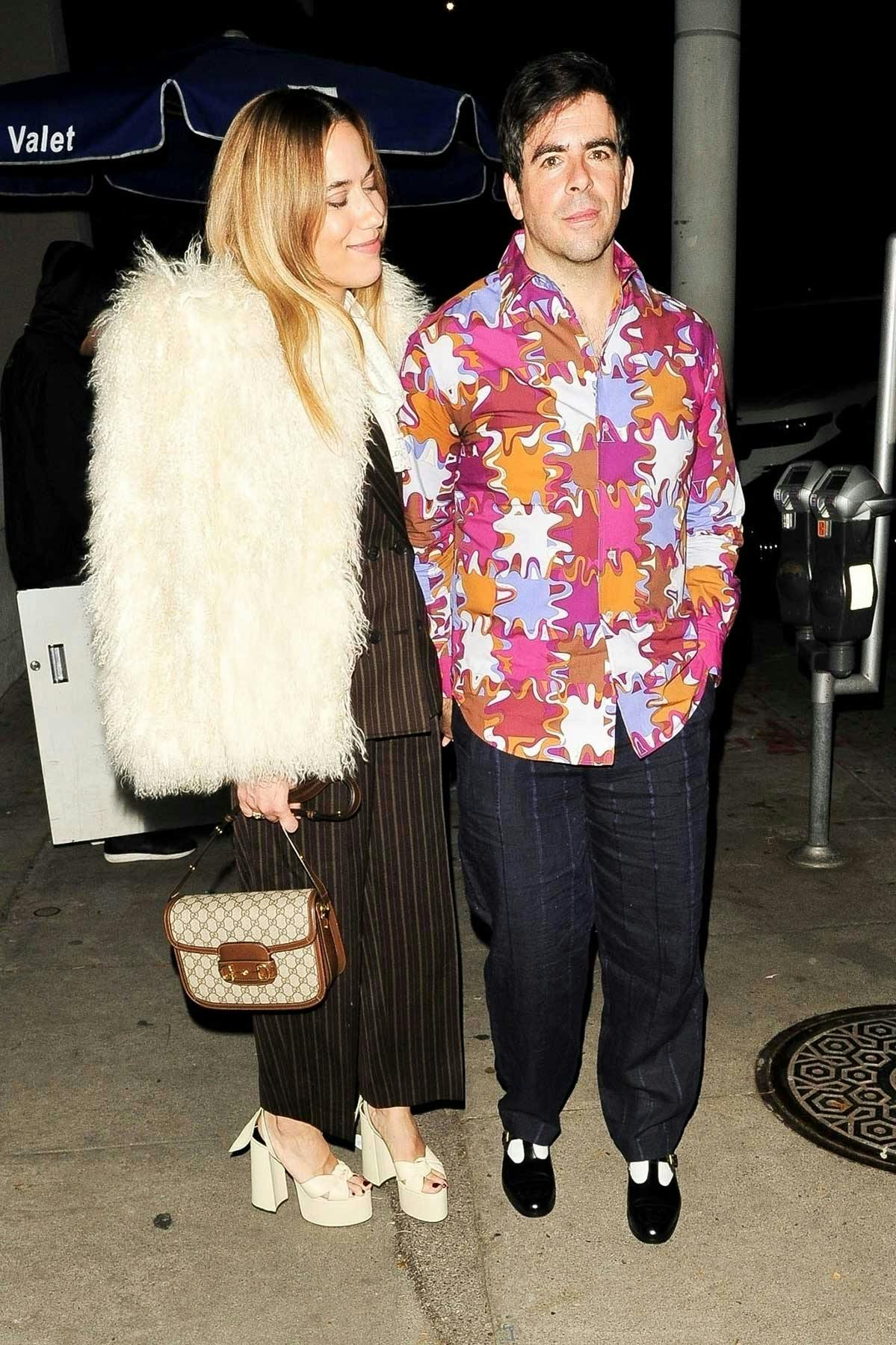 I adore an unexpected menswear moment. I'll always take Brett Gelman in CELINE, Macaulay Culkin in Gucci, and Seth Rogen wearing a pleasant stylistic surprise over the flashy stuff worn on the daily by typical so-called "style icons." So color me pleased to see another delightfully unplanned outfit of excellence worn by venerated horror stalwart Eli Roth.
Out for dinner on January 10 with a date and pal Quentin Tarantino (heard of him?), Roth was wearing an outfit that's the visual opposite of his most known films.
Compare the gritty, grim, gorey visual language of movies like Hostel, The Green Inferno, and Cabin Fever with Eli Roth's cheery, comfy, and, frankly, quite cool outfit. Not that I didn't think that the 50-year-old director had it in him, but it's kinda like seeing Michael Myers wearing a Hawaiian shirt instead of his usual boilersuit.
Roth is actually quite the menswear maven, it turns out.
He's a big fan of vintage store vintage store aloe&wolf, from whom he buys lots of graphic shirting (Roth got the splashy Pucci shirt he wore on his date from them) and appreciates contemporary talents, like Bode and merch drop Online Ceramics, the latter of which collaborated with Roth in October 2022.
Roth's lustrous Pucci and flowing striped slacks would be deserving enough for an approving People's Eyebrow but it's his kicks that really turn this Genuinely Good Look into a Certified Menswear Classic.
See, the pattern mixing, relaxed silhouette, that's all well and good, but Eli Roth in Mary Janes?? Now we're talkin'!
Dainty Mary Jane shoes aren't for everyone but there's a quietly swelling push of menswear brands adopting them as a next-level loafer. It's the missing link between fisherman sandal and derby and they add a level of quiet confidence to look that's hard to achieve with conventional leather shoe alone.\
It'd be nice to see more folks taking Eli Roth's sort of stylistic leap; we'll always more readily salute a swing — even if it misses, which Roth didn't — over another stale outfit repeat.
Bring on the baby blue tanks, silk PJs, the skirts! Follow in Eli Roth's well-shod footsteps.
Shop our favorite products