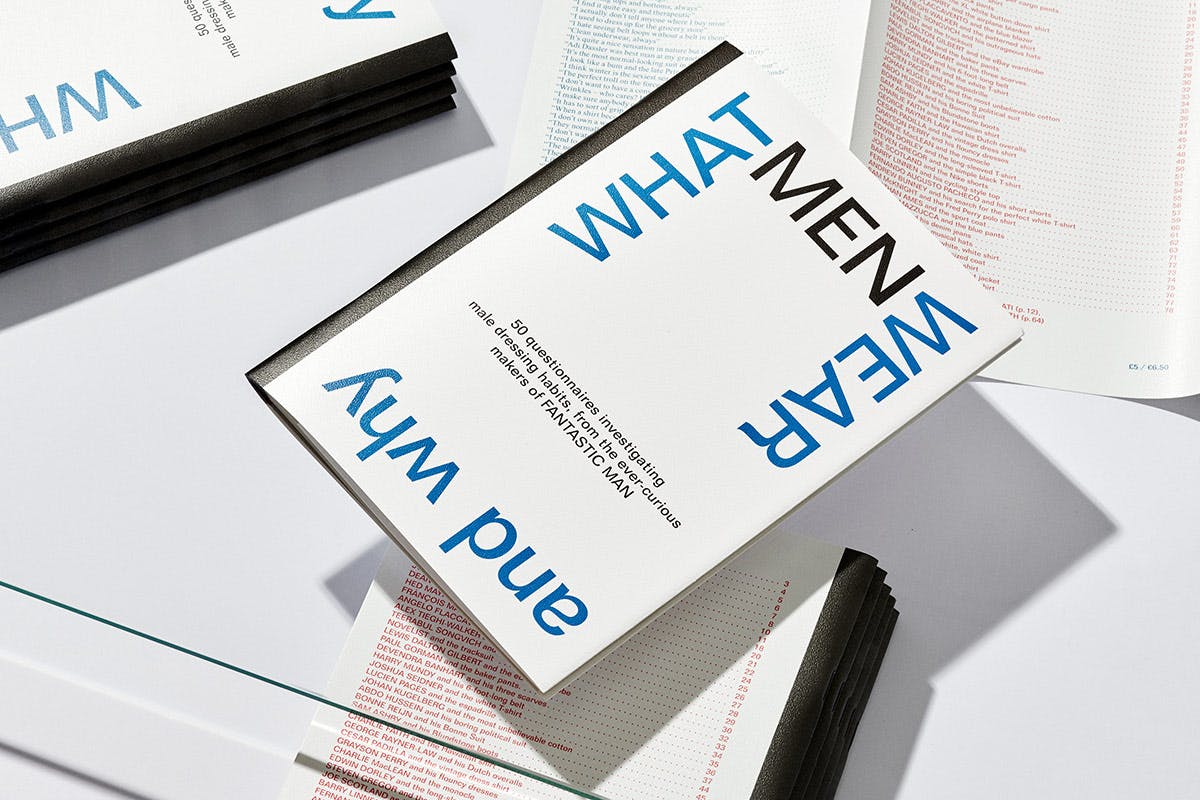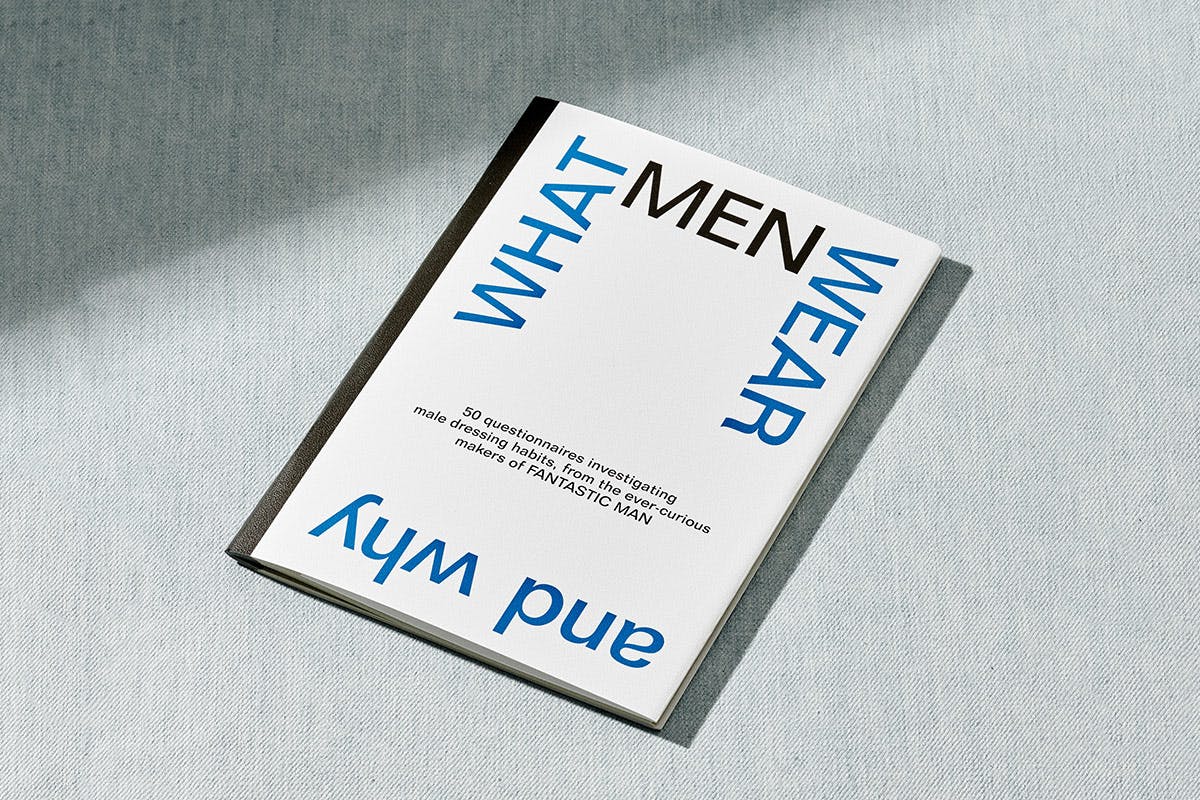 Fantastic Man is releasing a book containing a plethora of interviews with men about what they wear and why. The book, quite self-explanatorily, is called What Men Wear and Why.
Comprising 50 of Fantastic Man's best Questionnaire interviews in addition to bonus interviews with Stefano Pilati, Charles Jeffrey, and Paul Smith, the book contains insights from musicians, designers, barbers, IT workers, and more, offering readers a comprehensive look at men's style and the influences behind it.
The book pre-launches on January 19 at Paris Fashion Week Men's FW19 before a worldwide release on January 21 in collaboration with London-based boutique Browns with whom Fantastic Man is also dropping limited edition T-shirts in six different styles, each with a different Questionnaire interview on it.
Ahead of the book's release, Highsnobiety can exclusively share an excerpt Fantastic Man's interview with British grime MC Novelist.
Fantastic Man: What garment is key to your personal style? Novelist: I'm going to say the tracksuit.
How many tracksuits do you have in your wardrobe? Ah, I couldn't tell you. Definitely over 10.
What is it specifically about this garment that you love? I just feel, like, no matter where you are in life, you can't go wrong with a tracksuit. They're simple and plain, not too expensive. But if I told you honestly, it's about comfort, and also about being able to look nice and healthy. Looking healthy at the same time as being comfortable is cool, man. I like it.
I've never thought specifically about trying to look healthy when you dress, but I guess it makes total sense. Well, I've got an athletic physique. If I was a bit chubbier or, I don't know, of a different stature, then I might not want to wear tracksuits so much. They just suit me. I'd say comfort first though, and they just happen to look good on me as well, you know what I mean?
What are the defining specifications that make the perfect tracksuit? They are predominantly from Nike; there are some other bits and bobs, but let's say generally Nike. Usually in darker colors, matching tops and bottoms, always. If I'm honest with you, bro, I wish companies made more colorful stuff. In England, there's generally a very dark tone to the clothes that come out of sports shops. I'm actually a colorful person. Another thing I'll say is that I'm not a fan of clothing that is too tight. I like to feel free in my clothes, so I get tracksuits that are a bit on the looser side. I like clothes that give me a bit of space.
Are they mostly cotton? Or nylon? Cotton mostly. The nylon ones I would call a shell suit. I love shell suits, too. I think of tracksuits as cotton bottoms and a cotton hoodie pullover, whereas a shell suit is nylon and the top has a zip. I wear shell suits when the weather's a bit warmer.
I sometimes see guys in two pairs of tracksuit bottoms. Like, a really massive pair on top that are lower down around the bum and another smaller pair underneath. Is that something you do? Yeah, straight! That's not even for style, that's for warmth. I'm Afro-Caribbean, born here but my mum's from Antigua and my dad's from Ghana so, like, I'm born in England, but I feel like my body type is for hot weather. I need to stay warm.
Do you know where your attachment to this garment comes from? Is it something from your youth, or something you picked up from a specific person? When? Who? It's since I was a youth. I can't say this time or that time, but since I was a little kid, a tracksuit is just what I got put in. I'd always have to wear little polo tops too, but I feel that's what every little kid has to wear. I left the polo tops behind and kept the tracksuits.
Can you describe the state of your closet? Is it tidy, messy, super-organized? My wardrobe is quite neat. I like order in my life. I've got three wardrobes that are pieced together… How can I describe it? It's like a corner piece: you've got one in the center, one on the left, one on the right… This is a weirdly hard question.
Apologies! Nah, it's actually interesting to think about. Because, being a musician, people are constantly offering to send me clothing. I've gotten to the stage now where I'd rather take less and just wear something plain. I'm happy just wearing a white T-shirt. I didn't grow up with a lot of money, so when I came into money, I wanted to get all the things I'd ever wanted. But I've gotten to the stage now where I've got enough. I've come to the realization that there are much more important things in life than clothes. You're better off giving them to charity. I've got a lot of clothes bagged up right now, actually.
Have you ever made a radical change to your look? Not really. I've always been quite consistent. I'd say I've started wearing more workwear. Carhartt, Dickies, stuff like that. I've always been into those styles, but I just didn't know where to get anything like that as a kid. All I knew was JD Sports, Primark, Sports Direct. It was all a bit of a mystery. But I'm still into a simple look. It's powerful.
Do you have a dress code for work? I still wear tracksuits, and then a bum bag [fanny pack] over my shoulder. I always put my phone in my bum bag; you don't want your phone falling out on stage. My bum bags are mainly from Nike, but I also have a good Eastpak one. Back in the day, we would all wear gun-pouch bum bags.
What's a gun-pouch bum bag? I think they were called gun pouches… We got them from the market. They go over your shoulder and tuck under your armpit. You'd keep your cigarettes in there and whatever else you had on you.
Oh, like a holster? Yeah, a holster! They looked good, actually. They've got a bit of a detective look to them. Hermès do good leather holster wallets if you're looking for a fancy one. I'm googling it now. I'm going to bring that look back this summer. Keep an eye out at festivals.
Next, find out more about Highsnobiety's limited edition T-shirt in collaboration with Chinatown Market.