In 2021, the overflow of ongoing fashion week presentations may have felt less like the self-contained bi-annual event it usually is and more like a perpetually regenerating groundhog day of new products.
Not that there hasn't been some major highlights: Fashion East proved triumphant with a roster of upcoming designers debuting new collections at London Fashion Week, while in New York, dormant label Hood By Air was revived with a new collection and campaign starring Naomi Campbell.
Elsewhere, new collections have been dropping left, right, and center. Below, we've rounded up a few exciting Fall/Winter 2021 pieces that caught our eye.
Rick Owens Sequins
Rick Owens' FW21 women's collection aligned with the vibe from the men's show earlier this year. Among the extremely broad shoulders and mauve leather motor-cross suits was a sequinned juniper bodysuit, which is a perfect level of doomsday-glamour for FW21. The extended mask has a beguiling charm about it, too.
Schiaparelli Platforms
Schiaparelli's recent show was a highlight from Couture Fashion Week, and the FW21 collection kept up the same energy with the inclusion of XXL gold-plated platforms and beautiful black flowing silhouettes.
Shop a similar piece below.
Givenchy Accessories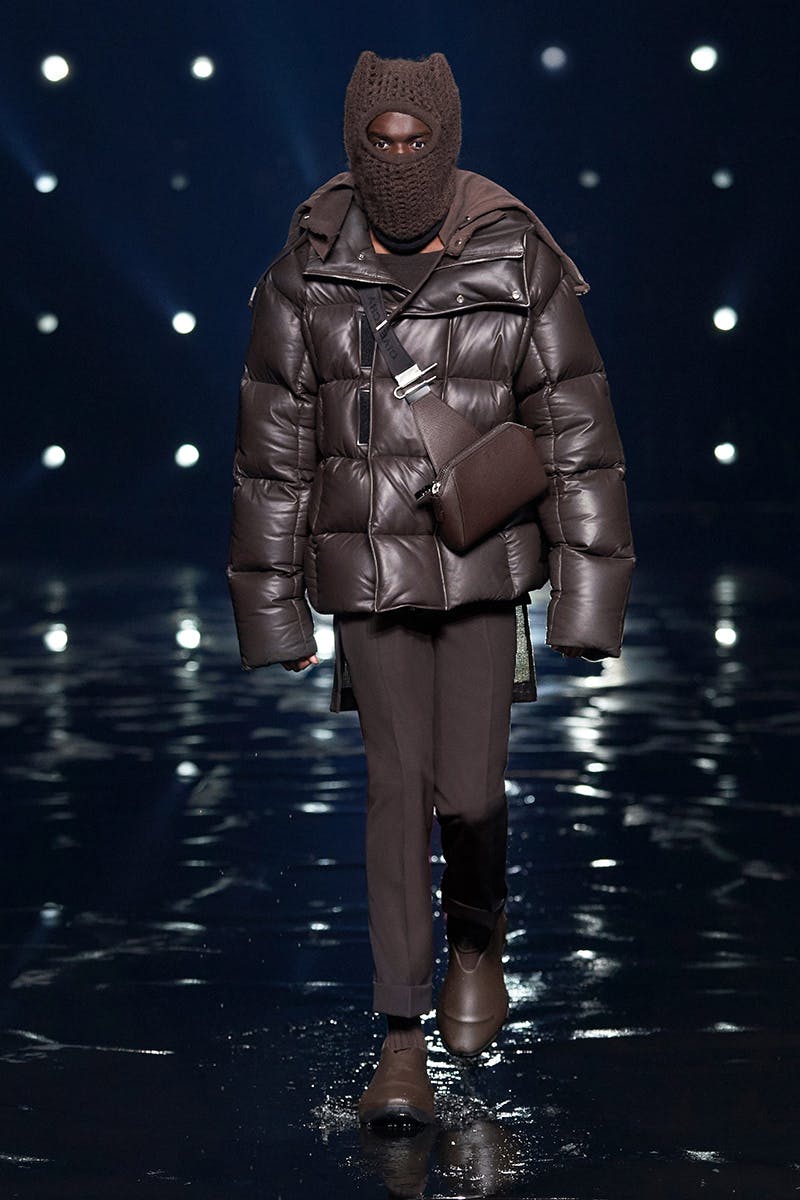 Givenchy's taupe-brown balaclavas are accentuated with two tiny horns poking out the top. This touch of the occult was noticeable in Matthew Williams' inaugural collection for the house which included devil horns on caps and split-toed "centaur" sandals.
Shop a similar piece below.
(Available at 2 Merchants)
(Available at 2 Merchants)
Versace Heels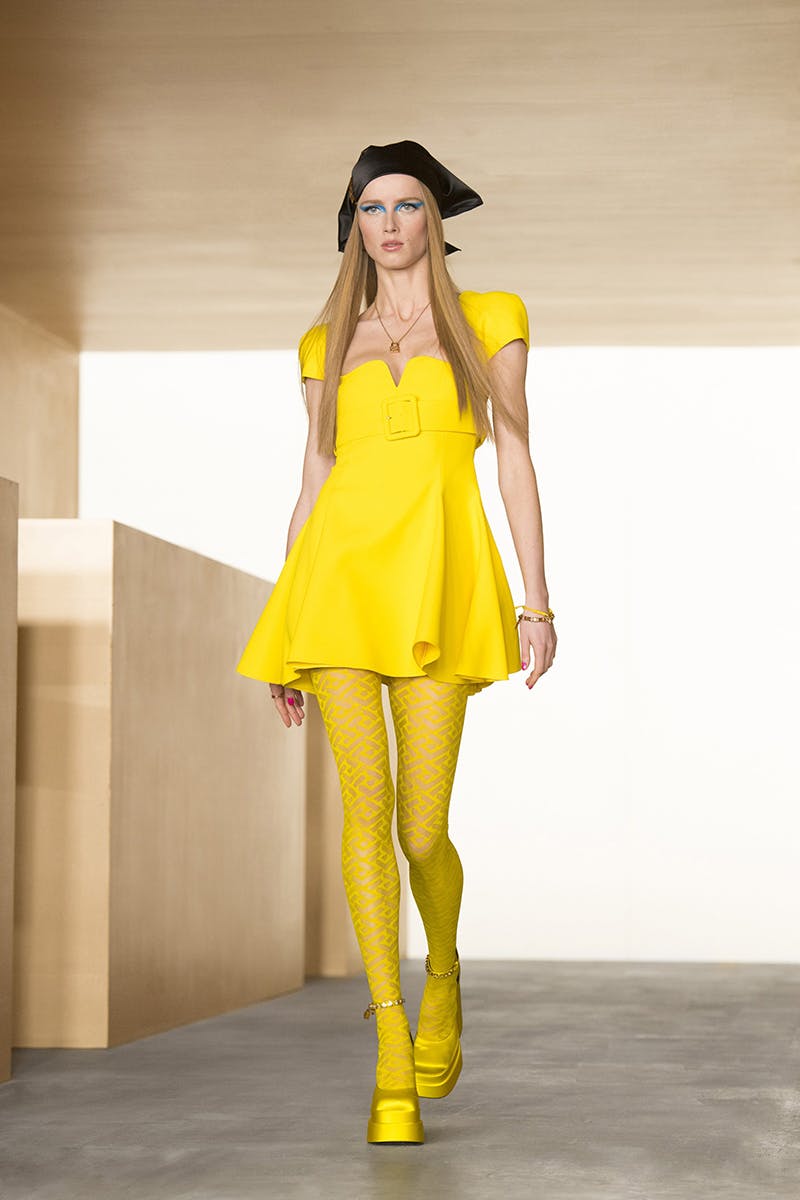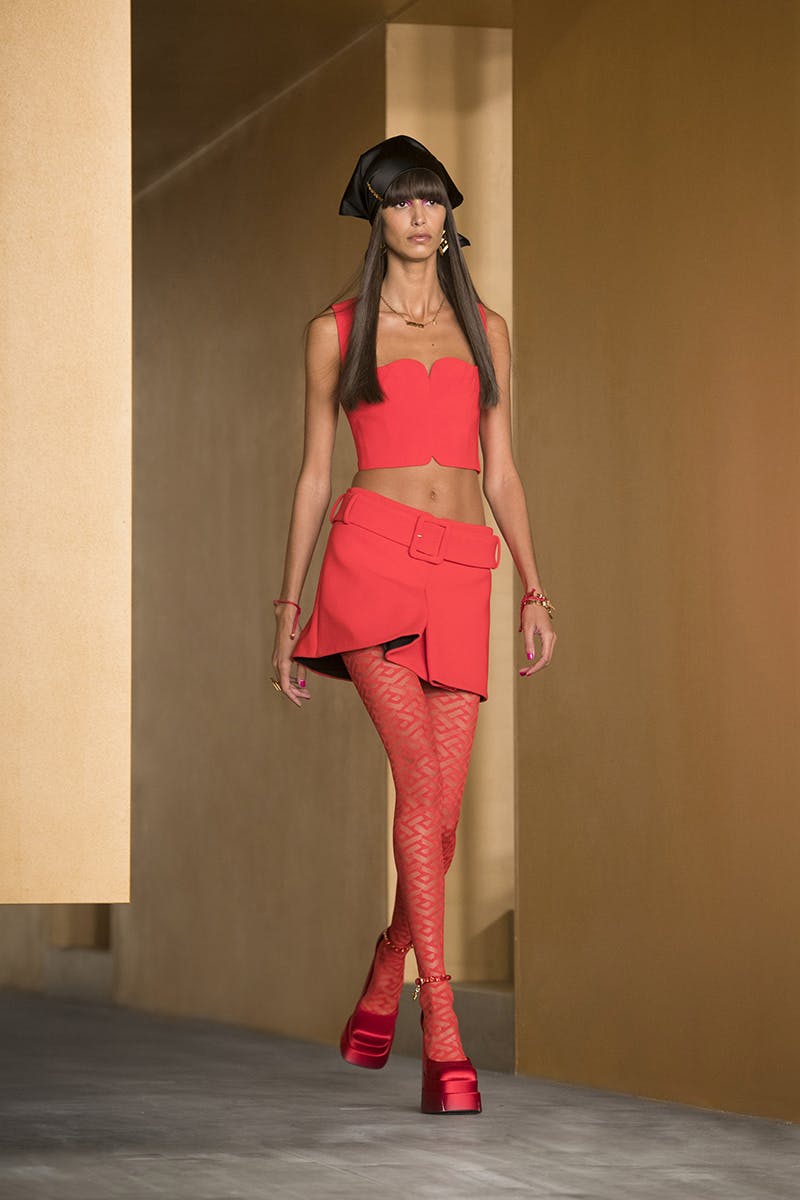 Versace's FW21 collection was anchored by a new monogram print, but don't let that take away the focus from the dress-up, Barbie-like quality of some of the shoes and accessories. Is it the return of the controversial kinderwhore aesthetic of the mid-'90s?
Our Legacy Sweaters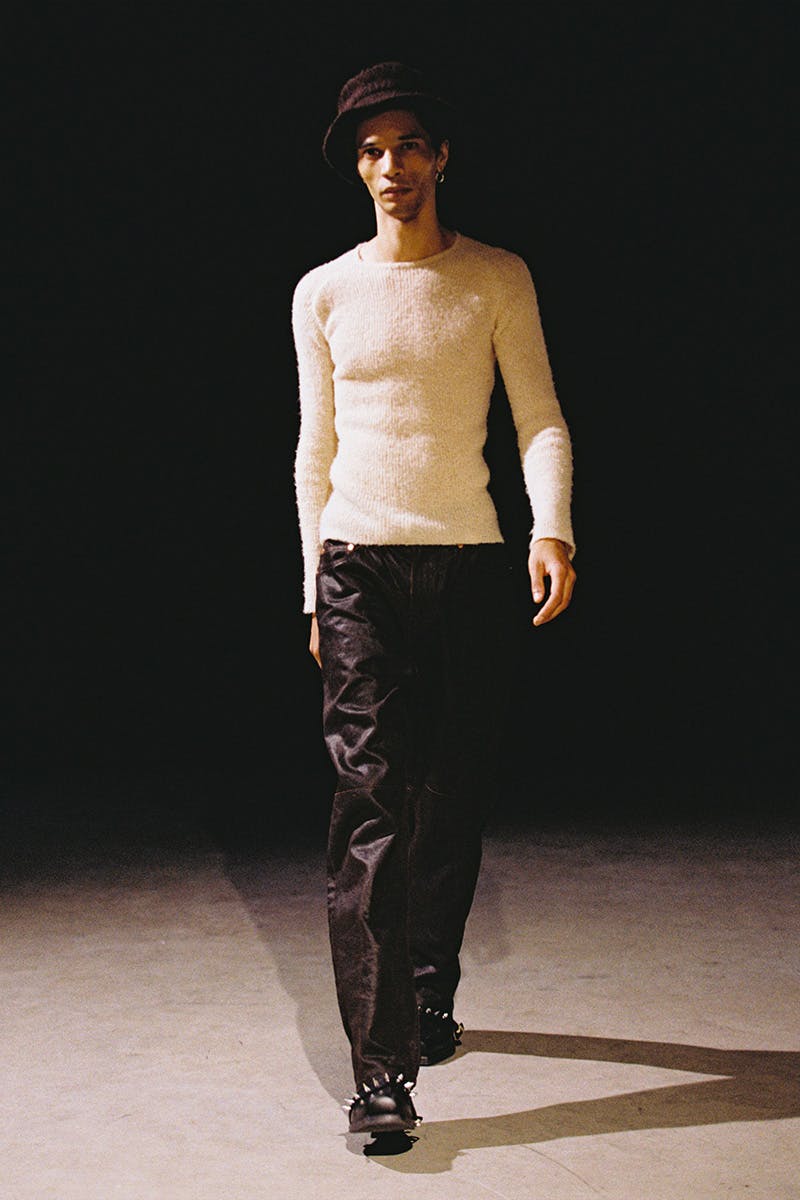 Our Legacy's FW21 collection was all about contrasts and opposites. For us, it's very 90s-Brad-Pitt-at-the-airport thanks to the debonair styling of a slim-fitting sweater and loose waxy denim pants. However, the spiked mules on foot bring the look very much into 2021.
Shop a similar piece below.
Collina Strada Prints
The over-saturation of images during Fashion Week can make it tricky for a lookbook to stand out, especially in the digital-0nly era. Collina Strada went down the nostalgia route by enlisting digital artist Freeka Tet to evoke the illustrations from Scholastic's "Animorphs" series from the '90s.
Shop a similar piece below.
Marine Serre Caps
Marine Serre's trademark silk satin is joined to baseball caps for a new two-in-one accessory. It just goes to show a brand isn't all about its ubiquitous logo, it's also about creating things you didn't think you needed until right now.
Shop a similar piece below.
Valentino Sweaters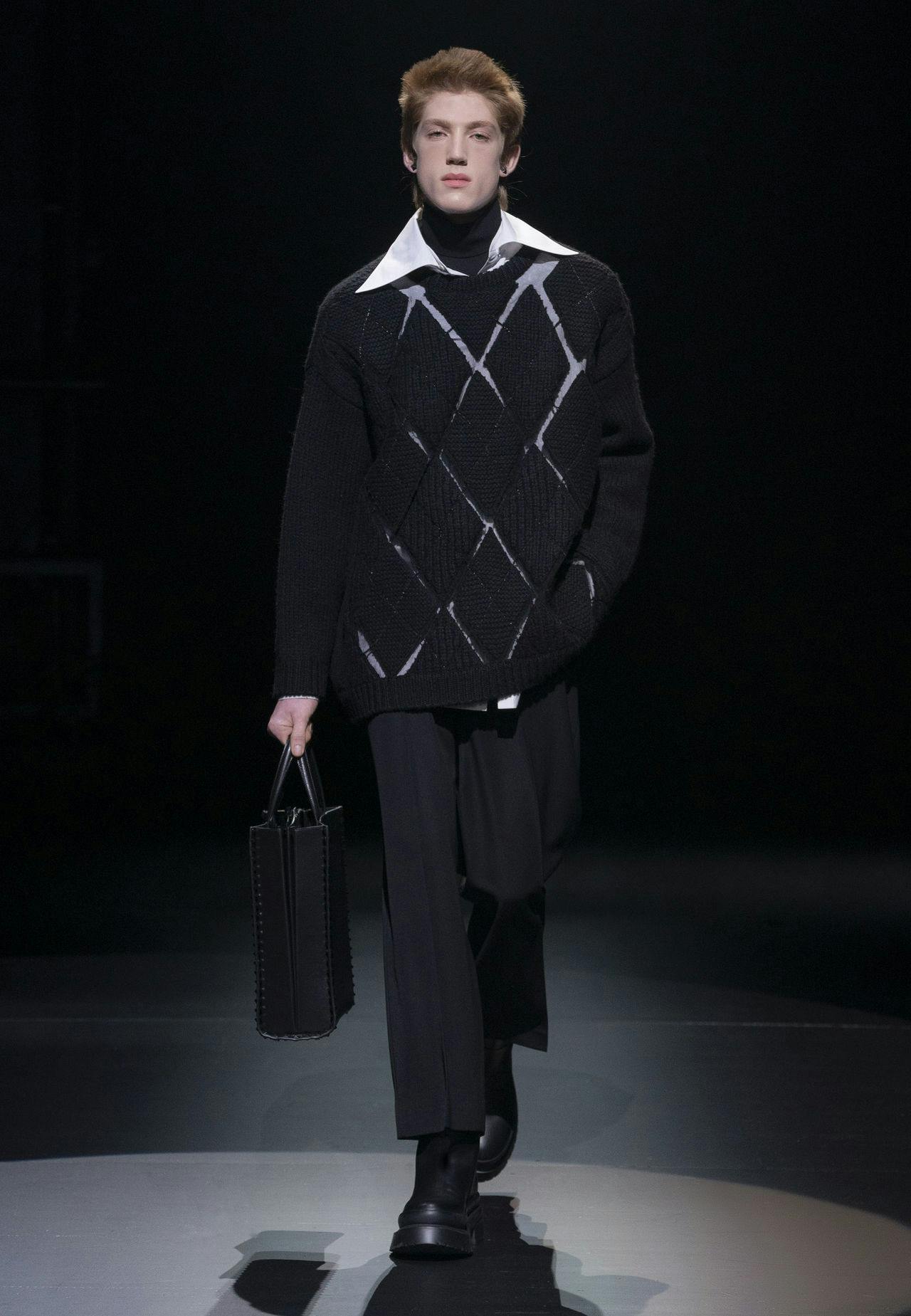 Getting shredded, Valentino style. This huge collar poking out the top takes it right back to the '70s or alternatively it could be worn as a single layer if you're feeling bold.
Acne Scloves
Hybrid fashion accessory hive rise up! If you ever feel like you need another pair of hands the Sclove from Acne's FW21 collection will have you covered.
Shop a similar piece below.
Ottolinger Outerwear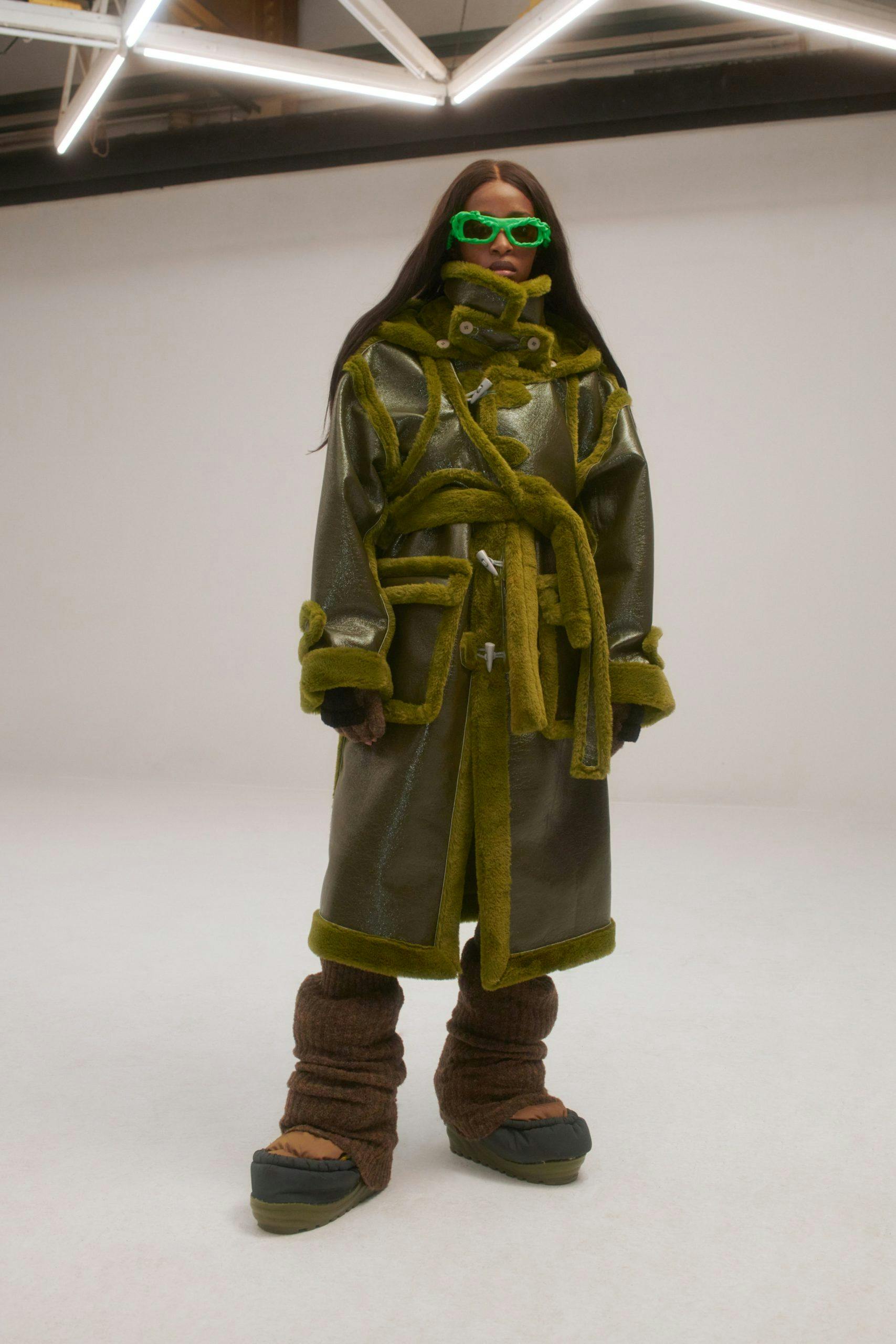 Muted chartreuse and leather/duffle lining with toggle clasps sounds like a fashion nightmare on paper, but turns out to be the coziest outerwear of the season as executed by Berlin-based label Ottolinger.
Eckhaus Latta Cow Prints
Cow prints, they're just not going away, and we're more than fine with that. Also, nostalgic casting for those who remember the Cole Mohr era of overly-tattooed male models from the early 2010s.
Shop a similar piece below.
Kwaidan Leather Coat
It's inarguable that a leather trench is a timeless and iconic piece of outerwear which turns everyone into a sexy villain. It's an essential item for the wallflower-to-femme-fatale pipeline, as demonstrated by Zoe Kravitz as DC's latest Catwoman incarnation.
Shop a similar piece below.
Acne Visors
Sunglasses are proving a fresh style conundrum for those not wanting to fog up their lenses while wearing a mask. However, how can you mist up what is already misted? Opaque lenses with bug-eye frames has big potential for the next wave of statement eyewear.
Shop a similar piece below.
Courrèges Trench
New creative director, same old timeless Courrèges. The definition of timeless yet modern, Nicolas Di Felice's pandemic-friendly trench coat is what we think an Errolson Hugh leather collection would look like.