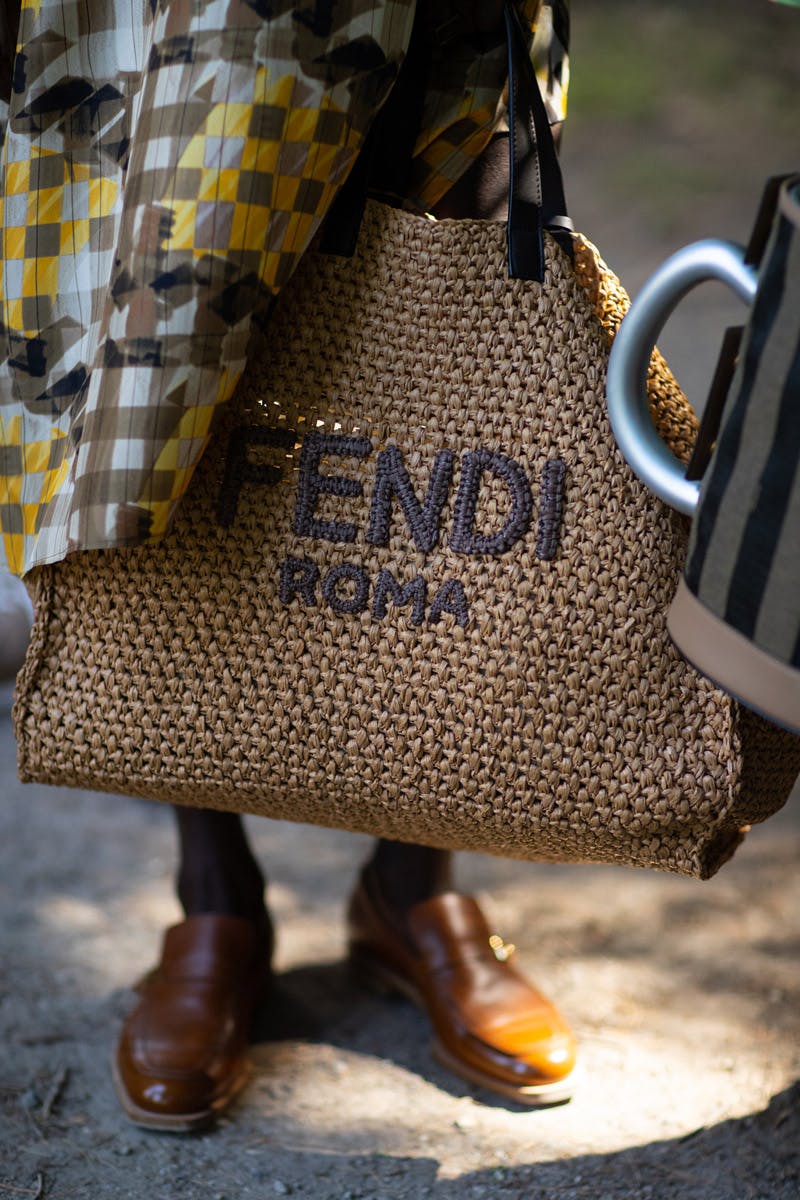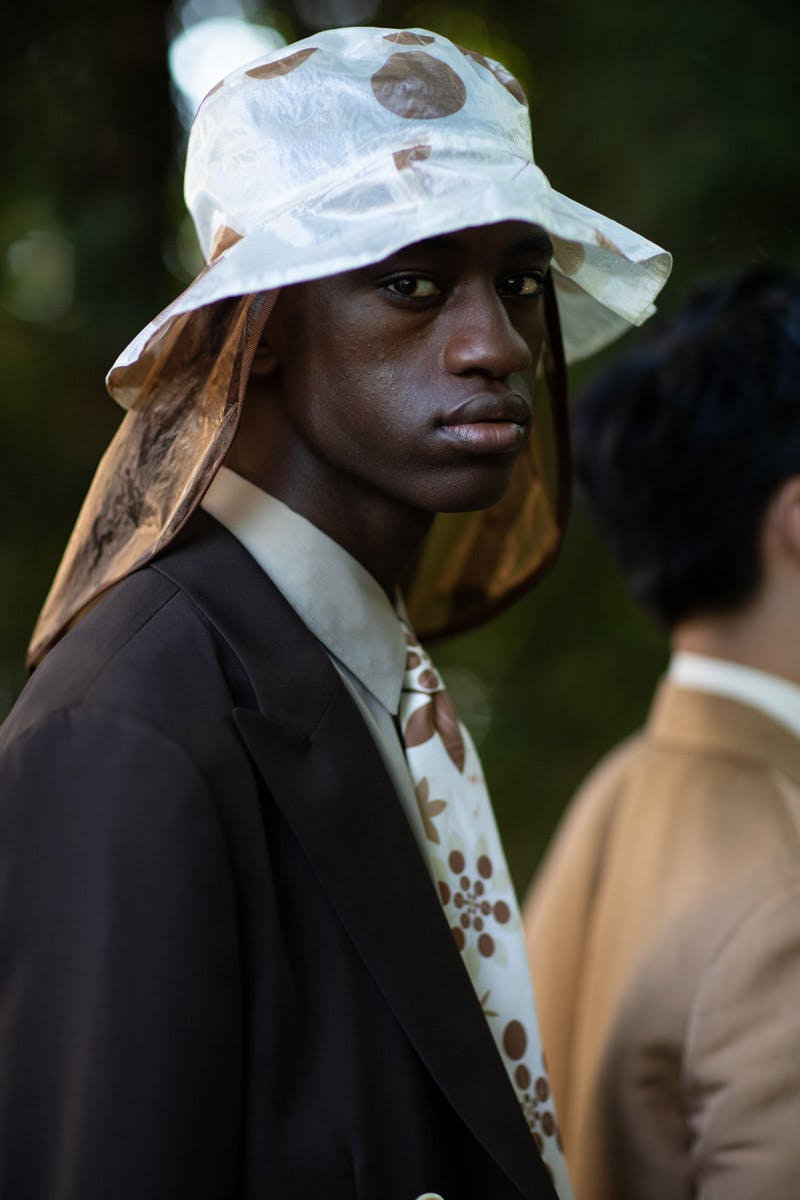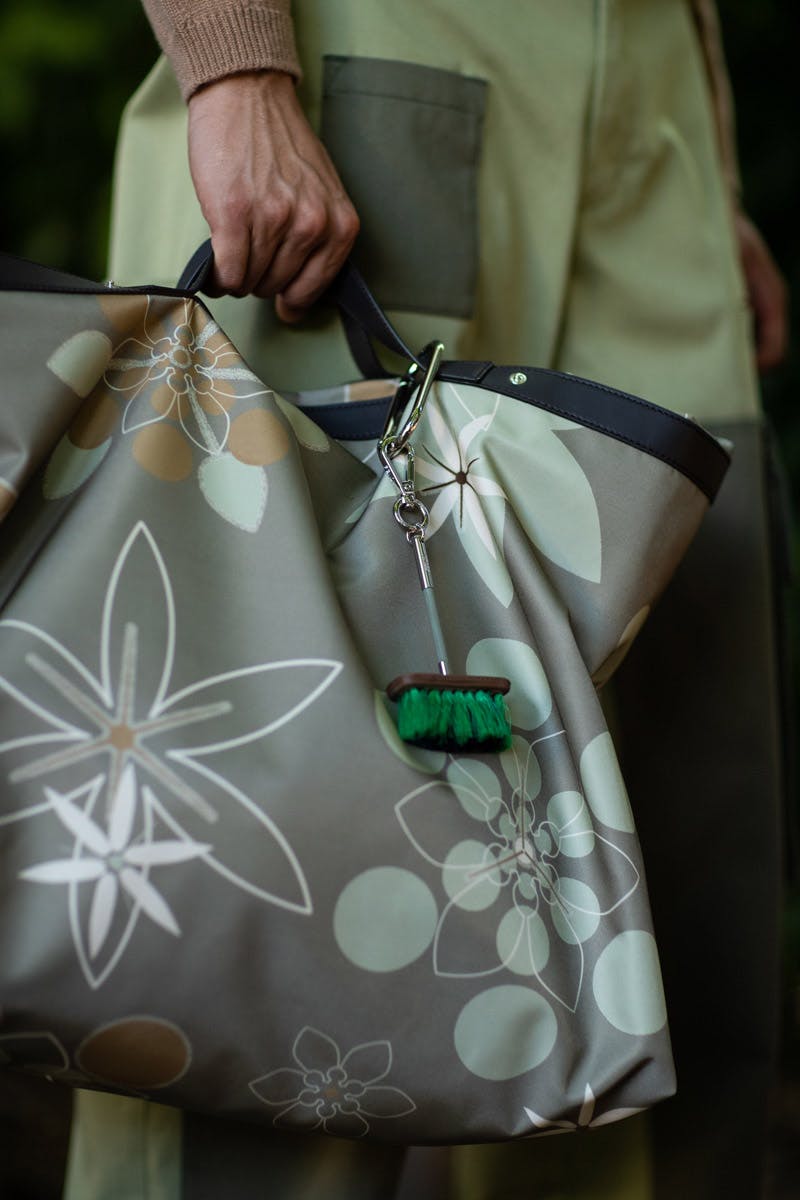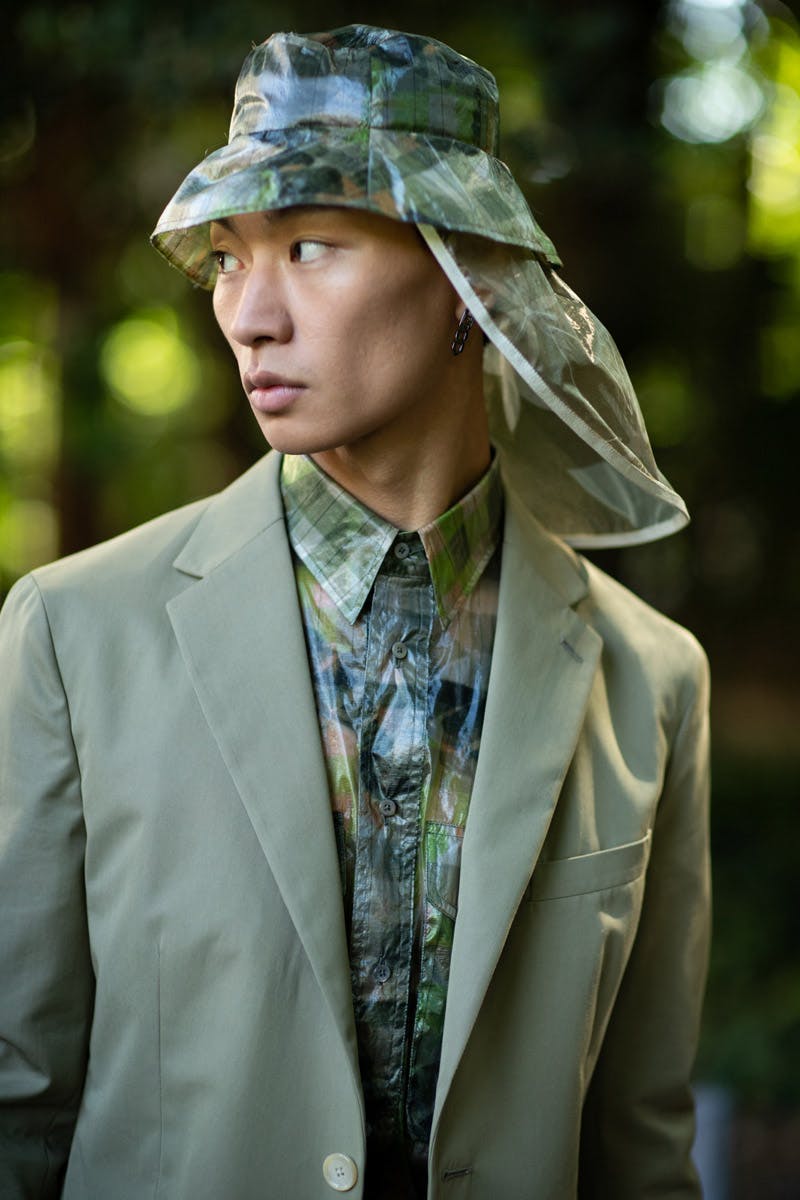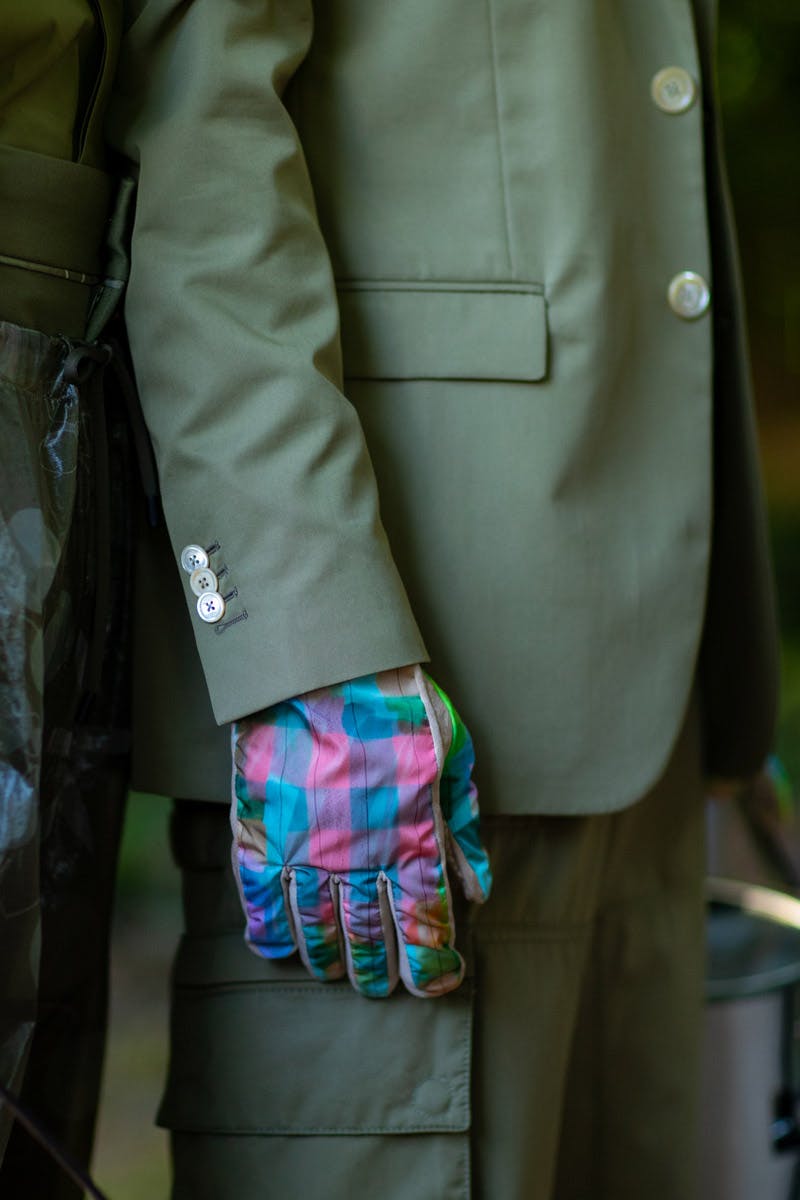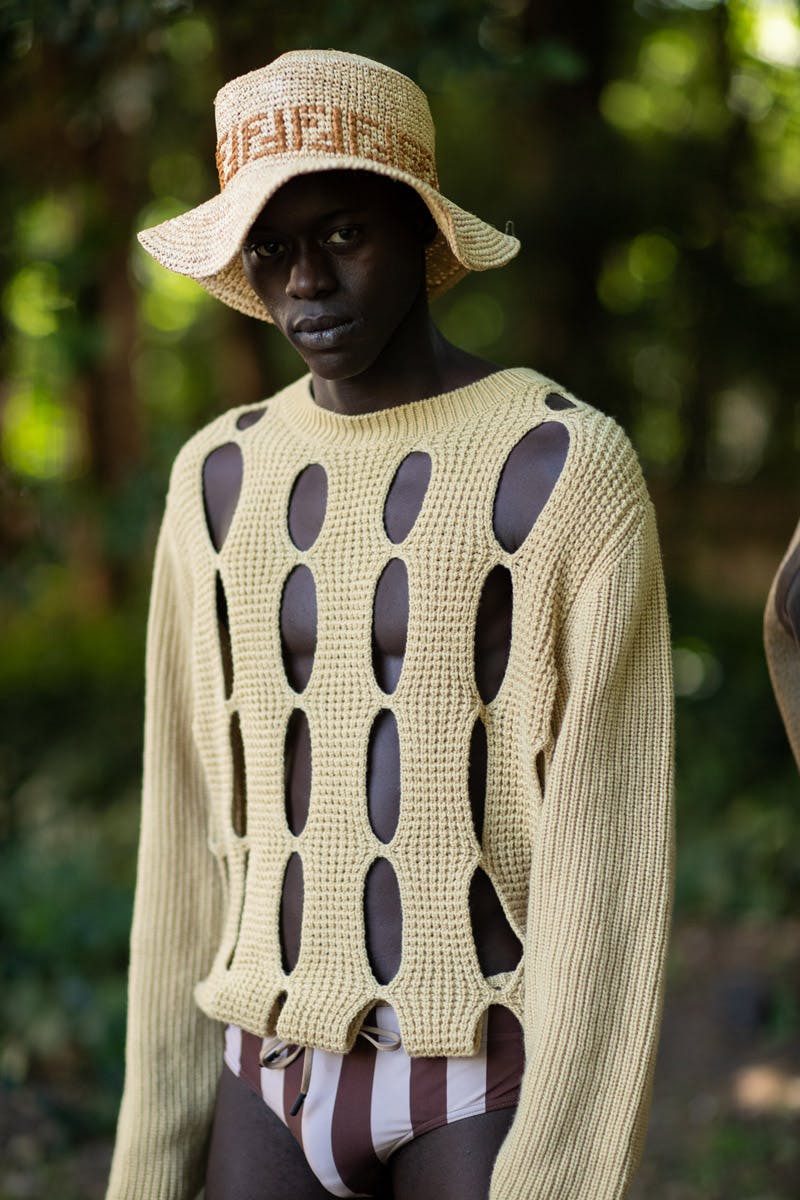 What does Fendi man wear to a morning of gardening? Straw Fendi-logoed bucket hats, wool gardening gloves, leather gardening cans, and patterned hedge shears. But Fendi man isn't the one doing any heavy lifting; the items are mere accessories brought with him on his way to an afternoon of bucolic delights.
At Fendi SS20, shown in the green gardens of Villa Reale in Milan, there were floral picnic baskets in Fendi's signature striped Pequin pattern, wool blankets in soft prints, and bottle-opener charms in the shape of gardening tools. They fit with the collection's many muted shades of khaki, beige, creme, and black on spacious tailoring, overalls, and long polo shirts. These were paired with the house's iconic Baguette and Peekaboo bags in a wide array of materials, from exotic skins to woven raffia and classic Selleria leather.
The footwear included croc-print loafers, sandals, boots, and Mary Janes for men, as well as high-top trainers in canvas and rubber developed in collaboration with Japanese heritage footwear brand MOONSTAR, creator of the original rubber split-toe jika-tabi worker boot.
The collection was functional and utility-driven, yet idyllic, the great outdoors made luxe. Upon arrival, show attendees were given woven Fendi baskets holding mini bananas, coffee cups, and pastries — all Fendi branded. Creative director Silvia Venturini Fendi said she wanted to "bring the Fendi man out of the virtual space and of the overwhelming immateriality that's so pervasive in life today."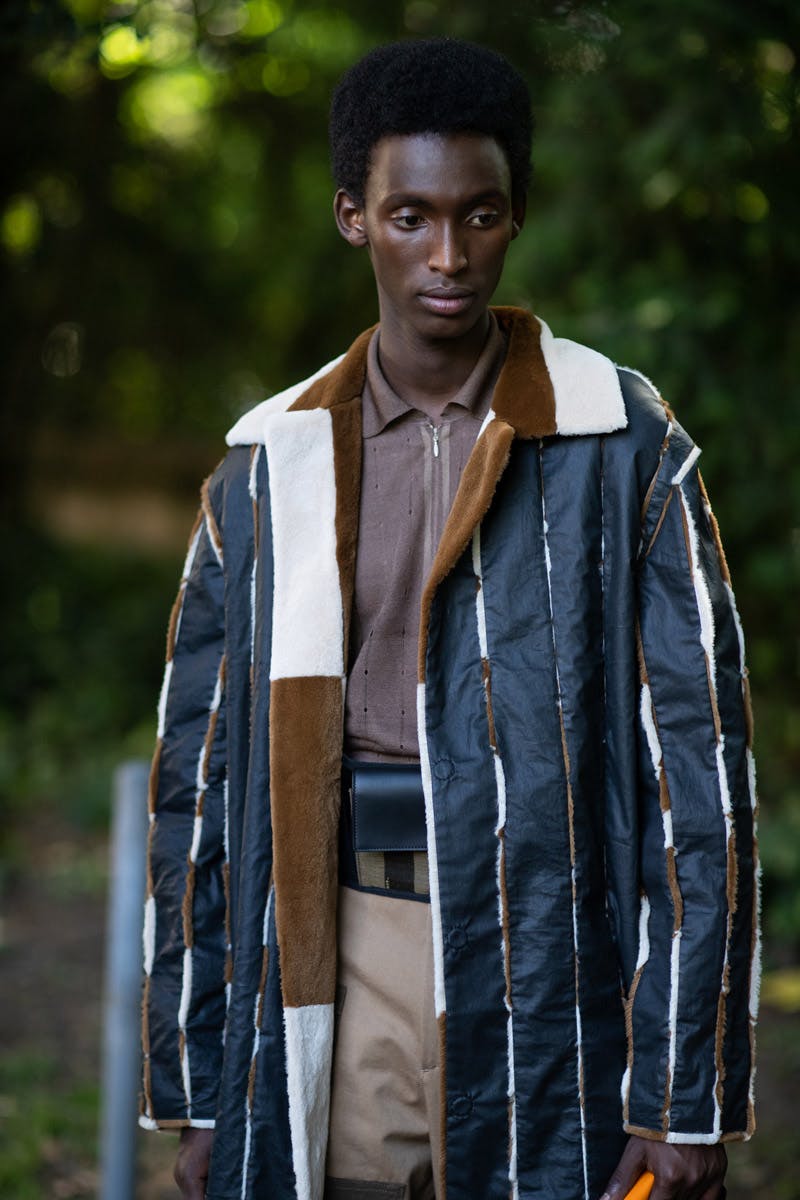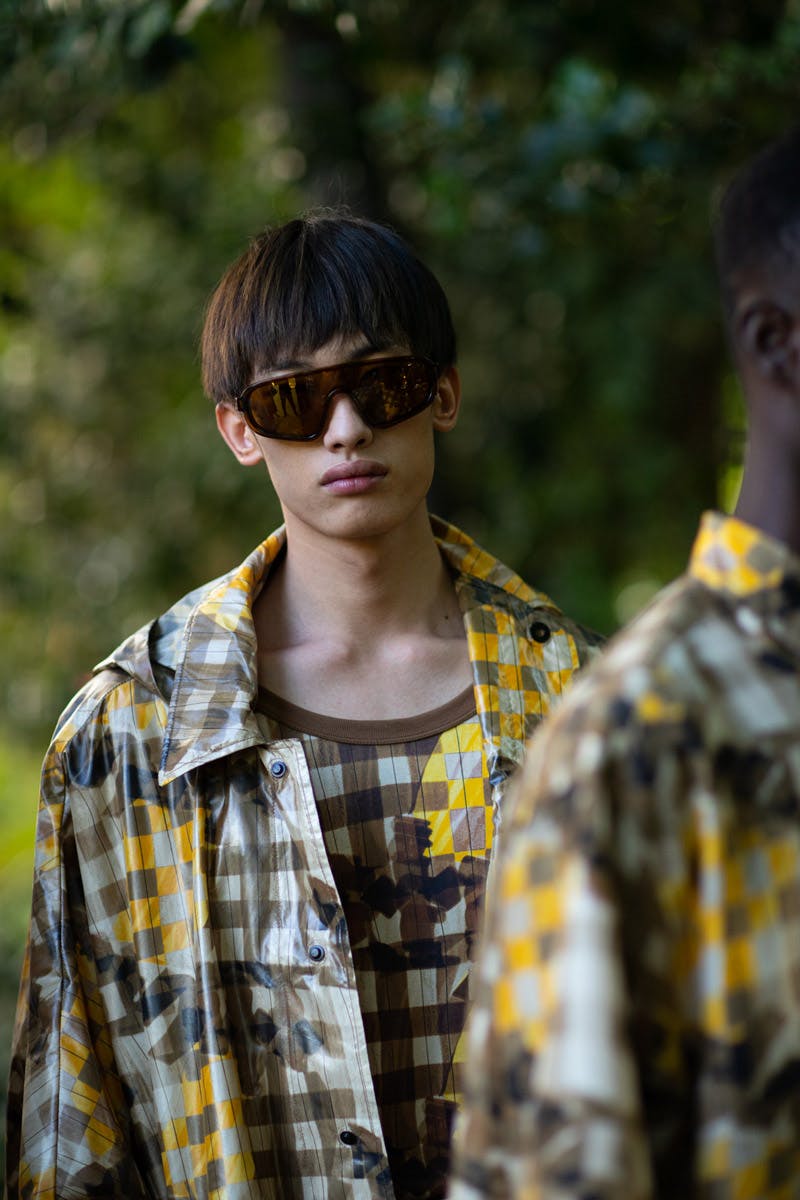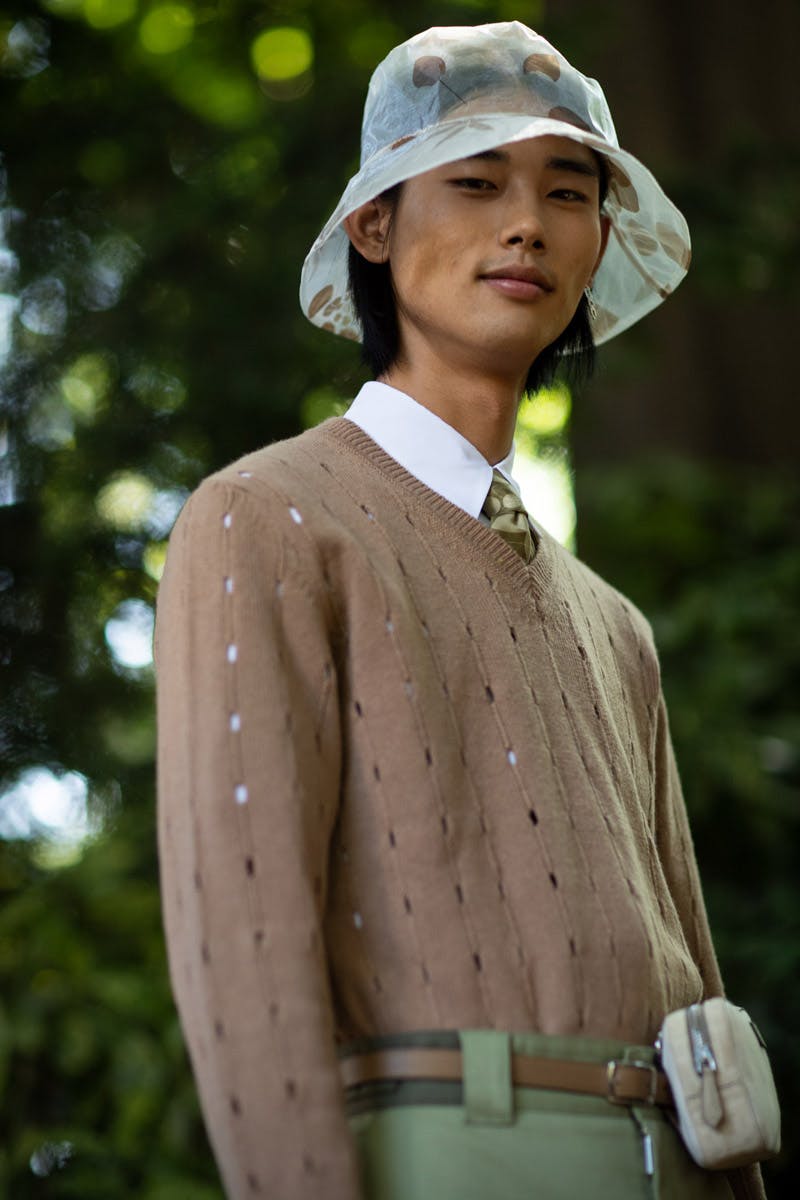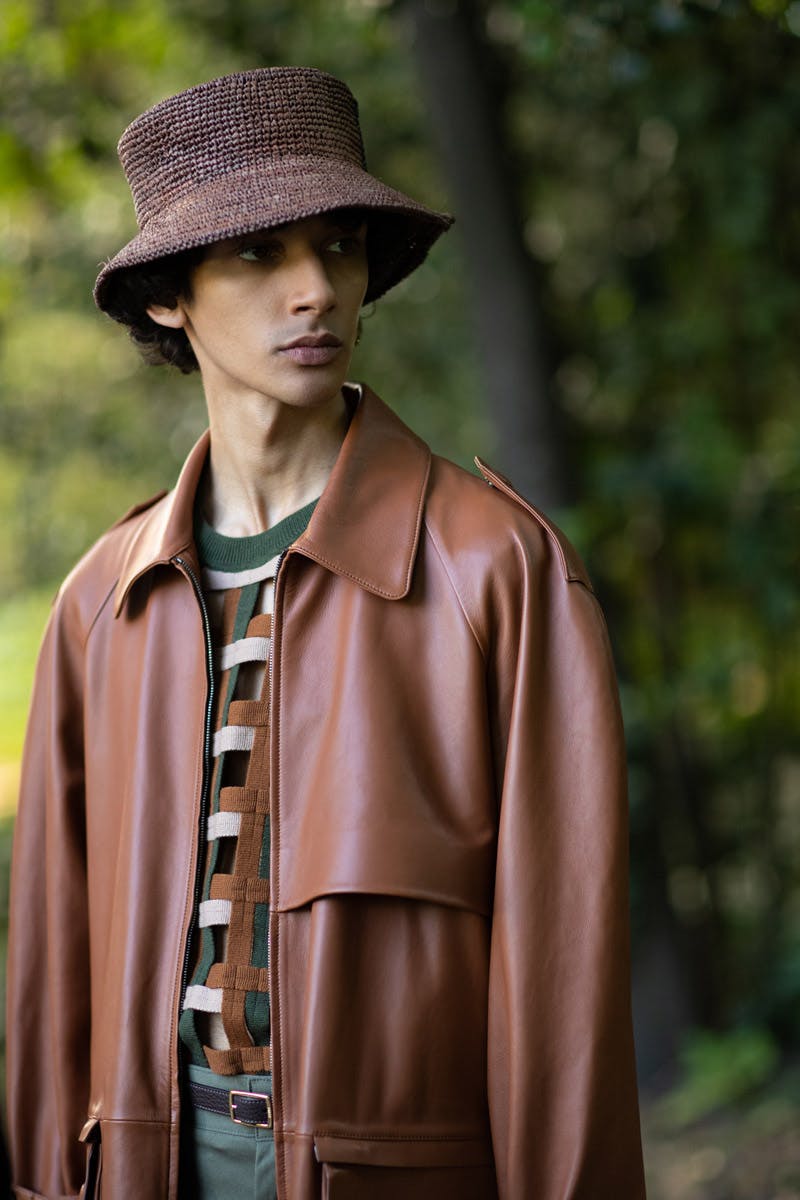 It was sartorial workwear and uniformity made light through the use of natural materials including silk, cotton, wool, cashmere, suede, and denim.
Part of the summery sense of ease was down to Italian filmmaker Luca Guadagnino, director of Call Me By Your Name, who was named guest artist for the SS20 collection. The influence of Guadagnino, a long-time friend of Venturini Fendi and a past collaborator on Fendi fashion films, could be found all around, from the graphic prints and whimsical accessories to the art direction and show location, casting, and soundtrack (a re-formatted version of Japanese composer Ryuichi Sakamoto's 1999 experimental piano album Back to the Basics).
The director's digitally sketched "Botanics for Fendi" drawings, created on the film set of his 2018 supernatural horror remake Suspiria — on which Venturini Fendi is credited as an associate producer — formed a series of overlapping multicolored prints across ready-to-wear and accessories.
Including Guadagnino in the show's direction was a smart move. Artistic and creative directors at big luxury fashion houses tend to want too much control over every single aspect of their brands, from design, marketing, and PR, to distribution, styling, casting, set design, and so on, often failing to excel in each individual field.
By including an experienced talent (another important Fendi figure in this regard is the exceptional stylist and brand consultant Julian Ganio), a fashion brand can create something truly memorable. Venturini Fendi achieved that with this show. The clothes weren't groundbreaking in silhouette or material, but through the overall experience and direction, they became some of the most desirable pieces of the whole fashion month.