Automotive enthusiasts tend to be an evangelical bunch. They have a lot of rules about how things should be in a world of hypothetical scenarios; stray from these rules and prepare for a lashing of group think. The pressure of appealing to the purist dogma is even greater on brands of iconic status, so when Ferrari announced the 296 GTB, I was nervous. Not for how it might drive – I actually had very high expectations. Nor was I concerned about how it looks – I thought it was beautiful and easily identifiable within the Ferrari canon (read: Ferrari 250 LM). But almost immediately, the entirely expected criticism ensued: "A V6 Ferrari?!", cried the internet. A first for Ferrari… according to Ferrari.
This is, of course, not entirely true. If you know your Ferrari history, you'll already be asking yourself "what about the Dino?" Well, that's not a "real" Ferrari, allegedly, according to Ferrari. Let's move on. Welcome to the 296 GTB: the "first" V6 Ferrari. 2 and 9 for the engine displacement of 2.9L and 6 for the number of cylinders. It's also a hybrid. I suggest you join the revolution, because with the 296 GTB Ferrari has just made efficiency beautiful and fun. Pay attention to the fun part…
Ferrari has been taking an interesting approach with their product communications lately; explicitly articulating each product's use case. For the Roma, which I drove earlier this year, it was the joie de vivre, cosmopolitan, carefree grand tourer. But in the case of the 296 GTB, it is fun. Yes, simply, fun. Fun is something most car manufacturers, even performance-oriented ones, ignore under the auspice that fun is implicit with high levels of performance. I assure you, this is not necessarily the case. This is very good reason number one why you should not worry about this new era of V6-Plug-In Hybrid Electric Ferrari being a lesser Ferrari. Because here's the rub with engines - they aren't the most important part of what makes a car fun. Of course they are the heart, soul, and (historically in Ferrari's case) often the central selling point of a car. But what makes a car fun is feeling something new and exploring new limits, something the 296 GTB offers generously.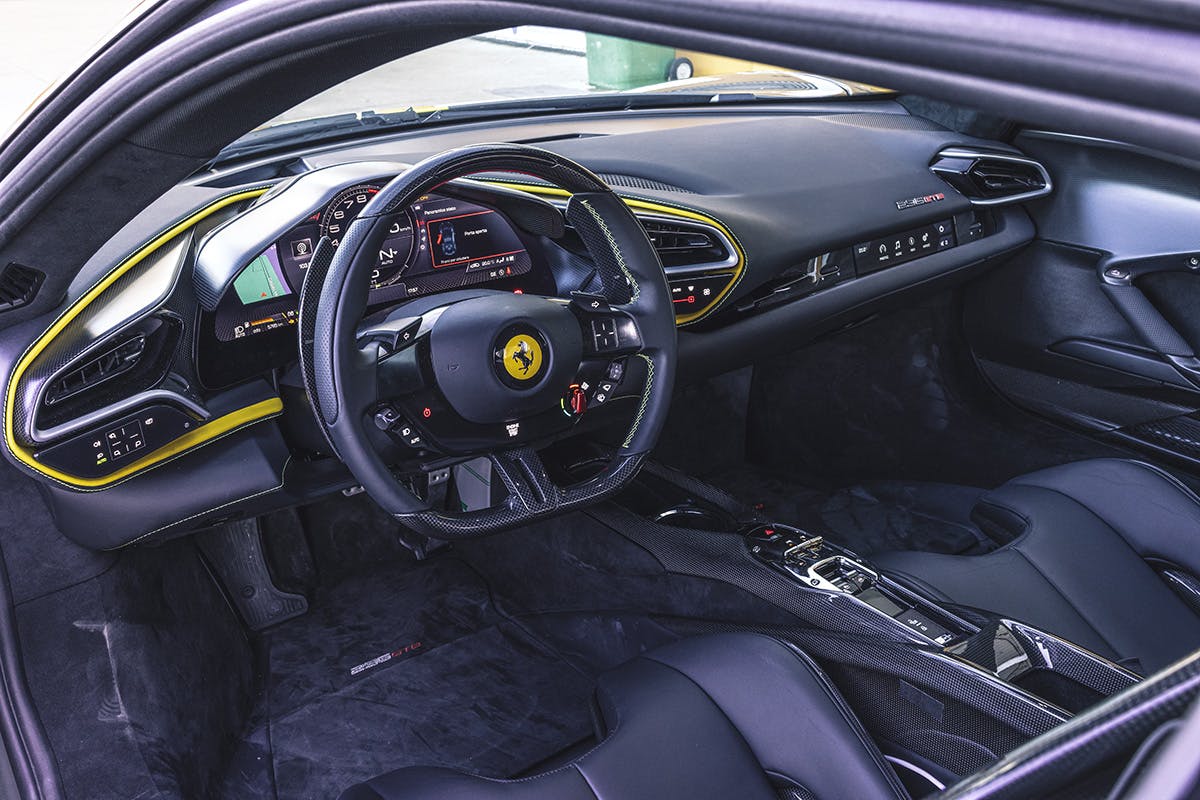 When I arrived in Seville, Spain for the first global media drive of the 296 GTB, prefaced with a presentation by Ferrari engineers, development drivers, and marketing people, the features they wanted to talk about the most were brakes, tires, and the sound engineering of the engine and exhaust. Brakes and tires aren't exciting unless you're a pedant (like me) so I'll make it quick: Ferrari's new ABS evo makes it so you can brake really, really, REALLY hard, and up until the very last second before you want to turn and it will feel normal. Nice. The same goes for the tires. The Michelin Cup 2R, which are Ferrari specific, offer up grip levels that you likely haven't experienced, because they are basically racing slicks with grooves in them – like you're driving through spilled glue at illegal speeds.
On to the sound: nothing defines a Ferrari more than its sound, but, objectively speaking, V6s aren't notoriously beautiful sounding engines. That said, like all Ferrari engines, this V6 is special. The engine is designed with the same firing order as Ferrari V12s and an exhaust that is tuned to increase in relative volume as you approach the 8,500 RPM rev limiter. This means when you hit the 296 GTB's peak power of 818 horses, you're rewarded with a crescendo very closely resembling the V12 engine harmonics that Ferrari is known for. This has earned the 296 GTB engine the nickname of "Piccolo V12" at the factory. That's "little V12" for you non-Italian speakers.
Onto the driving, which I had the opportunity to test in two scenarios. First, on the road: as I exited the Circuito Monteblanco, which I would later drive on, the 296 GTB was in fully electric eDrive. When you get above a certain speed or deep enough into the throttle, the petrol engine kicks into hybrid mode. At first, this transition from electric to hybrid felt a bit abrupt, but I wanted to give it some time so I could acclimate. Also, if this is the new reality so we can keep supercars on the road, it's a minor toll to pay. As I pulled off the highway into the hills, I switched the transmission into manual and the Manettino dial into Race and suddenly, I arrived in the future I want. It should go without saying a Ferrari is fast… but the 296 GTB is so fast, at all ranges of speed, and with a linearity that seems almost EV-like, but without the two tons of mass that comes with it.
That hybrid part has its benefits beyond efficiency. The usability and ease at which you can reach speed on the road may not be such a good thing, but it's such a wonderful thing. Even on the edge, as you imagine what might be on the other side of that cliff, it's so rhythmic and accessible. This feels like the first Ferrari that could be drivable daily and do "everything." Could the 296 GTB be to Ferrari what the 911 is to Porsche? Yes, because its range of ability is galactic, and no, because it does everything at a much higher level, with much more balance, and much more cohesively. It's just utterly perfect on the road. I do my best to avoid declarative statements like "best" and "perfect" because I subscribe to the school of thought that car preferences are subjective, but not here. The 296 GTB has the best road mannerisms of any supercar ever made. I'll die on that sword.
As I pulled back into the Circuito Monteblanco, to my surprise, the gauge was showing 14 KM of range remaining on the eDrive… I had begun the drive with 11 KM of range. Battery regeneration in action – brilliant. For the track test, I switched cars into a different 296 GTB which was fitted with the Assetto Fiorano package. Think of this as Ferrari's version of a track package, consisting of those super sticky Michelin tires, fixed suspension optimized for the track produced by Multimatic, and a few more aero and lightweight bits here and there.
While we only had a short session on track, here is what I learned: First, the Ferrari ABS evo is the closest thing you will experience on a street car to that of brakes fitted on a race car. That's not hyperbole. I've driven a fair number of race cars at full send, or at least at 101% of my ability. The depth of the braking zone and the pressure input it can sustain isn't far off from that. Any lesser tire wouldn't support these brakes. Next, the acceleration is astounding. Not in the same way as the SF90 Stradale which, while quite literally breathtaking, feels more like an exhibition of a spec sheet. Rather, the 296 GTB is more tactical in its power delivery. It's precise and linear. It feels purposeful, intentional, as though it's achieving a calculated end.
As I entered the front straight of Monteblanco on my final lap, flat on the throttle, my natural instincts expected a tapering off of power, as I was anticipating that late braking I knew the car could handle. The taper never came. Where in a previous generation turbo-V8, you'd begin to lose momentum around 160 MPH, here I was at 176 MPH, still running. There's that hybrid benefit again. Effortlessness is the 296 GTB's strength. It wants you to go too far, but it is so balanced and composed that going too far won't ever feel too far gone.
The 296 GTB is proof that dilution of experience isn't an automatic byproduct of innovation; that our efficient future isn't a one-size-fits-all solution, and that every solution doesn't have to feel like an appliance or a legislative stopgap. You can have the best of performance and efficiency. There's a saying in the sports car world about how Ferrari drivers brag about how few miles they have on their car. The 296 GTB is not that car. Or it shouldn't be. And I hope it doesn't become another museum piece Ferrari, because while it no doubt feels special (as all Ferraris should), it doesn't feel so precious that it owns you. It feels like a Ferrari you can absolutely use everywhere you go without worry, because it's a tool of enjoyment above all else. Maybe Ferrari knows this and is doing their clientele a service by communicating that this car is for fun above all else, and not just a trophy for your neighbors to see when you open your garage and get out of your SUV.
The notion of a one car solution is a fallacy. You are always compromising needs and wants with every car. But so long as you don't need more than two seats, Ferrari may have just created the perfect car. For now, it's the one to beat, although it's hard to imagine by who or how that's done. The 296 GTB is the supercar future I've been waiting for.