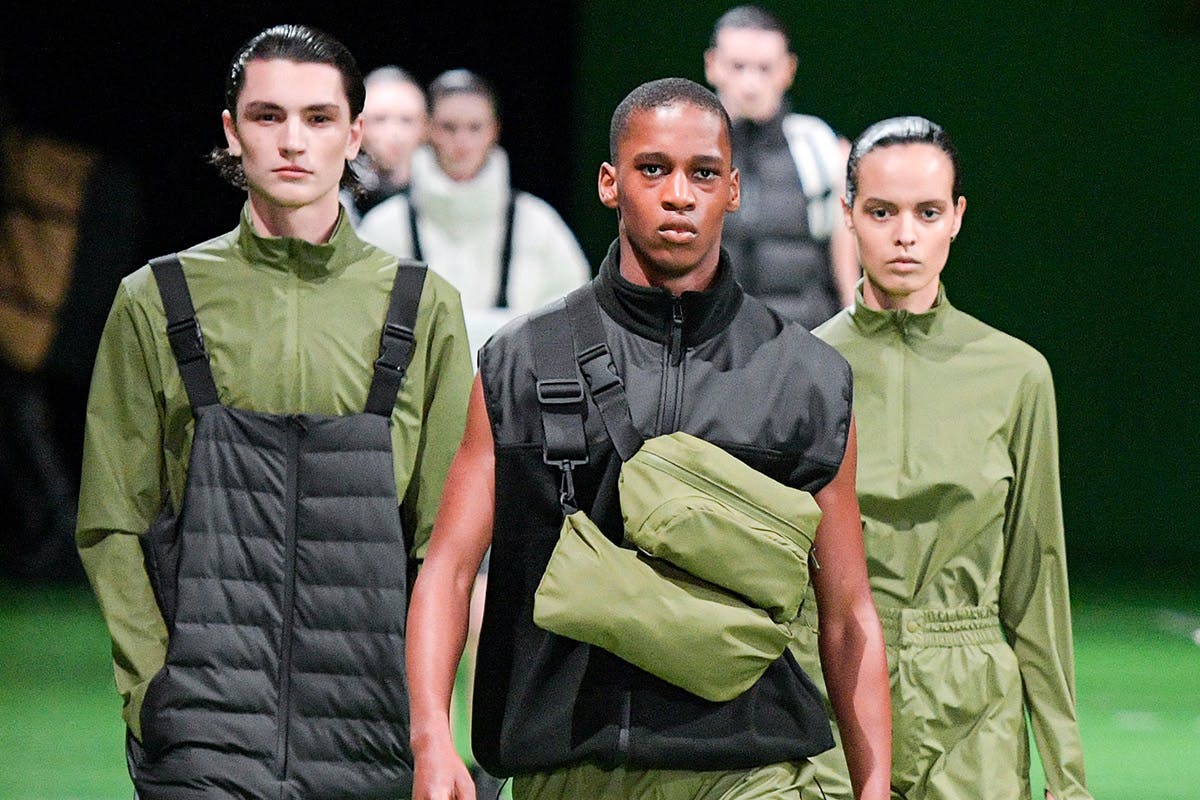 Is the current model of fashion week outdated? Going into the 2020s, it's our responsibility as reporters, fashion brands, buyers, PRs, models, creatives, investors, governments, and (yes, you, too) influencers, to ask ourselves these questions and then come up with solutions.
Not only have shopping behaviors of consumers dramatically changed over the last decade, the definition of "luxury" itself has been flipped in its entirety, no longer making a flashy fashion show a prerequisite to be considered a successful brand. Then there's the environmental discussion that challenges the entire existence of a fashion week. After all, the most sustainable fashion week is not holding one at all.
For a group of traditional fashion editors, heritage brands, and an aspiring new wave of both, however, the privilege of holding and attending shows, events, and extravagant dinners around the world — overall taking part in a month of vanity PR — has become too satisfying to give up. The familiarity we've become accustomed to has eliminated any feeling of genuine responsibility to progress a fast-paced model that no longer fits with the new age eco-responsible values of the world we live in.
Brands seeking change have tested fashion week alternatives like see-now-buy-now, trunk shows, and selling directly on social media platforms — none have taken off enough to erase the need for dozens of fashion weeks to be held every six months.
So, for now, being radically better than last season will have to do, and that's where Copenhagen Fashion Week is leading.
"We need to rethink and reinvent the role of fashion weeks. We're already witnessing the devastating impacts of climate change, so anyone in the industry needs to transition and change the way business is done and do this urgently. Fashion weeks are no exception," explains Cecilie Thorsmark, who joined as CEO of Copenhagen Fashion Week in November 2018. Now in her third season, she's made strides to become a leader of making fashion weeks more environmentally responsible, fitting with her previous job as communication director at Global Fashion Agenda.
"What we did was decide to go from being a traditional event to becoming a platform for advocacy. Not by ditching the show format of fashion weeks, but by demanding introducing minimum sustainability requirements, so only brands that work sustainably throughout the entire value chain can have a show."
Thorsmark is referring to the new Sustainability Action Plan 2020-2022 her fashion week revealed earlier this week. "Copenhagen Fashion Week is the cultural and commercial meeting place of the Scandinavian fashion industry. This gives us an enormous responsibility and the potential to create impactful change in the industry at large. By taking this direction we go from being a traditional event to being a platform for industry change," adds Thorsmark, who has already banned plastic bottles at Copenhagen Fashion Week and has implemented the use of electric cars driving showgoers around town, among other smaller initiatives.
The new action plan, which sets out to reduce Copenhagen Fashion Week's climate impact by 50 percent and rethink waste systems in all aspects of event production (with zero waste as the goal by 2022) will more importantly focus on the bigger picture. Going forward, the week will implement sustainability requirements and set new standards for participation to push the industry towards comprehensive change.
In practice, that means that from January 2023, "all brands applying for a show or presentation during Copenhagen Fashion Week must meet minimum sustainability requirements to participate in the official show schedule, as presented in the action plan's Sustainability Requirements." A minimum of 17 standards — such as pledging not to destroy unsold clothes, using at least 50 percent certified, organic, upcycled, or recycled textiles in all collections, using only sustainable packaging, and have zero-waste set designs for their show — must be met to apply.
"The action plan and its sustainability requirements reflect my conviction that highly ambitious goals are required to fully leverage Copenhagen Fashion Week's influence and impact on the industry. The urgency of the situation we find ourselves in today pushes me to believe that we can no longer simply hope that progress will occur of its own accord," explains Thorsmark.
Still, it's questionable if a fashion week led by a growing group of influencers — arguably the most important show attendees over traditional editors and buyers in Copenhagen — who are paid by brands to promote product and change multiple times a day, is sustainable itself. The big challenge is to get this influential group on-board with sustainable initiatives as well. After all, the message of sustainable responsibility needs to transcend beyond the fashion week alone. The city's big group of influencers therefore are uniquely positioned to drive change in partnership with Copenhagen Fashion Week, which is no longer the nascent fashion week it once was. Being truly sustainable is beyond their control. It's now up to multiple parties (including the influencers) how big of a role they want to play in the solution.
In the meantime, Highsnobiety visited the fashion week to have these challenging conversations to learn how all of us can be better, meet the movers and shakers in the city, and report back on those driving true change in menswear. They're brands to get behind.
Soulland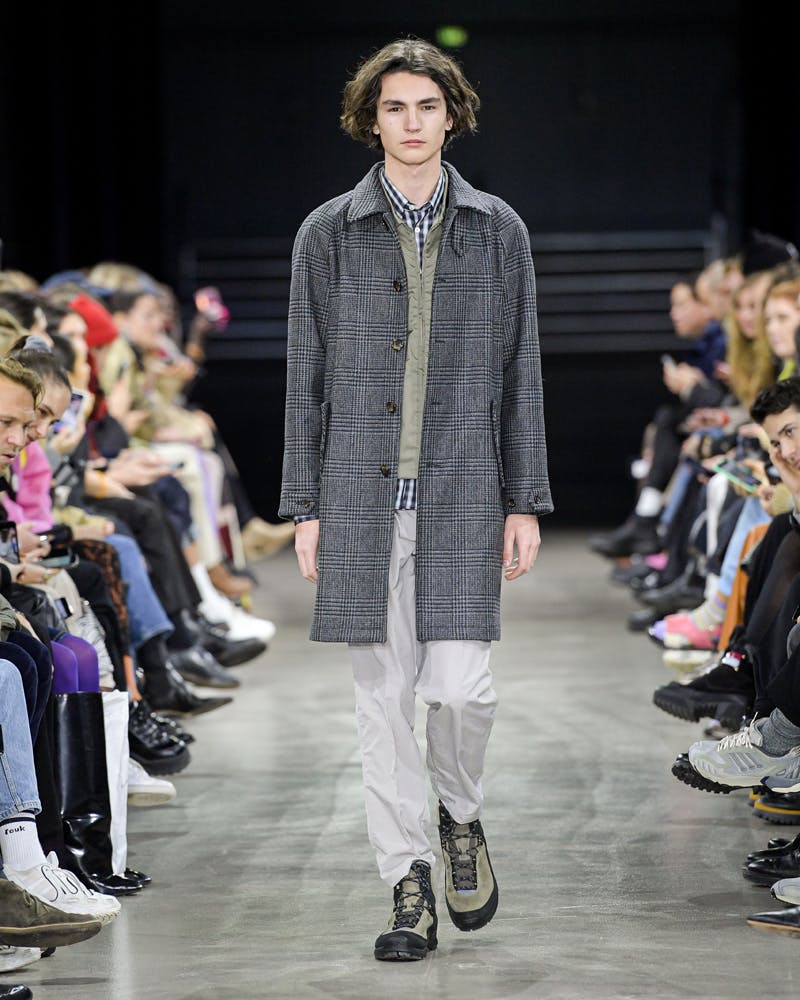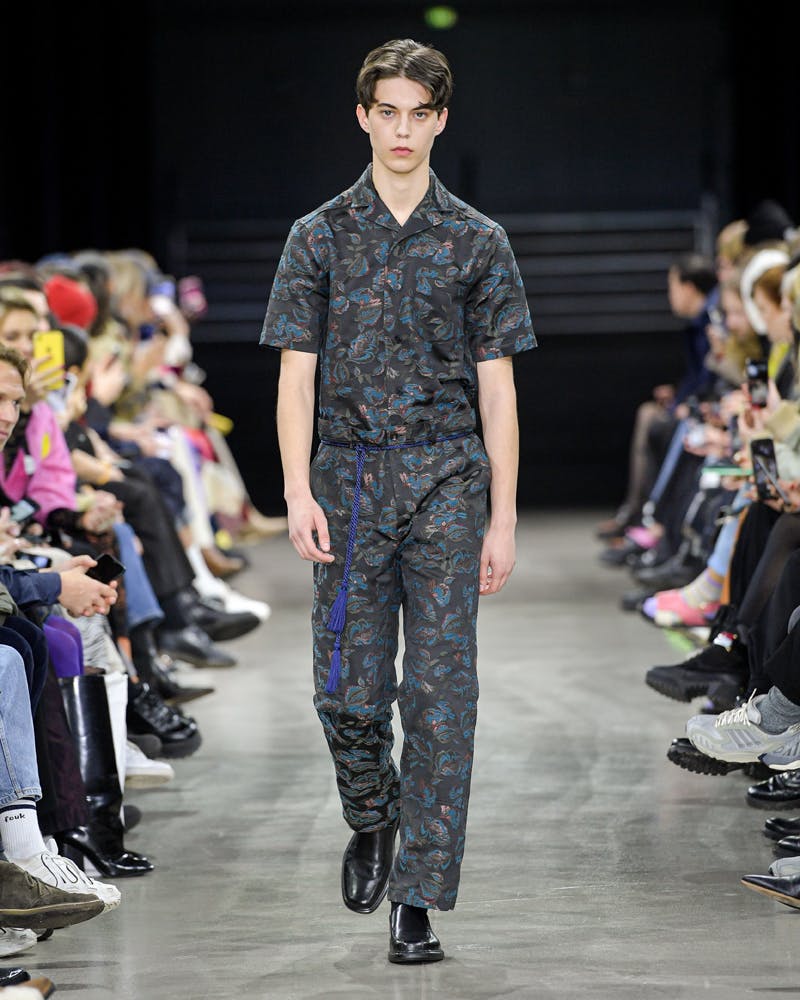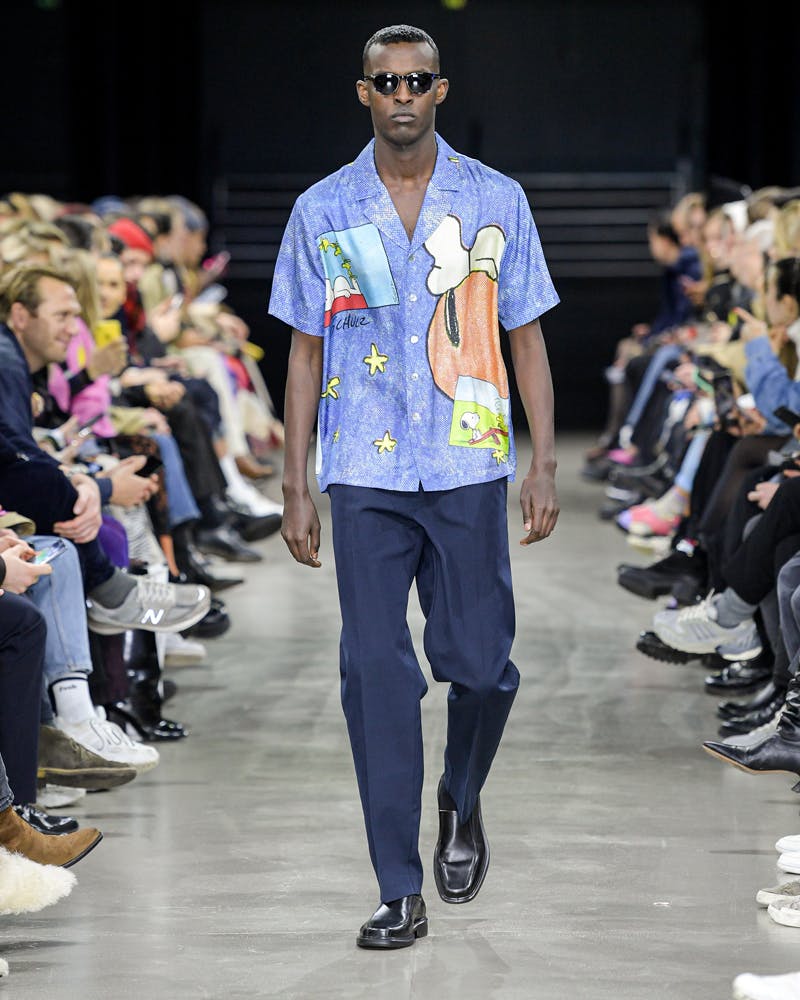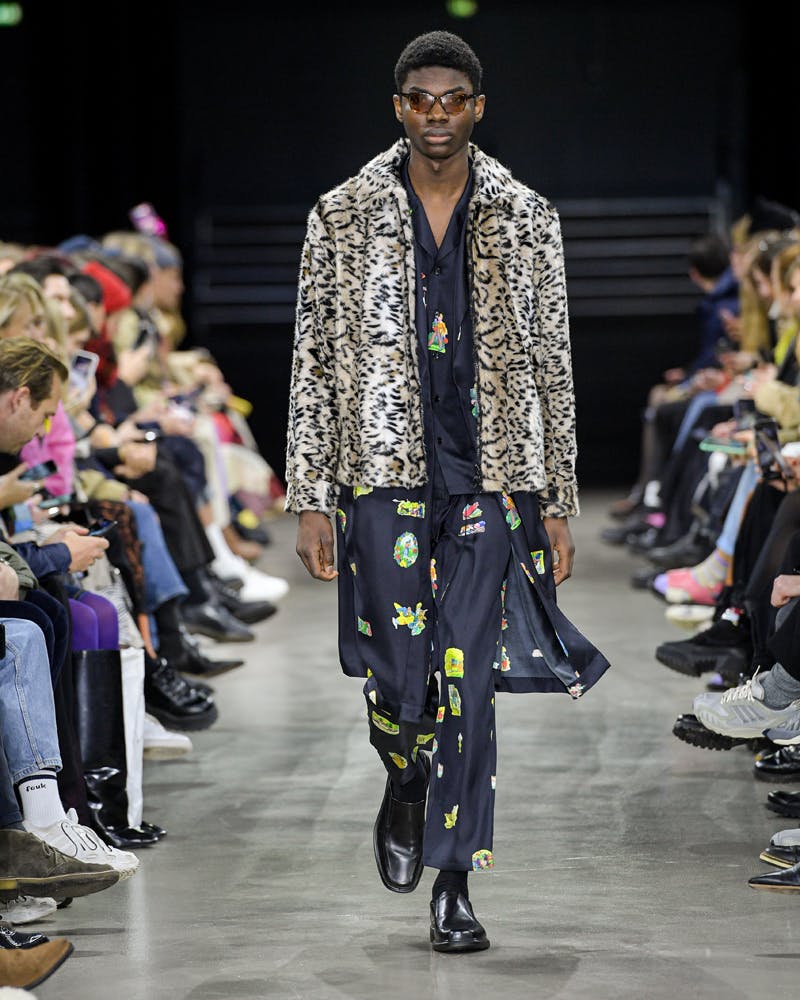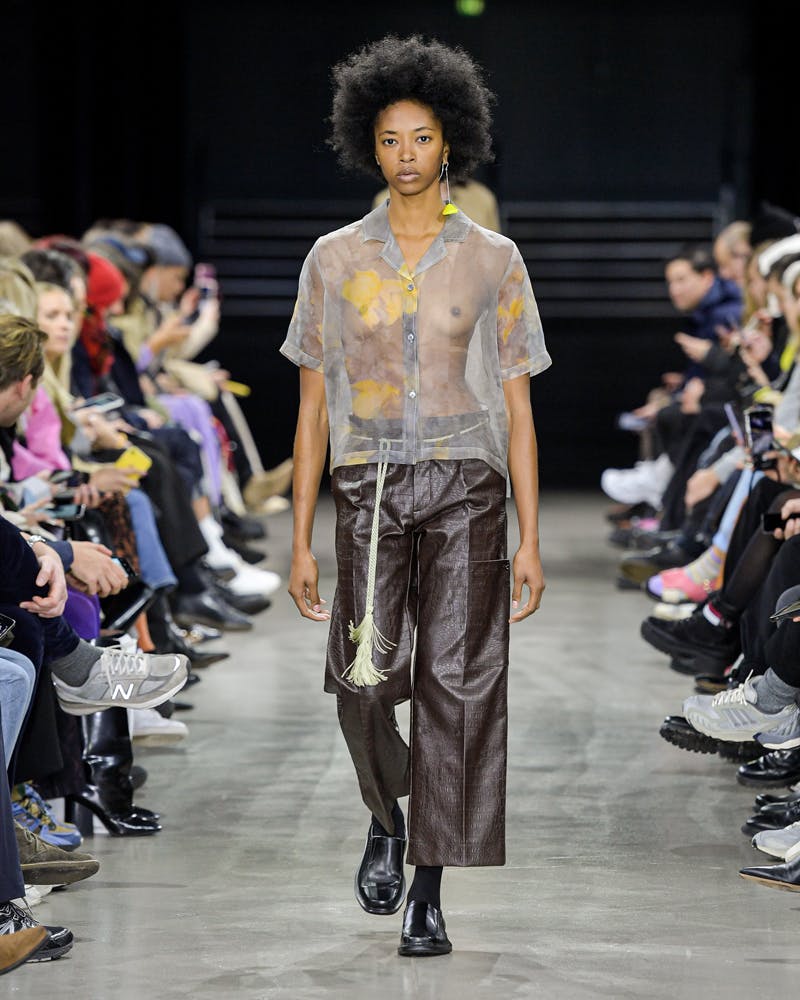 "The aim for our AW20 collection was to have 100 percent of our fabrics, hangtags, labels, and polybags made from organic, recycled, upcycled, or biodegradable materials," Soulland founders Silas Adler and Jacob Kampp Berliner said in a statement pre-show. "Unfortunately we did not succeed with [our collection only reaching] 83 percent for men's and 62 percent for the women's collections." It's that transparency and accountability that should be applauded. The brand, rooted in skate culture, is widely underrated. This collection full of wearable staples was one of their best yet. Adler and Kampp Berliner prove that creative vision and profit margins don't have to be compromised when striving to do better. Streetwear brands thinking otherwise can learn a lesson or two from them.
(Di)vision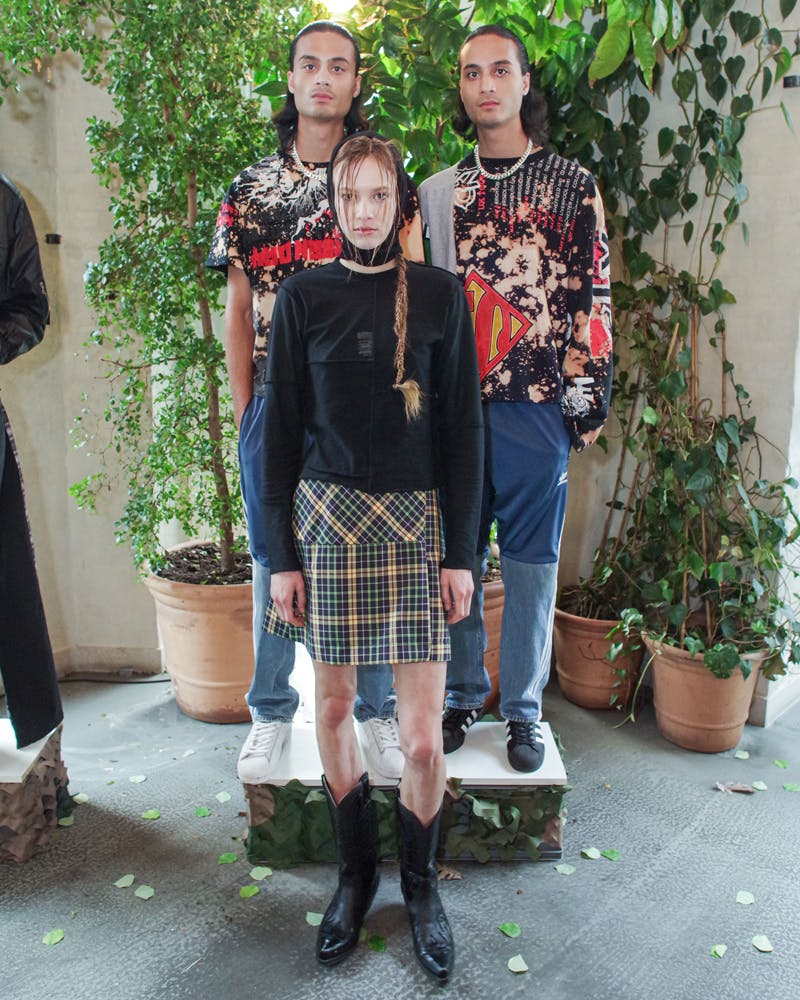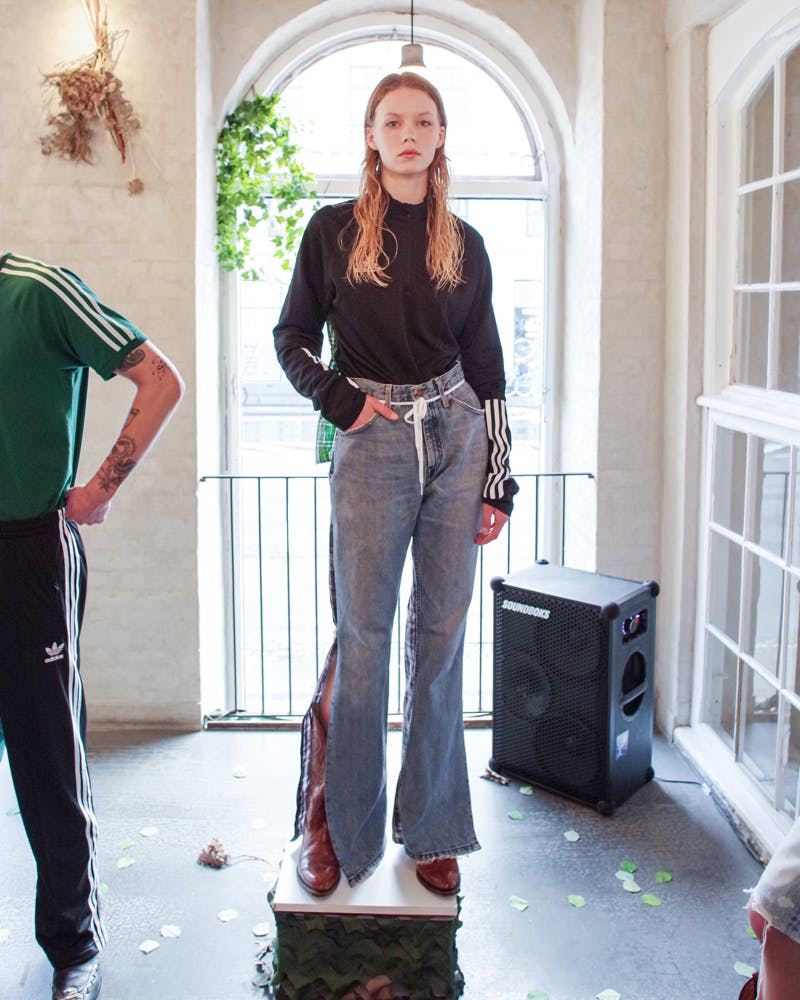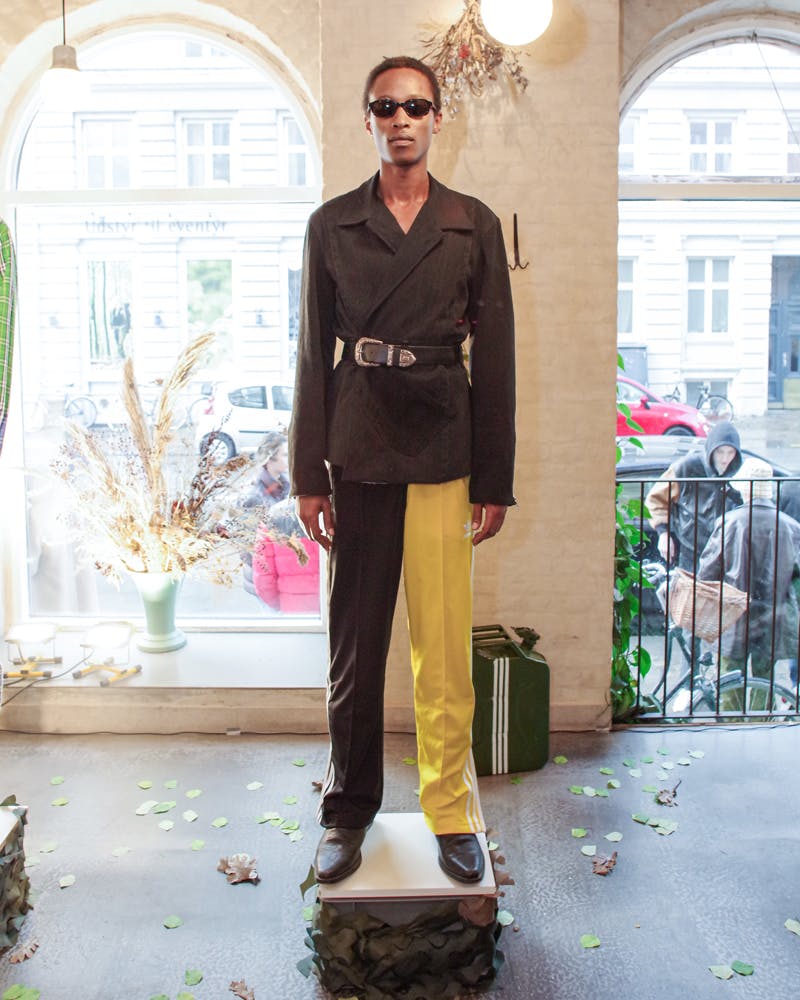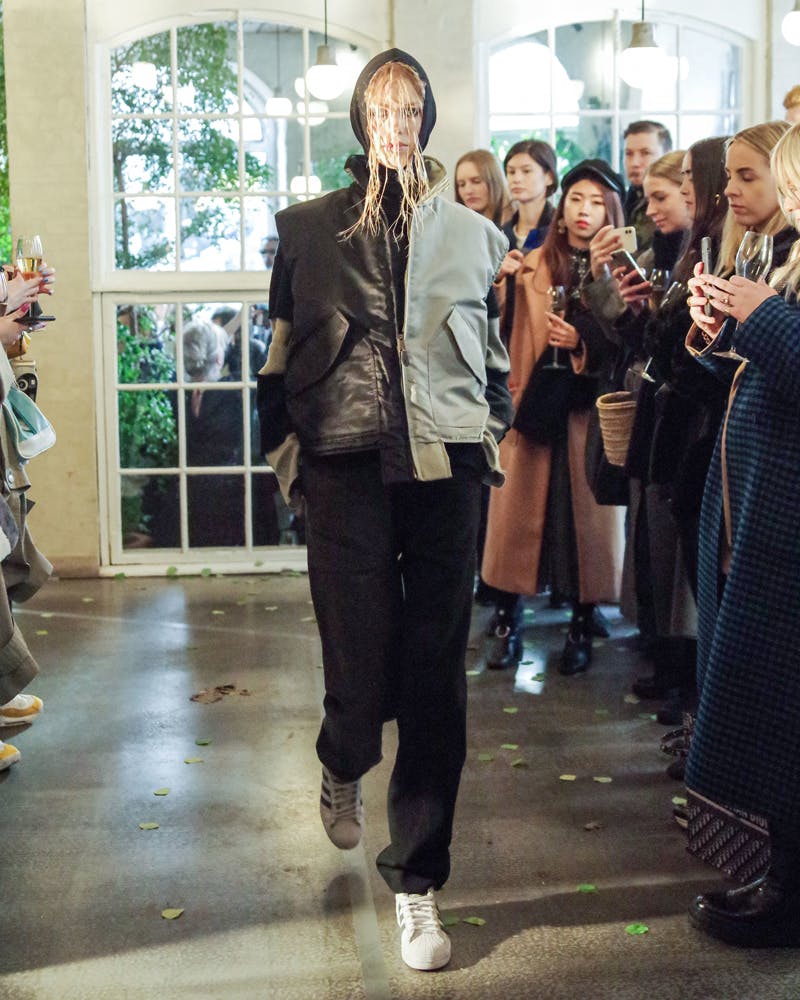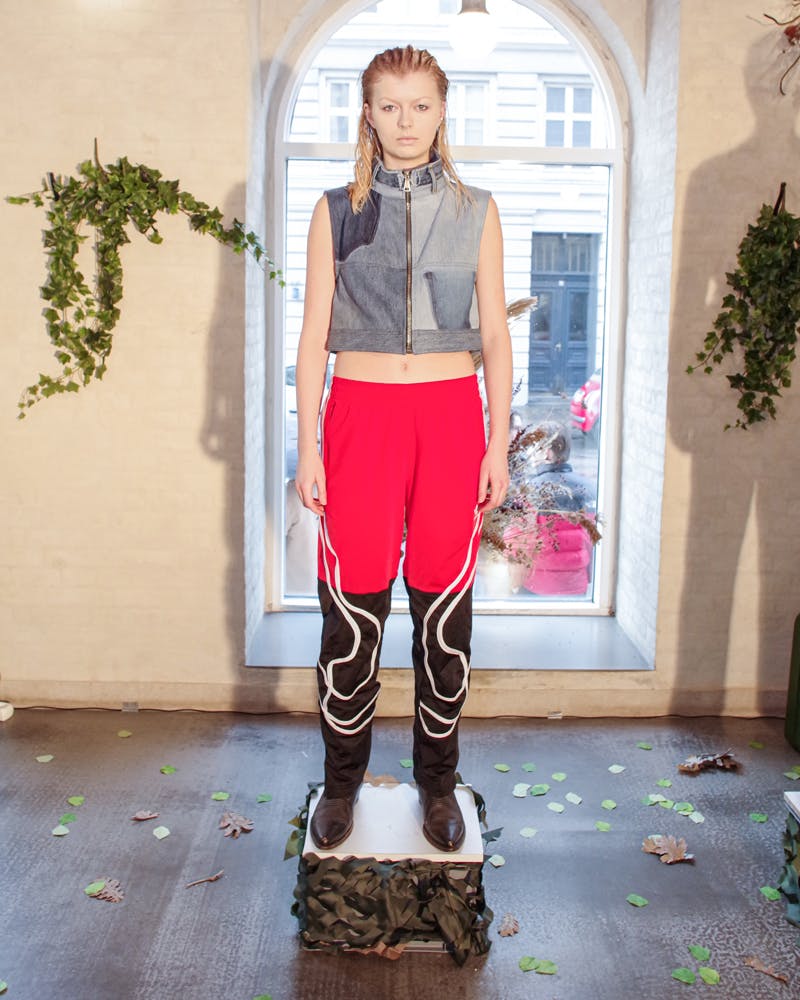 The new kids on the block are Simon Wick and his clan of model friends and fellow creatives. The 23-year-old founder already has his label stocked at LN-CC in London and Addicted in Seoul. That was before showing his debut collection of signature deconstructed bombers, split jeans, and ripped flannels this week, made entirely from upcycled deadstock and modeled by his friends, including Nina Marker, Anton Thiemke, and Sarah Dahl. adidas was quick to notice Wick and partnered with his brand on a line of tracksuits, T-shirts, and Superstars, presented at the show and sold under the moniker (adi)Vision in the city's flagship. The power of the brand lies in its genuine community. Its lookbook shot, modeled, and worn daily by its friends. Its adidas collab co-created and the party DJ'ed by them. A way to grow a brand today. One to watch.
Rains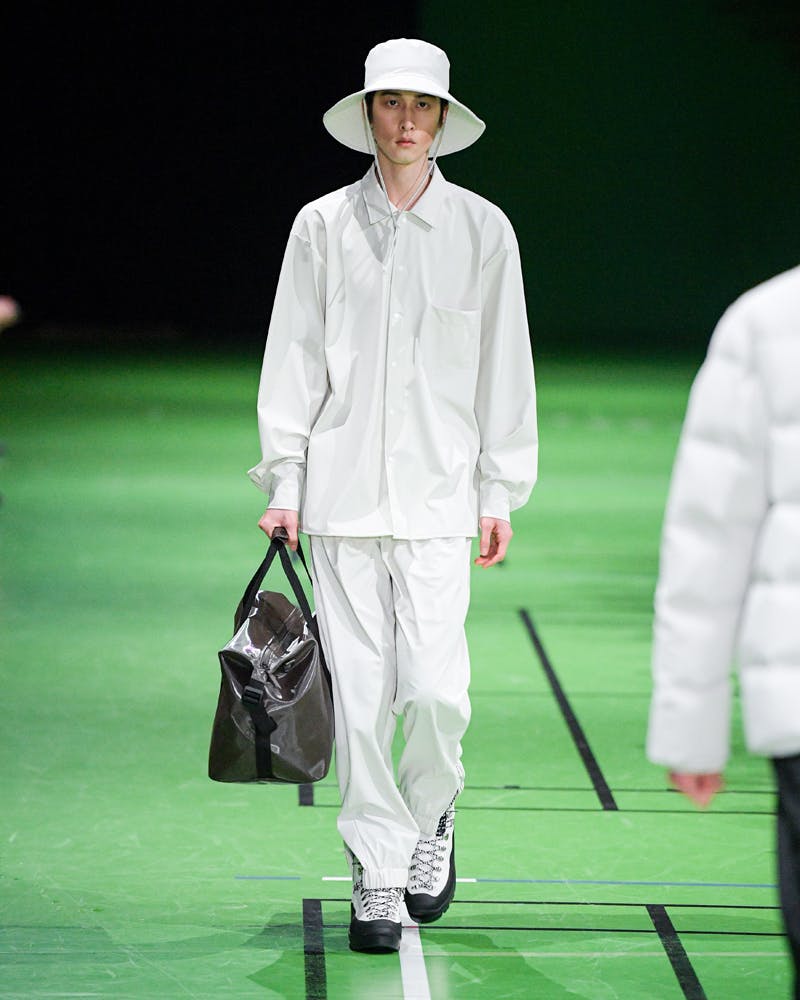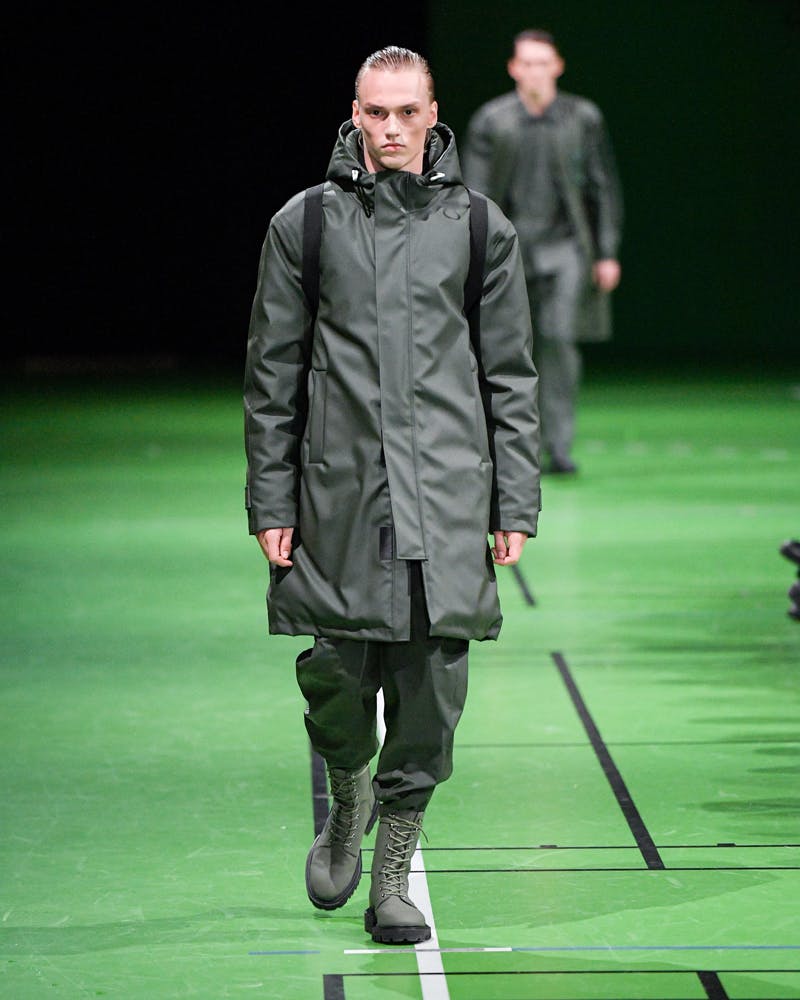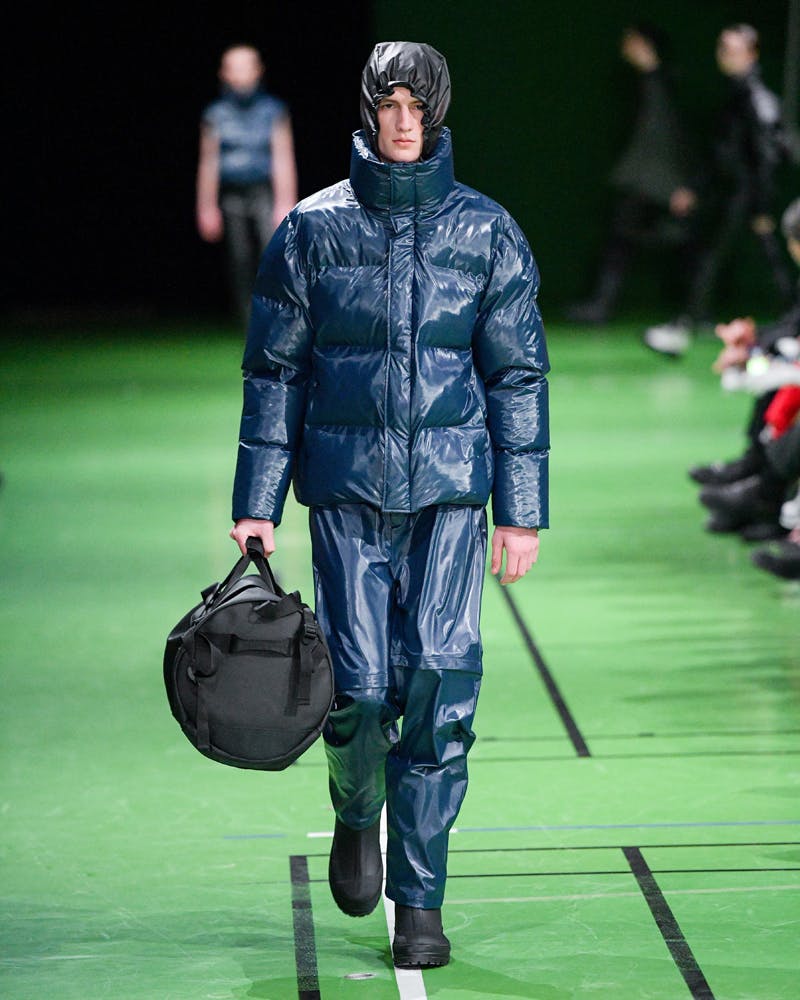 "At Rains, sustainability isn't limited to the specific product. For us, it's a philosophy that embraces everything in the design processes, [from] supply chain [to] the environment in which we sell our concepts," explained co-founder Philip Lotko after his debut runway show designed by Tanne Vinter and styled by Lotko's wife Pernille Teisbaek. "We embrace that consumers have become more conscious of their health, social well-being, and the consequence of our actions on the wellness of all of us." Sounds idealistic, but not if you have the results to back it up, like Philip Lotko and co-founder Daniel Brix.
From being a 100 percent vegan brand that uses no leather and replaces natural down and feather with 3M™️ Thinsulate Featherless Insulation, to pledging to strictly use recycled polyester and nylon in all its thermal outerwear by 2021, the brand has made real change. Then there's the choice to use PU-coating — a significantly more eco-friendly alternative to hormone disrupting PVC and DWR-PFC — and its commitment to implement UN's universal and international agreed upon minimum standard for responsible business behavior throughout its supply chain.
There's more. A chemical management system, the implementation of recycled plastic shopper bags, a 2-year product warranty, LED lighting in its stores (that also only use cardboard boxes and birch veneer furniture coming from certified, sustainably managed forests), offering cleaning and repair solutions to customers, paperless receipts, and a bigger focus on transportation and logistics management to limit its impact on the world. That's not a small feat when you have over 350 stockists and 23 own stores.
CIFF x Stavros Karelis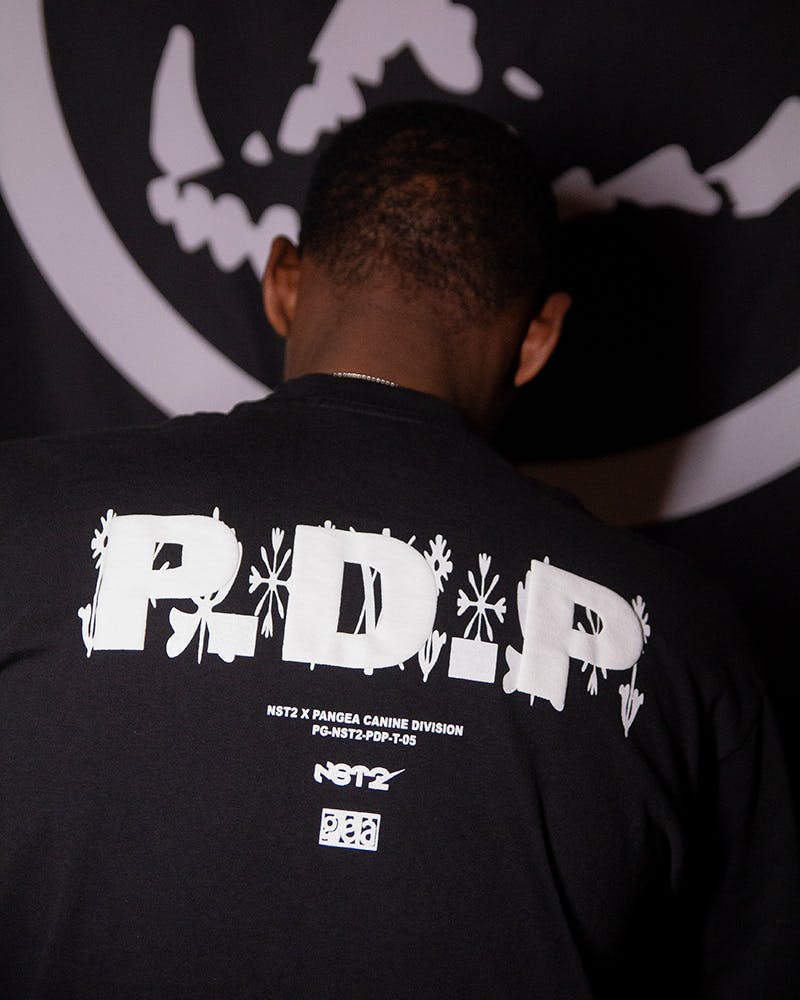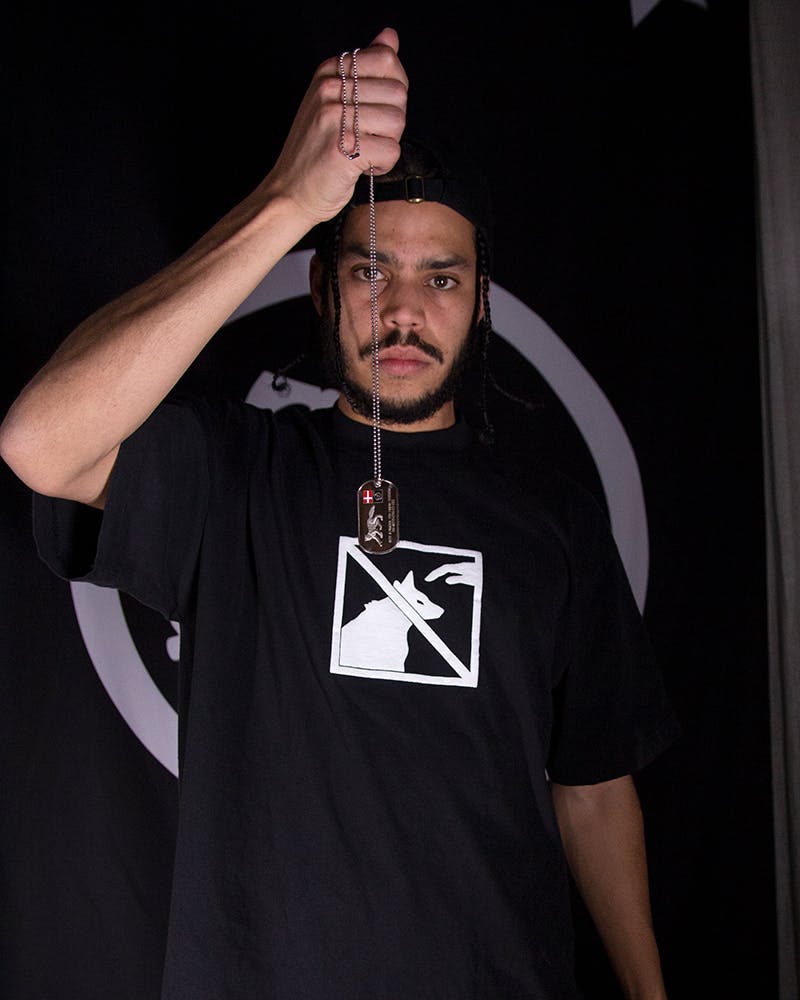 Like Pitti Uomo in Florence, the power of Copenhagen Fashion Week lies in its seamless integration of trade shows in its programming. Next to the trade show Revolver, CIFF — led by Kristian W. Andersen — has long pushed what a traditional tradeshow can look like. Together with Machine-A's Stavros Karelis, it has pushed even further by making a big push into sustainability. Karelis, who this season worked with Estethica, The Bear Scout's Dio Kurazawa, and Lee, looked at the longevity of clothing.
"In an industry bent on excess, where our ready-to-wear has become ready-to-waste, we show the value of creativity in making our clothes last a lifetime, unravelling a rich tapestry of past wisdoms and modern technologies that will help us to imagine a more sustainable future, where clothes that are bought are cherished and repaired," Karelis said in a statement.
Now how do you make the topic a cool one? For Karelis it meant enlisting the help of designers in residence Duran Lantink and Bethany Williams, two new designers at the forefront of responsible design. Getting ASAP Nast and business partner Deej to launch their collaborative line "Please Don't Pet" with a pop-up shop and party, too, got the room full. As did a long list of panel talks on the subject.
Holzweiler
Norwegian fashion house Holzweiler was founded in 2012. Like all new-ish fashion brands, sustainability should be at its core. Co-founders and siblings Susanne and Andreas Holzweiler know this all too well. It's why all their scarves — they produce over 120,000 a year, selling at more than 200 retailers worldwide — are made out of recycled wool and are produced with recycled water. Meanwhile its denim production is handled with fewer water processes, fair trade cotton and non-toxic dyes. All packaging is made from bioplastic, made from plant components that are 100 percent biodegradable. This season's scenic knits and shirt-trouser, two-pieces are good additions to the brand. Positive expansion at last.