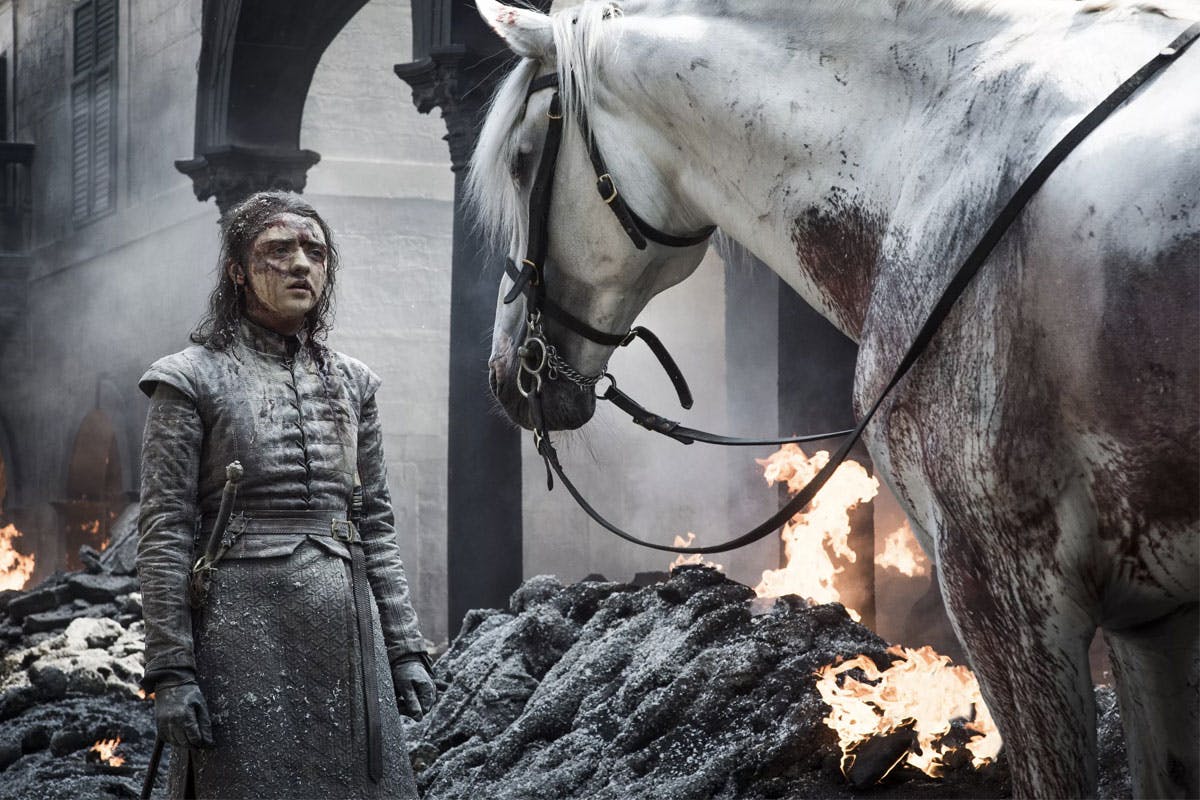 Warning: this article contains mild spoilers for Game of Thrones season eight, episode five, "The Bells."
There was a lot to digest when the credits rolled on last Sunday's Game of Thrones. And now, one fan theory claims to explain what Arya Stark's closing scene with a white horse symbolizes, and what it could mean for Daenerys Targaryen in this Sunday's grand finale.
To recap, after surviving several brushes with death while Daenerys rained fire on King's Landing, throwing herself through the gaps between falling debris like a game of human Tetris, Arya spots a white horse standing still amid the chaos. The inexplicably unspooked horse allows Arya to hop on its back before galloping off to safety.
According to the theory, understanding the meaning of the scene requires being pretty up on the Four Horsemen of the Apocalypse. In the book of Revelations in the New Testament of the Bible, there's a famous passage about Death riding a pale horse. One Twitter user shared the verse in question:
As the theory goes, this would make Arya — who spent seven seasons training, fighting, and becoming "no one" under the Many-Faced God (aka the God of Death) — the Angel of Death.
It might be a stretch to bring elements of the Bible into a fantasy show, but it would fit with an excerpt from the fifth book in George R.R. Martin's A Song of Ice and Fire saga, A Dance With Dragons, in which Quaithe warns Daenerys:
The glass candles are burning. Soon comes the pale mare, and after her the others. Kraken and dark flame, lion and griffin, the sun's son and the mummer's dragon. Trust none of them. Remember the Undying. Beware the perfumed seneschal.
Could this mean that Arya, the Angel of Death, the Night King-slayer, will be the one to kill Daenerys after her needless destruction of King's Landing? We'll find out on Sunday.