Four days after winning the 2019 NBA MVP, Milwaukee Bucks star man Giannis Antetokounmpo launched his first signature basketball shoe, the Nike Zoom Freak 1, in Athens, Greece and made history in the process, becoming the first European basketball player to be given a signature shoe by the brand with the Swoosh.
The importance of that milestone, not just for Antetokounmpo, but for Nike too, was made clear by the lengths the brand went to at the shoe's launch. Media from around the globe were flown in to interview a group of individuals who best represent both Giannis the player and Giannis the person.
There was Ross Klein, senior creative director of Nike Basketball footwear; Thanasis Antetokounmpo, Giannis' older brother and a pro basketball player in Greece; Zikas Tevas, Giannis' first-ever basketball coach, and Mr. Giannis, owner of a café in Antetokounmpo's old Athens neighborhood of Sepolia. Together, they pieced together a story of family, community, loyalty, honesty, and hard work.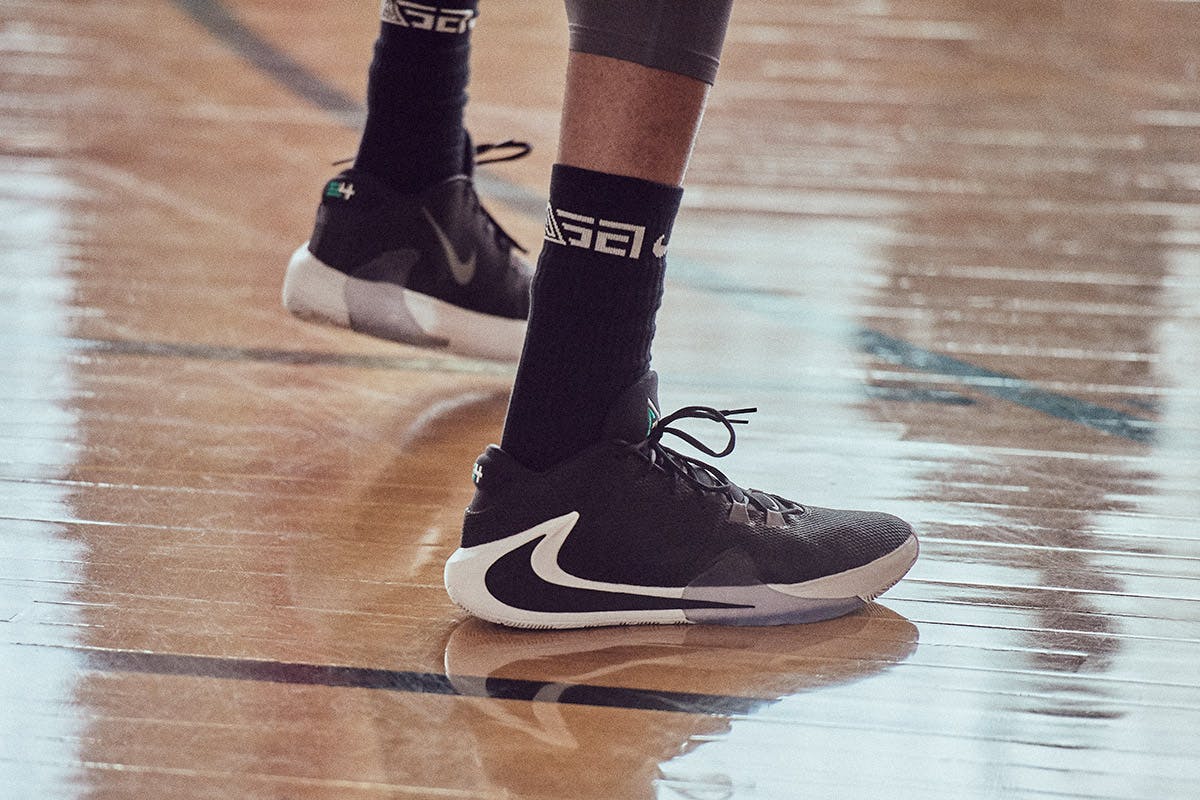 Hard work is something the Antetokounmpo family know about more than most, having grown up poor in a one-room apartment, sometimes struggling to afford food. Thanasis reveals how a combination of brotherly love and mental fortitude helped the brothers make it as pros.
"The way that Giannis carries himself, he's a role model for our younger brothers and for me. He's a role model for everybody," says Thanasis. "We've all worked so hard to play at a high level. It's not easy to play for the [Greek] national team and it's not easy to play in the NBA."
Those trying times made Giannis realize he wanted to give back to the community and be remembered for more than basketball. "I wouldn't be here today if people didn't help my family," Giannis says. "It's really important to have help. We had an unbelievable support system. [The community] definitely motivates me to keep doing the right thing, to be who I am today, and to give back to them in the way they gave to me."
Although he won the NBA MVP at just 24 years old, the third-youngest in 40 years, Giannis is hungry for more. He wants to build a lasting legacy that includes NBA championships and life-changing philanthropic work, focusing first on his community back in Athens.
In addition to launching the Zoom Freak 1, Nike and Antetokounmpo have refurbished three public basketball courts in Athens, providing a safe and inspiring arena for the next Greek superstar to hone his or her talents. A three-on-three invitational tournament for youth teams from around Europe culminated in a final in Sepolia that included half-court shot competitions, a performance by local hip-hop artist Light, and fireworks.
To help build a lasting off-court legacy, Thanasis and Giannis teamed up with the Onassis Foundation to offer scholarships to underprivileged Greek kids and put on events and fundraisers. This partnership goes back to 2017 and helps the Antetokounmpo brothers give back under the "AntetokounBros" name, an organization whose primary function is as a basketball academy for poor kids in Greece.
Despite Giannis being one of the most common names in Greece, almost everyone here refers to Antetokounmpo solely by his first name, such has been his impact on the Greek imagination. Mr. Giannis, owner of the café frequented by Giannis and his brothers as kids, says, "I believe that Giannis and his brothers have affected the younger generation of Greece in a very positive way."
The Swoosh is clearly fully behind the Giannis Antetokounmpo phenomenon. The Beaverton giant has given him a signature shoe designed to maximize his game and realize his goal of winning an NBA championship, all while backing his community-driven work off-court. As for the shoe itself, the Zoom Freak 1 retails for $120, making it one of the more accessible signature Nike models, something that also falls in line with Antetokounmpo's desire to give back to the community.
Nike's Klein explains, "We wanted to make sure as much of the world can see Giannis and be a part of his journey, so we designed an approachable shoe, both in terms of how it's formatted for performance in addition to what it costs."
Klein adds that Antetokounmpo's unique playing style provided the Nike Basketball design team with a challenge, making him the perfect candidate to become the brand's first-ever European player with a signature shoe.
"There's an excitement around who he is and what he is becoming," says Klein. "I mean, how crazy is it to have someone go from just touching a basketball to NBA MVP in 12 years? When we first noticed Giannis, we thought this might be someone new that creates new problems for us. At Nike, we get excited about new problems, because new problems equal new solutions."
Antetokounmpo will also help Nike cement its position in the market outside North America. "Giannis steps away from North America and into a culture that is about family. Greece, Athens, Sepolia — it's all very family-oriented. So the reach he has outward to a new spectrum is very exciting for us," says Klein.
The Zoom Freak 1 takes some of Antetokounmpo's favorite features from existing lines, such as the Nike Kobe, to create a basketball shoe that can withstand the enormous force and explosiveness that are the hallmarks of the Greek star's game.
In terms of design, the love for family really shines through, with features including the names of his four brothers on the heel of the shoe, his parents' names on the arch of the midsole, and the phrase "I am my father's legacy" embossed on an outsole that also features a rose-patterned grip in tribute to Antetokounmpo Sr., who passed away two years ago.
To see Giannis talk us through his first signature shoe and what it means to him, as well as highlights from the launch weekend in Athens, watch the video above.
The Nike Zoom Freak 1 is available now for $120 at Nike and select retailers. More colorways are set to launch throughout the year.
To stay updated on everything happening in the sneaker world, follow @Highsnobietysneakers on Instagram, check our sneaker release date calendar, and subscribe to our sneaker chatbot on Facebook to receive lightning quick updates to your inbox.