I was waiting for a matcha at a coffee shop recently when another patron — early 20s, shoulder-length beachy hair, eyes rubbed red — pointed at my shirt, a tie-dyed number emblazoned with a skeleton, its skull wreathed in roses. It's a Grateful Dead shirt and the skeleton is known as Bertha.
"Nice shirt, man," he said. I thanked him politely. It's a really bright T-shirt, after all, and people point it out quite often. This patron, though, pulled up the tails of his button-down, revealing a Stealie belt, the Owsley Stanley- and Bob Thomas-designed lightning skull graphic that's become an instantly recognizable icon of the Dead. Of course — my new acquaintance was a Deadhead. "We're everywhere, man," he said.
I have my fair share of graphic tees, quite a few of them bearing outlandish imagery — one even has my own face on it. But none elicits the response that Dead merch does, not even close.
Deadhead chic definitely dovetails with menswear media's obsession with Mr. Big Mood himself, Jonah Hill. We seem collectively obsessed with what Hill, a decidedly regular dude, is wearing on a day-to-day basis. And while he's been known to step out in some elevated pieces every now and again, he mostly supports his homies' brands — Palace's Lev Tanju is a personal friend, natch.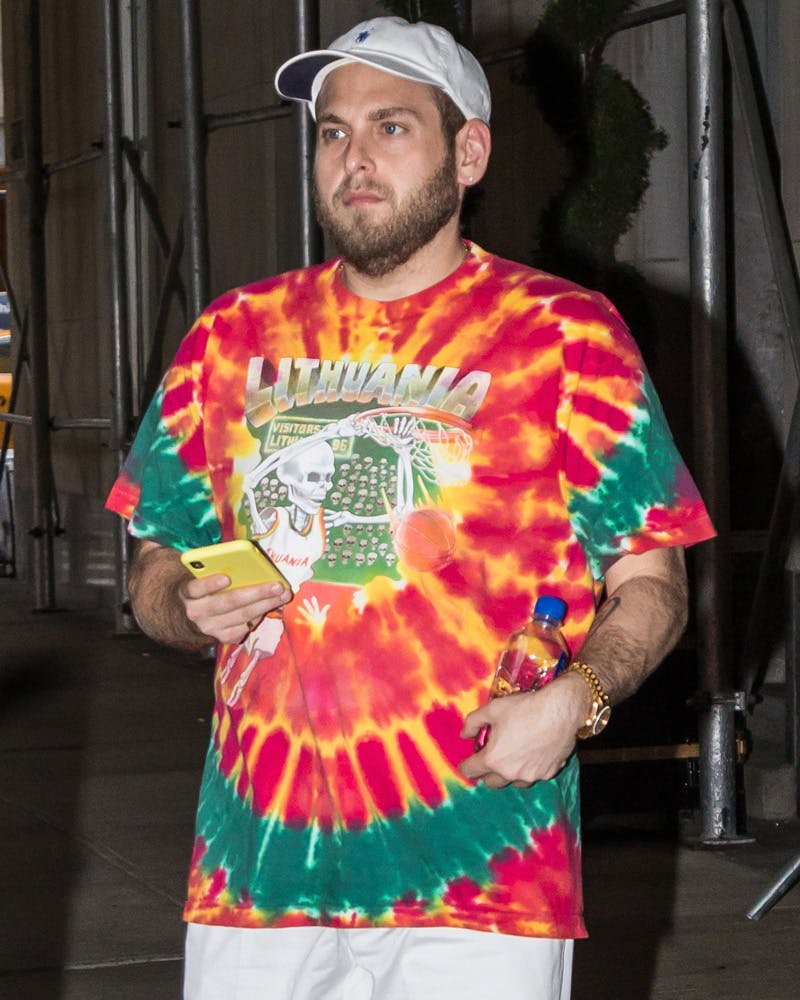 A lot of the time, though, Hill's streetwear staples include a water bottle and a Grateful Dead tee. When podcasters and menswear figures Lawrence Schlossman and James Harris of Failing Upwards threw their second annual Jonah Hill appreciation day, I took this as a personal instruction. I put on my Online Ceramics tee (Citi Field, Summer 2018, for the record), a pair of Baggies, and off I went.
When Hill actually showed up to the party, pandemonium ensued. Don't take my word for it, just listen to Hill talk about how surreal it was. When I finally got my moment with the man of the hour, Hill immediately pointed at my shirt, saying, "Online Ceramics, right?" Even amid all of the faces and the sweltering, 120-degree heat, the shirt stuck out.
"We're everywhere, man."
Vampire Weekend frontman and known Deadhead Ezra Koenig recently posted a #throwbackthursday photo of himself wearing a Grateful Dead shirt. Reminiscing about his thrift store find, Koenig wrote, "I was very excited to scoop that shirt at a crunchy store in Burlington. It has some lyrics from 'China Cat Sunflower' written out in a very uncomfortable font." The shirt is emblazoned with ol' Bertha, repeated in a Warholian grid of silkscreened replicas. It's similar to the "Weir-hol" shirt my uncle wore to a recent Dead & Company gig, but not exactly. (Dead & Company is a spin-off band featuring John Mayer alongside ex-Grateful Dead members Bob Weir, Mickey Hart, and Bill Kreutzmann.) No two shirts can be alike, after all. That's part of the beauty of tie-dye: everything is one-of-one, never to be replicated again.
The tie-dye shirt, the Stealie, the Dancing Bears, Bertha — all of these became symbols of the burnout Deadhead, the hippie relative who refuses to get a day job. That was until the fashion world decided to glom on to vintage band tees as an it-item. As festival season loomed large earlier this summer, it seemed like everyone from Andy Cohen to A$AP Rocky and Migos' Quavo was spotted wearing a Grateful Dead shirt.
One of the proponents of Deadhead chic is New York style legend Mordechai "Mister Mort" Rubinstein. Rubinstein has covered "Shakedown Street" style for outlets such as GQ in the past, but the anthropologist seems to have gone native. One look at Mister Mort's Instagram reveals he's been bitten by the Deadhead bug. He even recently shared his own piece of bootleg merch, a tie-dyed polo, complete with a Dancing Bear kicking back on the breast pocket and back.
Every band is a brand these days. Merch is a given and pop-up shops on tour stops are a standard operating procedure for most pop stars, but it hasn't always been like that. Decades ago, the Grateful Dead opened up to merchandising as an extra revenue stream. The group's fanatical followers started bootlegging the band's gear and selling it in the parking lots outside concert venues. While many acts of the time tried to shut down these sorts of activities, the Dead took the same approach to bootleg merch as they did with bootleg tapes and recordings of their shows: the music, as the band saw it, was free. As long as fans were buying tickets to the shows themselves, the Dead didn't care.
Legends spread of people who gave up their white-collar careers to follow the Dead around for weeks, months, years on end. Fans trekked from show to show, lot to lot, hawking their wares, whatever they may be: veggie burritos, incense, ice-cold whippets. And then there were the ever-present tie-dyed T-shirts in their kaleidoscopic hues. This makeshift market came to be known among Deadheads as "Shakedown Street," named after the band's 1978 album and song of the same name. Before every band was a brand, before Bravado, there was Shakedown Street.
As the band trucked on, so too did the Deadheads, some of whom eventually became entrepreneurs and businessmen in their own right. As tie-dye merch company Liquid Blue so bluntly puts it on its company "about us" page: "Over 25 years ago we started out making tie-dye T-shirts for the Grateful Dead." The company has since expanded its business, offering tie-dyed tees emblazoned with bands such as Led Zeppelin, Pink Floyd, among others.
To keep up with the steep demand from Deadheads, Liquid Blue had to get innovative. Tie-dyeing is notoriously time-consuming, so scaling up the company's operation required some serious ingenuity. Pay your local consignment shop a visit and vintage Dead tees like Liquid Blue's fetch Fear of God-tier price points. Metropolis Vintage in NYC has a healthy selection, but it keeps its rarities and grails up out of reach on the wall, like works of art.
The Deadhead fashion phenomenon has also shined a light on the craftier DIY aesthetic as well. Other Dead-adjacent brands have carved out a fandom of their own in the streetwear space. Online Ceramics' sometimes-scary, sometimes-funny, often-both tees are well sought-after and carry their own aura of authenticity. Founders Elijah Funk and Alix Ross first started printing their tees for the same reason countless Deadheads bootleg: they needed money for tickets.
Like Deadheads, Online Ceramics fans often trade silent nods of acknowledgment in public. "We're everywhere, man." Online Ceramics is part of a streetwear hippie vanguard of sorts. Brands such as Advisory Board Crystals and Cactus Plant Flea Market have both refracted the Silver Lake hippie-dippie aesthetic through streetwear's obsessive lens. Collaborations come naturally to these brands: Advisory Board Crystals has worked with LA health food hotspot Sqirl; Cactus Plant Flea Market recently got the nod from Nike.
In the context of street fashion in 2018, Online Ceramics recently tie-dyeing John Mayer's OFF-WHITE x Nike Air Prestos seemed only logical; here was Dead & Company member Mayer getting his hyped sneakers tie-dyed by the spiritual heirs of Shakedown Street bootleggers. When Mayer texted a snap of the kicks to Virgil Abloh — who posted their exchange on Instagram — the designer referred to their colorway as having that "GRATEFUL DEAD GLOW."
Beyond the DIY, tie-dye and the Grateful Dead have bled into the mainstream. Del Toro recently dropped a capsule of $385 Dead slippers and chukkas. Dead & Company set up a pop-up at Union LA. Fellow Los Angeles brands ROKIT and PLEASURES tapped the Dead's Skullman for visual inspiration (the design is cribbed from the 1992 Lithuanian national basketball team — more on that soon), with the latter also dropping a Dead-inspired capsule in late 2017.
It feels like every brand tie-dyed its leftover white tees this summer just to repurpose and recycle old product in line with a hot trend. Tie-dye has gone from dusty hand-me-down to the window displays of the world's hippest retailers, from Maxfield to Union.
Much like their music, Grateful Dead fans have always been outside of time. Deadheads look like hippie stragglers who've stumbled into the wrong decade. But this isn't the first time their look has caught the public imagination. The last time tie-dye had its moment, however, it had distinctly political undertones.
Back in the early '90s, the Dead read in the San Francisco Chronicle how a newly independent Lithuania, unshackled from the strictures of the Soviet Union, was seeking sponsors for its national basketball team to go to the 1992 Olympics. Band members Jerry Garcia and Weir were huge basketball fans, and decided that the band would help fund what was described in the movie The Other Dream Team as an "unauthorized farm team."
The Dead donated $5,000 to Golden State Warrior Šarūnas Marčiulionis, the first Lithuanian to play in the NBA, and the man whose search for funding had prompted the Chronicle article. Better yet, the Dead decked out the team in tie-dyed warm-up gear in the green, red, and yellow of the Lithuanian flag. The squad's unofficial logo? A slam-dunking skeleton named Skullman.
The "Other Dream Team" represented a perfect storm of fandom — a Predator handshake between Deadheads and throwback sportswear nerds. The tie-dye represented an alternative to both the corporate sheen of the US Dream Team, with its Reebok tracksuits and Nike sneakers, and the drab reality of communism as part of the USSR. "Better Dead Than Red," a slogan taken from '50s Cold War propaganda, took on a whole new meaning, becoming the Lithuanian rallying cry.
Deadheads and streetwear stans are both fanatics, willing to travel far and wide for their icons. And, of course, merch to commemorate the occasion is a must-have. Both groups share common visual reference points — tie-dye, skeletons and skulls, dancing bears, box logos and Ape Heads — that signify membership of an elite club. But Dead merch is almost a purer exhibition of fandom. Its iconography connotes devotion to a community of laid-back and like-minded fanatics that stretches back for decades.
"We're everywhere, man," and who wouldn't want to join them?