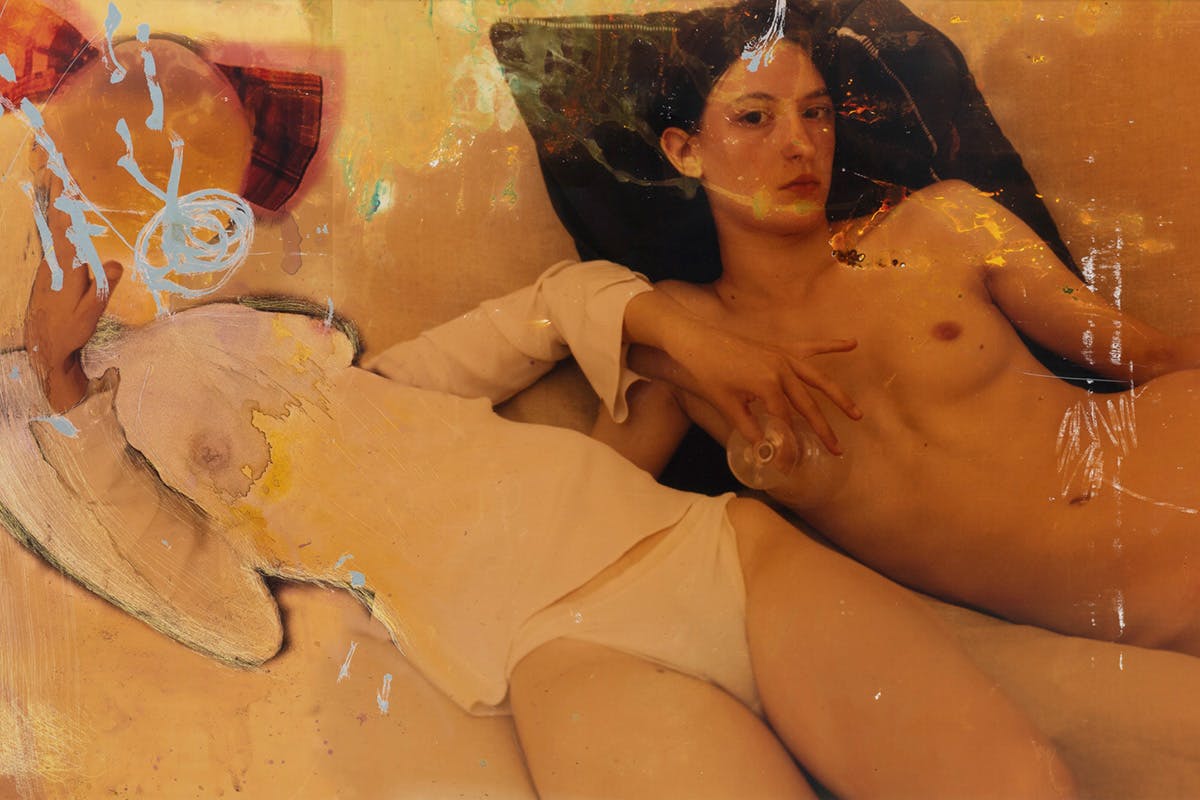 Fashion photographer Harley Weir first got a hold of a camera when she was eight years-old. "My mum used to give me a disposable camera to take with me on school trips. I loved using it," she tells me. "I think the first pictures I took were of some pigs that were having sex at a farm we visited. I have a vivid memory of it. The disposable was like my social media then."
If you haven't heard of Weir, you've at least seen her work. The Southwest London native has lensed the likes of Young Thug, Bjork, and Rihanna for Dazed, Greta Thunberg's famous i-D cover, Bella Hadid for LOVE, and Pharrell for Humanrace. That's just a selection of the 30 year-old photographer's heavy-hitting portfolio; Jacquemus, Helmut Lang, Charlotte Knowles, Stella McCartney, and Calvin Klein have also enrolled her to snap their campaigns, and most recently, Gucci x Balenciaga.
Sins of a daughter, which opened on April 9 at London's Hannah Barry Gallery, is Weir's first solo exhibition since the Covid-19 outbreak. "It's interesting to go back into that mindset of where I was two and a half years ago and revisit those feelings and thoughts," she says. It's nearing 10 o'clock at night for Weir, who's busy with the finishing touches of her show ahead of its opening. "I've been doing last minute printing, some things didn't fit into frames properly, the usual. So manic."
Showing almost 30 new collages and archival images, Sins of a daughter is a revealing look into Weir's most intimate and private photographic experiments. The featured archive dates back to 2008, when teenager Weir first started taking photos of her friends and sisters. "They're quite abstract images. Some of them come from a previous project called Father, a book I made with a series of male nudes. There's also a series of vaginas in the show, very close up and personal, quite intense. It was very much about my desire as a woman, like, 'What do I desire?' I wanted to figure that out, so a lot of it is coming from that angle."
In a late night interview, the artist walks us through her creation process, her obsession with the body, and what she does want as a woman, for now.
What can we expect to see from Sins of a daughter?
Photographic collages. They were made originally by experimenting with body fluids. I put the fluids on photo paper, which is then left to cook. It changes the chemistry of the paper and brings out certain colors or removes things, darkens things, almost like a form of painting, but with alchemy. Strangely, everything I have used from then on is a waste product of something. I use a lot of outdated beauty products or health foods, for example. Ingredients are things like perfumes, contact lens solution, ingrown hair solution, moringa powder, spirulina.
When you say body fluids, what kind do you mean exactly?
Spit, pee, cum, blood. But they go through processes and become properly cleaned and fixed so only the marks remain. I didn't use any body fluid since lockdown because it felt weird, since everyone was hyper aware of cleanliness and things like that. It changed the direction a little bit, and I ended up working with things like super foods, which is interesting because they do have a super odd effect on the paper. It feels very prehistoric experimenting with alchemy in the way that I do. like when people were exploring the natural world for ways of doing things, like octopus ink for writing. Usually I will start with an analogue image or collage of different images on the same photo paper. I do it all in the dark, so I don't know exactly what I'm doing. Very much like a witch [doing] a ritual in the dark with these potions.
What's the meaning behind the show's name?
It's from the common saying, "sins of a father." In this case, I think about the idea of inherited sins, of what has been passed down through my gender from history. In a personal sense, thinking about what you inherit from your parents and what they feed down to your bloodline, what they gave you and what you carry, past traumas and sins. When I say sins, you could put it another way and say "history." Not necessarily bad things.
Photography is very much collaborative, whereas art – especially your method of creation – seems more personal.
I don't think an image necessarily belongs to me if there's someone else in it. My personal work is abstract, without people, because it feels wholly mine. With other work – especially my fashion work – it's always a collaboration. There are hundreds of people on set. How much of yourself are you willing to show and share with strangers? Personally? Not so much.
You go from photographing mega celebrities, then regular people on the street. How do you bring out that intimacy from strangers?
I love to photograph people who love to be photographed. When I was younger, I was sometimes photographing people that really didn't like to be photographed, and the exchange was very awkward and bizarre. I like to go with the flow, with the feeling, and if someone wants to be nude, then it happens.
A lot of your work seems to focus on the human form, especially the female body. What's your fascination with that?
As a woman, every film you watch as a child – less so now – but when I was younger, it was likely directed by a guy and the woman is likely, usually a sassy whore. Women are very sexualized. Their bodies are always on show, and they're a love interest for a guy. Having that focus on the body is probably subconsciously from my upbringing, and having watched so much media applaud or obsess with the female body. It's ingrained that I would naturally be interested in the body, because that's what it felt like people were interested about me when I was younger. Guys would say, "Oh, you have a nice ass," or "Your boobs are too small." It was always about the body. I don't remember saying I wouldn't go out with a guy because he didn't have a six pack. But you know, at school, kids are cruel.
Originally a lot of my photography was of the male nude. I found some really old pictures I took of my first boyfriend when I was around 16, that continued in a diary form. I used to post some of them on Flickr, and that's where it all started. People started asking me to do photography professionally.
When you do photograph the body, sometimes you zoom in so close into certain details – There's a sense of childlike innocence, but it can also be a bit uncomfortable, grotesque even.
I like things to be direct and I feel like when you have a tight crop, the message is clearer. I don't find things very grotesque. The pictures I show I find to be very tame and cute. I have a tendency towards the grotesque, but I don't show [them] because I don't think people will respond very well to that. My level of grotesque, my grotesque-dar is very skewed. With my fashion work, I'm always so worried about who I'm photographing, I don't want to show them in a bad light. I want to be sensitive to [that] person's feelings. It does hold me back, because I do want to show people in their more true, grotesque light but Im still too conscious of myself and of others.
I have been experimenting for this show, taking very grotesque pictures of myself, but I couldn't actually bring myself to print them or put them on the wall. It felt too invasive. But definitely, the images I like of other people's work are quite grotesque and I envy those that have the [courage] to show things in their true grotesque light.
You also run an Instagram account documenting of photos of trash. What's that about?
I think fashion gives you a real need to, when you see that side of things, it makes you feel very privileged and gives you an empathy that needs to have an outlet. The ever-increasing worry about climate change and how we're destroying the planet drew me to that. I wanted to protest with these images in a way, [and] just be aware of the issue.
I read that you collect vintage Issey Miyake and Jean Paul Gaultier. What is it about those designers that you like?
I've been collecting [them] since I was 17 when eBay was amazing. I have a pretty damn good collection of about 30 pieces from [the] eBay era where you could pick up a full dress for 20, 40 pounds. I particularly love the Guest Artist Series [by] Issey Miyake when he collaborated with artists. And Jean Paul Gaultier, I find his clothes to be artwork. He's also very obsessed with the body and his work is like wearable art.
Weirdly, I had a lot of years where I wore absolutely no fashion whatsoever. In my teens and early twenties, I was really into fashion as works of art and I used to spend a lot of time getting dressed and wearing crazy clothes. After about 21, and I left for university, I became brown mouse and didn't spend any money on clothes. I spent everything on photography. I didn't go shopping for years until I was about 28. I wasn't interested in the way I looked and I didn't want to stand out or look pretty. I didn't want people to judge me for being a girl. People would always be like, "Oh, can you fix the music?" No one ever assumed that I was the photographer, so I wanted to be very serious and dress appropriately. For years I cut that side of myself out, but I'm back to it now. I'm getting all my Jean Paul Gaultier [and] weird stuff out and having a good time with [them] again.
What was the cause of this sudden change?
There's been such a big culture change. I was ashamed to be a woman when I was younger, I didn't think people would take me seriously and now I'm not ashamed to be a woman anymore. There's been a huge change in society's view of women and it's not such a sin anymore to be a girl. When I was in my twenties, it felt shameful to be girly or wear pink. Now everybody's much more girly-obsessed and it feels like I don't have to be shy about being a girl anymore, coming to set wearing a skirt, looking like I give a shit. Why not.
Sins of a daughter is on view now through May 7 at Hannah Barry Gallery, London.