As music fans, we're always on the hunt for new sounds and creators. Through Highsnobiety Soundsystem Co-Signs, we're connecting with the next generation of artists that we're excited about. These are the origin stories of those pushing boundaries and shaping the future of music culture.
Where: Atlanta For fans of: J.I.D, Juice Wrld, Lil Tracy Playlisted: "Firestarter"
Kenny Mason is sat behind an Arturia MiniLab when he appears on screen, slightly behind schedule. With a microphone to his right and a plush of the hooded South Park icon who shares his name to the left, he apologizes, explaining that he'd intended to re-record one lyric and got carried away.
For the past few months, Mason's life has revolved around the free pursuit of these creative impulses: "It's been me and a mic for, like, four months," he shrugs. "This is where I be at."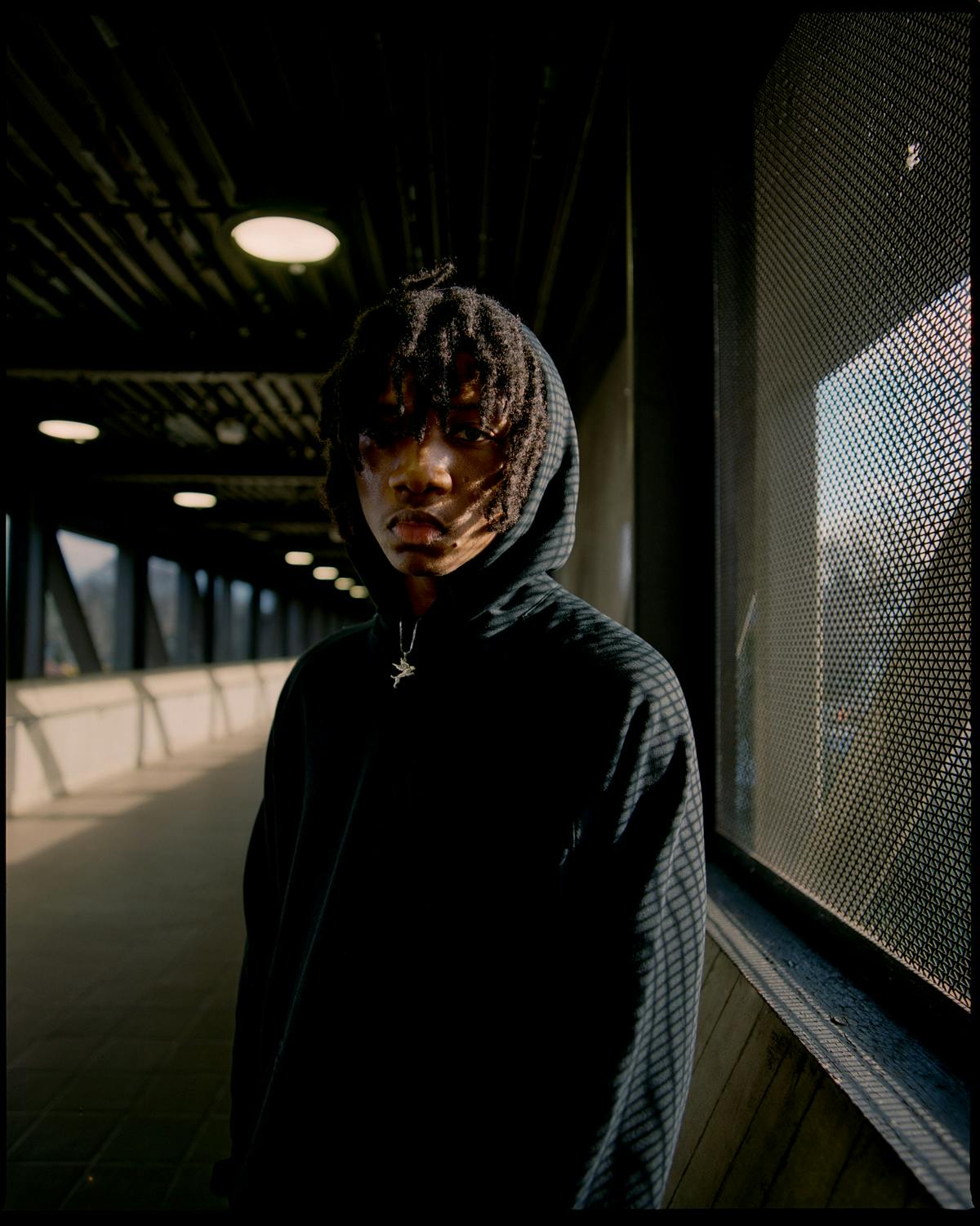 In April, the 25-year-old Atlanta native released his debut album Angelic Hoodrat, a collection of 14 tracks that introduced him to the world, painting from a wide ranging palette that places him among a generation of post-genre acts reared during times of democratic music listening.
"We're heading in a direction where [genres] won't really exist. I think people gon' categorize artists off they content, more than they genre," he explains of the aging concept. "I feel like people are going to have projects that fit one kind of mood. That's just my theory on where shit's going."
Angelic Hoodrat is the coming-of-age story of a good kid trying to self-improve in the midst of the "typical inner city stuff" that young black men are unfairly burdened with. It communicates him as a deep-thinker and introspective writer with a versatile skillset, as he masterfully switches from confessional raps to emo ear worms.
The best way to frame the content on the album is to understand the context in which the bulk of it was made. It was 2016 — each morning, Mason would wake up in his mother's apartment and, after finding the spot in the kitchen where he could borrow his neighbor's wi-fi, he'd FaceTime his homie David to let him know he was on the way. He'd then begin the walk across the train tracks between southwest Atlanta neighborhoods Mechanicsville and Pittsburgh, listening to either Nirvana's Nevermind or Bankroll Fresh's Life Of A Hot Boy 2, or, if he didn't have headphones at the time, he'd "look stupid as hell humming and shit."
Writing while walking has been Mason's process from the beginning, when he'd make up raps on the way to school to impress his peers. So by the time he'd arrive at David's home studio set up, he'd usually have new material to offload. "The DNA of that area is embedded in those ideas," he explains.
It's a reflection of how Mason hears the world. He's been around rap since he was born, and remembers being scared of 2Pac's voice as a young child when his father would listen to his albums. Pac has since become a huge inspiration to Mason, who wants to articulate a similar "sense of divinity" in his own work: "His voice sounded like a god to me when I was a kid."
Following an insatiable curiosity for music, Mason would discover grunge and alternative bands that nobody around him was listening to. He'd hear songs on the soundtrack of video games like Madden NFL 2004, WWE SmackDown! Vs RAW, and Tony Hawk's Pro Skater, or scroll through on demand music video channels in search of things he hadn't heard before. "I would just pick a random video instead of just going to all the rap videos because I had seem 'em all," he remembers. "I'd look it up on YouTube and just go into a wormhole of all that type of shit — until I'd find something I really like."
This would lead him to bands like Florida's Yellowcard or MTV-championed Georgia pop punk outfit Cartel, which he'd mostly keep to himself, only discussing artists that he and his friends had in common, which at that time were along the lines of 50 Cent and Jeezy: "I'm real personal with shit that I like."
"The more you have a relationship with yourself, the more you gon' automatically stand out. The more you are self aware — it'll translate in your music to where you sound different anyway."
Naturally, Mason's music utilizes a lot of guitar sounds, although he's yet to learn his favorite instrument. "It's a formless instrument," he says. "Kind of like how I want my music to be formless. It's got so many things that it can do." Instead, he plays guitar parts on his demos with his keyboard and then hands them over to go-to producer Julian Cruz to re-record the raw ideas on live guitar.
While Mason first started making beats when he was 16, it's something he returned to relatively recently out of necessity. "I felt like sometimes I wanted a specific sound that nobody else could make, so I had to figure out how I would make it," he explains.
While he doesn't consider himself to be a producer, this process allows him to execute his ideas more accurately: "If I can't translate it to another producer, then I gotta be able to do it!"
Mason's combination of ambition and DIY-mentality has come from years of building his name in the Atlanta underground. "It's crazy to be in a city of real successful black people at the forefront of a lot of shit," he explains. "People that look like me — that can be so ambitious. I think that's the foundation of Atlanta — the creative confidence in people here is just different from everywhere else."
He sees the breakthrough success of Angelic Hoodrat as only the beginning for himself and his crew, House 9. "A lot of my character has grown from being around them, and being in situations with them," he explains, recalling shows that they'd put on themselves in Atlanta when nobody would book them. "We have a whole culture just amongst ourselves that it would be cool for the whole world to experience."
Part of this is their collective pursuit of self-improvement, which Mason says has been something he's focused on since graduating high school, and has played a big part in his ability to cut through in a city that's overflowing with artistic talent. "The more you have a relationship with yourself, the more you gon' automatically stand out. The more you are self aware — it'll translate in your music to where you sound different anyway."
It's this self-awareness that Mason hopes translates to listeners through his work. "I've always looked at my music like an invention or product that can help people," he explains. Since the release of Angelic Hoodrat, he's been inundated with DMs from fans who feel deeply connected to him. "It's like a responsibility being placed on you, because you're speaking for folks in such specific ways," he says. "And it is heavy, but at the same time, I'm an artist — it's what I do it for."
While this is one of the most rewarding aspects of his breakthrough, he believes his road to success lies in doubling down on the specificity of sharing his own unique experience. "Expressing myself is gonna help people with they shit. I can't be worried about how I'm going to affect people with everything I do," he explains. "Just as long as my intention is to help better myself, in the hopes that it will better other people, too, and inspire other people to be better, that's all that matters. It ain't gon' be perfect, but it's gon' be real!"
Highsnobiety Soundsystem Co-Signs is a new monthly feature, curated by @grantbrydon. Check out our second Co-Signs feature, with Detroit rapper 42 Dugg here.