As music fans, we're always on the hunt for new sounds and creators. Through Highsnobiety Soundsystem Co-signs, we're connecting with the next generation of artists that we're excited about. These are the origin stories of those pushing boundaries and shaping the future of music culture.
Where: Detroit For Fans Of: Lil Baby, Kodak Black, Tee Grizzley Playlisted: "We Paid," "Been Turnt," "Free Merey"
While the world has been on lockdown, 42 Dugg has enjoyed the most prolific and successful months of his rap career so far. The Detroit native released his breakthrough mixtape Young & Turnt 2 at the end of March, and — as has become 2020 custom — followed up with a deluxe edition in June, adding nine new songs. He'd also appeared on Lil Baby's "Grace," from the Atlanta rapper's My Turn album in February, and returned for the chart-topping deluxe edition with a show-stealing verse on "We Paid," which became a top 10 hit on Billboard — at the time of writing, the video has over 126 million YouTube views. "It was, like, hard for me to think about 'We Paid'," says Dugg, who wasn't anticipating the song's reception, "cos Baby had took me out of my comfort zone rapping, and when I rapped it, I had a different bounce to how I'm used to rapping. But it worked out for me!"
Amid his phenomenal and fast-moving trajectory, the 25-year-old (born Dion Hayes) remains humble: "I'm just taking everything day-by-day," he explains. "Of course I'm proud, because I put in a lot of work, but I don't want to get too big headed about it. I'm still working — I'm back in the studio now. I'm just trying to do my best." Where he's been less reserved however, is in his spending— enjoying the paradox of success in a pandemic by treating himself. "I bought a Lamborghini truck. I bought a G-Wagon, and all types of clothes," he says, continuing to reel off his shopping list. "I like Amiri, Bape… I wear Jordans, Air Force Ones — typical. I wear all designer shit, like Fendi, Gucci, whatever I'm feeling like, Supreme."
42 Dugg's musical roots can be traced to Royal Skateland; the rollerskating rink that he'd frequent as a teenager, which is where he says he fell in love with music. "The songs helped me to find my rhythm on the skates," he explains. Skating to a soundtrack of T-Pain, Pretty Ricky, Ying Yang Twins, Jeezy, and T.I. developed a taste that would later inform his own work. "I feel like I had a good ear for music. I knew that I could be ok [making music] because I felt like I had listened to the best music in the world," he says. "The DJ at our skating rink, I felt like he was the best DJ ever — he knew how to pick the mood."
He would make the transition from fan to creator during a six-year stint in jail for car jacking and felony firearms charges that began when he was only 15 years old. Four years into his sentence, during a period in solitary confinement for fighting, he started writing raps to deal with the intense boredom, and continued to do so for the remainder of his time. He'd teach himself through experimentation and perform his verses for a friend in the cell opposite. When fighting earned him an additional two years behind bars, he channelled his remorse into writing what would later become one of his early songs, "Mama I'm Sorry."
After his release in 2017, Dugg's friend and collaborator 42 Twin encouraged him to record his lyrics. "I had told him, 'I know how to rap,'" remembers Dugg. "And when I got out, he was like, 'Come on, let's go to the studio.' I had my songs written out." Relying mostly on trust — although Dugg says he might've read some of his bars aloud — Twin invited Dugg to a session with renowned Detroit producer Helluva. Twin paid for Dugg's first session and he recorded a song he'd written called "Free Mines." "He really didn't have any experience recording, but he had an idea of how he wanted his beats to go in his head," recalls Helluva. "So I was really taking those ideas and bringing them into reality. He would beat on the table and show me — it was real, real awkward, but I still made it work and we came out with a dope song." With a taste for the positive reaction he received from his first track, Dugg quickly returned to make more. "The very next time Dugg came to the studio, he had the biggest wad of money I ever seen," remembers Helluva. "Then, when I went outside, he was driving a [Dodge] Hellcat, and he had only been out for about a month."
With virtually no experience of recording, Dugg was receptive to the feedback of those around him. "He's just a raw talent," says Helluva. "For me, his voice just stands out over everything. He's got the most amazing rap voice ever. So I would just try to teach him how to play with his delivery, show aggression in his delivery, and he's not as afraid to try to do the singing thing." Dugg's studio process developed by observing his peers, and he credits Peezy for his transition from written-down raps to the more fluid, freestyled approach that he utilizes today.
One of his first breakthroughs beyond Detroit came via "The Streets," a collaboration with Babyface Ray, which pays tribute to their mutual friend, Eastside Snoop — aka Baking Soda Snoop — who was murdered in the Summer of 2018. "They didn't sit up and write anything, it just came naturally," Helluva remembers of the session. "Soda had just died, so he was on everybody's minds. I don't think they intended on coming to the studio and doing a tribute song for him, but it just turned out that way." While the posse-cut "STFU" had already racked up millions of views on WorldstarHipHop a few months prior, this time Dugg was firmly in the spotlight, and "The Streets" showed off his crossover potential. Dugg's first experience with Lil Baby came through gambling; he'd travelled to Los Angeles with a mutual friend for the BET Awards, where they ended up in a dice game together. Baby respected Dugg's competitive nature and invited him to Atlanta, where Dugg had the opportunity to play Baby his music. Memphis veteran Yo Gotti's introduction to Dugg's music was on set for "Put A Date On It" with Baby. "I didn't know who he was," remembers Gotti. "I just knew he was hard. When I brought him out at my show in Detroit and let him perform on my set, that's when I really saw he was a star."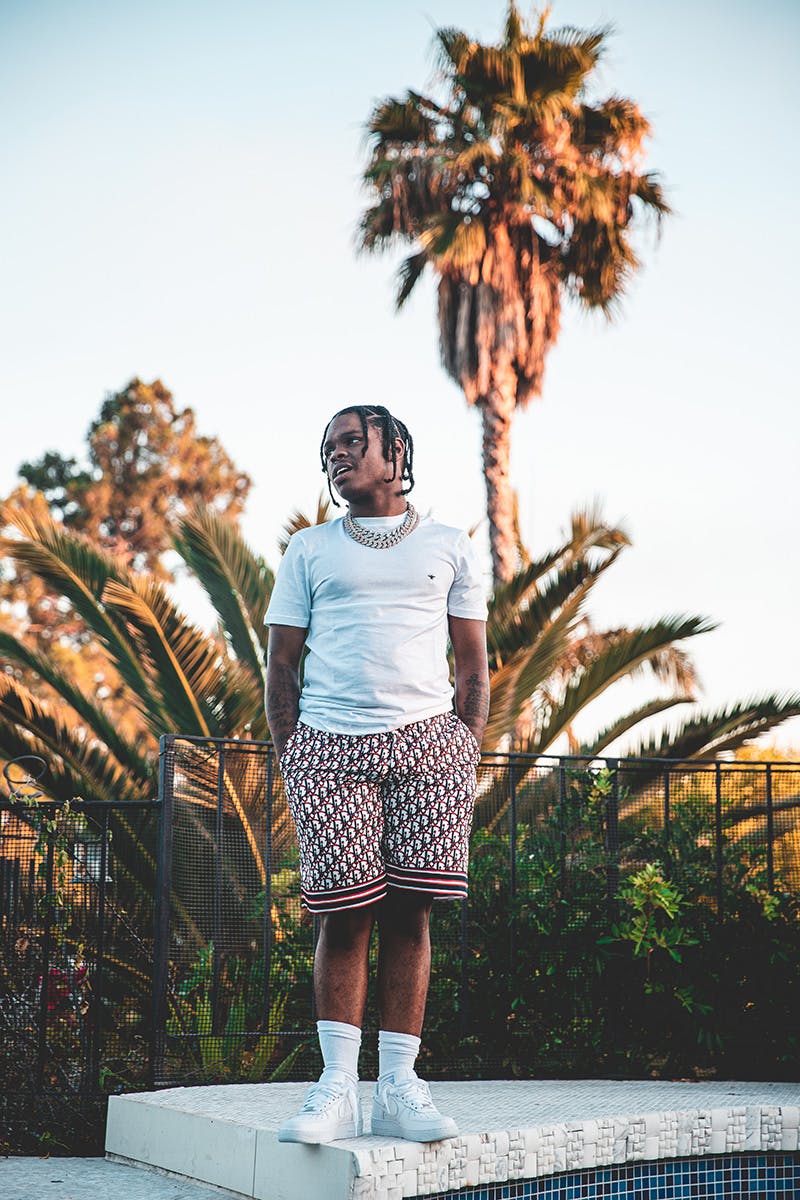 Although it's common to see an established rapper taking a protege under their wing, it's much rarer that a new artist presents an opportunity so singular that multiple artists unite for a joint venture. Rather than entering into a bidding war over Dugg, in 2019, Yo Gotti and Lil Baby partnered to sign him in a unique deal between their respective CMG and 4PF imprints, distributed independently by EMPIRE. "It came about because I respect Baby and I respect his hustle," says Gotti. "We're all hustlers from a similar culture, and we understand how we can build things together. We've turned down traditional label deals for Dugg for that reason — because we aren't traditional hustlers. We're unique hustlers, and we need a unique situation for him." During the Detroit leg of Meek Mill's "Motivation" tour, Gotti brought Dugg out on stage for a chaining ceremony. "I was kind of nervous," admits Dugg. "[Gotti taught me] just take this serious. This a once in a lifetime type situation. Seize the moment, just be in the moment."
So far, Dugg has released two mixtapes under the deal. The latest, Young & Turnt 2, was recorded between Detroit, Atlanta, Los Angeles, and Miami. It sees him honing his raw talent and bridging the gap between the sound of his city and the broader rap landscape. "Atlanta's been shaping the way I been going, because I been in Atlanta a lot," he explains. "I be in the studio with Baby a lot. I can make comfortable music out there, it's like a second home to me." The tape debuted at number 70 on Billboard 200, and later peaked at 58, but is making an even bigger impact culturally, with Dugg as one of the most discussed new artists of the year — Tyler, The Creator has reached out, showing love for "Been Turnt" and asking to work, and Dugg's whistling ad-lib has become an Internet sensation. But Dugg knows his work doesn't stop there, and is already back in the studio. "I just like rapping," he says. "I've started putting myself in that mode more than anything else, because this is what my job is. So normally when I'd be in the hood doing something else, I limit that now to being in the studio."
Despite the luxury cars and designer clothes, it doesn't feel as though Dugg's global reach has sunk in just yet. Still unaccustomed to interviews, he politely cuts things short while meditating on the impact that his music is making. "I'm being very humble about it and appreciative, and I want to give [fans] something to look forward to," he says. "I measure success by how your family be, how your friends be — but I gotta go, this my lawyer calling. Thanks for having me."
42 Dugg is going to have plenty of time to grow into his reputation, with a long career ahead of him and new heights to reach. Helluva is already impressed by how far he's come in the short time he's been active. "I'm really just proud. The last time I was with him, he played some new songs for me, and some new videos. I'm just proud of the artist that he's becoming. He surprises me," he says. "I think he can really put on for Detroit. I think, on a street level, he can be the biggest rapper from the city. And I also believe that he can cross over, too, to like, a Big Sean type of lane. I think he's limitless."
The ambition is echoed by Yo Gotti: "The goal is to create something special and build something massive for Dugg. We really want to turn Dugg into a superstar and have fun while we're doing it," he says. "When it's all said and done, I want Dugg to be on top of this fuckin' rap game and be an icon."
Highsnobiety Soundsystem Co-Signs is a new monthly feature, curated by @grantbrydon. Check out our first Co-Signs feature with Kenny Mason here.