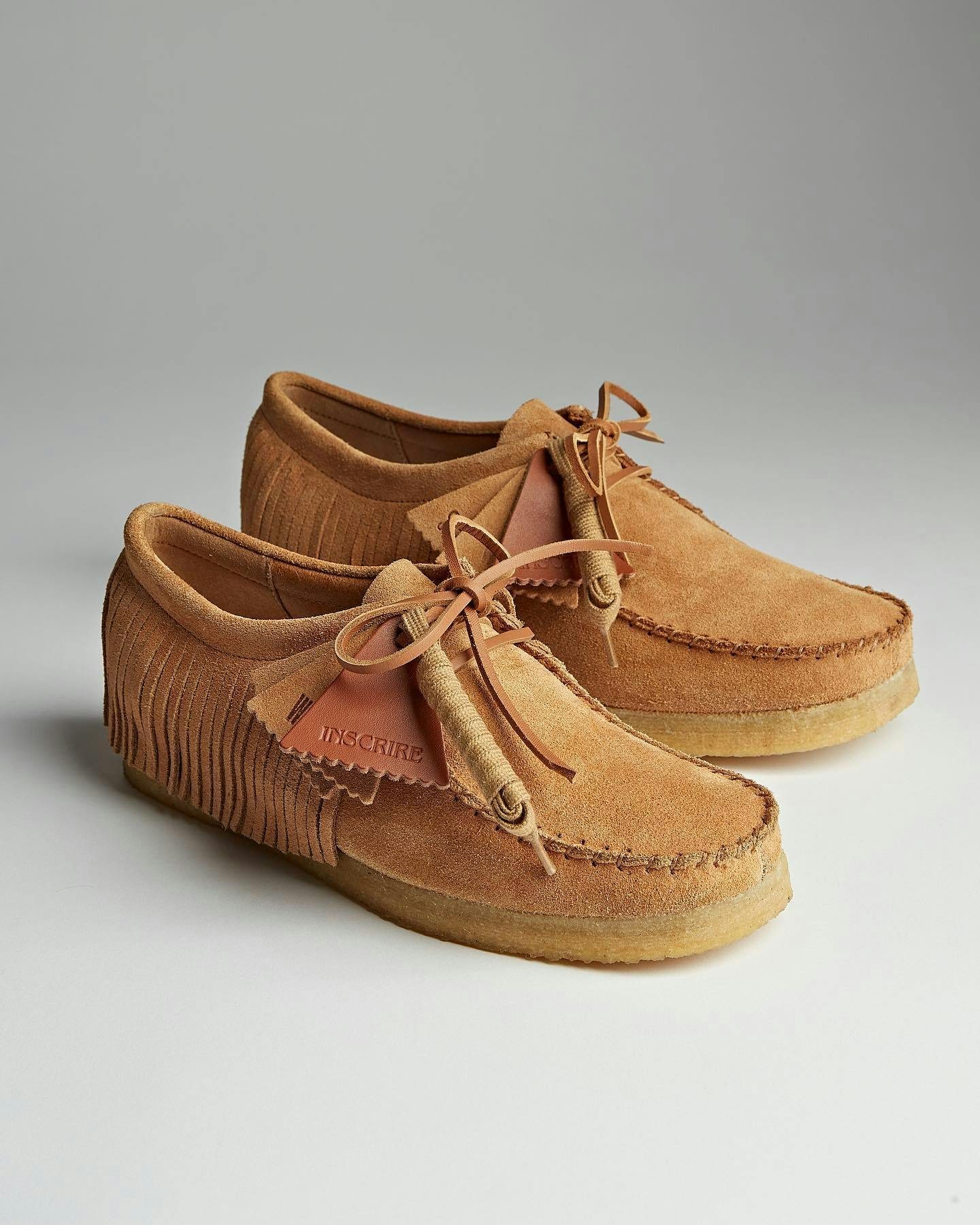 For streetwear-minded dudes of a certain generation, a fringed moccasin makes you think of one brand in particular. visvim's inimitable FBT shoes have permeated the culture to such an extent that it's almost impossible to not think of them when presented with a similar style.
That didn't stop Japanese clothing label INSCRIRE, which debuted its own Native American-inspired Clarks collaboration on January 25.
The INSCRIRE Clarks are exactly what it sounds like: a Wallabee/Weaver-style moccasin with tan suede upper, gum sole, and a sheath of dangling fringe around the heel.
Looks great, don't get me wrong, just that the visvim comparisons are inevitable.
To be clear, visvim didn't create the fringed moccasin. It's just that Hiroki Nakamura's ultra-premium brand has essentially owned that style within the framework of streetwear culture for the past couple decades.
There've been copycats, clones, and homages aplenty, plus more than a few coincidentally close creations: consider Kapital's "Pueblo" sandals, which bear more than a passing resemblance to visvim's ever-popular Christo slide.
All that being said, no one owns the idea of a Westernized moccasin.
Clarks has existed since way before visvim and there've always been other moc-toe makers doing their own thing even as bigger names reaped the glory.
Nothing wrong with retreading ideas. Is anyone complaining just because both Packer Shoes and Aimé Leon Dore have done snakeskin Wallabees?
Hopefully this collaboration grants INSCRIRE access to a new audience.
Founded in 2017 by Yumika Oka, INSCRIRE offers a women's perspective on the style of prep perfected by the Take Ivy generation. Amidst a field of trad-indebted menswear lines, INSCRIRE proposes something new.
As such, its Clarks collaboration isn't a visvim knock-off but a reference to an older style of moccasin, back when folks would wear fringed shoes just because they lived in New Mexico. It wasn't a trend, it was footwear.
Shop our favorite products