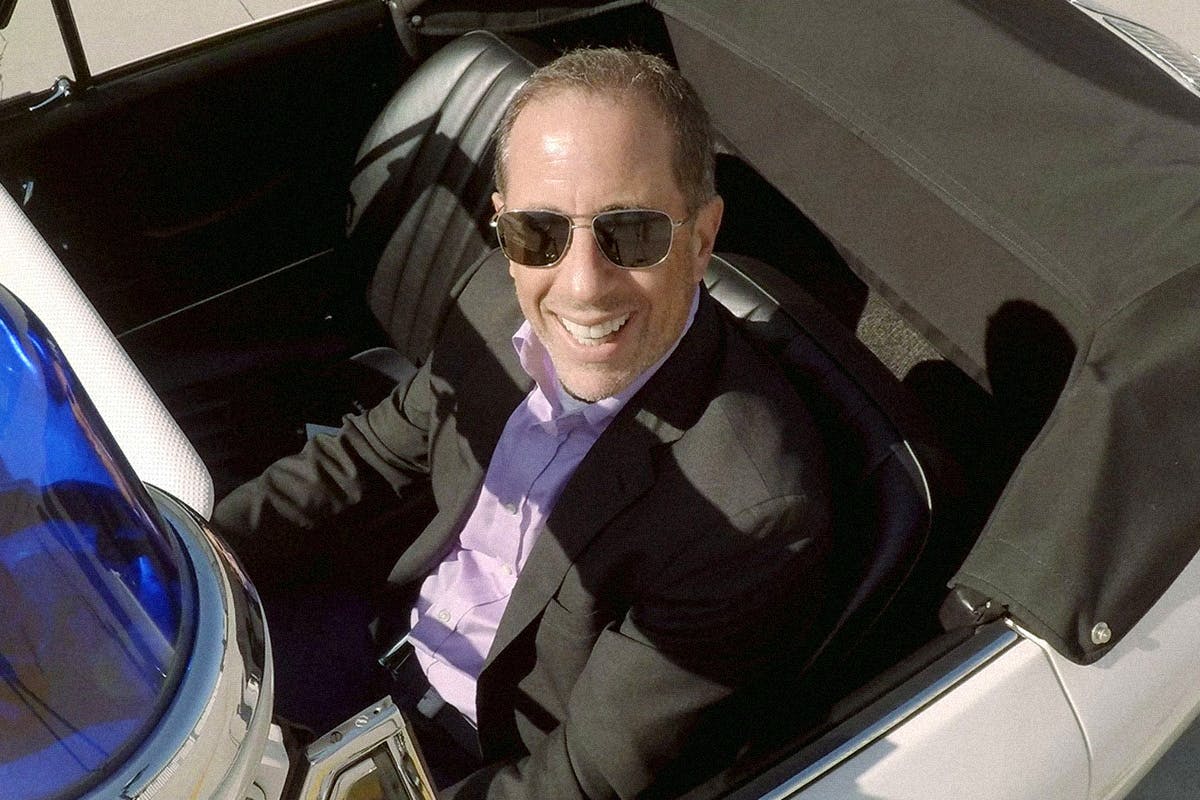 The late great Gary Warnett set the internet ablaze in 2011 when he penned a definitive listicle exploring the sneakers worn by Jerry Seinfeld on his iconic sitcom. When the show was airing throughout the '90s, sneaker culture was already yada yada yada. Sneakerheads were quick to take in the sartorial plot lines — like the puffy shirt, the Executive rain coat, Friar's Club jackets, and the Urban Sombrero — in addition to Jerry's unmentioned Nike Air Tech Challenge kicks.
Although the show signed off officially in 1998, Seinfeld has continued to showcase his love for various Nikes on screen and in day-to-day life. And believe it or not, he seems to prefer one of the most divisive silhouettes that the Swoosh ever rolled out above all else: the Nike Shox.
When it debuted, the Shox was unlike anything people had seen before — relying on a set of twin plates with foam columns beneath the midsole. The result was something of a dissected look that was in stark contrast to the more sleek and agile air bubble.
Jerry Seinfeld's brand of humor relies on weaponizing the mundane. While sitcoms prior to Seinfeld felt very specific, he and Larry David's creation heightened what was already recognizable to most people. The Shox embodies that ethos; redefining an experience where people expect one thing, and subsequently get something completely different.
Here's what people should take away from Jerry Seinfeld's affinity for the Nike Shox.
Attention to detail
Seinfeld's love affair for sneakers began with his admiration for New York Jets quarterback, Joe Namath, who he recognized not only for his play on the field, but also for his signature white shoes. In his mind, whether it was game-winning 4th quarter drives, sideline fur coats, or all-white shoes, Broadway Joe was absolutely meticulous when it came to detail.
Seinfeld's style of dress — and his comedy — may not be considered flashy. However, his love for the Shox speaks to the idea of purposefully highlighting a piece of one's wardrobe. If everything you put on is loud and complex, nothing will seem bold. With the Shox, Seinfeld is making a statement; look at these shoes and just how ridiculous these cushioning units are!
Color coordinating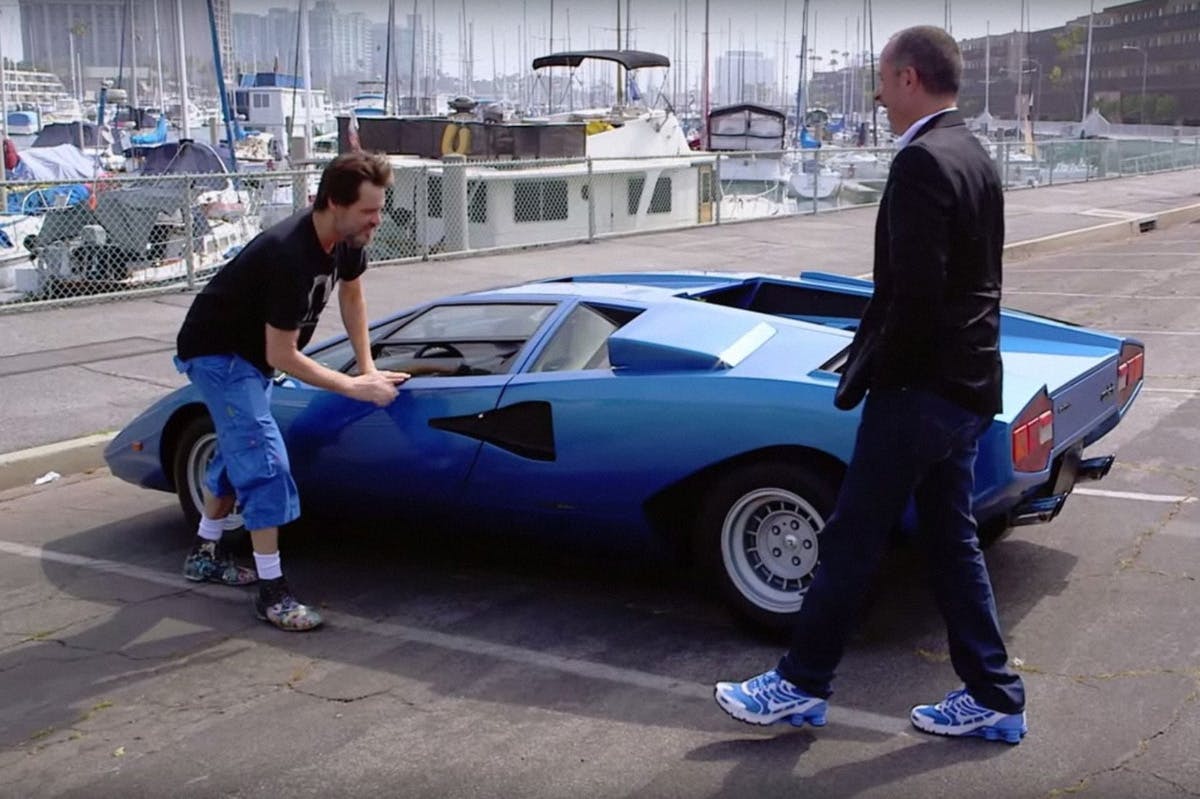 While Warnett's list remains the gold standard for Seinfeld's on-screen attire, his Netflix show, Comedians in Cars Getting Coffee, is our best look yet at how the comedian dresses in real life. In one memorable episode, he picks up Jim Carrey in a 1976 Lamborghini Countach LP400 in Tahiti Blue. He says of the automobile, "the idea of this car, I think, is you pull up in it, and you are taking over the scene." Seinfeld opted for a pair of nearly identical, blue, Nike Shox. This can't be accidental. In the same way that Seinfeld believes a car can say a lot about a person, so too can color coordinating your shoes to the outfit. *Seinfeld voice* "Yes, I liked this color so much I've chosen to wear it twice."
We again saw this employed when he picked up Steve Harvey in a 1957 Chevy Bel-Air convertible. Although the car was black, the gold Chevrolet emblem played nicely against his equally gold Nike Shox.
Combining passions
The aforementioned example would already lead people to believe that Seinfeld gets real joy out of combining two of his favorite hobbies: car culture and sneaker collecting. However, he used Nike ID in 2014 to really solidify the connection between both worlds.
The pair in question sports unique text which reads, "40 GMUND." The number references the production model on a rare 1949 Porsche 356/2, and the text pays homage to the city in Austria that handled the manufacturing of the car's aluminum shell. This subtle detail on a preferred silhouette is often what drives sneakerheads to make a purchase.
Be you
When you're someone as famous as Jerry Seinfeld, you get the opportunity to work with Nike on one-off products. In this instance, he parlayed his love for the New York Mets into a one-of-one pair of Nike Shox TLs. Crafted with authentic Mets player jerseys on the insoles, and a prominent Mets colorway, these bespoke sneakers were a followup to a self-designed pair he debuted back in 2015 which he said were the reason the Mets made the World Series.
At the end of the day, sneakers represent a passion. It could be a passion for the brand, collaborator, an athlete, or in this case, a team. It's clear the Nike Shox make Jerry Seinfeld happy. There's something really nice about liking something regardless of what other people think. So stop thinking about what you'll wear them with and let Seinfeld be your inspiration for rocking Nike Shox this season.