There are few comedians working right now with as much as gusto, guts, and pure hilarity as Joel Kim Booster. In this FRONTPAGE interview, we dish about his upcoming film 'Fire Island' - a modernist, gay update of Jane Austen's 'Pride and Prejudice' - and his wild ride through the comedy world.
The weather in Los Angeles is "pretty fucking cold" when Joel Kim Booster dials in for our video chat, which feels like a vaguely homophobic slight by Ms. Mother Nature. In the grand tradition of "fleeing New York's rat-infested streets for the smoggy sunshine of LA," it's easy to take a bit of cold weather personally; wearing a sweater in April is, quite simply, not the Joan-Didion-green-juice-Golden-State fantasy that you cross the United States for — but Booster (mostly) doesn't mind. Whether on screen, doing standup, or simply calling in for an early morning video chat, Booster radiates energy, and lately he's in particularly high spirits.
Call it luck or chalk it up to God smiling down on the gays for once, but the comedian is on the cusp of a big break thanks to the release of three major projects in as many weeks. The first is Fire Island, which drops on Hulu on June 3. As the star, writer, and executive producer of the film, it's giving major "Bradley Cooper's A Star Is Born (2018)" vibes in all the right ways, but it's also a love letter to his experience on the famed gay locale off the coast of Long Island. "Some of the happiest moments of my life have been on that island," he recalls. "That was the driving force behind the project. I just wanted to show, and this is so corny, gay joy." As if dropping his biggest and most personal project yet weren't enough, Booster will also return to standup on June 21 with a Netflix special, Joel Booster: Psychosexual. Three days later, he caps off his hot streak honoring "the grand tradition of gay comedians" by playing a rude, gay assistant in the AppleTV+ series Loot, alongside Maya Rudolph and MJ Rodriguez.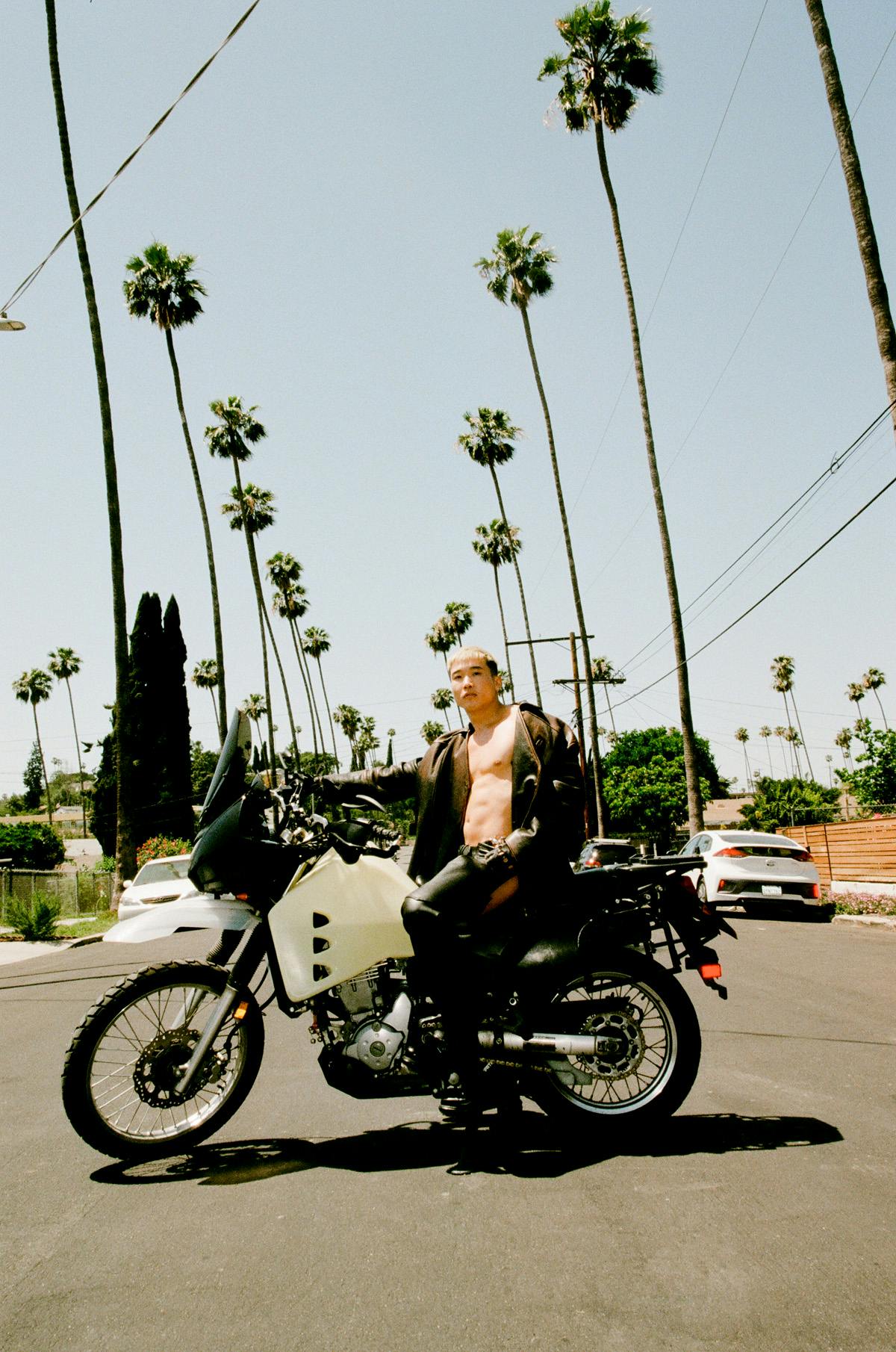 The month of June, much like Fire Island's fabled underwear parties, is going to see a lot of Joel Booster, which is pretty monumental. With the exception of nepotism babies born to Hollywood power couples, launching three major projects in film, TV, and standup on three of the leading streaming platforms in the span of a month doesn't just happen. Especially if you happen to be a gay Korean guy adopted into a white Evangelical Christian family as a child. As the saying goes, you have to grind for this view — and Booster has absolutely done the grind.
As he has joked in his early specials, Booster knew he was gay before he knew he was Asian. Born on the South Korean island of Jeju (the site of "the largest female-led rebellion in Korean history") in February 1988, he was quickly adopted and sent off to Plainfield, Illinois, a suburb on the outskirts of Chicago. For those blissfully unaware of the working of international adoption laws, South Korea was the only country in the 1980s that would fly a baby to the US. As​​ he explained to NPR in 2020, "It was like the GrubHub of babies. They would just fly a baby straight to your door. No hassles, no fees." After being GrubHubbed via express mail into the open arms of his family, Booster spent his childhood cloistered in a world of religion. One crack in this protective shell came in the form of comic books, which, looking back now, may have signaled his impending homosexuality considering he "idolized anything with a woman on the cover" – gravitating towards Wonder Woman and female Batman characters like Catwoman, Batgirl, and Poison Ivy. While comics provided a bit of refuge, Booster's youth was still overwhelmingly conservative. Homeschooled until the age of 16, his Asian heritage was less a problem than his burgeoning sexuality. In his early teenage years, his number one goal was to be a youth pastor, with the goal of repressing homosexual urges coming in a close second.
It wasn't until he switched to public school that the mental dam he'd built to hold back the gay feelings finally broke, flooding his life with new experiences. "Within a month of being in school I came out of the closet, drank for the first time, tried weed for the first time, hooked up with a guy for the first time," he recalled to Vulture in 2017. "All of this stuff was happening at once." The next year, he was outed by his parents after they read his journal describing all the men he was having sex with. His parents were not accepting, so Booster left home and couch-surfed until he moved in with a family friend. It's taken decades for the relationship with his mom to get to a good place, but Booster is at peace with where things are now. "She is wonderful, but there are a lot of parts of my life that she won't embrace," he explains. "She is who she is and I am who I am." Parts of his personal life, including his boyfriend, are embraced, but when it comes to his professional life, he points out that she doesn't need to see "my movie where there's two orgies" or hear his standup routines.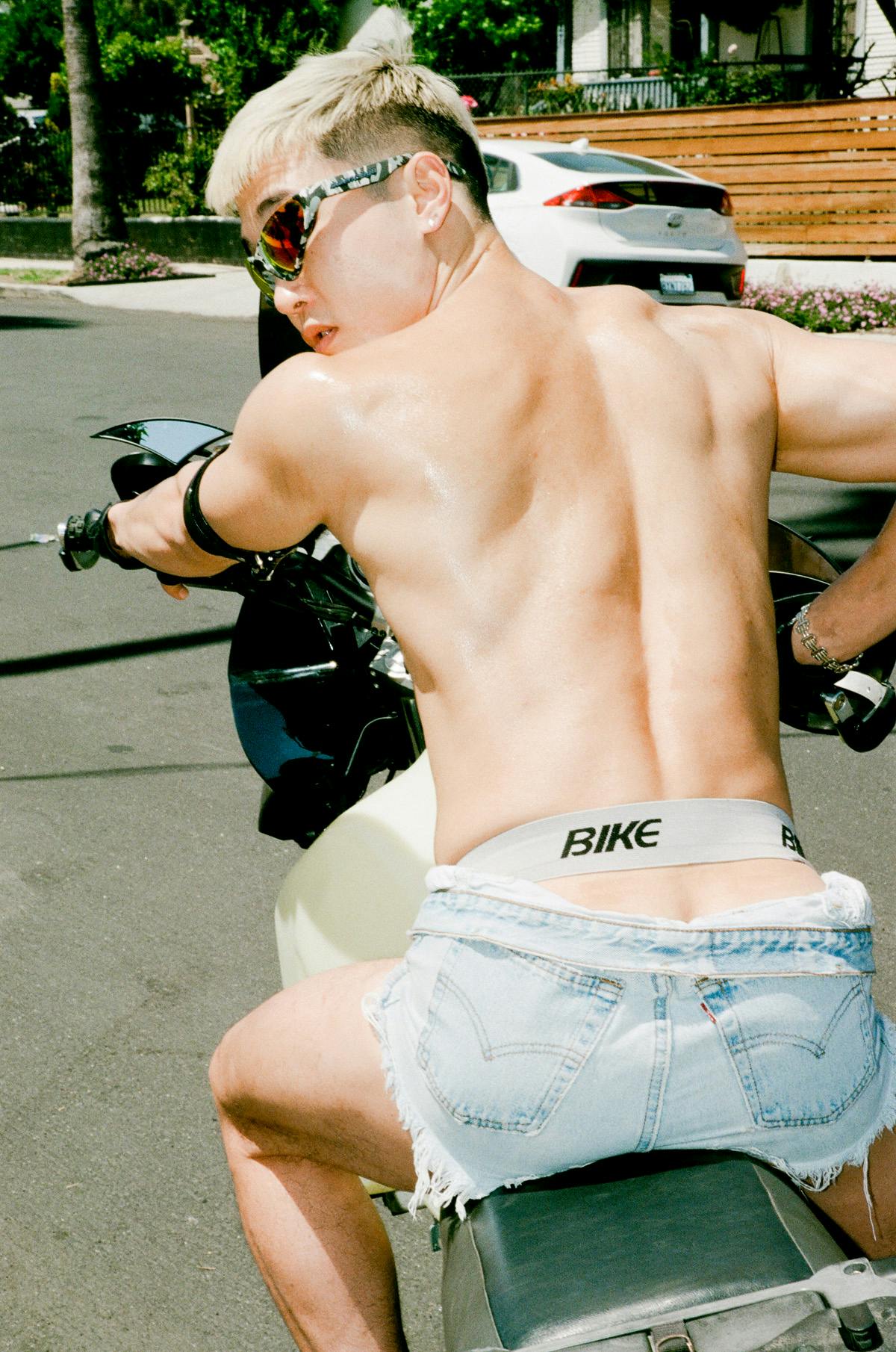 To say it was a rocky upbringing would be an understatement but, years later, Booster has done what any self-respecting artist would do: mined childhood trauma for comedic value. He also went the route of many a gay before him and studied theater at Millikin University in nearby Decatur, before moving to Chicago and settling into the city's theater scene. Working as a copywriter by day, he found roles in plays and wrote after work. By fully immersing himself in the acting community, Booster was able to also begin developing his comedic voice. In the "weird queer art spaces" that Booster frequented, he was often asked to go out before shows and do 15 minutes of standup to get the crowds warmed up for whatever experimental art show was happening that night.
For years, he avoided the city's comedy scene, but towards the end of his time in Chicago, he began to dabble in the open mic circuit, where he also found himself navigating the scene's ingrained racial bigotry as a gay, Asian comic. "Back then, there was this attitude by the powers that be, by mostly white bookers, that there was only one [Asian comic] on the lineup at a time," he recalls. "There was a lot of competition fostered amongst comics that weren't straight white guys in a very specific way of like, 'If there's only going to be one of us on the lineup, it's going to be me and I'm not going to be friends with the others that are like me, because there's just too much competition and baggage.'"
This selective attitude had been baked into the scene long before he stepped on stage, but it had also begun to crack. As Booster thinks back on this time, he recalls his friendship with another comic, Matteo Lane, who was also coming up at the same time. "We were both in Chicago doing these open mics, surrounded by grody straight guys. The conventional wisdom at the time was that we should have been rivals, but you show up in an open mic and you're the only two gay guys. After a while it's like, 'God, can't we just be friends? Because this is miserable for both of us so why compete?'"
Exacerbating the issue of competition was the fact that Chicago simply had a smaller comedy scene. While Booster did briefly play the role of Joel, the "Unpaid Asian Intern" in the YouTube web series Kam Kardashian in 2012, he found himself grinding against the limitations of the city. In 2013, a breakthrough came via a trip to New York. While there to visit friends, he spontaneously booked a string of shows. The burst of success in the comedy circuit during his brief trip inspired him to pack up and move to the city only a month later — quickly breaking out in the comedy scene. Within two years, he had performed a five-minute set on Conan that helped him to establish his searing comedic timing to an audience around the world, not just those who bravely endure New York's open mic nights. One year later, in 2017, he performed a set on the Comedy Central Stand-Up Presents series; a year after, he released his debut standup album, Model Minority.
After three years of hustling in the comedy scene, Booster began to find his footing in the TV industry in 2019. Behind the scenes, he co-produced nine episodes and wrote one episode of The Other Two's first season and acted as consulting producer on nine episodes of Big Mouth's third season. But it was his first major on-camera role playing Jun Ho on Sunnyside that finally put him in front of a national audience. It may now be known to Booster as "that flop NBC show that I did for one season," but even the floppiest, most short-lived network sitcom can be an effective launching pad. With Sunnyside came roles in Shrill, Search Party, and iCarly, effectively establishing Booster's profile in the industry.
New York wasn't just a boon for his career (though it did help); the move also knocked Booster into the orbit of someone who has become one of his closest friends and collaborators - even if it was more meet-cringe than meet-cute. On Booster's third day in the city, he ran into a comedian on the train that knew both Booster and fellow comic Bowen Yang, who was still years away from making history as Saturday Night Live's first Chinese-American cast member. "He almost immediately was like, 'Oh my god, you know who you need to meet? You need to meet Bowen Yang, because you're both gay and Asian and you're comedians,'" he recalls. "He put us on a group thread together and it was so painful. [Yang and I] were just like, 'Oh hey, awesome. We're both the same, I guess, according to this guy.'" It would take six months for the initial resentment of being put in that situation to wear off, but when they eventually met, "it was so quickly apparent that, unfortunately, he was right."
Their friendship formed fast and was aided (as many gay-on-gay friendships in New York are) by trading notes on their sex lives. "I think we had fucked three or four of the same guys at this point," Booster says with a weary laugh. "We trauma bonded over the various rice queens [aka non-Asian gays attracted to Asian gays] that we had encountered over the course of our time in New York." It was also formative for Booster on a deeper level. "He was the first gay Asian friend that I was deeply close to," he recalls. "I was coming from Chicago, so there weren't a ton of us there so it was really life-altering — feeling seen by someone in that way for the first time."
Nearly a decade later, and their friendship is not only stronger than ever, but it also forms the big, gay beating heart of Fire Island. It's fitting, given that before the script had even been written, the idea for the film was born from Booster's very first trip to Fire Island in 2016 as he rode the ferry with Yang and a cohort of other gays. During the vacation, Booster was deep into Jane Austen's Pride and Prejudice and began to connect the themes of the 1813 novel with his experience as a gay man two centuries later. After a bit of help from a tab of LSD on one of his final nights on the island, Booster got the confidence to begin making the "gay Pride and Prejudice" story that would become Fire Island.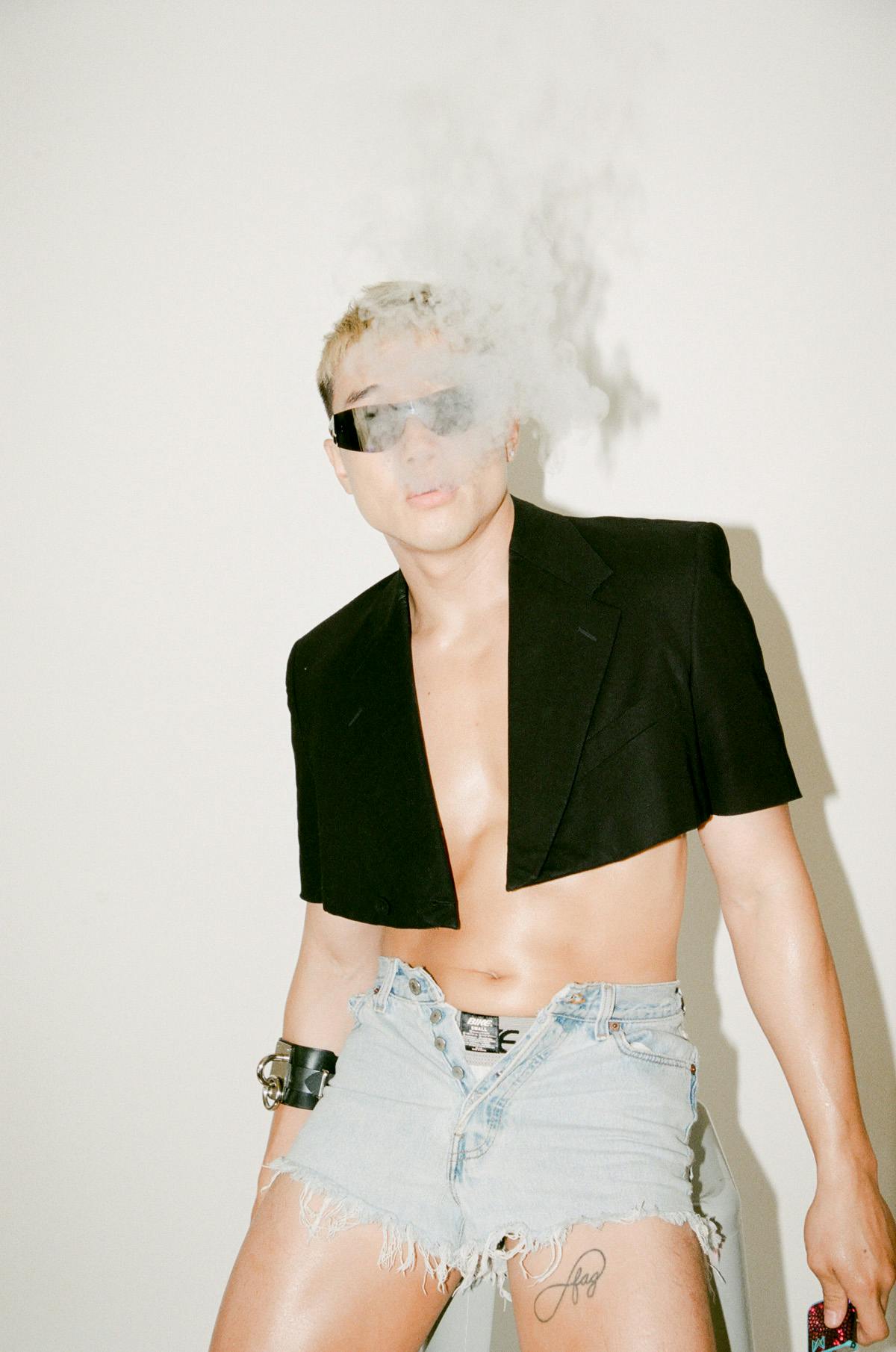 Six years later, his yassification of Jane Austen is ready for release. In the film, Booster portrays Noah (the story's Elizabeth Bennet), a take on the "hot idiot" persona that he played up in earlier standup routines — this time with an extra layer of emotional unavailability. Yang plays his best friend, Howie (the Jane of the film), who is the sort of sensitive, romantic type that chafes against the chiseled, Stepford Wives-esque mass of sex-fueled gays on the island. Directed by Spa Night's Andrew Ahn and set for release on Hulu in the US and Disney+ international, the film also includes Yang's Las Culturistas co-host Matt Rogers as Luke (aka the Lydia of the film), as well as the likes of Conrad Ricamora, James Scully, and Margaret Cho.
Getting Fire Island greenlit, filmed, and ready for release came with enough twists and turns to warrant its own miniseries. It made its debut first as a 2018 essay for Penguin Random House before being written as a television show. Around the time he finished writing a "very truncated version of the beginning of this story as a half-hour pilot," he was cast in Sunnyside and confronted with the bind of wanting to work as an actor, writer, and producer in the industry — under his contract with NBC, he wasn't able to do any film or TV work of his own. In what may be the first time this string of words has been written in history, his saving grace came in the form of Quibi. The short form streaming service made content that was "not quite TV and not quite movies," which gave Booster the loophole he needed to wiggle free of his NBC contract. Though the streaming platform spectacularly crashed and burned within the span of a year, Booster remains fond of his brief interaction with them. "I don't want to shade Quibi too much because their creative execs were really young and really excited to take a chance on things like Fire Island," he recalls. "I was relatively untested at the time — I still am. They were taking a real chance on me."
While it was Quibi's unique, "quick bite" content formula that helped Booster map out a script that was written like a movie and then split into ten parts; it was also their contracts that lured him to the service. They initially planned to give back all of the content creators made after two years. "I was always like, 'Okay, I'll do this Quibi thing, I'll take the money, and then eventually I'll sell it to somebody else.'" The issue was that Quibi never lasted two years, so instead, all of the content from the smoldering rubble of its implosion was pawned off to Roku. Luckily, nothing was filmed before Quibi crashed so the IP was safe, but coming so close to making Fire Island a reality only to have it pulled away by circumstances beyond his control hurt. Booster "was devastated" but had his spirits lifted by production partner Jax Media, who helped him land the project with Fox Searchlight and Hulu soon afterward.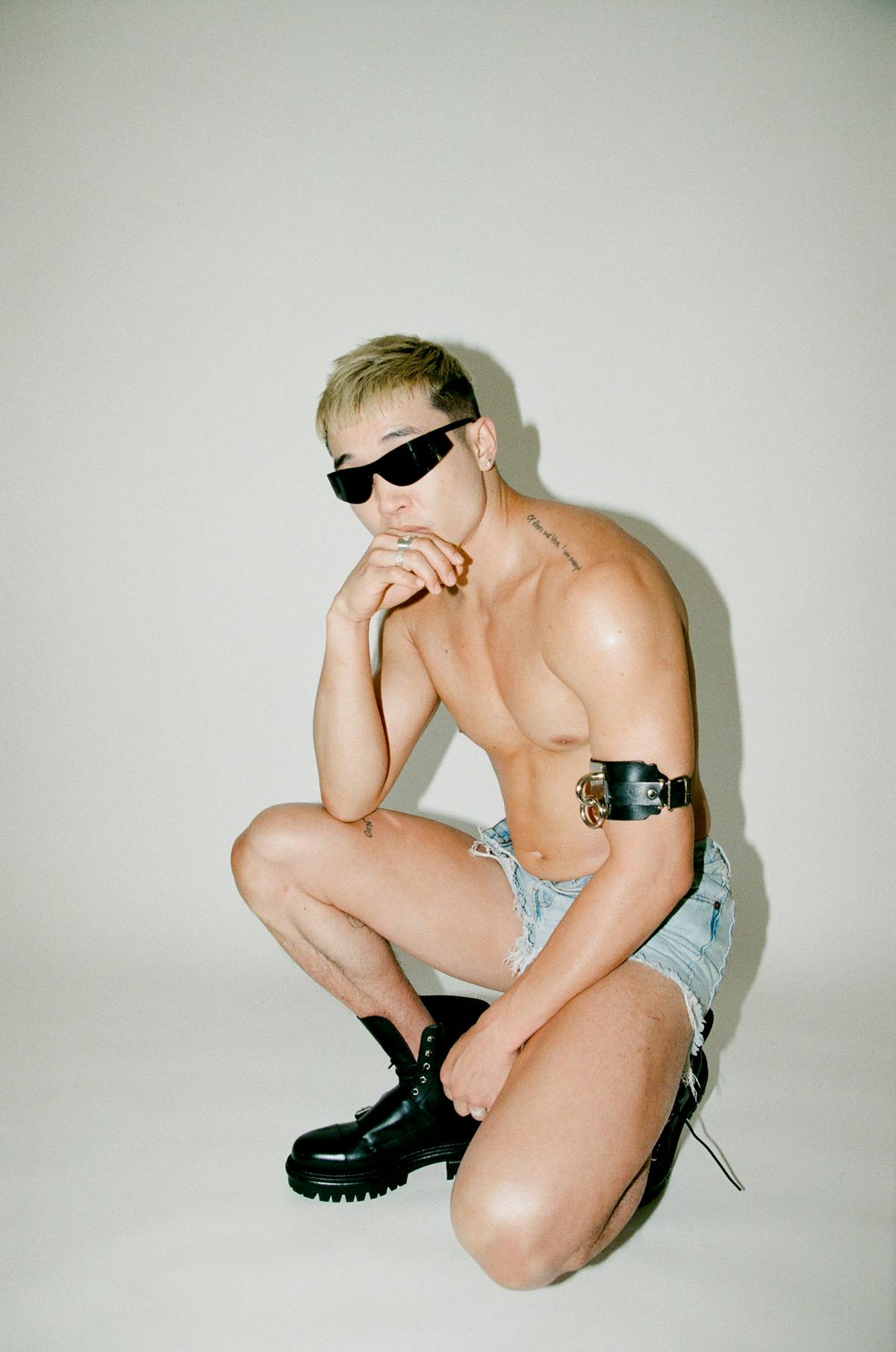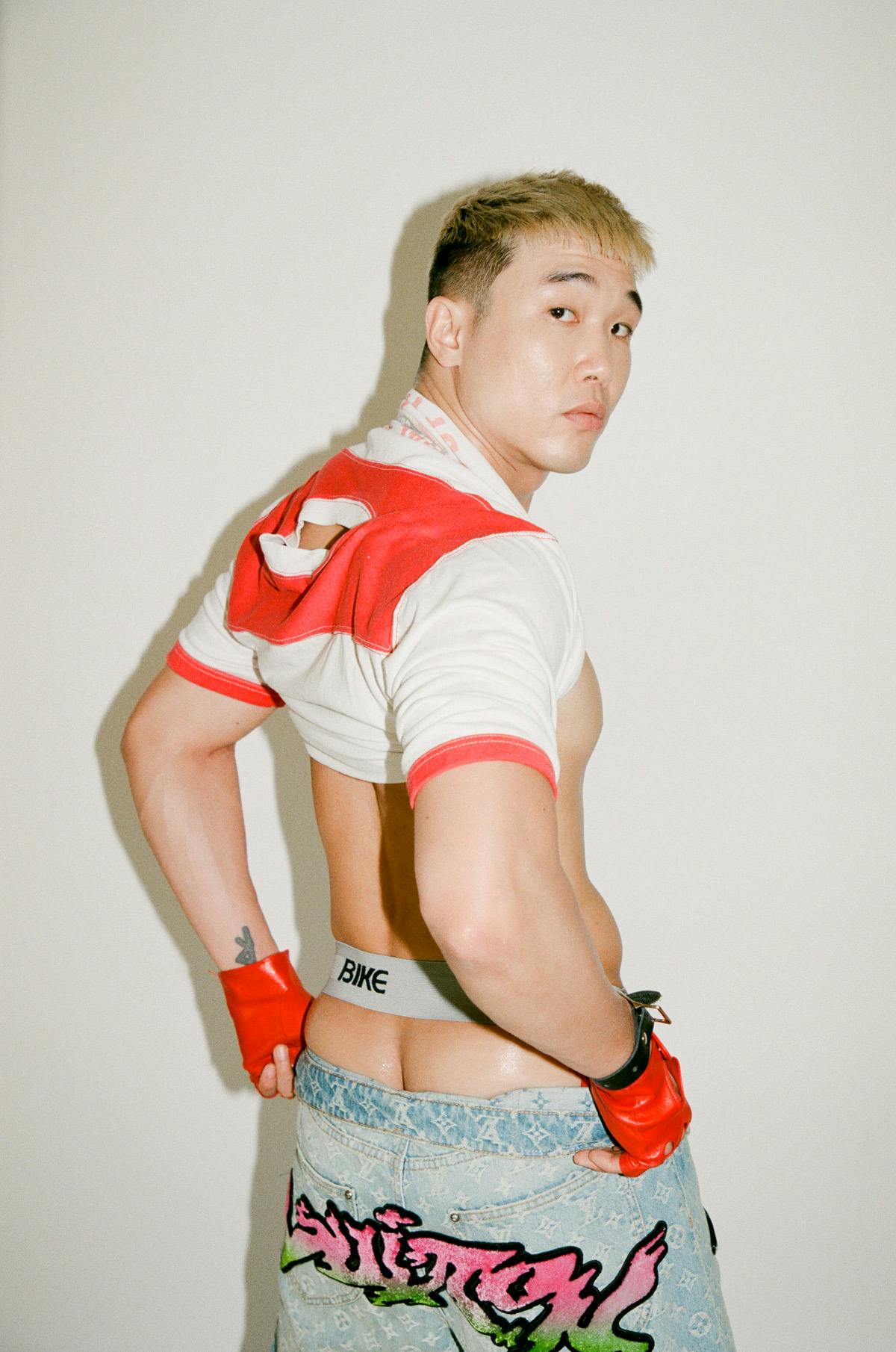 The film was both a love letter to Booster's experiences on the island and a means to show that gay stories don't always need to be tragedy porn. "Some of the happiest moments of my life have been on that island with Bowen and with our friends that go out there. I say it in the movie, but it really was a week out of the year where we got to go and be gay and stupid without the eyes of straight people on us. I really wanted to be able to capture that in some way without anyone dying, without anyone doing hate crimes, without anyone coming out, without anyone realizing their sexuality, or anything like that," he explains. "It was really important to me, because in the media especially, we just don't see a lot of gay people just getting to be unabashedly happy. It's important to show that it is a big part of our lives. It's not all just tears and trauma."
Filming on location at the island also meant that, during production, the cast would retire to a house on Fire Island after each day of filming. It's these strong bonds that lift up the film and grant it an authenticity that is missing from many other recent rom coms. But for Booster, the production also came with a heavy dose of stress. Beyond the pressure of being the star, writer, and executive producer, Booster also worried about the reaction from the gay community. "There's a lot of pressure making a gay project like this because we, as queer people, tend to be way more critical of media that is for us than anybody else. There's only so many things that are made for us every year, and when the powers that be put it in front of us and say, 'This is for you, you must like this,' it immediately makes you go, 'Wait a minute,' and then scrutinize it a little bit harder." On set, he recalls constantly spiraling as people told him, "This is the first big studio rom-com with an all-gay cast. This is going to be huge. This is going to be groundbreaking."
Despite the stresses that came with creating new work in the content desert that is queer media, he took inspiration from modern creative auteurs like Issa Rae, Phoebe Waller-Bridge. Lena Dunham, and Michaela Coel. "All of them have brought about their singular vision; that has always been what I've wanted to do in my career," he explains. "I've had an opportunity to write for other people. I've had an opportunity to act. This has been the culmination of all those skills coming together into one project, and I hope to be able to continue to do that."
With Fire Island ready to be released (and subsequently micro analyzed by Gay Twitter), Booster is taking time to contemplate his next move. In the meantime, he can always be found in a comedy club honing some jokes. "Standup has always been my refuge from the structure of the industry. With acting and writing, there's a lot of hands in the kitchen. There are a lot of people dictating how you create that art," he explains. "Standup is so freeing because it's just me and my notepad. It is a really wonderful getaway from the rigidity of Hollywood. I appreciate being able to fall back on that."
Booster jokes that he'll do standup "until I'm rich enough that I no longer relate to anyone and I will have the good sense to quit." It's hard not to hope that this doesn't happen, because a comedy scene without Booster would be a huge loss. With his big Netflix standup special only a few weeks away, the spotlight on the star will only get brighter — but don't expect the special to be an Intro to Booster 101 course. "I've mastered the art of creating new jokes that get people up to speed, but I'm not super interested in going back to the hyper autobiographical material now. I've done it and I've left it behind." While his new material will still draw on his own experiences, he expects his audience to have done the required reading. "Most of the people that come to my shows know that I'm adopted, know that I grew up sheltered. All those things are running in the background now while I'm talking about Burning Man and why I don't think gay men should be therapists."
While Booster has been breaking down barrier after barrier for gay, Asian representation on and off the standup stage, there's still work to be done. There always will be. "I'm looking forward to a day where I can walk out on stage and not feel like I have to mention it at all or set up that context at all. I can just be an individual, a person, or a gay guy, or whatever, and not have to worry about it." For Booster, the obstacles within the industry are challenges, not roadblocks. He'll continue to fight for representation, enlisting friends to gay up classic literature or cracking jokes on stage until it isn't groundbreaking to see gay, Asian people exist outside of stereotypes on screen. Like watching a sunrise on Fire Island with all your friends after an underwear party, there's a beauty in taking a breath, enjoying how far you've come, and not worrying about what comes next.