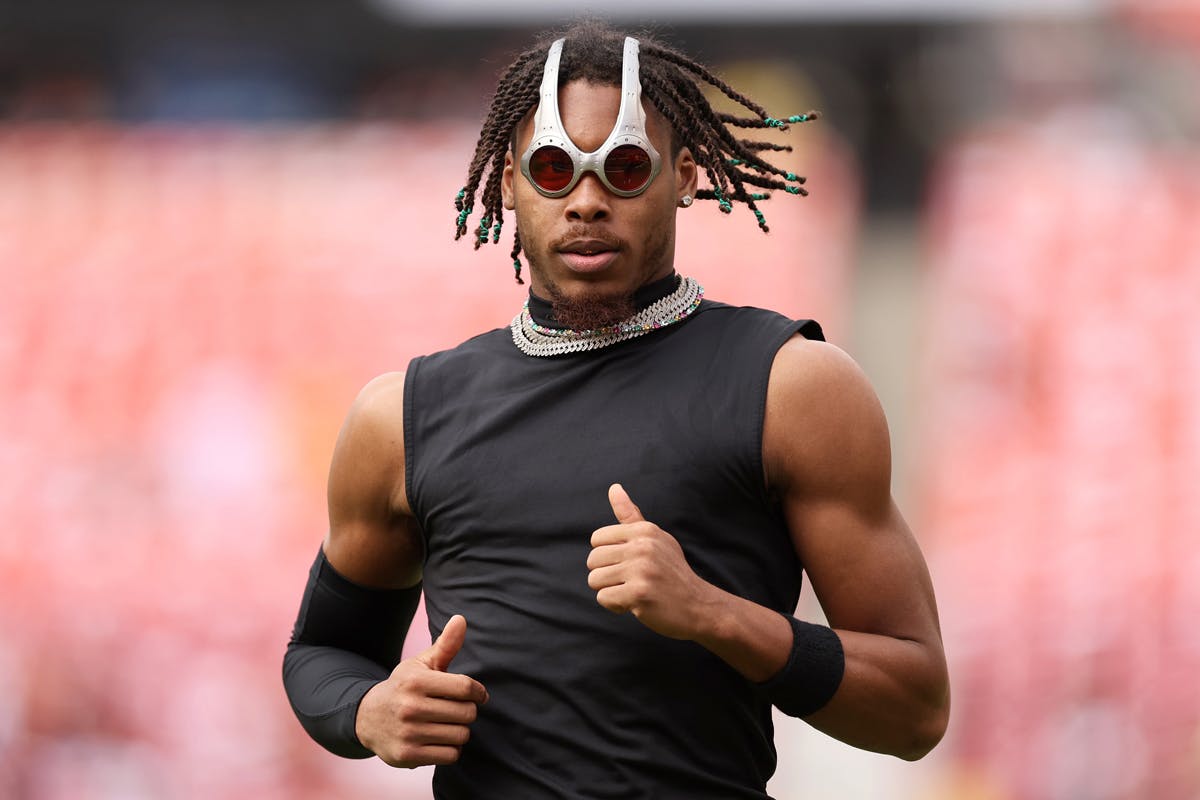 Now, I'm not big on sports, but I've found myself tuning into sporting events more and more in the past years — not for the game, but for the fashion.
League players, specifically from the NBA and NFL, have turned their game-day arrivals into fashion shows, resulting in the good, the bad, and just plain wild moments of pregame style (remember Kyle Kuzma's XXL long-sleeve Raf Simons sweater?).
Vikings wide receiver Justin Jefferson got in game mode for the Vikings v. Commanders game, wearing Oakley's arguably wildest glasses ever.
Specifically, Jefferson sported Oakley's OVERTHETOP sunglasses, a futuristic silhouette whose frames go around the top of the wearer's head versus the back of the ears.
It's no wonder unconventional style icons like Dennis Rodman, Flava Flav, and André 3000 were fans. No Sesso founders are even admirers of the distinctive design.
The OVERTHETOP sunglasses made their debut back in 2000 at the Sydney Summer Olympics — as worn by four-time gold medalist and track star Ato Boldon — followed by a comeback in 2020.
In addition to wears by famed figures, the Oakley sunglasses garnered attention after appearing in Spy Kids 3: Game Over, hence its nickname, the "Spy Kids" glasses.
Though the Oakley glasses were a part of Arnold's look in the film, I would've enjoyed seeing Juni sport the frames to uphold his character's sunglasses legacy.
Much like the popular kids' film, it was game over for the Commanders, who lost to Jefferson's team on Sunday, November 6.
Jefferson prepped for the game in those Oakley sunglasses, ice around his neck, and a mouth full of gold grills. Though he frequently sports the brand's eyewear on the field, he looked cool and ready for a win on Sunday. Mission accomplished.
Shop our favorite products