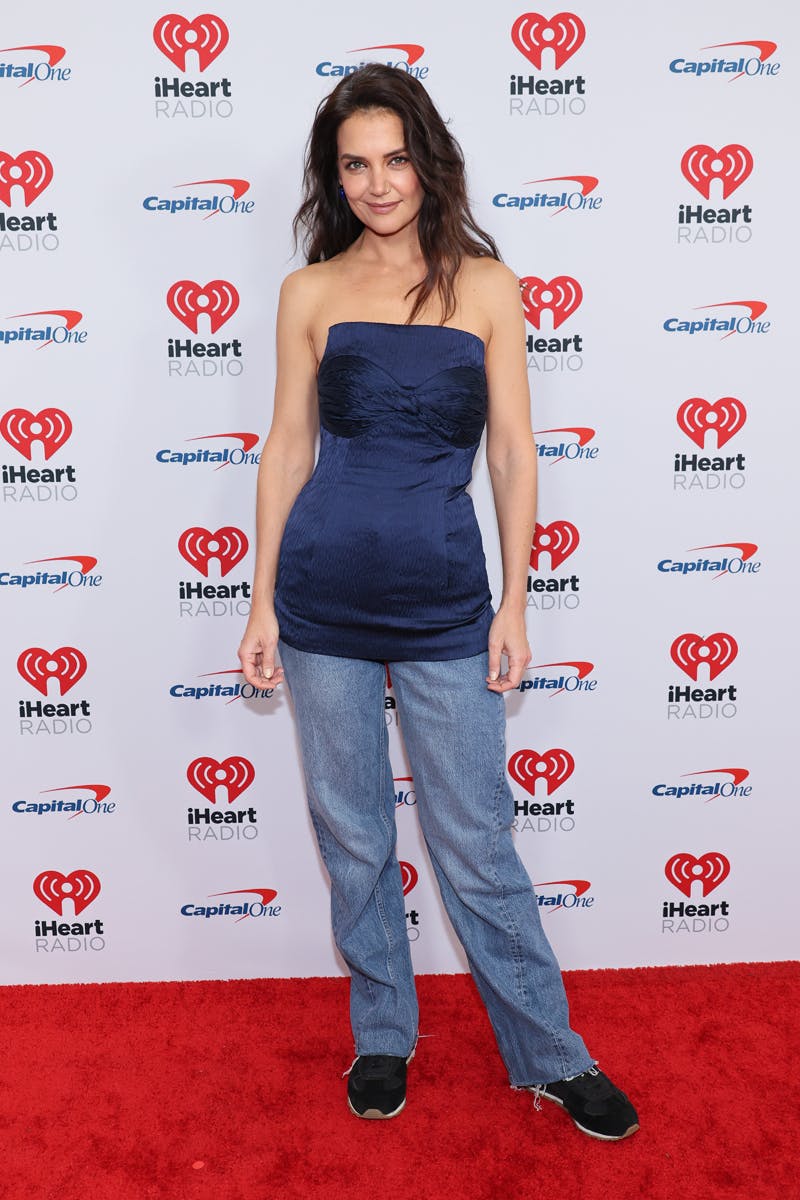 No, this Katie Holmes photo isn't from 2002. It was taken on December 9...2022.
For iHeartRadio's 2022 Jingle Ball, Katie Holmes wore an outfit that oozed the wild energy of the aughts: a sleeveless silk TOVE top worn over baggy jeans, topped off with a pair of plain black runners.
You guys want Y2K so badly? Well, Holmes is giving it to us — in all its chaotic glory.
Holmes' ensemble feels like one of those "all of a sudden, it's 2006" moments. It definitely made me check my phone for the date, as the actress' look could easily pass the era's vibe check.
Indeed, she'd surely fit in amongst the 00s crowd of teen stars like Selena Gomez and Ashley Tisdale, who famously served style moments in mini dresses or tunics layered over trousers — and even more unhinged combos like the infamous skirt-pants.
Holmes wasn't the only one dressed down — or Zoom-ready, as the internet is calling her look — for iHeartRadio's Jingle Ball event. While Dua Lipa and Zoey Deutch went the typical route of glamorous gowns, faces like Dove Cameron and Lauren-Spencer-Smith embraced the baggy and casual.
Meanwhile, Kid LAROI took the laidback spirit up a notch with the school loner ensemble: double jackets, jeans, a tee, and a fur trapper hat.
Equally chaotic today as it was in the early 2000s, Holmes' look truly nails the Y2K craze. And for that, I can't be mad at it. It's iconic!
Forget the cute micro min skirts, butterfly tops, and velour tracksuits. Bring on the skants and gauchos energy.