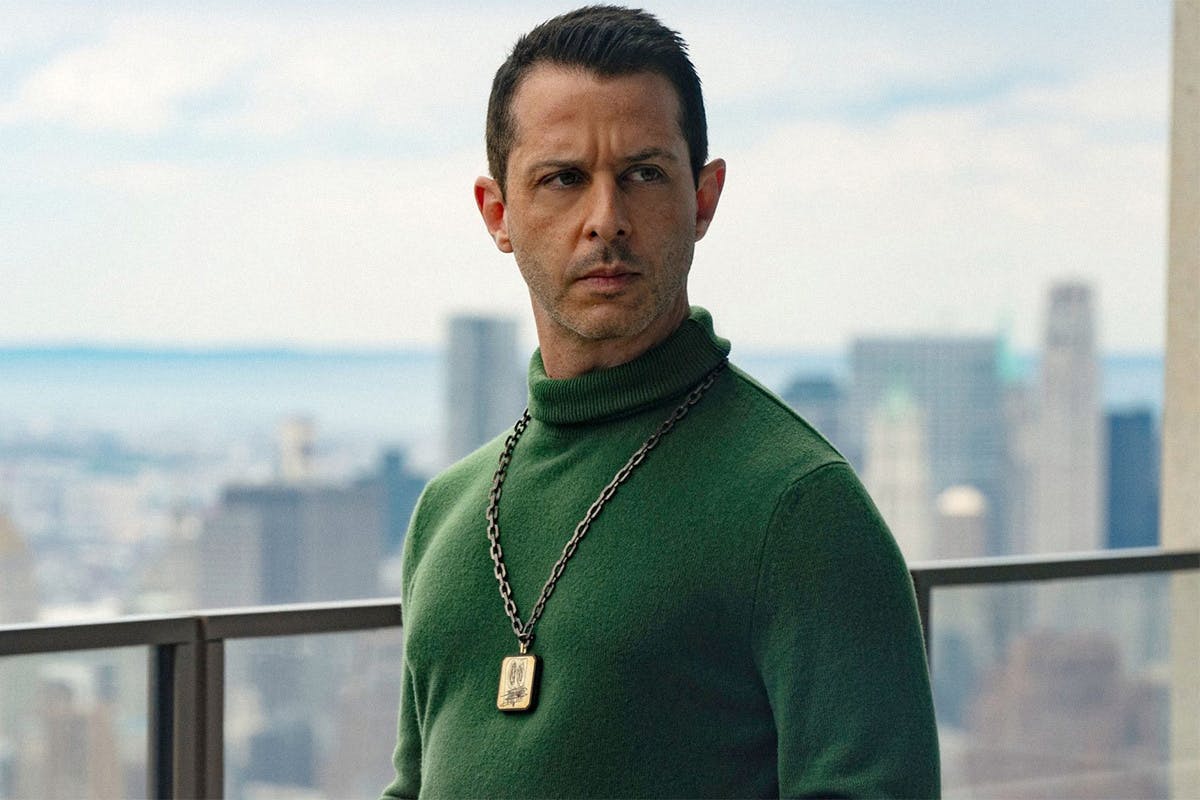 During Sunday's intense season finale of HBO's popular drama Succession, an unlikely source of fashion inspiration once again came courtesy of Kendall Roy.
After showing up at his mother's Tuscan wedding with a freshly shaved head, Kendall sat down with his siblings for an emotional talk that's been dubbed the "intervention scene" by Twitter. As Kendall passionately opened up to his ultra-competitive siblings, one thing stood out. It was an oversized chain created by LIZWORKS and Rashid Johnson.
Worn on top of a simple gray t-shirt and matched with a pair of bulky black sunglasses, the large jewelry design took center stage. While his previous try-hard attempts at creating a fashion-forward look have fallen flat, there was something different about this outfit.
At a time when Adam Sandler is the top trending celebrity style star of 2021, maybe our postmodern love of an ironic style icon has extended to Kendall's over-the-top fits. Or perhaps he actually just looked good.
Limited to just 15 pieces and retailing at $15,500, the limited-edition piece of jewelry is what elevated Kendall's look. Etched into the large 9kt gold pendant is a face that comes from Johnson's Anxious Men series.
The portraits have woven themselves into the work of the multi-faceted artist since 2015 as the American artist continues to tackle themes of African American life and politics.
This isn't the first time Kendall has worn this chain. In the "Too Much Birthday" episode, where Kendall had us all staring at his Gucci jacket from 2017, it was worn over a green turtleneck jumper.
The unlikely grails and ultra-rare items that the middle-aged tech mogul manages to find himself in have officially caught our attention.
In fact, real-life Kendall Roy, aka Jeremy Strong, is also a fan of this chain. The design is taken from his personal wardrobe and is something he wore to the premiere of the latest season of Succession.
In a recent New Yorker profile of the actor, it was clear that the lines between Strong and Kendall have become blurred, with the actor wearing his character's jacket off-set.
A type of method acting done through clothing, the introduction of his chain has helped make Kendall's style a guilty pleasure of ours.
Items from the collection, including Kendall's preferred necklace, are still available. Check out some LIZWORKS x Rashid Johnson jewelry below.