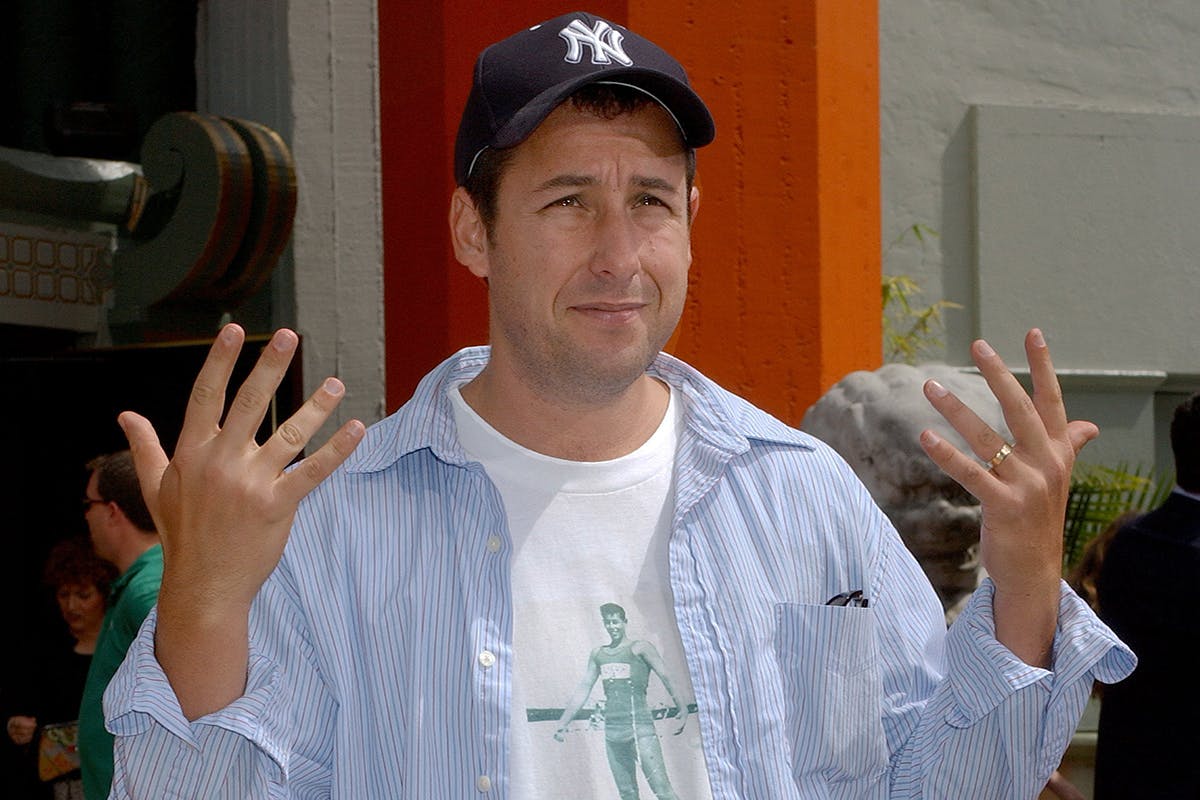 It's official: Adam Sandler is a style icon.
The actor has been named the top trending celebrity style star of 2021 according to Google search data, beating the likes of Harry Styles and Doja Cat. The aughts revival is in full force and can be found everywhere from luxury fashion shows to Supreme's Tiffany collaboration, and Sandler's carefree, baggy style encapsulates the era perfectly. His uniform of oversized basketball shorts, complemented with an equally huge top, and a pair of colorful basketball sneakers is the ultimate Y2K uniform.
However, it is his indifference to fashion that makes the 56-year-old a true icon. There have been numerous premieres and red carpet events where you can immediately recognize Sandler sporting his usual casual attire, surrounded by a swarm of suave suits. Most famously, his choice of footwear for the premiere of Evan Almighty was a pair of slippers.
Rick Owens reportedly once said: "the coolest thing is when you don't care about being cool anymore. Indifference is the greatest aphrodisiac — that's what really sums up style for me." I guess that makes us thirsty for Adam Sandler.
This is only confirming what Tik Tok has been saying for some time. Style-conscious users on the video-sharing platform have been obsessing over the Uncut Gems star's unorthodox fashion tastes and creating their own versions of his outfits. And it isn't just TikTok. Last year Pete Davidson, whose street style has made him the world's most eligible bachelor, revealed that Adam Sandler was his "favorite fashion icon," and we have a theory that he is the inspiration for some of Bieber's recent outfits. 
If you want to join in and get some fashion inspiration from the celebrity style star of the year, check out a selection of Sandler's best looks below. Of course, we have put our own twist on the looks through our shopping suggestions and have brought you some luxury alternatives where possible.
Classic Sandler
This is the trademark Sandler uniform. Without a care for traditional proportions, the actor's oversized, slouched blue basketball shorts finish way below his knee while a contrasting red t-shirt swallows him whole.
Smart casual
Probably the most wearable of the looks selected, this outfit from 2005 is from Sandler's hand and footprint ceremony at the Mann Chinese Theater on Hollywood Boulevard, where he joined a host of famous names in leaving their mark in the concrete in front of the building. While most people wore a suit for the occasion, Sandler dressed up well from his usual uniform.
Uggs and shorts
While we have all proven to be partial to Sandler's early-2000s fits, his attitude to dressing has remained constant since then. Ugg boots have become a new favorite of the actor as he continues to prioritize comfort and, in this outfit from earlier in the year, he paired them with his signature baggy shorts.
Colour clashing
Turning up at The Late Show with David Letterman in 2008, this colorful outfit shows a different side to Sandler than oversized tops and shorts.
Want to keep browsing? Head to the Highsnobiety Shop for more products that we love. Highsnobiety has affiliate marketing partnerships, which means we may receive a commission from your purchase.