 I love me some Adam Sandler. Not his movies, necessarily, but just his vibe in general. No one looks more at ease on the runway in huge shorts, which I very much admire as a fellow big pants wearer.
However, even I was pretty surprised to see that he topped Google's 2021 Year in Search list for celebrity outfits.
Sandler beat out contemporaries like Britney Spears, Cher, Doja Cat, Harry Styles, Lizzo, Aaliyah, and Melania Trump (blech) to clinch the top spot, though I'm not entirely certain why.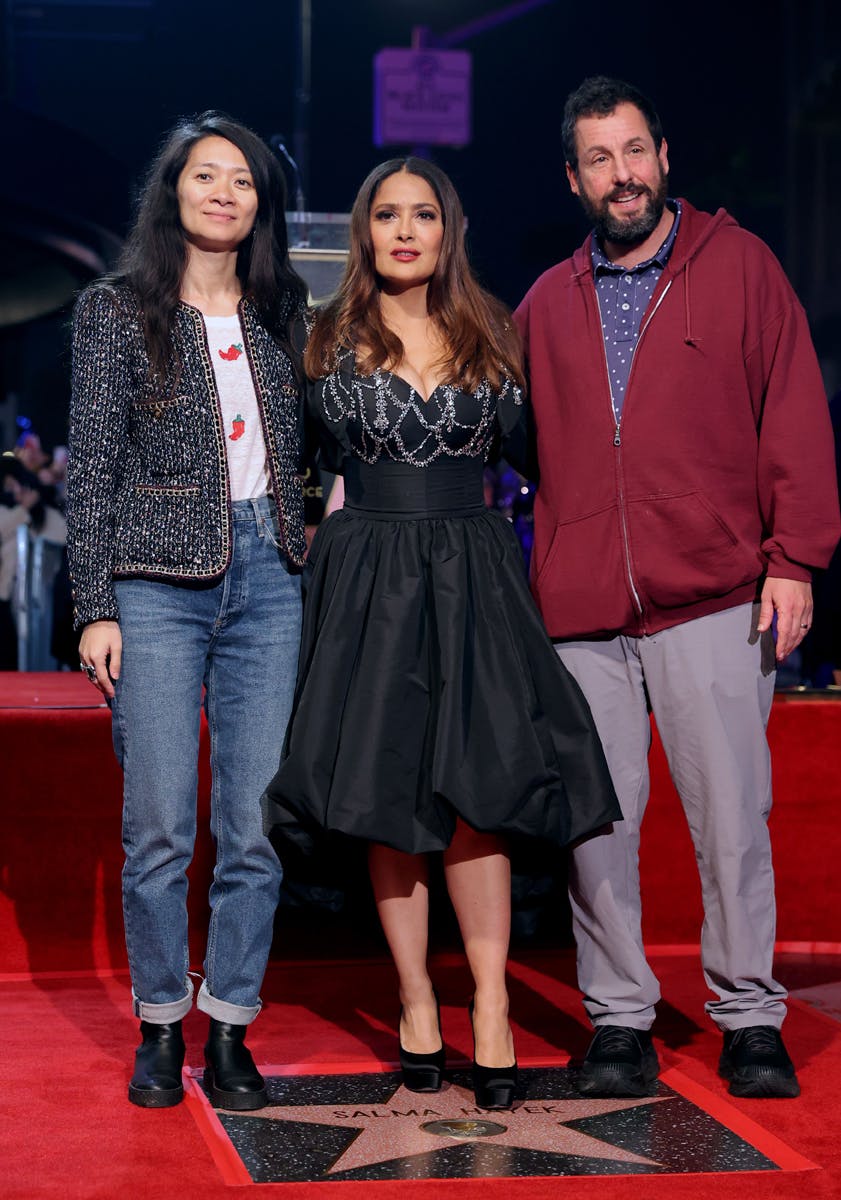 It's odd because Sandler didn't have any new movies come out this year — as an actor or producer — though he did make some public appearances. The last time I heard of his outfits triggering search results was back in 2019 when he activated his swag for Uncut Gems.
Not that long ago, to be sure, but anything pre-pandemic feels like a lifetime.
Either way, I'm glad to see my man get some shine from the general public — I choose to assume that everyone is researching his outfits because, like me, they think he looks cool (he does).
Even if you hate the schlubby style that Sandler usually affects with those baggy graphic tees and knee-length shorts, you've gotta admit that he has a certain unaffected je ne sais quoi that most other celebs try so hard to display.
I mean, just check him out on the red carpet, standing around in gym shorts while surrounded by made-up folks posing their hardest. I love it!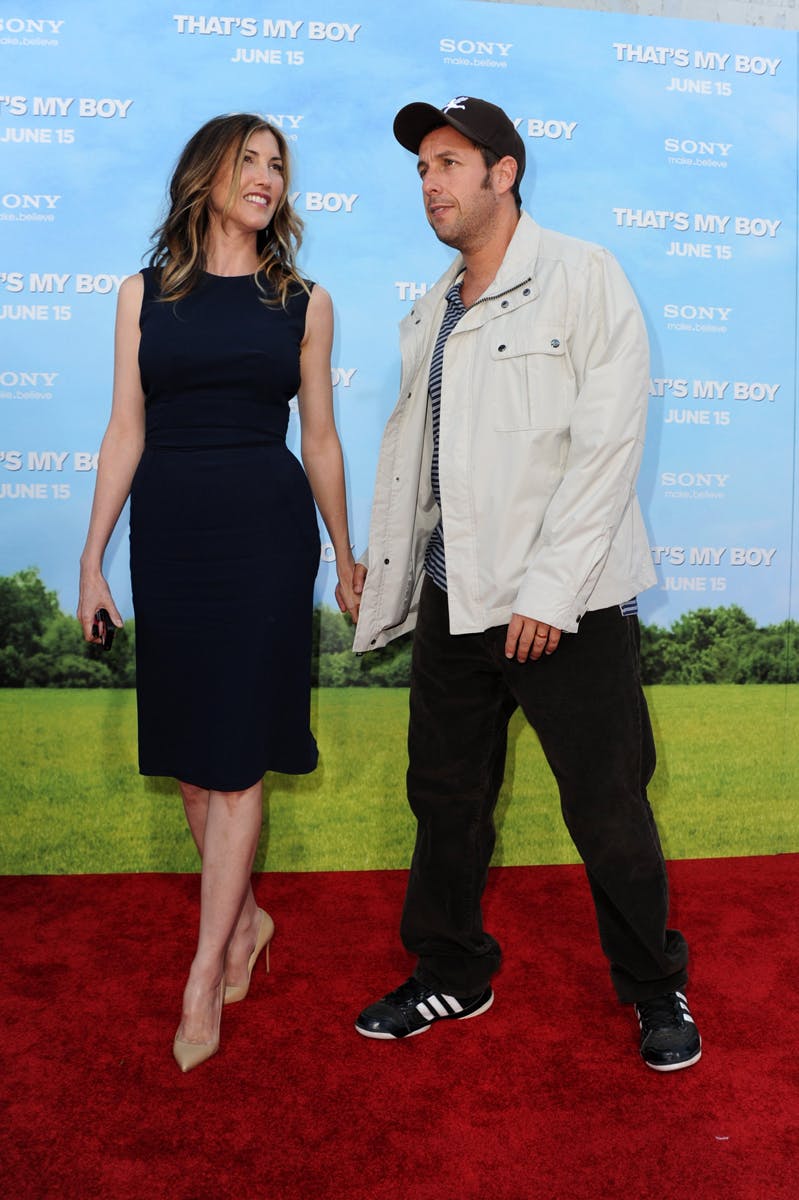 Sandler's a multi-millionaire many times over but he still dresses like a high schooler who wears his older brother's hand-me-downs and I appreciate that.
He clearly has no interest in appealing to typical "best-dressed" standards, a lesson in indifference that I still yearn to learn. Heck, we could all stand to take a step back and stop caring about our appearances so much.
This, to me, is powerful. Gym shorts and fuzzy slippers on the red carpet? Go on!
Velour'd out in retro Fila for the premiere of Uncut Gems, Sandler is cozy AF while his co-stars remain buttoned up.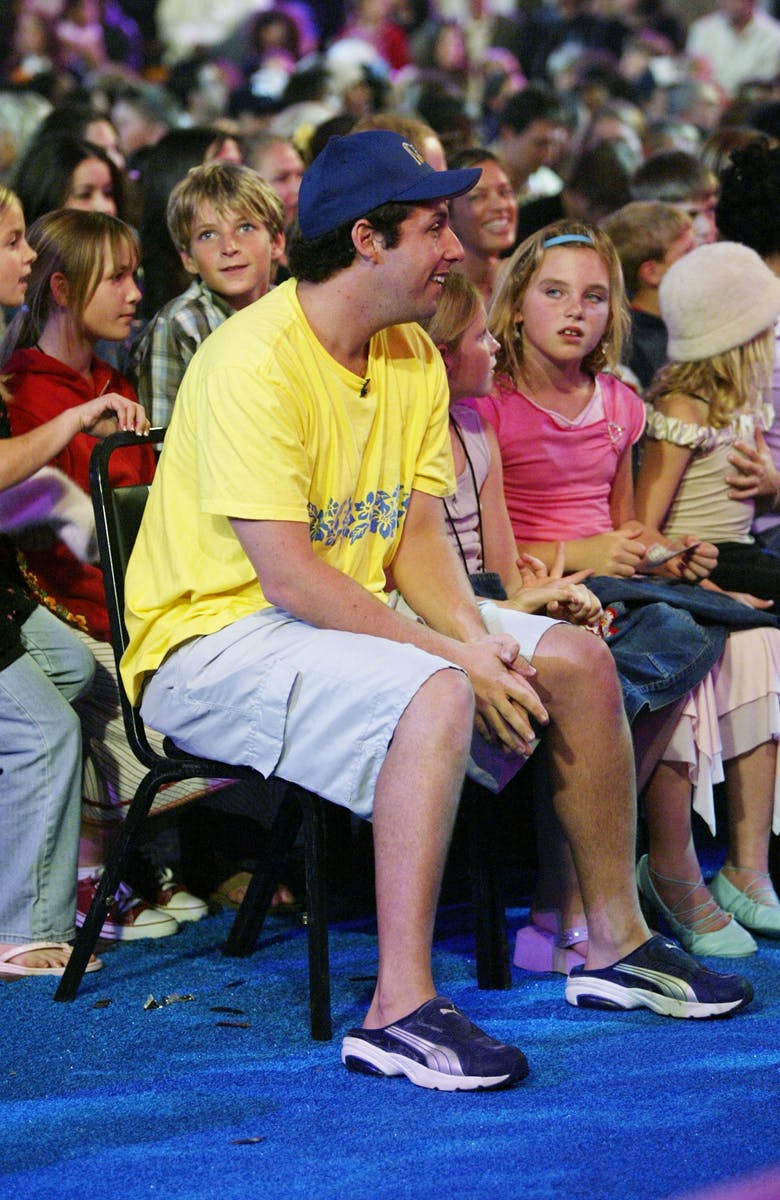 Hello, @muleboyz?
Here's some old school Sandler for you. Not only are we getting into the big shorts, but we've got a sick pair of PUMA mules as rare as they are cozy.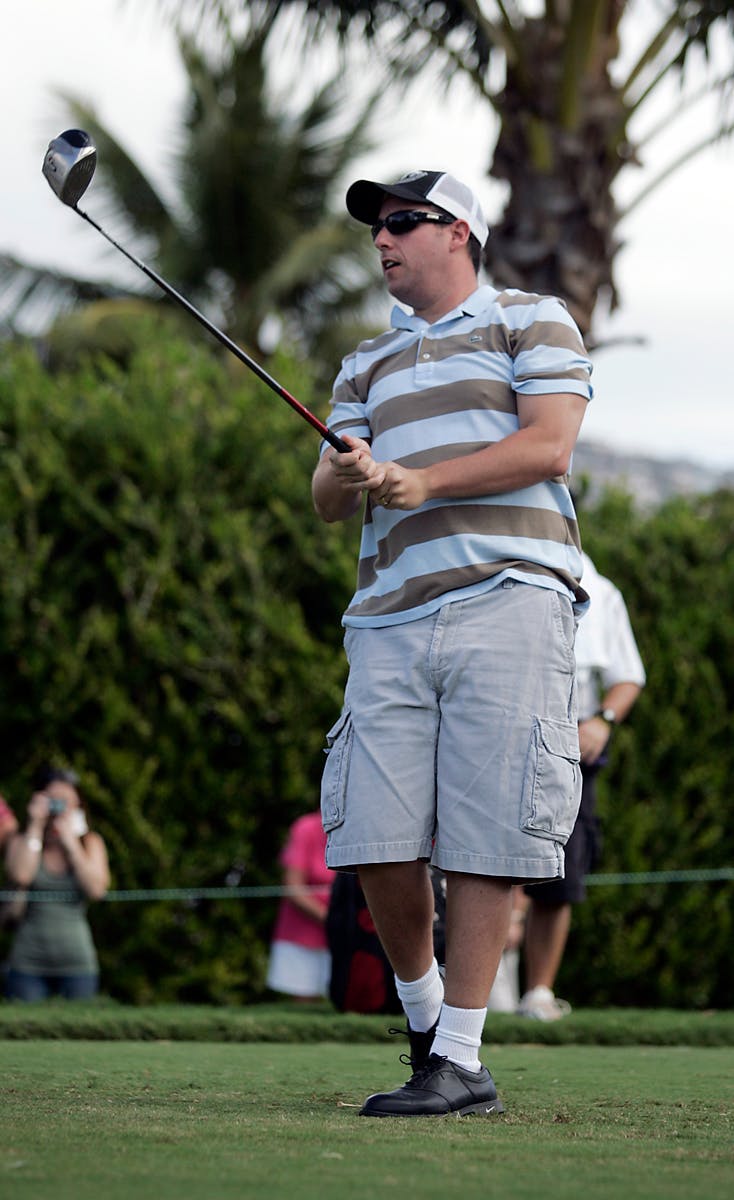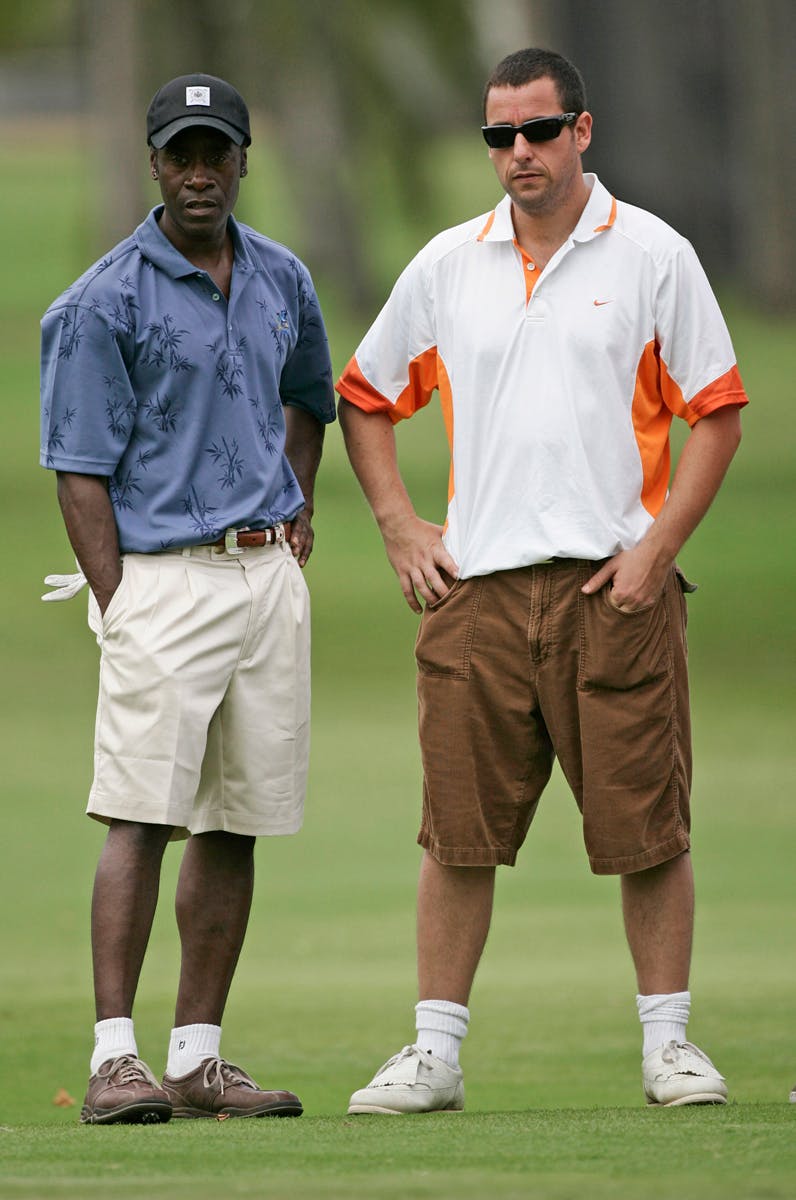 Sandler, an avid golfer, rarely misses a chance to let his legs breathe on the links. Of course, his legs are still mostly covered by those giant cargo joints but don't these billowing bottoms look dapper with those wraparound shades and tassled golf shoes?.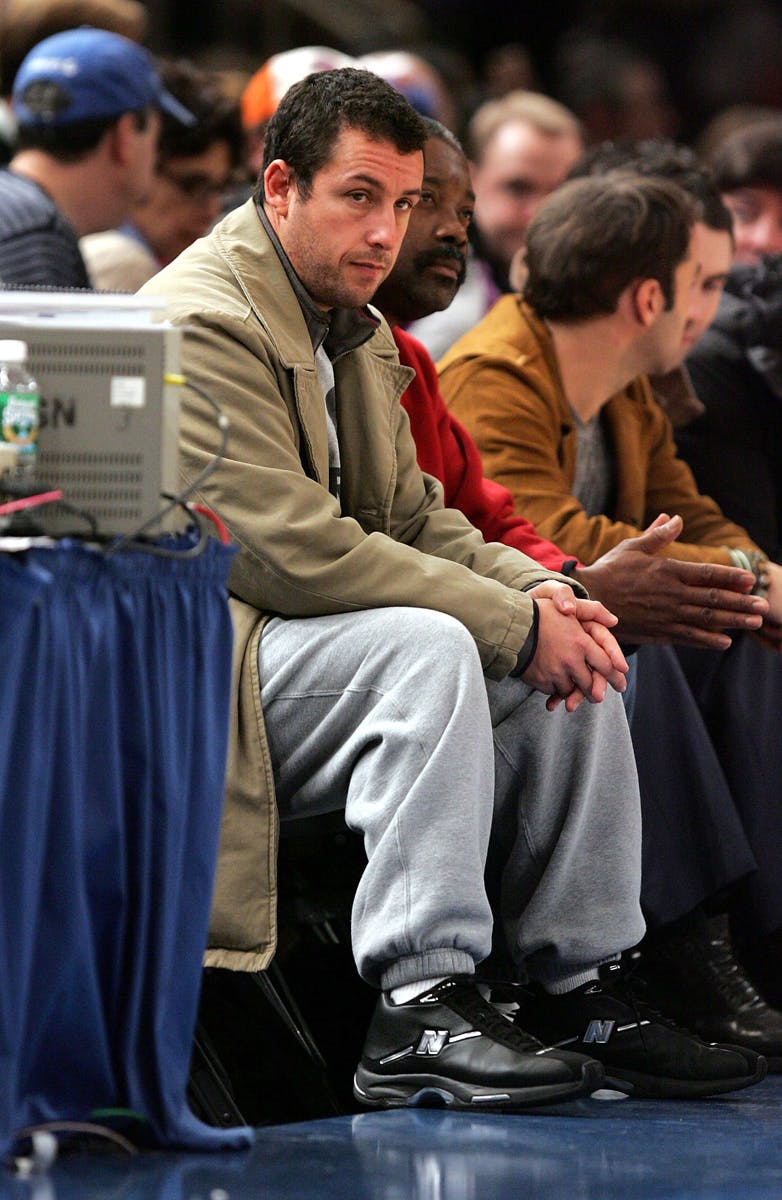 Sitting courtside to catch the Knicks take on the Jazz, Sandler is dressed like a true New Yawker with his crumpled cotton overcoat, zippered fleece, sweats, and some ultra-rare New Balance basketball kicks.
Slap an Aimé Leon Dore logo on those bad boys and you'd have the makings of a legendary NB ad.
Nowadays, Sandler cleans up pretty good. Nothing wrong with a little pomp and circumstance when the occasion calls for it.
Standing next to his fellow Grown Ups, Sandler steps up with another graphic tee, enormous cargo shorts and worn-in 992s — this is at least a half-dozen years before New Balance's chunky dad shoe was ever considered "cool."
Notice Kevin Smith trying to keep it comparably casual with his adidas track jacket but, like the rest of us, The Sandman puts 'em to bed.