This article was published on December 8, 2021, and updated on December 7, 2022
I love me Adam Sandler. Not even all of his movies, necessarily, but just the Sandler aesthetic, if you will. For instance, No one looks more at ease on the runway in huge shorts — as a fellow big pants enjoyer, I must doff my cap.
However, even as a casual Sandler stan, I was pretty surprised to see that he topped both Google's 2021 AND 2022 Year in Search lists for celebrity outfits.
In 2021, Sandler beat out stylish folks like Lizzo and Harry Styles and in 2022, he bested Snoop Dogg, Bad Bunny, and Amber Heard.
That's some pretty stiff competition and yet, for the second year running, The Sandman put 'em all to bed.
There are more Googled-for celebrities and folks with more searches about their makeup and hair but, as far as the fashion goes, everyone wanted to see what Sandler was wearing.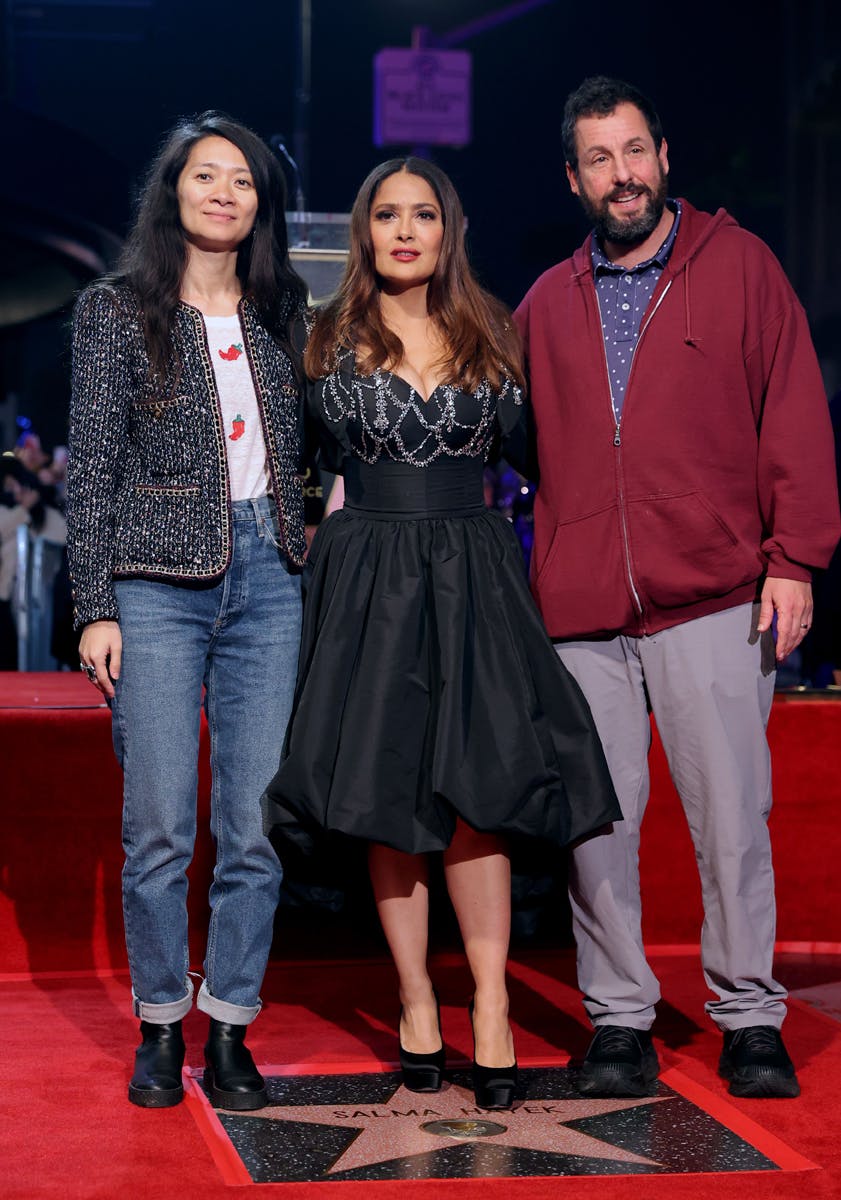 It's funny because Sandler has hardly tried at all this year, between his giant basketball shorts and Off-White™ sweatpants he wore to the premiere of Hustle. Perhaps that's the point, though.
The last time I heard of his outfits triggering search results was back in 2019 when he went full Diamond District for Uncut Gems (co-star Julia Fox was another major Google traffic-driver this year) but maybe everyone's just vibing with his DGAF attitude in 2022.
Indeed, even if you hate Adam Sandler's signature schlubby style, you've gotta admit that he consistently nails a certain unaffected je ne sais quoi that most other celebs can only try to display.
I mean, just check him out on the red carpet standing around in gym shorts surrounded by made-up folks posing their hardest. It speaks for itself.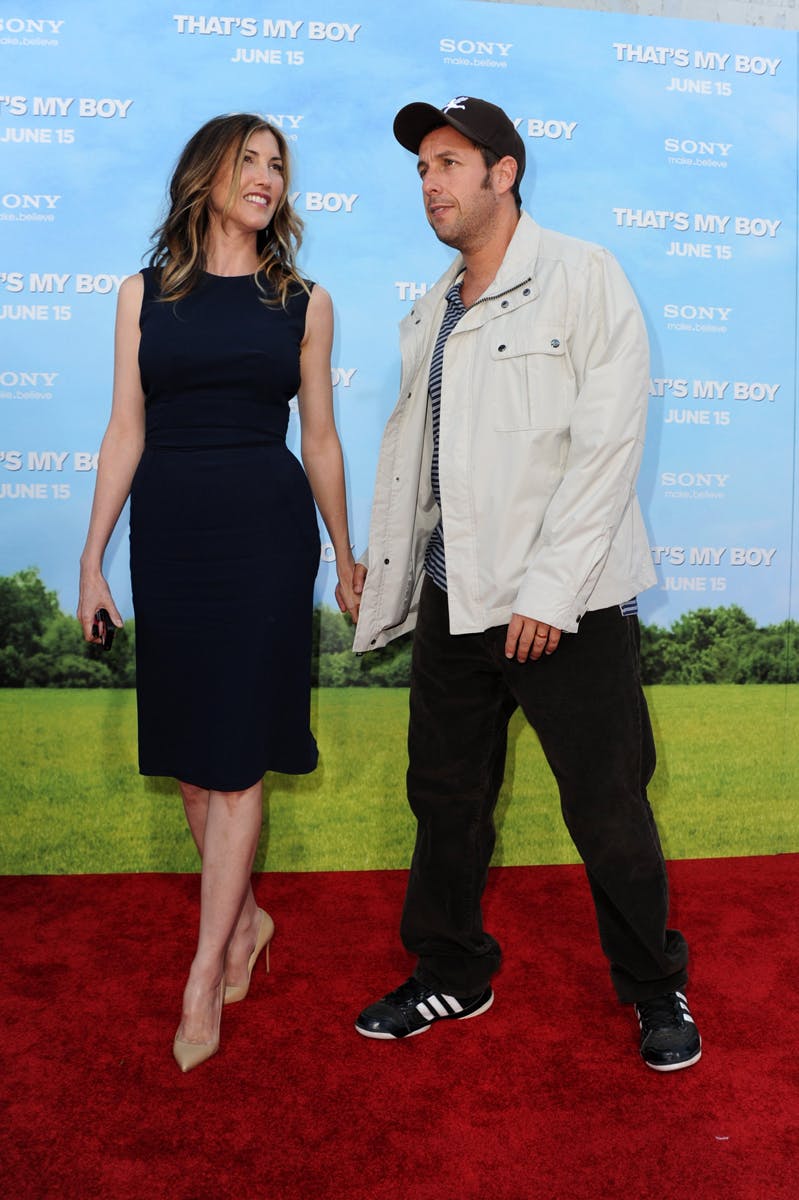 Sandler's a multi-millionaire many times over but that he still dresses like a high schooler who wears his older brother's hand-me-downs is a thing of beauty.
It's a lesson in indifference that we could all stand to learn, truly aspirational stuff.
I salute you, my frumpy king.
This, to me, is power epitomized. Gym shorts and fuzzy slippers on the red carpet, what else to say?
Velour'd out in retro Fila at the premiere of Uncut Gems, Adam Sandler is clearly far cozier than his buttoned up co-stars.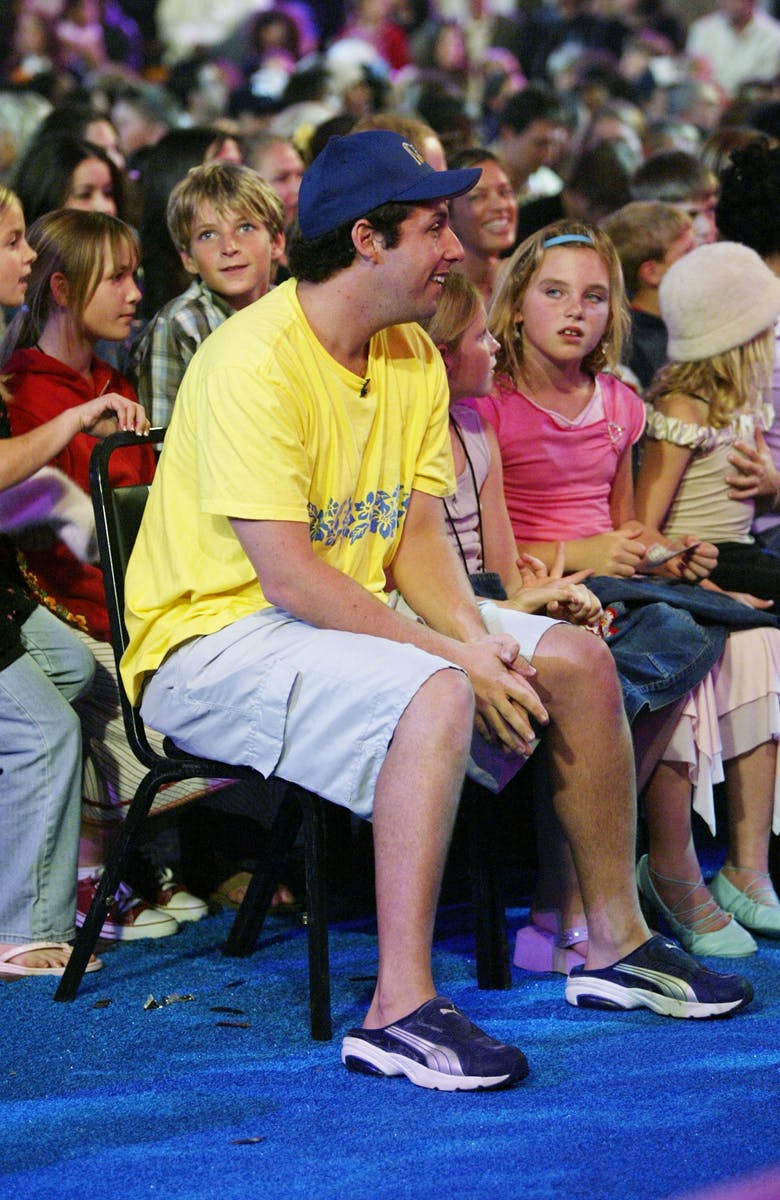 Hello, @muleboyz?
Here's some old school Sandler for you. Not only are we getting into the big shorts, but we've got a pair of PUMA mules as rare as they are covetable.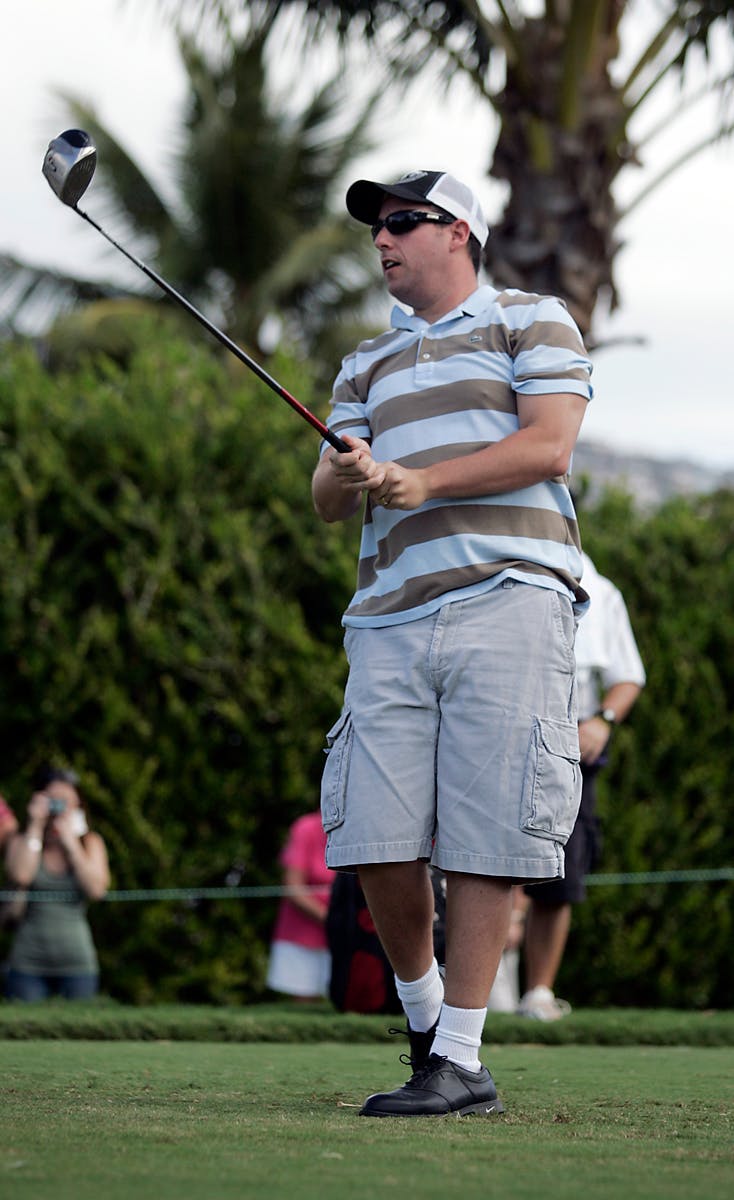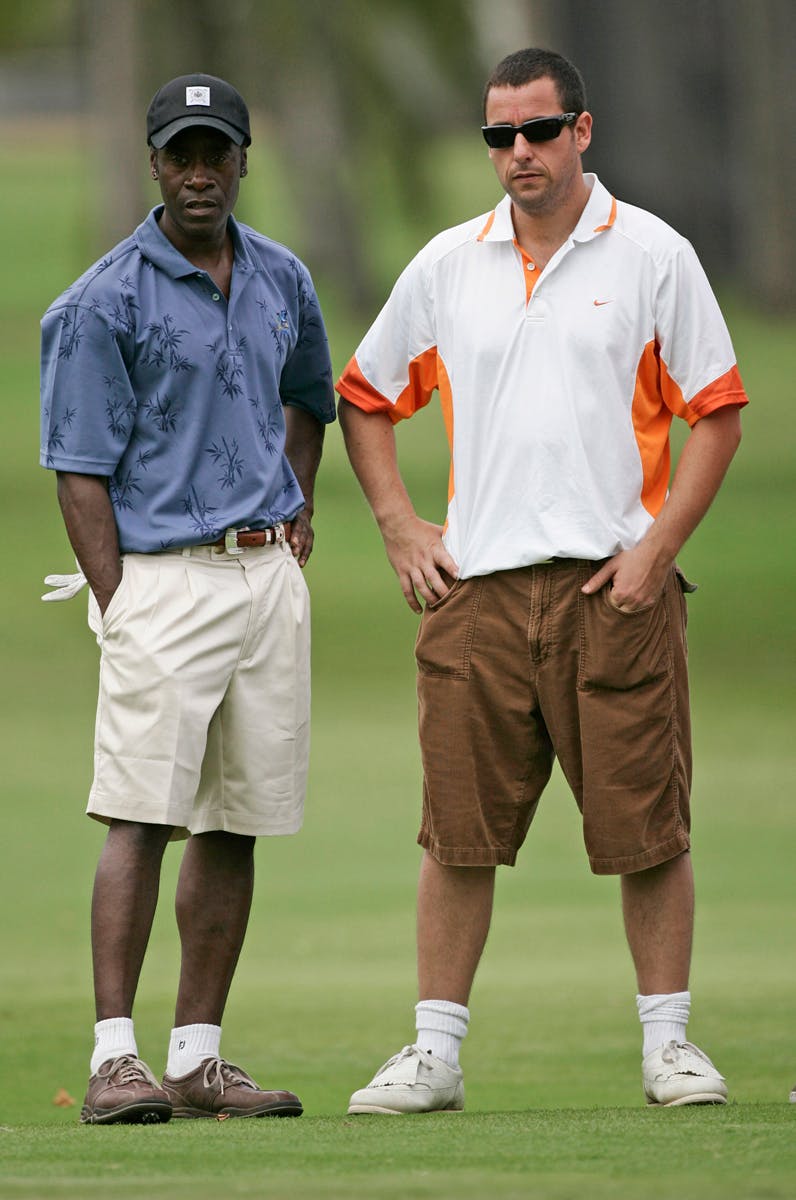 As an avid golfer, Sandler rarely misses a chance to let his legs breathe on the links.
Admittedly, his legs are still mostly shrouded by those giant cargos, but don't these billowing bottoms look dapper with those wraparound shades and tassled golf shoes?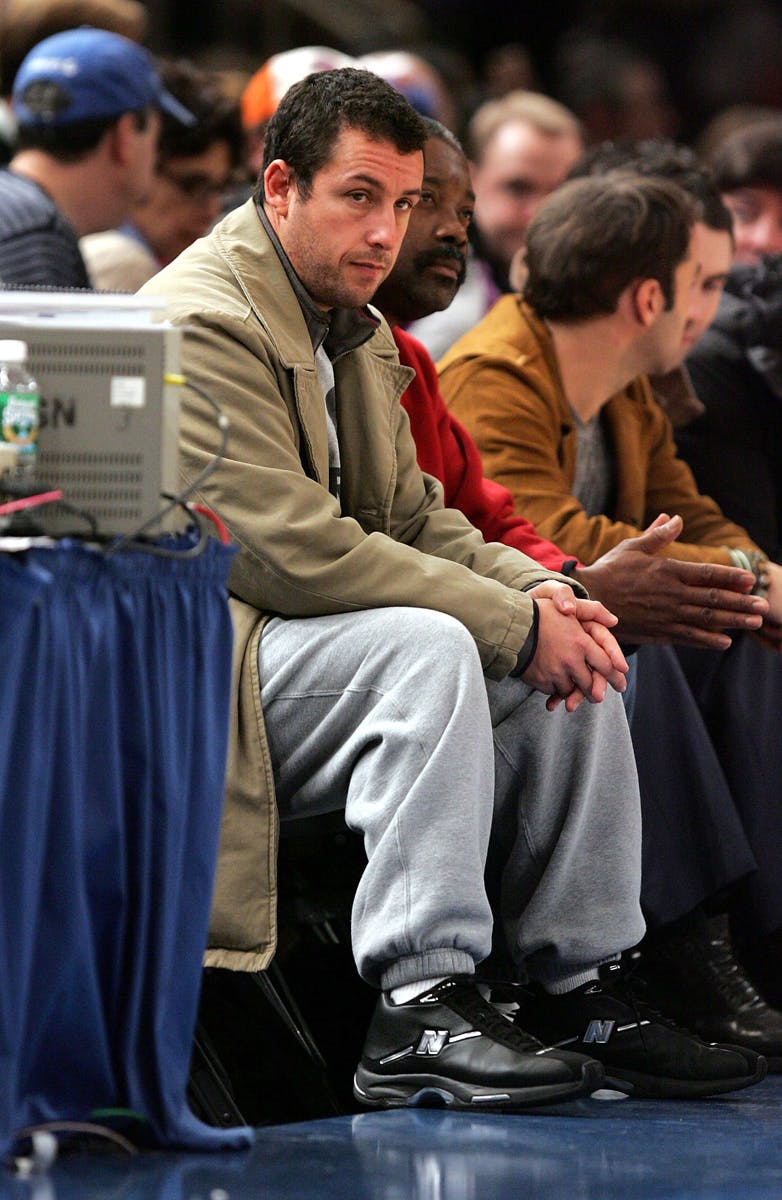 Sandler dressed like a true New Yawker to catch the Knicks take on the Jazz, wearing a crumpled cotton overcoat, zippered fleece, sweats, and some ultra-rare New Balance basketball kicks.
Slap an Aimé Leon Dore logo on those bad boys and you'd have the makings of a future classic.
Nowadays, Sandler cleans up pretty good. Nothing wrong with a little pomp and circumstance when the occasion calls for it.
Standing next to his fellow Grown Ups over a decade ago, Sandler steps up with another graphic tee, enormous cargo shorts and worn-in 992s — this is at least a half-dozen years before New Balance's chunky dad shoe was ever considered "cool."
Consider it premonition, much like how Sandler's proto-emocore Wedding Singer song was a joke at the time but would now be considered a certified Soundcloud slapper.