#GramGen is a series profiling the most radical characters in youth culture, who continue to shape trend behavior and spark controversy through their avant fashion sense and candid social media personalities.
The lyrics "I got 20 closets, I could dress according to the wave," from Young Thug's "Cruise Ship," have been chosen to first describe Keshav's lavish lifestyle when would-be fans come across his Instagram profile.
Hailing from Calcutta, India, Keshav is one of few Indian fashion influencers that turns a profit in a country that has more than one billion people. When he isn't working with his family during his professional work day, Keshav is visualizing his next Instagram move. Scrolling through his feed you'll find brands like BAPE and Off-White, as well as more luxury houses such as Goyard and Louis Vuitton, the latter of which is Keshav's favorite brand at the moment.
While the young fashion influencer has found success on social media, Keshav admits "social media is not a taboo, but it's not looked up upon in India." He also gives us some insight as to why there isn't a prevalent streetwear scene in India; but that doesn't mean he isn't trying to change that.
We spoke with the Indian fashion influencer about his early beginnings on Instagram, his take on India's fashion scene, and how he stays connected with his close-knit, private community of followers.
What were your intentions when you first created your Instagram account?
I never started with the intention of making it into something big, like making it as a huge fashion influencer. I just saw other people on Instagram, what they were doing, and it inspired me a lot, I realized I wanted to pursue something similar. Being in India, it's really hard copping all these new pieces that keep coming out.
Shipping is a huge pain in the ass because it takes 15 to 20 days for anything to get here. So not until I started going on trips and I shopped to my heart's content was I ready to start. That's when I decided to start an Instagram, back in late 2014. I just started normally, posting good content, and it's taken me where it is right now.
You have more than 500k followers on Instagram, how quickly did you start gaining a following?
In the beginning it was really quick, I grew pretty quickly, and after about a year or two is when Instagram showed its true colors by getting the new algorithm. That's when growth slowed down a lot cause you had to tackle new forms of organic reach. There's so many tactics you can use, so my team and I had to keep trying to discover new tactics to grow. Getting to 200k followers was about a year and a half. That's pretty quick for an influencer, because you're not a stacked page who's just reposting content, you're creating your own content, so I think that's pretty good.
How would you describe your personal style?
I'd like to think It's very well-styled. I'm good in a pair of jeans and a plain white T-shirt, or I can go all out in a $3,000 Gucci jacket and track pants. It depends on the occasion. I would say my style is very simple, I like matching things, not in the sense they have to be the same thing top and bottom, they just have to go together. Simplistic, not too loud. There are events, however, where I go fully loud, but only special occasions.
What got you into luxury fashion and streetwear?
I've always wanted to look good, dress well, and this was at an age when I was growing into an adult. When I was turning 18, Instagram was huge at the time. Instagram was such a huge inspiration for me to showcase my style, along with the trips to London that I took. They were all eye-openers, Instagram, along with the trips. The London fashion sense and streetwear culture really impressed me a lot. It boosted me to do what I'm doing now.
Who are some of your favorite brands?
For luxury, it has to be Louis Vuitton, Hermes, and Gucci. On the streetwear side it'd be BAPE, Supreme, Off-White, and Yeezy; Kanye's a huge inspiration. There are a couple other brands, like Balenciaga, Givenchy, Moncler, Fendi, Valentino, and of course Goyard. These brands are my main favorites, the brands I really fuck with.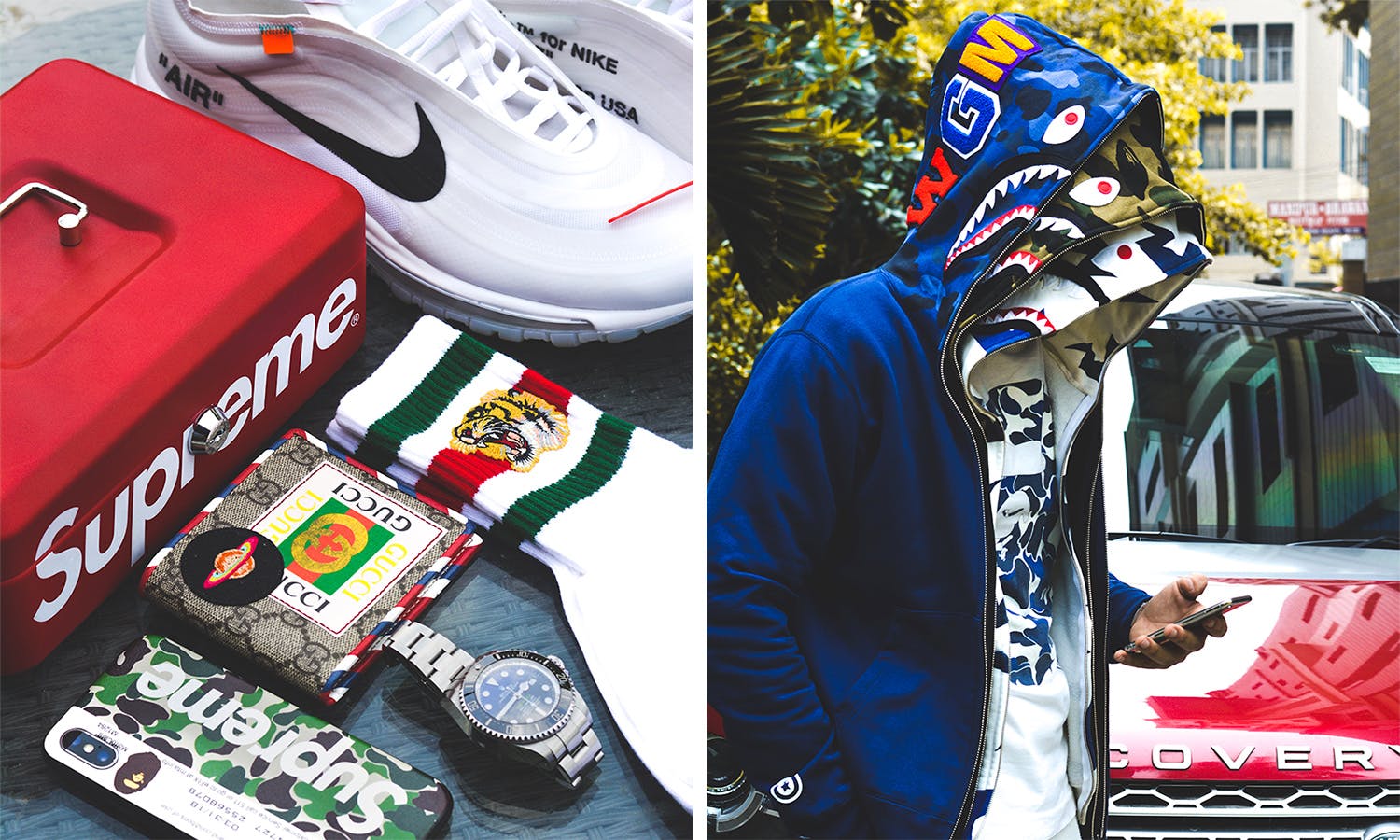 How would you describe the streetwear scene in India?
There's not really a lot of streetwear in India. It's mainly shirts, suits, trousers, button-ups, and laced Oxfords. It's that, "nine-to-five job," there's no streetwear. But there are a lot of Indian streetwear companies who are starting out, and a lot of them are trying to come up with innovative new stuff. When I went to this New Delhi streetwear event I saw a lot of Indian designers doing their thing and I definitely want to do whatever I can to help them make it in the streetwear community.
Do you think the Indian streetwear scene will grow?
Yeah, there are so many upcoming brands. I'm sure some of them will reach the top and make a name for themselves, they have amazing designs. Hopefully they come up on the map.
Are there other streetwear influencers in India like yourself?
There are other influencers in the fashion world in India but none of them are doing what I'm doing. None of them are doing it at the same level, other than doing the same thing.
Is being an influencer on social media seen as a viable job and source of income in India?
Social media is not a taboo, but it's not looked up upon in India. No one gives too much importance to social media, they don't think it's a viable way to earn to an income. That's why it's so hard for Indians, for social media influencers in India, to grow, because there's no support, there's no moral support from companies, brands, nothing.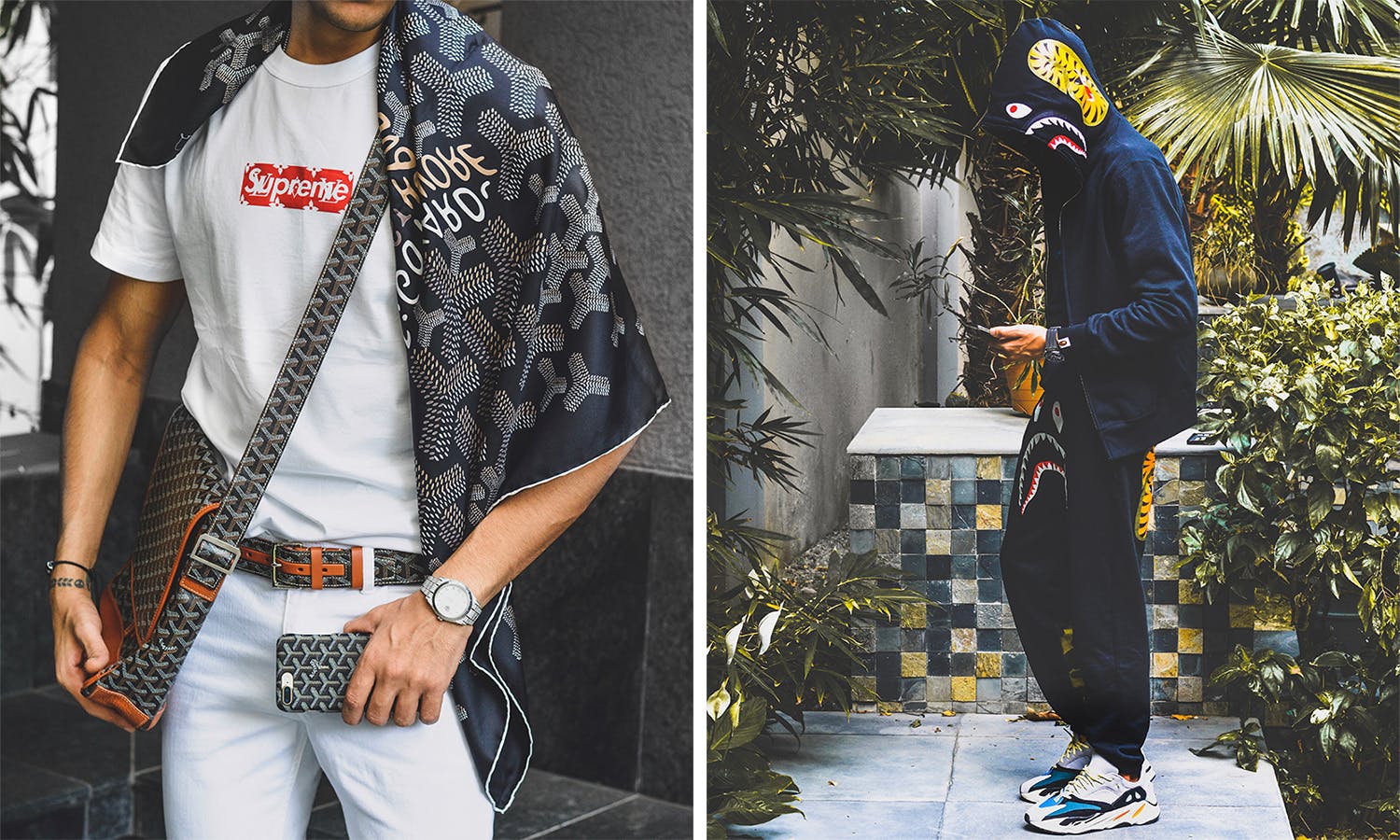 Do you think that mentality has changed since you started on Instagram in 2014?
I have seen a change, of course, but not a major change. People still think that Instagram is like a bubble, that's going to burst soon, and no one will remember it for what it was. It is just an app, so no one really pays too much attention to social media still. But thankfully now there are a select few companies who pay influencers to promote for them and create content for them.
How would you describe your private community of fashion savvy followers?
There are a few followers who are nice, a few followers who are dumb, and a few followers who are not nice. It's a fact. I try and answer and help all the good followers, if they send me inquiries, or if they wanna ask me something I try and help out if I can. They send me suggestions in regards to what photos to post, or what outfits to rock so they can it rock it themselves. They wanna see someone else doing it first, to see if it looks good or not.
What advice would you give to your followers that are wanting to get into streetwear, but might not have the financial means like yourself?
Streetwear isn't all about big name brands and high-priced items. Streetwear starts with a regular T-shirt, torn jeans, and a pair of Vans. You could be rocking a streetwear outfit for a budget of $30 USD. You've got to stick to what your budget is. It's perfect, go grind that, it's not all about the brands. It doesn't have to be pricey or flashy. It doesn't have to be like that always. I'm doing that right now because that's what I cater to, that's what my fans want, that's what my followers want to see.
What can we expect to see from you in the future?
The space that I'm in right now, doing these interviews, not showing my face, I actually wanna stick to that. I really don't wanna show my face anymore in the future, I just wanna keep it low-key, like how I'm doing it right now, a subtle flex. Just keep doing what I'm doing right now. If I really become hype, probably do something like a clothing brand collaboration with someone. For now, I'm just gonna keep doing what I'm doing right now.
To stay up-to-date on Keshav's fast-paced lavish lifestyle be sure to follow his Instagram account, and check out our recent interview with @arnoldputra.