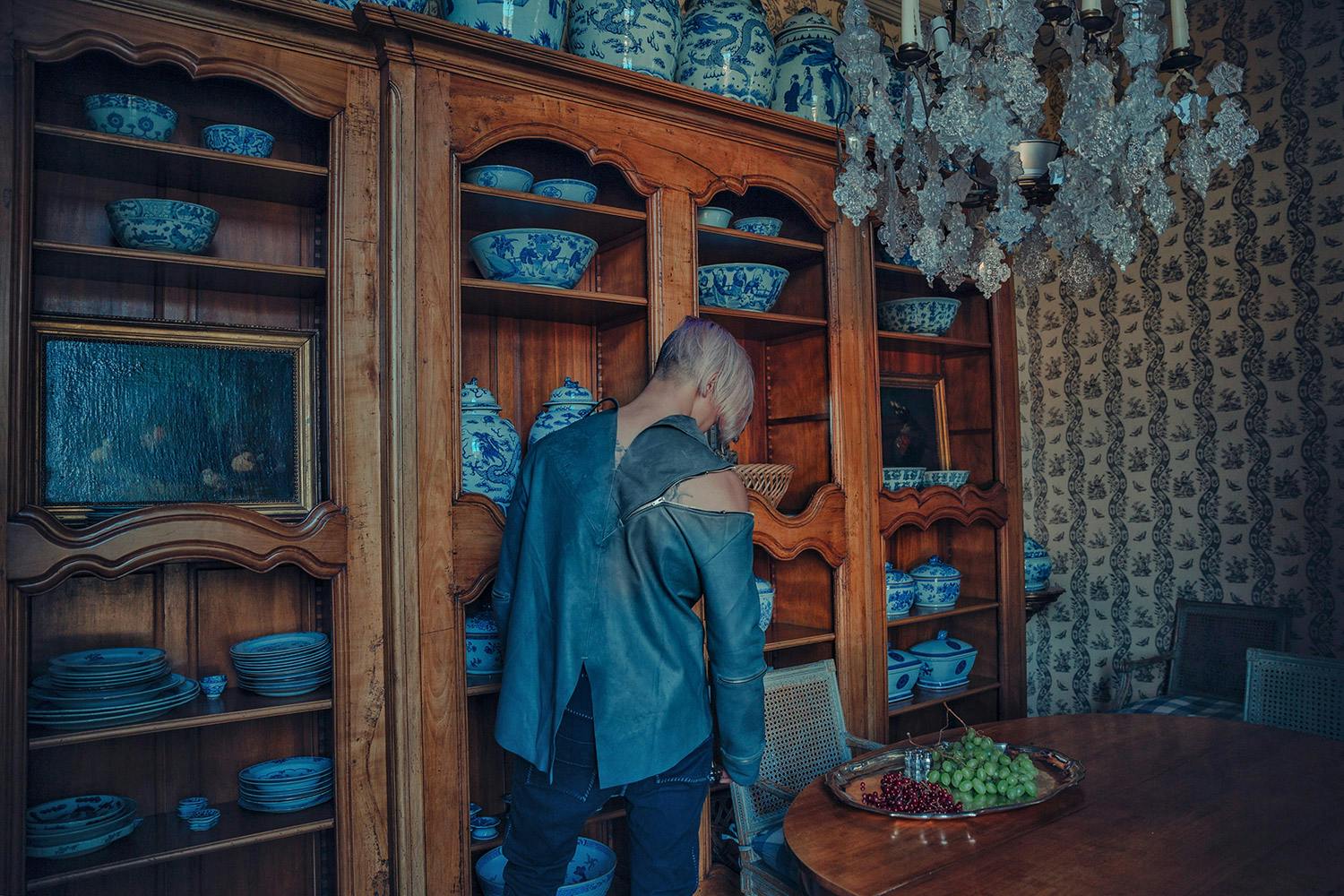 #GramGen is a series profiling the most radical characters in youth culture, who continue to shape trend behavior and spark controversy through their avant fashion sense and candid social media personalities.
Meet Arnold, born and raised in Indonesia this 24-year-old fashion savant has a unique style that comes from a range of different places and cultures. Arnold is always in search of the hypest, rarest pieces out there, and isn't shy about sharing them with his 30k+ Instagram followers.
Self described as, "the accidental starchild as a result of an affair between an opulent orchestra conductor and a sub-saharan Berber in Coachella's artist compound," Arnold's style is definitely not something worth missing.
We caught up with Arnold to talk about his favorite aspects of the fashion world, his top brands of the moment, and what makes his feed stand out amongst other fashion lovers on IG.
How old are you?
24.
Where were you born and where did you grow up?
Jakarta, Indonesia. Born and raised.
Where are you currently based?
I'm currently based in Los Angeles, but I spend most of my time on the road traveling.
When did you first get into fashion?
My mom just reminded me looking through old pictures that during recess at kindergarten, while my classmates fumble and untuck their school uniforms as they rage towards passing the ball, I would stop at every chance to make sure my shirt is tucked in properly.
I started experimenting with fashion at a young age. From wearing school caps sideways and stacking another cap on top tilted to the other side like a pirate hat, to choosing to wear diving shoes because I liked the mobility while still abiding to the school's black shoes rule; my peers wore Nike Air Force 1s and Lebrons.
But it was't until my freshman year in college that I started buying expensive clothes. At that point I was also obsessing over weight gain, a result of being bullied in my younger years for my scrawny figure to the point where I couldn't fit my arms inside a size 52 Balmain jacket.
What excites you most about fashion in general?
It changes and that's what's so alluring. It used to be the intricacy in the construction of the garment, at a time where BBS would wear his jackets wet for hours after his dyeing process in order for the piece to be molded into the shape of his body when hung on the rack. In the post-Instagram era you get one or two seconds of glory to showcase your piece before someone swipes up, in which case you don't get to really study the procurement of the garment or feel the material. Rather, larger graphics with a comedic touch people can associate themselves with will prevail.
It's exciting to see collaborations surface everyday. I really liked the Raf Simons x Brian Calvin collaboration; I had my nails individually painted as each of the graphics. This ended up taking half a day.
Are there any Indonesia fashion icons you look up to?
There is a little cult consisting of hardcore punk teens who find the most savvy ways to tattoo, pierce and customize their own clothing. Their lifestyle revolves around strumming instruments made of whatever they could find in the streets, begging for change in the traffic lights, sometimes ramming their instruments inside an open window and extorting the driver for change, and hitching behind public transportation. I've witnessed them come up with the most creative ways to mosh, lifting a friend on their back spinning while the friend bicycle kicks everyone on his back.
The energy in these underground gigs makes you feel like you're in the front lines of a medieval war zone. Violating sharia law, their gigs often get raided by the police and get their colored mohawks shaved off, and on certain occasions would retaliate with homemade flamethrowers. They really are doing the most and I applaud their style.
What are some of your favorite designers right now and why?
There has been a homogenization of looking good. Consumers want to look like skaters, or like their favorite celebrity, or get the newest, most expensive Jordans. I admire designers that dedicate their time working with only one licensed person who can put the needle through fabric, instead of lying to consumers about waiting lists. I think clothing should be a vessel that we contribute meaning to.
My current favorite designers that carry these traits are Sruli Recht, Glenn Martens, Aitor Throup, Haider Ackermann, Boris Bidjan Saberi, Keita Ogawa of Incarnation. They're like watching documentaries. With that aside, I have been buying into the prominent theme of parody in fashion especially post-Demna Balenciaga. These are like comedy movies that automatically put you in a lighter mood.
Are there certain places in Indonesia where street style is more like your own?
No, but I draw inspiration from local fashion markets like Mangga Dua and Pasar Malem. They counterfeit brands to the point that they make up their own satirical collaborations. I recall when a housemaid had a "Bullet For My Valentine" band shirt with a bedazzled Fendi monogram embedded around the album cover art, and when one came home strutting a Celine phantom bag with Hermes' "H" hardware. I'd like to give whoever designed these a high five one day. They provide exposure of foreign brands.
Describe your style.
The accidental starchild as a result of an affair between an opulent orchestra conductor and a sub-saharan Berber in Coachella's artist compound.
How would you describe your feed in three words?
Layered, mille, feuille.
What is your current occupation?
I own a stock brokerage firm.
Where do you shoot most of your Instagram photos?
Some pictures are the result of hours of deep research that I plan and I sometimes scout locations up to two years ahead before traveling, compiling clothes into looks in between. Some pictures I take against a random wall I walk or drive past.
What's the most you've ever spent on a piece of clothing?
A Rick Owens Hun kangaroo-lined, alligator jacket that was originally $58,000. I managed to snag it over half off on spring/summer sale, but still ended up paying $1,000 something on top of that for customs clearance.
Why do you think people are so attracted to your feed?
Some people say that the abundant use of collages on my feed makes the page look like a resumé; that it's like binge scrolling through a well-documented TV show combining many channels together; that they don't know what to expect.
One day, I could be taking a stage selfie receiving a tattoo award, the next week I could be grubbing and reviewing Michelin star cuisines. The week after an ayahuasca ceremony in the Amazon rainforest, to paddling a makeshift kayak to a spiritual island where they leave the dead to decay above ground, to people DM-ing me when Young Thug posted a picture with the caption reading "i think fendi only made 1 or 2 of these coats... (insert goat emojis)" referring to something I posted taking flight in the same jacket some time before.
All of this while experimenting with hair and clothing myself in grails over the years that I often pair with peculiar travel finds like these miniature pastel-colored hitachi magic wand keychains.
For other #GramGens, meet @itscolinmiller, the photographer giving you concert FOMO on IG.