I am six years old, and it's Culture Day at school. My mom wants me to wear a qipao to class, and I balk. I'll look silly, I think. What I don't want to admit is that I'm embarrassed to put on such a glaring display of my heritage, a garment that unmistakably identifies me as Chinese.
I am embarrassed because a classmate once sat down next to me as I flipped through picture books, only to proclaim — in a first-grader's vocabulary — that Japanese and Chinese people are identifiable based on the direction their eyes tilt. As I grow older, this embarrassment morphs into full-blown shame. My cheeks burn each time someone yells some ugly combination of ching chong, ni hao, and love me long time at me as I walk down the street. Over the years, I learn to wear headphones to drown out the sound of cat-callers.
Now 26, I've grappled enough with my Asian identity to feel relatively at ease. But any semblance of comfort — even trepidatious pride — I felt in my ethnicity suddenly splintered on March 16, 2021.
We all know what happened: a man shot and killed eight people, six of whom were Asian women, at Atlanta area massage parlors. He blamed the violence on his "sex addiction." For Asian women around the world, the slayings weren't the makings of addiction but a hideous, terrifying manifestation of what we've long endured: hyper-sexualization, harassment, dehumanization.
Chinese American designer Kim Shui is all too familiar with the dangerous stereotypes foisted on Asian women. "I feel [Asian women] are largely thought of as faceless, quiet, and invisible, or as a "dragon lady"-type figure," the designer tells me. "We're often visually defined with an emphasis on otherness."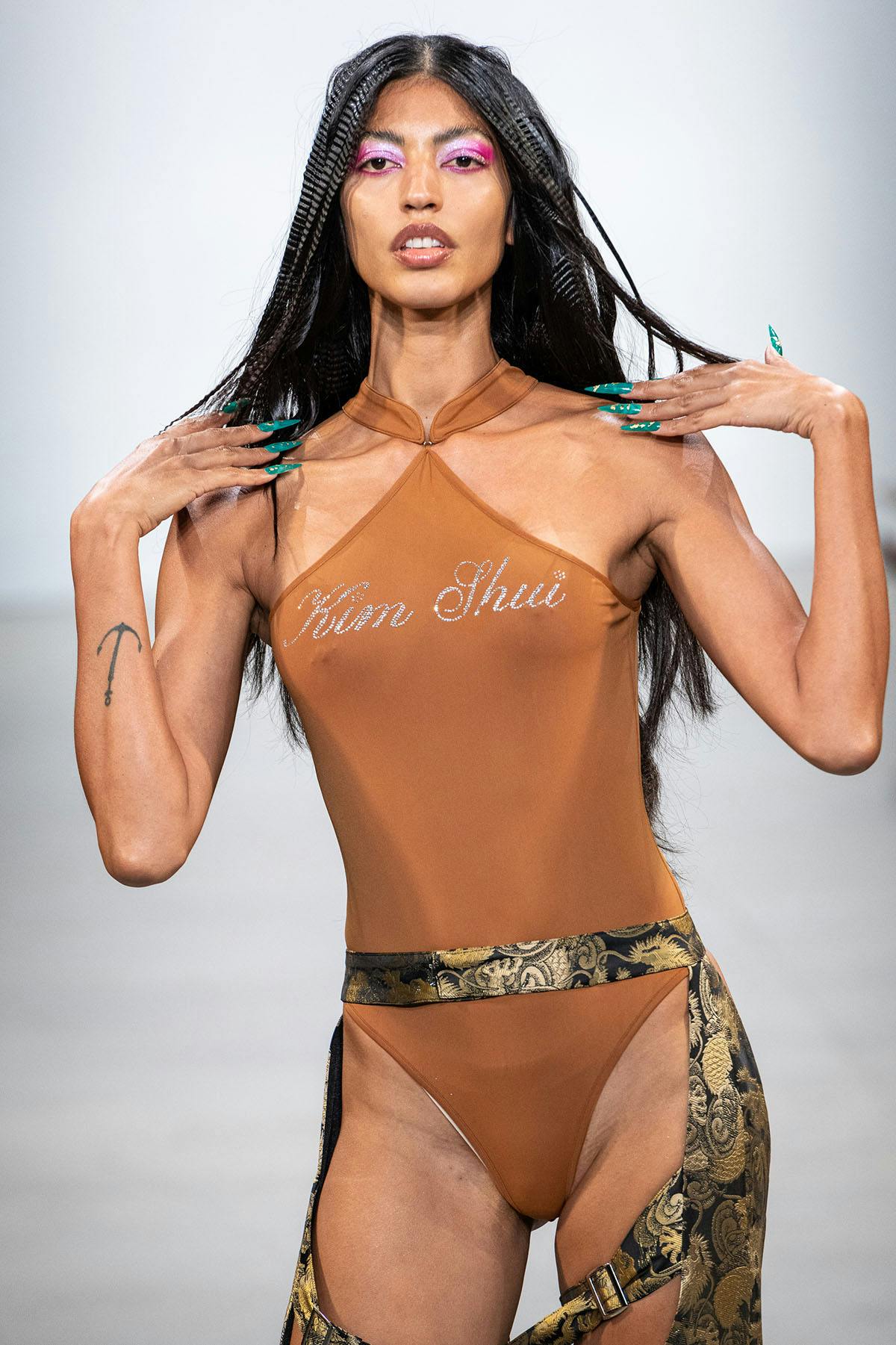 Shui accosts this "Western fantasy" of Asian womanhood in her Spring/Summer 2022 collection. Clapping back at fashion's tendency to appropriate Asian garments, the designer riffs on an enduring emblem of the West: the American cowboy.
Shui applies an Eastern gaze to items including cowboy boots and ass-less chaps, rendering them in dragon-embroidered silk and leather. Body chains are strung with jade beads. Cowboy hats are branded with Kim Shui's name in tiny crystals, a glittery form of defiance in the face of fast fashion brands that peddle "high-neck dresses," Spirit Halloween versions of the Cantonese cheongsam.
Speaking of the cheongsam — Shui offers several contemporary takes on the garment, revamped as cut-out mini dresses and logo bodysuits.
Reflecting on the messages she receives asking whether a non-Asian person can wear a qipao collar or a cheongsam dress, the designer proposes: "The more you allow someone to access a piece of a culture, to enjoy it and even embody it, the more opportunity you're giving them to build mutual empathy and deeper understanding," she says, clarifying that she doesn't intend to speak for all Asians.
"The clothes are meant to provoke dialogue and invite other cultures to the table to say, 'how can we celebrate this together?'"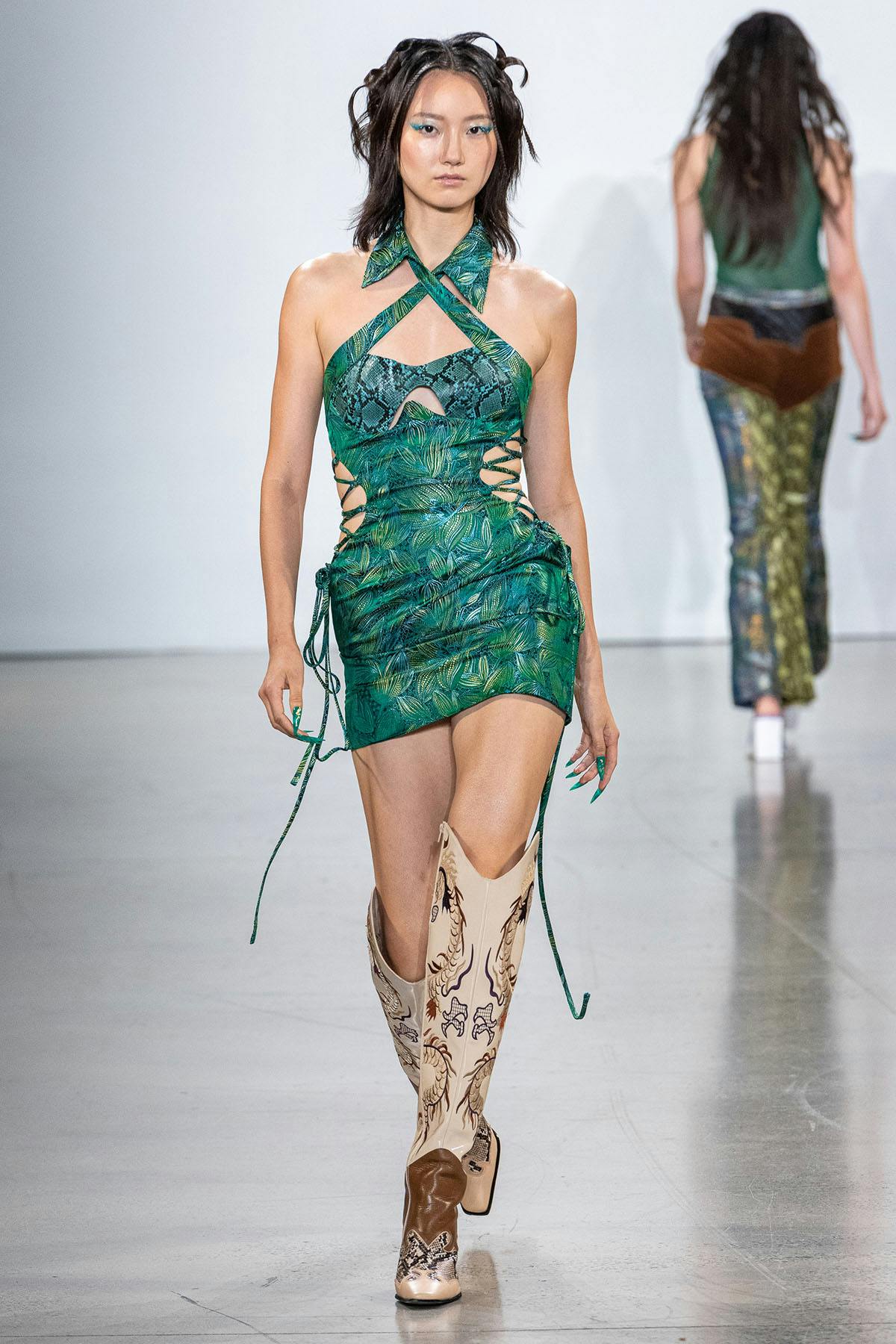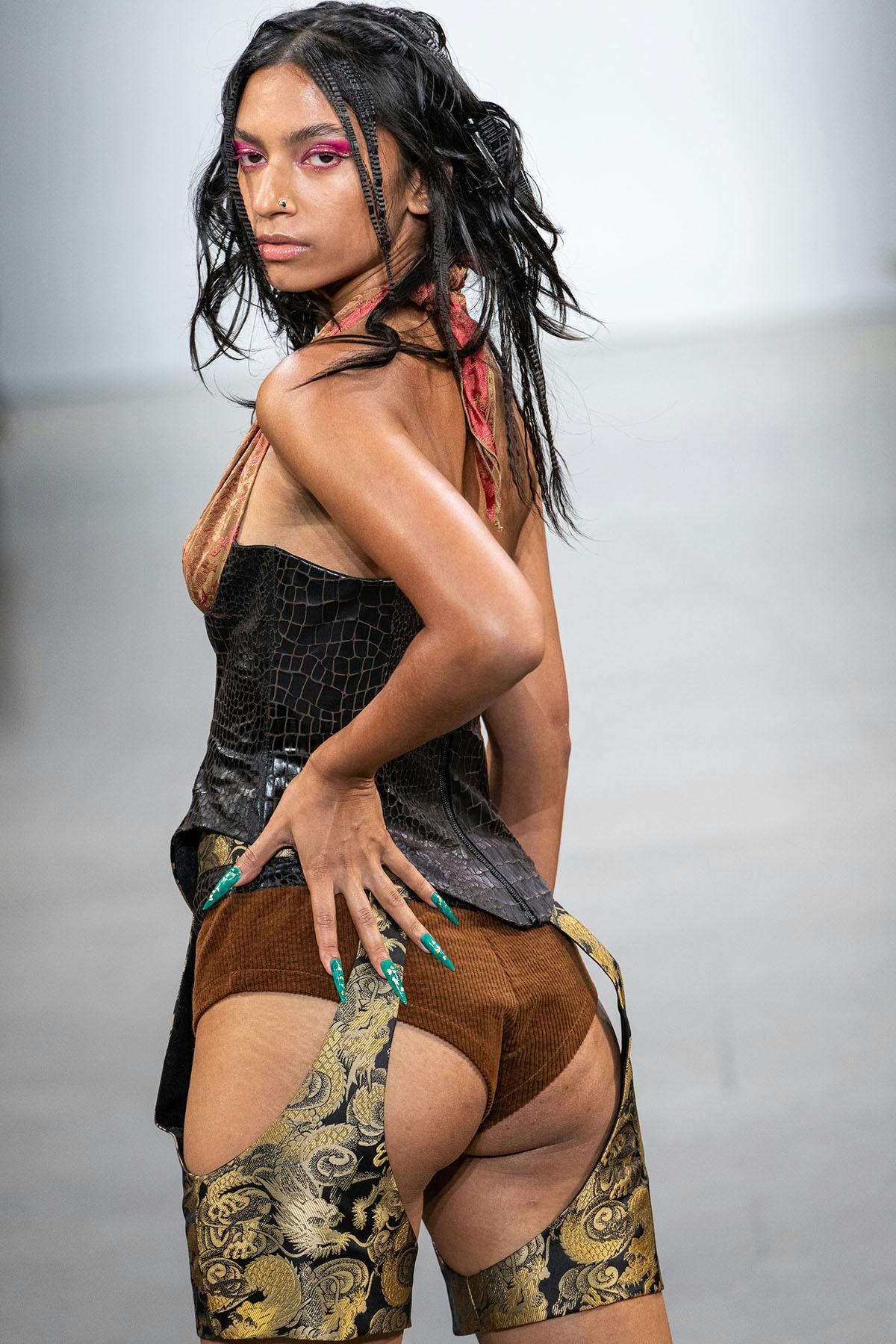 Modeled by a nearly all-Asian cast, the collection is cerebral camp, style with attitude. Retooling costume-y, kitschy symbols of America in jade and silk, Shui flips a middle finger to the entire concept of tropes. And, unafraid to highlight to body with cut-outs, straps, and lacing, the designer reclaims the racist portrayal of Asian women as forbidden temptresses.
Watching Shui's gang of models prance down the runway, I think of my six-year-old self. I can't tie this all up in a neat bow and proclaim that a single fashion show has inspired me to don a qipao on the sidewalks of New York City. What I can say, though, is that Shui's sartorial vision of Asian womanhood is freeing, welcome respite from a year that's been particularly exhausting for AAPI folks (thank you, Donald Trump, for your insistence on calling COVID the "Chinese virus").
I know that eventually, I'll feel ready to step out in a qipao, or maybe even hanfu. When that day comes, Kim Shui will be my first stop.