South Korea is undoubtedly a major player when it comes to fashion, music, entertainment, technology, and many aspects of consumer culture.
A thriving hub of creative innovation, Korea has demonstrated its global impact time and again, a force that has only begun to gain momentum and will continue to grow stronger.
The catalyst behind Korea's boundless cultural power and influence is the country's energetic generation of youth who are hungry for what's next — ready to endlessly create and consume.
Looking ahead to 2021, Highsnobiety and luxury Korean automaker Genesis dig deeper into the country's coming trends and uncover key points of success for brands and creatives who have their eyes set on the market.
Untact & Ontact Marketing
The coronavirus pandemic has accelerated the concept of "untact" marketing in South Korea. "Untact," a term coined in 2017 by a team of consumer scientists at Seoul National University, refers to products and services offered without human interaction. Artificial intelligence, robots, the internet, and other forms of technology replace face-to-face activity, a concept that's been given new meaning in 2020. The pandemic also prompted the rise of "ontact" — or "online contact" — in Korea, which refers to being face-to-face online, such as through video conferencing and virtual sales support.
"For a brand to be competitive in Korea, it'd have to be available virtually, not just during the pandemic, but beyond," says Richard Chun, founder of Ideal People Showroom, a fashion sales agency based in Korea.
When one of Chun's client brands, Andersson Bell, renovated its Seoul flagship this past March, it turned to the concept of untact to promote its reopening. "We decided to launch a virtual online tour of the site instead of hosting an opening party," Chun says. "Normally, we would invite the industry and influencers for a traditional offline promotion, but it wasn't possible because of the pandemic."
Due to travel restrictions, Chun and his clients also conducted virtual buyer meetings for the Spring/Summer 2021 season. "It was an interesting experience because there were the obvious cons, like buyers not being able to feel the clothes," Chun explains. "But there were unexpected pros, too. In a virtual setting, you're guaranteed the buyer's attention during the full time of the appointment, whereas at a physical showroom, you might have more competition with other brands. My clients actually received more orders from retailers this season through virtual appointments than they did with physical showrooms before."
"While fashion brands may have started to do more untact promotions out of necessity, these methods will soon become more dominant for their competitiveness and entertainment value," Chun continues. "What's important is providing a different and unique experience for the buyer and consumer."
Jumi Choi, a Seoul Fashion Week representative who oversees its operations, echoes this sentiment. "We conducted all 46 designer shows for Seoul Fashion Week Spring/Summer 2021 via digital runways which streamed on showSTUDIO. Because showSTUDIO is a familiar name in international fashion, it was actually an opportunity for us to reach a wider audience, including those who couldn't access Seoul Fashion Week before," Choi says. "Even after Covid-19, streaming runways via digital platforms will become a necessity. We'll need to expand and diversify platforms to reach a wider audience, and make each show more appealing. The challenge will be to make them stand out from the rest of the overflowing content online."
However, the rise of "un/ontact" in Korea doesn't eliminate the region's thirst for offline events. "A big part of the culture at Seoul Fashion Week is the energy created by the young, street fashion audience outside the runways. I think it's too bad that this energy can't be conveyed through digital channels," Choi says. "As we move forward, these aspects would have to blend seamlessly with the digital, and this season was the beginning of that. In the future, brands and consumers will constantly interact through both on and offline mechanisms."
Digitized Personas
An extension of untact and ontact technology is the upward trend of using animated worlds and avatars in Korea's fashion and music scenes. While Balenciaga recently made headlines with its Fall/Winter 2021 video game, the K-pop and K-fashion industries have already been influenced by games like League of Legends to promote their products.
In late 2018, League of Legends announced its own digital K-pop group, K/DA, which brought together members of popular Korean music groups to release songs performed by animated avatars. "I think this inspired a lot of entertainment agencies in Korea," says May Kim, a Seoul-based graphic designer and digital artist who's worked with clients like Prada, Vans, and Wooyoungmi just this year. "It's no coincidence that other idol groups now have their avatars too," Kim says, referring to the Zepeto version of Blackpink and aespa-synk, the digital version of South Korean girl group aespa.
"There's been a massive boom of 3D graphics in Korean fashion," says Kim. "I've been constantly asked to create 'young and hip' digital designs by my clients. I think the millennials and Generation Z are influenced by and want something futuristic," she explains.
Thisisneverthat, Korea's biggest streetwear label, also used a digital avatar that went viral over the summer. In July, it launched an Instagram filter for its Fall/Winter 2020 collection featuring an animated version of influencer Jinbok Lee as the model. "We were discussing new ways to promote the brand," says Lee, who also creative consults for Nike Korea and VK Designs (Girls Don't Cry, Wasted Youth). "3D scanning a person was a relatively foreign concept here, and I think the result was very unique and cool," he says, referring to his AR filter.
After the success of his avatar, Thisisneverthat released more digital filters with popular Korean rappers Paloalto and Youngji Lee wearing the brand's clothes. The three filters together garnered more than two million impressions within two months. At Facebook Korea's "Spark Creator AR Lab" online summit in October, Thisisneverthat's filters were lauded as an exemplary case of digital marketing that opened up the potential for AR technology in Korean fashion.
According to Kim, these digitized personas will soon cross over from the celebrity to the consumer side. "If these avatars have been used to promote digital content for musicians and other brands, in 2021, improvements in AR and VR technology will allow for everyone to create avatars as a tool for consumption," Kim explains.
"People could use their personalized avatars to try on clothes online before purchasing. Warby Parker, Gentle Monster, and many beauty brands already use facial recognition to allow shoppers to try their products online. I believe this will soon extend to Korea's fashion industry too."
Originality & Audacity
Personalization driven by technology and social media has also pushed Korean youth to embrace more originality. Once known as a homogenous culture, South Koreans are now more welcoming toward unconventional and offbeat style, driven by the desire to stand out and be unique. Brands like ADER error and pushBUTTON have proven successful with quirky, avant-garde designs that have garnered popularity both domestically and abroad.
A new generation of Korean brands like Kanghyuk, Post Archive Faction, and Kusikohc also stand out as ones breaking boundaries set by the more conservative, conventional predecessors of Korean fashion. They offer high-taste and high-quality designs for an increasingly sophisticated and daring youth.
"I think Gen Z kids are more daring now than us millennials ever were," says Jinpyo Park, founder of street and culture publication, eyesmag in Seoul. "We can also tell by the popularity of younger social media stars like Thug Min, who comes off as extremely raw and audacious, and therefore edgy," Park continues, referring to Min, a Korean Instagram personality and skater turned fashion model.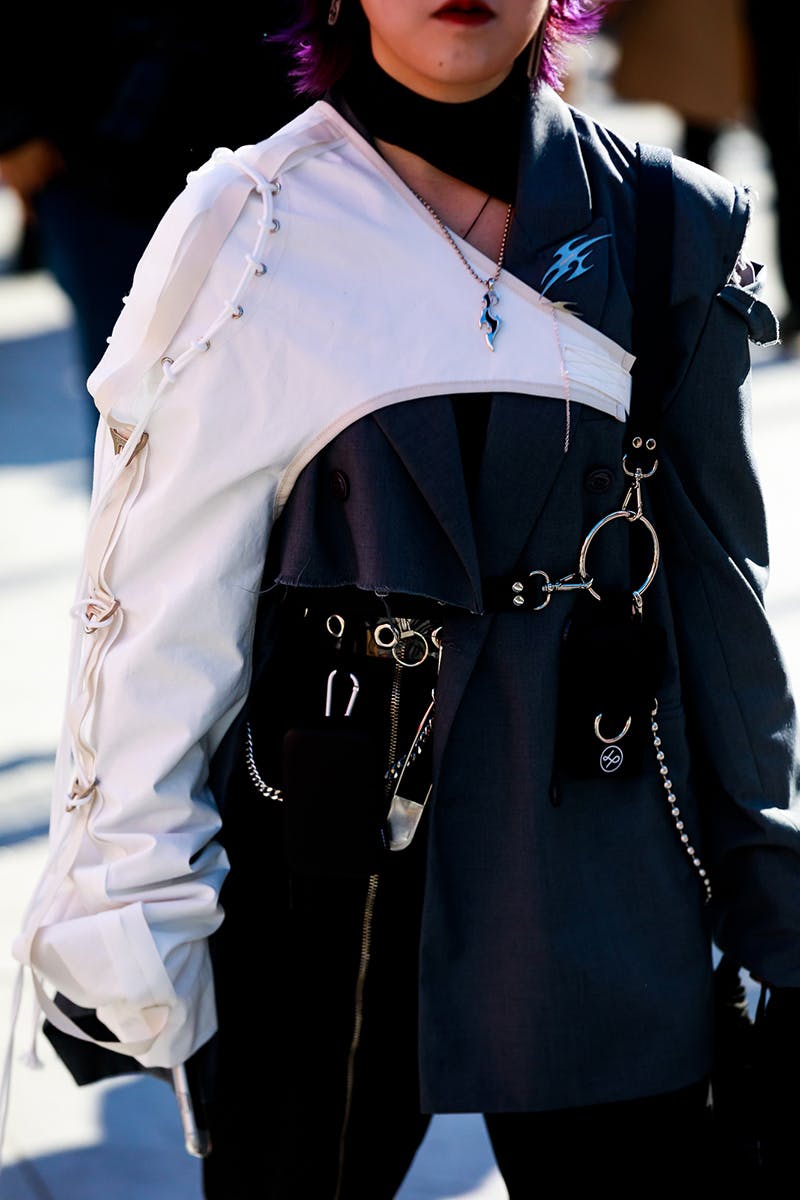 Another example is Jinbeom Yang, known as Wetboy, a TikTok performance artist whose viral dance videos led to a collaboration with Takashi Murakami. "What's resonating with Korean youth these days is not only fashionable style but originality and something unexpected, as well as humor," Park says.
The Rediscovery of Hanbok
In searching for a new and original style by Korean youth, there has been a revisiting of its cultural roots, namely a rediscovery of the age-old hanbok. Hanbok — a traditional Korean dress which translates to "Korean clothes" — has seen new light in recent years in the country's fashion and music industries.
BTS has been lauded by Koreans for their promotion of hanbok both on and off stage. In October, the New York Times highlighted Blackpink's hanbok in their "How You Like That" music video as "an update to a centuries-old style." Until recently, hanbok was generally considered only as a special form of dress worn during special occasions. It was never quite embraced in modern clothing, compared to Japan's kimono which is more widely known and worn around the world.
"It seems in the past couple of years, the Korean youth are embracing hanbok more than previous generations. The perception is slowly changing in favor of things that are uniquely Korean as everyone tries to figure out what 'Korean fashion' means," says Kevin Kim, co-founder of clothing label IISE Seoul. "The Korean market used to always look outward for inspiration, but I've been noticing brands and artists looking more into our culture to create something new."
Terrence Kim, the other half of IISE, agrees. "We've created hanbok-inspired pieces since we launched clothing in 2015, but they used to be more popular with our international consumers, while in Korea, our contemporary designs were more popular," he says. "However, we've seen an uptick in sales for these hanbok styles locally as well for the last two years."
As K-pop stars like Lil Cherry and GOLDBUUDA, CL, and Taemin also continue to bring hanbok to the forefront of cool, young Koreans are finding it easier to accept traditional dress to express their identity and pride. "I think modernized hanbok designs will continue to grow, but having that perfect balance of modern and traditional is important for the youth to adapt these styles," Terrence explains. "Other Korean brands have been contacting us to create more Korean-inspired pieces, so we are excited to create new things and see how they reach a bigger audience."
Act Local & Think Global
The boundless ideas, designs and potential of Korean youth will continue to permeate global culture. As they mold the ever-evolving definition of what it means to be distinctly Korean, new combinations of the traditional and modern will offer audacious and original creations, rerooting Korea's place in the world. But however crucial it is to stay true to local demands, it's also important to relate them back to worldwide communities beyond.
"In Korea, you have to act local but think global. Everything's connected now because of social media," says KB Lee, a creative consultant whose clients include Boon the Shop, Doosan, and Vogue Korea. "Koreans are not only interested in what's perceived as cool among themselves, but also want to participate in what's trending all around the world."
"What's for sure is that everybody is talking about Korea these days," KB continues. "Brands like Louis Vuitton, Chanel, Prada, and Givenchy have been constantly asking me about the Korean market. Korea and its pop culture dictate trends in greater Asian markets like China, Japan, India, Thailand and Vietnam. These countries are hubs for young, social media-savvy fans, so it's extremely important for brands and artists to gain solid ground in Korea."
Elaine YJ Lee is a writer based in New York.