Curated by locals with a keen eye for style, GATEZERO's city guides are Highsnobiety's answer to the old school travel guidebooks. Click here for the GATEZERO hub for more travel features.
"I really think every occasion is an occasion in Lagos," says photographer Stephen Tayo. "People literally dress up for everything here. There's nothing casual." That ethos has certainty proved to be a boon for the Nigerian photographer, who's made his name capturing Lagos' vibrant street style in addition to working on international editorials and ad campaigns. From its architecture, to its cuisine, to its network of large scale markets, there is no one style or aesthetic that really defines Lagos in all its eclecticism, except for perhaps a sense of swagger.
"Lagosians just have so much sauce," says Ola Badiru, one of the founders of Lagos-based fashion brand Vivendii. "They just carry themselves in a way that is really intentional. So no matter what they're wearing, it just looks dope. I see people wearing the weirdest fits on the street, and it's like, wow that actually looks super cool, I would love to use that concept."
The most populous city not only in Nigeria but all of Africa, Lagos is naturally split by the water into the mainland and Lagos Island as well as other smaller subdivisions. The upscale Victoria Island has attracted new businesses like the acclaimed ALÁRA, the Lagos concept store that can rival colette or 10 Corso Como for its cutting edge style. But that only captures one side of Lagos.
"You can go to Victoria Island, Ikoyi, and all these places, they're the nicer parts of Lagos, they're the fancy side. But I would also go to Lagos Island to get a raw, authentic feeling of true Lagosians," says Badiru. "That's where there's a lot of hustle and bustle, you can really feel the heartbeat of Lagos, when you're there."
Lagos' many markets are key to unlocking just some of the city's wide-ranging sartorial style. But the presence of numerous art galleries is also an indication of Lagos' widespread creativity, with art spaces found not just in standalone galleries and museums, but in casual cafes, bohemian hotels, members-only bars, and more. You needn't go far to find inspiration in Lagos, and wherever you go, now is the time to unpack your most daring looks.
SHOP
Idumota Market — One Stop Shopping
"It's a place where you find things that you really can't plan for," Tayo says of Idumota Market, one of the oldest markets in all of West Africa. From jewelry and bags to food annd homeware, the market carries literally every type of product and is best explored with an open mind rather than a set shopping list. Expect crowds to match.
ALÁRA — New African Luxury
When it comes to showcasing contemporary luxury brands from Nigeria and beyond, the undisputed leader is ALÁRA, the concept store founded by Nigerian businesswoman Reni Folawiyo. With designers like Thebe Magugu and Lagos' own Kenneth Ize on the roster, as well as jewelry, books on art and history, home decor and the occasional art exhibition, it's worth carving out a whole afternoon at the Victoria Island shop. "It's a concept store that curates as many fun African experiences in one," notes Tayo.
Lekki Market — Handicraft Mecca
Though slightly smaller than other markets, Lekki Market is still packed with product. The stalls specialize in arts and crafts pieces like beaded jewelry, carved wooden home decor pieces and fabrics. Come early, do a survey of the stalls before committing to buying anything, and be prepared to bargain.
Yaba Market — The World's Thrift Store
"When I go there, I find pieces that you can't find anywhere in the fucking world. Because there's just secondhand pieces that people have discarded from Europe, Africa," Badiru says of Yaba Market. The shopping center is ideal for thrifting secondhand clothing brought over to Lagos from a variety of countries, but is also home to food stalls and textiles.
WafflesNCream — Lagos' Skating Community
Lagos doesn't dress really down, meaning even the casual skate wear needs to be done just right. "I really love easy wear, so it's a go to place for me," Tayo says of local skate brand WafflesNCream. After shutting its Victoria Island store during the pandemic, the brand has reopened at a new space in Lekki, where it sells both simple printed tees and bucket hats that mix traditional weaving techniques with modern branding. Strengthening ties to the community, the shop also plays host to the occasional yoga class and film screening.
EAT
NOK — Pan African Done Right
Already winning on the fashion and home decor fronts, ALÁRA also tackles gastronomy with aplomb at the onsite restaurant NOK. Like the style selection, the food is an upscale take on African fusion, featuring the likes of Ethiopian misr wat, Seneglase Dibi and Nigerian egusi soup, all served in a serene garden setting.
Art Cafe — Home Office Away From Home
For a casual coffee and work spot on Victoria Island, Art Cafe is the go to. As the name implies, the space is also an art gallery, and also offers a full bar, making it an easy transition into the evening for Lagosians who've chosen to use the cafe as a makeshift co-working space.
Danfo — Dining on the Go
With an interior modeled after the iconic Lagos yellow buses known as danfo, Danfo Bistro is more inspired by Nigerian cuisine than a traditional eatery. Danfo's crispy plantain-topped ewa agoyin, a popular Lagos street food of beans cooked to nothingness and served with bread, exemplifies its approach to cuisine. One of the fruit-based cocktails, or two, is a must.
Ilé Eros — Upscale Tradition
For either a multi-course meal or stylish weekend brunch, there's Ilé Eros. The dinner menu gives a fine dining survey of Nigerian classics like suya, puff puffs and jollof rice. Brunch is slightly more international in style, with full English breakfast and chicken and waffles on offer.
DRINK
New Afrika Shrine — Where Lagos Goes to Dance
If you had just one night in Lagos, spend that night at New Afrika Shrine, still sometimes referred to as Fela Shrine. Originaly conceived of by Nigerian musician and political activist Fela Kunti in 1972, the current space is now run by his family as a music club and tribute to his legacy. "Fela Shrine is a vibe, man, because Fela means a lot to Nigerians. He was a political, musical icon, and I think he's given a lot to the world in terms of music," says Badiru.
Miliki — Members' Only Lounge
For Lagos' answer to Soho House, there's Miliki. If you can swing an invite, spend an evening at the upscale cocktail lounge and library to mingle with Lagos' creative set over listening sessions or to pay a visit to the onsite gallery.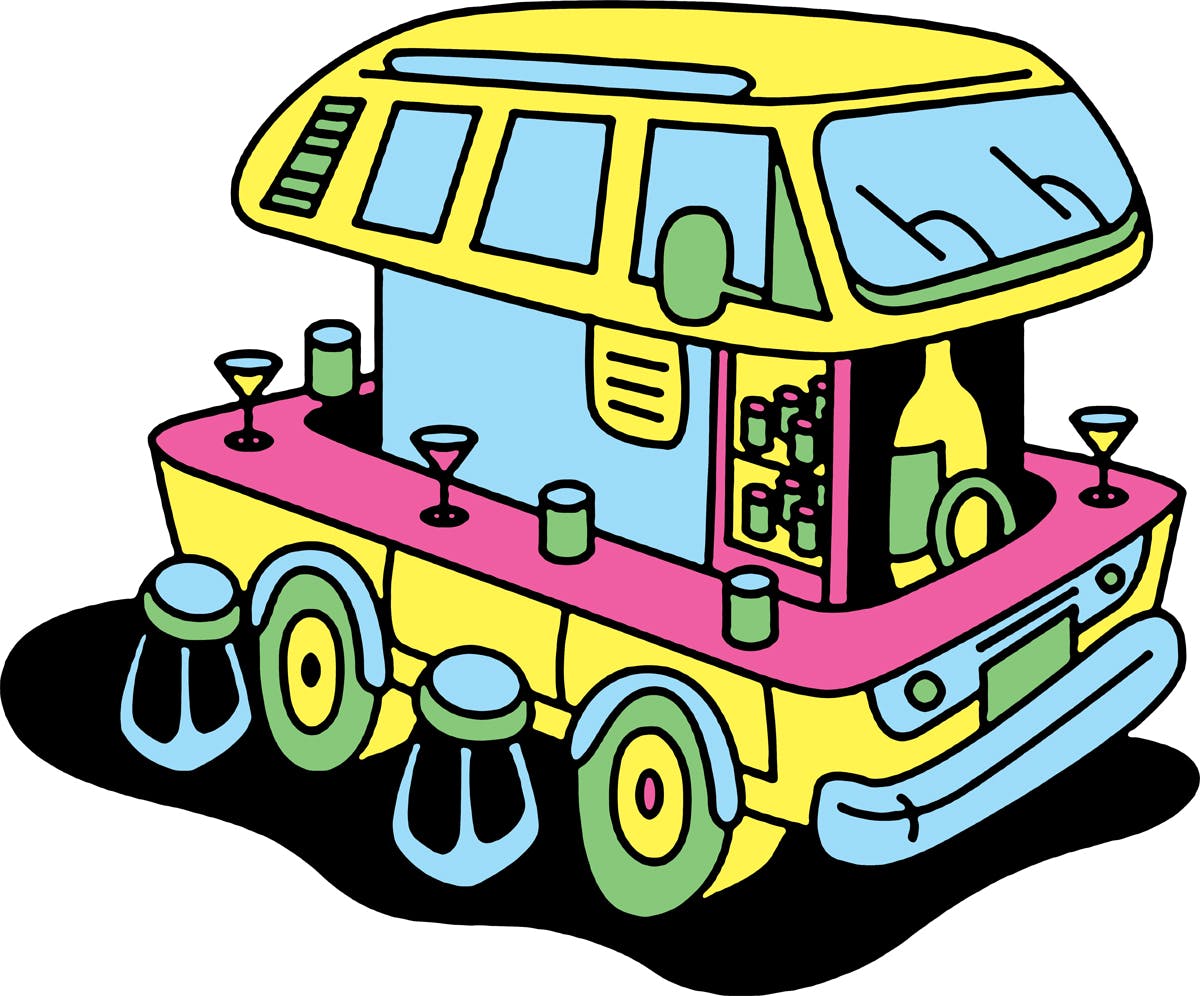 SLEEP
Bogobiri House — Don't Be a Stranger
Bogobiri derives its name from a district in the Nigerian city of Calabar, which coined the phrase "there are no strangers in Bogobiri." With just 16 rooms, an art gallery, live music, and a bar and restaurant, the intimate boutique hotel certainly lives up to that claim. Even if you don't spend the night, Bogobiri is worth a stop for a drink and chance to mingle.
SEE
Nike Art Center — Nigerian Art Survey
Lagos has a thriving art gallery scene, with many worth a visit. But at the core of much of Lagos' art scene is Nike Art Center, a gallery whose thousands of works of Nigerian artists are curated by longtime collector and artist Nike Davies-Okundaye. "You can actually go there and talk to Nike herself because she's an artist. She's just putting so many people in the country on," says Badiru.
Tarkwa Bay Beach — Manmade Beach Oasis
While in Lagos, take a respite from the hustle and bustle with a visit to Tarkwa Beach. The manmade beach makes for a relaxing day trip with food and drink vendors on site, and is also home to some of Lagos' burgeoning surf culture. The beach is only accessible by boat, so ask your hotel or accommodations for help in setting up transportation.
Freedom Park — Repurposed History
Originally built as a prison in the 19th century while Nigeria was still under British colonial rule, the site that is now Freedom Park was reimagined into an arts and culture space in 2010. Designed by Nigerian architect Theo Lawson, it is now a crucial green space in the city and home to music and art events. More recently, the park partnered with WafflesNCream on the development of a public skate park.