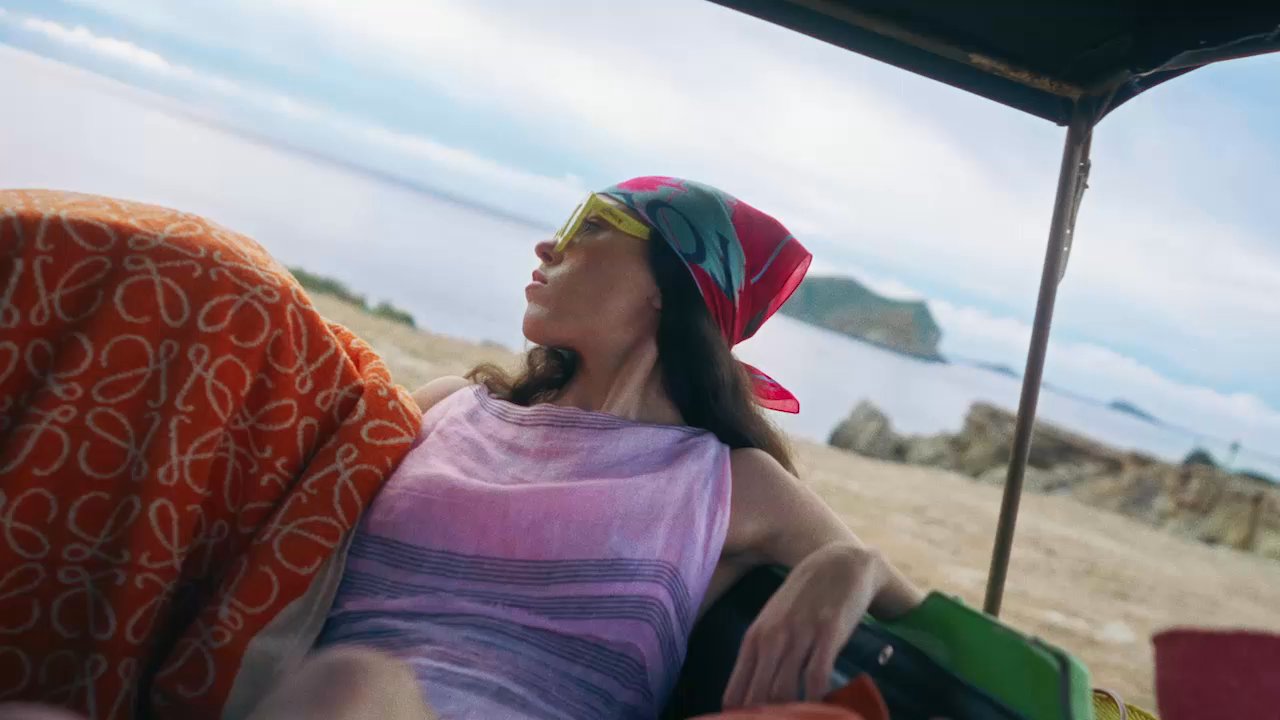 With summer around the corner, it's fast becoming time to whip out your relaxed, vibrant fits — cue Loewe's Paula's Ibiza's latest collection.
After a slew of successful annual drops since the brand's debut in 2017, Loewe Paula's Ibiza is back with a new line that oozes beach, bags, and big, bold energy. Before diving into the bright garments and accessories, here's a quick history lesson on the label and how it all came to life.
German architect Armin Heinemann who lived in Ibiza over the '70s and '80s, came to own Paula's, a boutique that fast became an international hub for floral prints, psychedelic patterns, a hippie aesthetic, and the adventurous, party spirit of the island — clothing the likes of Jean-Paul Gaultier and Freddie Mercury.
Highsnobiety / Osma Harvilahti, Highsnobiety / Osma Harvilahti, Highsnobiety / Osma Harvilahti
In 2016, after countless visits to the Balearic paradise throughout his upbringing, Loewe's JW Anderson reached out to Heinemann (who had since closed Paula's) to offer a fresh revival for the store. Before long, Loewe's Paula's Ibiza was born — the luxury, hybrid brand that brings together the best of both worlds.
After shooting past collections amongst the picturesque scenery of Mexico and the Dominican Republic, Loewe Paula's Ibiza comes back to its roots with photographer Osma Harvilahti for this new iteration. Delving into the multi-layered identity of their home turf, the brand combines Ibiza's hedonistic energy with the concept of freedom and celebration in a collection that overflows with sequins, sparkles, scents, and sartorial escapism.
Anderson has mentioned before how the spirit of letting go is forever tied to the uniqueness of Ibiza for him; it's a parallel world where anything is possible. "Hedonism has been on my mind a lot lately — fun, partying, moments spent together releasing good energy. The collection is sexy and liberated, with the carefree attitude that is quintessentially Ibiza. Skin peaks through short hems and lacing, and everything is uncomplicated, cut close to the body, and easy to wear. Prints are feisty too: surfing graphics from 'LeRoy Grannis', cactus motifs, and playful geometries," he explains. The campaign, shot in and around Casa Broners, an Ibizan architectural landmark, reflects the playful atmosphere of the island with the protagonists frolicking around the modernist villa and bringing the pieces to life.
Now no Loewe line would be complete without an offering of bags, and this 2022 Paula's Ibiza series is no different. Carrying the same vibrancy and laid-back aura as the garments, the handmade bags each tell their own story, coming in all shapes and sizes to suit any occasion, whether for sunny days at the beach, or evening strolls in the city.
Highsnobiety / Osma Harvilahti, Highsnobiety / Osma Harvilahti
Keeping a sense of playfulness in mind, the Puzzle, Goya, Hammock and Amazona bags have a dégradé leather effect, and the Balloon is adorned with ruffles to add a bit of sparkle to your summer fit. Bouncing off the sandy terrain of the Ibizan landscape, woven straw and raffia make up the remainder of the collection, combining bright ombrè gradients that nod to the Spanish sunset, with playful geometries and the trademark Loewe logo scattered on totes and bucket bags. Denim is a big part of the series, and can be seen in the Flamenco clutch, while the Anagram is blown-up and turned into a cut-out in leather alongside canvas totes and pockets.
Paula's Ibiza's staples such as flowy dresses, shirts, mules, shorts, espadrilles, and relaxed knitted pullovers are given a makeover, now arriving adorned in sequins and with silky new textures. Retaining the classic Loewe love of craftsmanship, crocheted artisanal fabric from Japan is sprinkled throughout the drop parallel to overdyed, faded denim, while small leather goods with marquetry cocktail motifs top off the collection alongside sunglasses, hats, charms, and jewelry.
For Loewe, Ibiza is an island where different generations have escaped on a quest for personal liberty, breaking societal bonds and borders to build their own world. With literally every piece interchangeable between men and women, Loewe Paula's Ibiza has captured the true essence of freedom and acceptance in this collection, something very close to the brand's identity and ethos.
Tying into the element of experiences and exploration, Loewe's Paula's Ibiza collection will be available in our GATEZERO concept store in Zürich airport. Bringing together culture, travel, design, and jet setting around the world, the Loewe Paula's Ibiza collection is sure to get your summer started early.
Shop Loewe Paula's Ibiza 2022 collection available now here, as well as at the Highsnobiety Shop from April 19, and at GATEZERO Zürich.